Training: Digital Asset Management & Syncing
Video Engineers … improve existing skills and stay in touch with evolving technologies. Watch your email and the Local 695 website for details about more training sessions for Digital Asset Management and on-set syncing of sound and picture. Class size is small in order to have lots of interaction and hands-on time so be sure to sign up early once the classes have been announced.
---
Young Workers Committee Hosts December Hike
An afternoon hike to Eagle Rock in Topanga Canyon was hosted by the Local 695 Young Workers Committee on December 12. About a dozen members attended the 7½-mile hike, which finished with a raffle for prizes donated by local vendors.
The Committee was formed as a community building tool and to integrate new members into Local 695. Watch your email inbox for more events.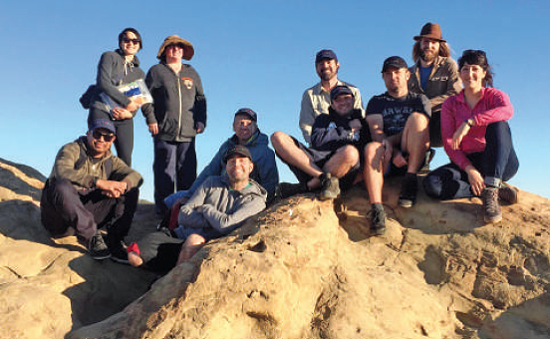 ---
More Organizing
Local 695 continues to be on the forefront of organizing productions, according to 695 Field Representative Joe Aredas.
Among the recently organized productions are commercials for Hasbro, Copperpoint, Mitsubishi, Unit 9, AT&T and Samsung, the reality show American Grit and the features True to the Game and The Men. If you're on a nonunion production, call a Local 695 rep to discuss the situation. Remember to always fill out an online job report, union or nonunion.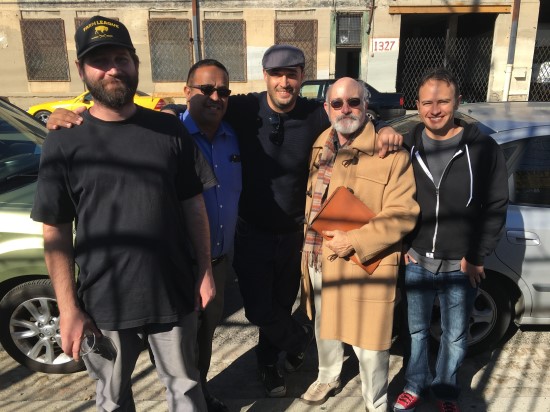 ---
Holiday Brunch & Brews
About 140 sound and video professionals got together at Golden Road Brewing in Glendale on December 13 for a holiday mixer. Organized by Social Media & Events Committee members Chris Howland, Devendra Cleary and Steve Morantz, the event featured the fine food and beverages from Golden Road, and many prizes from around a dozen manufacturers were raffled off. The next mixer is planned for February 21 at Bunker Hill Bar & Grill, across the street from the Biltmore Hotel.
---
Local 695 Office Gets Makeover
The Local's office is in the final stages of being updated with a brand-new look. Crews are finishing up painting, installing new flooring, cabinets and furniture. The new brighter, open and organized look is more welcoming, and is done in a modern/mid-century modern style, according to Building Committee Chair Peggy Names.
Peggy, along with the help of Executive Assistant/ Membership Services Coordinator Linda Skinner, have been working hard, providing direction to the project and keeping it on track.
Existing filing and storage cabinets have been refinished and reconfigured. Areas of the building have been opened up and redesigned for better efficiency, and previously unused areas were cleaned out and utilized. The building will be a businesslike and welcoming environment for the membership and visitors.
Look for invitations to an open house within the next couple of months.
---
Save the Date!
The next General Membership Meeting is scheduled for 10 a.m. on Saturday, April 16, 2016, at the Local 80 Stage, 2520 W. Olive Avenue in Burbank.