by Jillian Arnolda
Aboard the new Viacom truck known as Atlas, you will see Video Engineers with the title "Tape Operator" at their positions operating interfaces connected to a network of computers, digital recording systems and storage. The various interfaces monitor, record, encode, transcode, duplicate and sync up to forty-eight streams of video, paired with sixteen unique audio tracks, saving multiple versions in different codecs and wrappers.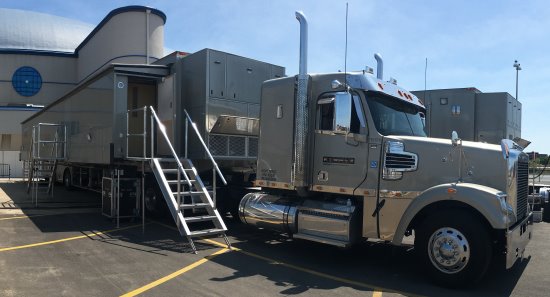 Asset Management may be progressing as we continue on in this technological age, but the history and tradition of Local 695's presence in this position remains the same. The progression from two-inch helical scan analog, to digital tape, to file-based digital data is part of a long tradition and is increasing in complexity at a dizzying pace. As evidenced by the moniker, "Tape Operator" in a tapeless environment, this cultural shift in the economics, politics and infrastructure of all aspects of media creation requires diverse new skill sets while retaining the core competency of previous generations of technicians. Every day, I'm immersed in this exciting landscape while working on the Atlas truck, which uses a state-of-the-art asset management system called Pronology.
WHAT IS PRONOLOGY?
Pronology is an asset management system that was designed by veteran users. Beginning in 2012, I have worked closely with Pronology's partners, Jonathan Aroesty, a member of Local 695 for thirty years, and developer Seth Wright on several reality shows, including Fox's Utopia and ABC's Glass House. Last year, we tackled the FIFA Women's World Cup, a month-long international event with multiple resolutions, codecs and wrappers moving back-and-forth between Vancouver and Los Angeles.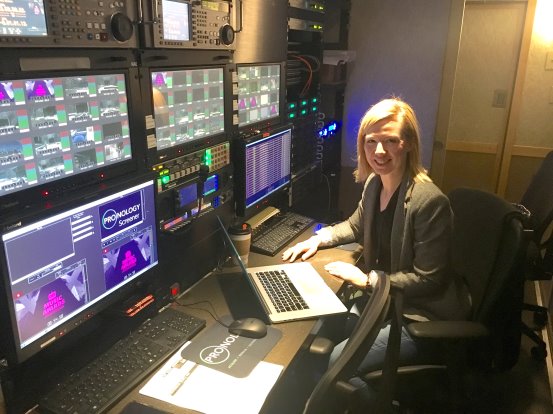 On Utopia, fifteen American contestants were tasked with creating their own civilization from the ground up. Although the show failed to meet viewer expectations, the technical feats achieved by the engineering, editorial and Pronology departments were exceptional. More than one hundred and thirty cameras were switched into twelve feeds in the control room. Subsequently, these twelve video sources were fed to twelve first generation mRes™ boxes, which recorded high- and low-resolution files, as well as a web proxy. Each video stream also recorded eight audio feeds.
Producers could watch these twelve live streams from anywhere with internet services, via Pronology's web portal, where they could take notes, create additional metadata and make assembly cuts of footage for the editorial team. With our tight turnaround to fill two hours of programming weekly, our system had to be streamlined to meet the expectations of the editorial, promos and story departments. My job on Utopia was to oversee all of this while also training the story, editorial and Pronology teams, scheduling department personnel and archiving LTO.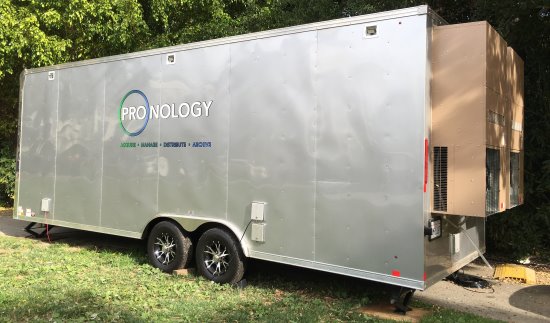 When Utopia was canceled, the crew's biggest disappointment wasn't the sudden lack of work—it was that our powerful and robust system capable of working 24/7 would be shut off. When cutting-edge technology is paired with content that doesn't seem to resonate with audiences, it is both comforting and frustrating to know that the program's premature ending was caused not by technological failures but audience indifference.
A year later, I was delighted to learn of Pronology's new venture: the second-generation mRes box was becoming a permanent installation in Viacom's new truck, Atlas. The mRes is the only uncompressed loop recording device on the digital acquisition market currently; its robust nature and flexibility is ideal for Viacom's live recording environments. With the ability to record four sources of video with sixteen channels of audio simultaneous, the mRes box first records onto a local recording server before transferring a compressed file to any external storage device you choose. Once the machine is booted and the sources are routed correctly, mRes continuously records, with a seven-hour loop that eventually eats its own tail. The anxiety of missing a shot is a nonissue because I now have the ability to go back in time and re-record media shot as much as seven hours ago.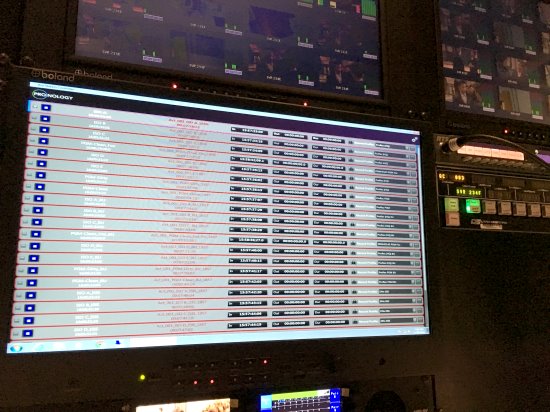 mRes supports a variety of codecs, including uncompressed, AVC-intra, the Avid DNxHD family of codecs (H.264) and Apple's ProRes family. Wrapper support includes QuickTime self-contained files, MXF-Op1a, MXF-Op Atoms, MP4 and others. The current generation of mRes box on Atlas is configured for resolutions up to 1080p, with frame rates ranging from 23.98p to 60p. However, a 4k box debuted at NAB this past April, boasting capabilities that rival its biggest competitors.
ClipController, mRes's GUI, is both easy to use and configure, plus it allows for expansion from one to many recording channels. The integration of this recording interface, along with the strength of Pronology's proprietary recording hardware (as well as the archival potential and distribution add on modules), create ease and reliability for any production.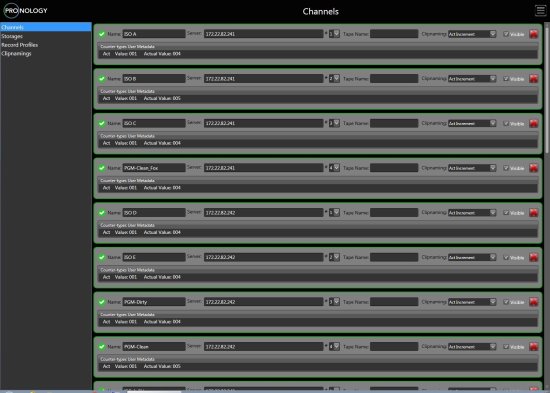 I have currently operated on at least seven Atlas productions since its maiden voyage. Each project has its own unique experiences as we navigate this new technology and change the culture of TV. The journey has been rocky and yet extremely rewarding. I continually remind myself that forging new technological paths is an uphill battle, with extreme rewards in moments of success and education in every failure. Technological pioneers must never cease to think outside the norm and anticipate the needs of others before they arise.
Here are my notes along this journey:
JANUARY: GREASE LIVE! MAKE IT WORK. NO MATTER WHAT.
Fox's presentation of Grease Live! redefined primetime live musicals with its outstanding performances, elaborate choreography and impressive camerawork. Atlas's first official outing occurred while re-creating one of my favorite childhood films. The biggest test of my career was whether I could sing along while simultaneously ingesting and managing assets.
This was the first time I worked with mRes's new ClipController interface. Pronology's development team created an easy-to-configure, scalable interface, and with only a few hours of training, I was able to record the production and distribute the media with success.
Our delivery requirements for Grease Live! had to serve three functions. Recorded media was simultaneously delivered to Paramount's post department, Fox's promotional department and our on-site editor (who was in Pronology's separate postproduction truck, not far from Atlas).
Our assignments were:
Five camera ISO tracks
• A full program feed with graphics
• A clean program feed without graphics
• An additional clean program feed for immediate promotional Use
• An additional full program feed for future screener copies
• A tape backup
Each mRes video channel recorded eight audio channels. Audio channels one and two were designated for program left and right for each mRes channel. Remaining audio channels were designated to characters, house music mix, dialogue mix, sound effects and backup feeds. Production Sound Mixer Mark King and his production team were an invaluable resource in ensuring that sound records were clean and organized as they entered our system.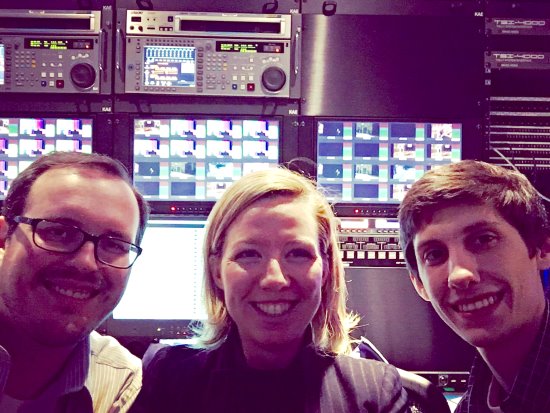 Each ISO and program feed was recorded three times, a primary, secondary and tertiary. The primary and secondary records were recorded in a 1080p, 23.98 psf, ProRes HQ format, onto a Small Tree TZ portable raid. This was my first time working with the Small Tree storage solutions, and I appreciated that I was able to hand post a robust yet portable raid solution at the end of the show. The interface made it easy to configure the raid for our specific needs.
A third set of recordings (five ISOs and a single program feed) were recorded in 1080p, 23.98 DNx175, OP-Atom, onto an Avid ISIS, which was connected to the on-site Pronology editing truck. Our West Coast airtime immediately followed our East Coast broadcast conclusion, necessitating a fast turnaround for Editor Mark Stepp. Mark used Avid's Edit-While-Capture feature to create growing video files. Since I created new files for each of the show's acts during the East Coast broadcast, Mark was able to use those AAFs (Avid files used to transfer sequence/timeline information from one program to another) to make changes to his growing Avid sequence. Coupled with this feature, communication between Tape Producer on the truck, and Mark in the Avid suite allowed for fixes at an impressive speed.
After minor fixes were complete, Mark exported files back onto the Avid ISIS as DNxHD MXF OP1a files. I bridged the gap between Mark and Video Playback Operator Scott Cruit, as I pushed files between the Small Tree Z8, shared storage raids on the truck and the ISIS for post.
As a Pronology operator, I am constantly scanning my GUI for inconsistencies or signs of unexpected issues that may arise during media capture, distribution and archiving. Pronology allows me to efficiently monitor these processes for quality assurance, while devoting more attention to the organizational tasks of asset management. Because this software is created by users, for users, Jon and Seth's Pronology team understands perfectly the challenges that can arise during recording and asset management. This dedication to the user experience is evident in the fact that they have consulted me for user-development notes for all of Pronology's modules over the years.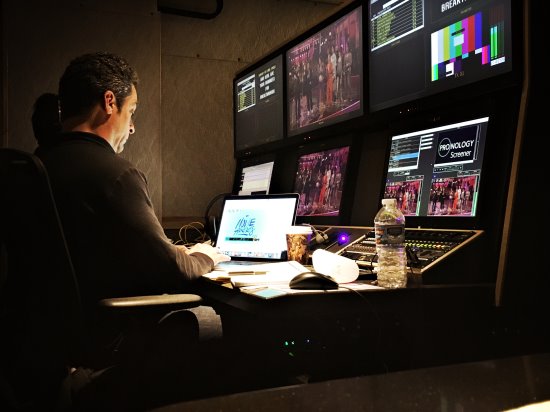 As Pronology's first operator, my role is to connect production and the developers by providing notes and feedback. I call myself their number one "breaker"—I love to break any system. I push the interface and hardware hard and fast in order to find the breaking point. I never go onto a show without knowing what software and hardware limitations exist. This way I can diagnose problems during the course of operation. Although I keep detailed notes on each operation for future productions, nothing is more valuable than having an experienced operator handy who not only knows what the limitations are, but also can rely on muscle memory to correct errors.
Within an hour of show wrap, Post walked away with drives in hand and we shut down our mRes controller for its journey to the next production. I'm pleased to say that I can sing all the words to "You're the One That I Want" (and dance to "Born to Hand Jive") while recording media, thanks to Pronology. Grease Live! was a truly great experience. I'm proud to have worked on something with such a huge audience reception, while tackling the monumental technical feats required by a live project of this scale.
APRIL: THE MTV MOVIE AWARDS. WHAT'S IN A NAME?
My goals for Grease Live! were to learn the new interface, find the breaking points in the system during test records and record the show with file integrity. The MTV Movie Awards had a different set of deliverables and requirements because of its tight editorial, eighteen-hour turnaround.
The two questions I'm most frequently asked are: "What do we call you?" and "Can you explain what you do?" This presents a very basic but important question: What do you call a position that is entrenched in the ongoing progression of recording and distributing video and audio signals? This is no different than what our local has seen in the past, black-and-white to color television or film to digital cinema. The position and its title may progress, but the importance in the storytelling process remains the same.
The title "Tape Operator" implies the use of tape, physical proof that a recording occurred. Tape operators configured tape decks and ensured that video and audio sources were correctly routed for recording and duplication. They handed the tapes to post, and walked away from a show empty-handed.
Atlas has two tape decks in its digital acquisition rack of equipment. The MTV Movie Awards would be one of Viacom's first productions that chose not to use tape as a backup. While there were those that looked at this with fear, I looked at this with excitement. While I know how to use tape decks, when I first entered the truck, I decided that I would use my youth as a pushback to tape altogether. I stated outright that my goal was to replace those decks with more digital boxes.
Today's recording job is an organization of ones and zeros, onto local and shared storage. The only physical objects involved are the drives shuttled back-and-forth to post. One of The MTV Movie Awards requirements was the delivery of the low-resolution files over the internet from the Warner Bros. lot to Chainsaw post facility in Hollywood.
My position is a collection of duties: show and screener recording, confirming file integrity, organizing files, IT configuring, managing assets and transferring files. More so than in the past, all of these duties require an operator to be involved in the earliest stages of pre-production, since operators are the bridge between production and post production. Open communication is necessary before an operator steps aboard the truck so that all parties understand all the involved information, including edit system platform and operating system, shared or standalone storage, the need for either offline or direct to online edit, codec type, bitrate, frame rate, file wrapper, audio configuration, file naming and metadata requirements. These important details can easily cost a production time and money if not worked out before ESU.
Within the jurisdiction of Local 695, this position falls under a Y4-Video Engineer, but most people outside of this position have trouble associating the term with the involved skillset. Production has called me Tape Operator, Media Manager, Media Wrangler, Media Services and even settled on the name Recordist. I prefer the name Media Overlord, but we quickly realized that MO on a PL feed was too ambiguous.
On this project, I realized the limitations of a single operator. Production required screener copies of the rehearsals and the show. Screeners are low-res files that a person can walk away with on a USB stick for immediate viewing. Standalone files with program audio, they can be viewed on any platform, without editing software. I was overseeing forty-eight streams of video and one hundred ninety-two streams of audio as it traveled onto three different storage platforms. In the eight years that I have been doing asset management and recording, this was my limit. Technology may streamline our lives, but sometimes the attention to all of those machines is too much for one operator to handle. Thankfully, Local 695 Video Engineer Tom Vanasse was available to step up and fill this highly visible role as the screener recordist. His expertise in file distribution pushed this position to a new level with new methods that I didn't have the time to think about.
The lessons learned on The MTV Movie Awards are lessons I share with all new tech supervisors and production crewmembers. We can continue to iron out the kinks and improve our workflow with each new production.
MAY: GABRIEL IGLESIAS NETFLIX SPECIAL 4K
Alongside the Pronology mRes recording system on the Atlas truck is the new PWS-4500 recording and playback box from Sony. Atlas is home to the first ten boxes of this kind nationwide. Playback operators on Atlas use four boxes for package playback, melts and rehearsal recordings, while I configure the other six as recording devices.
The Sony PWS-4500 is limited in the number of codecs it can record: DNxHD and XAVC in an Op1a wrapper. The advantage of this system is that it can record three, 4k channels simultaneously—impressive for a single recording box. Though I often use the Sony boxes as a backup record to the mRes 1080 captures, for Netflix's comedy special starring Gabriel Iglesias, the Sony box was our main recording device. This production was Atlas's first 4k production.
When Sony first unveiled the 4500s, they did not create a user interface for recording alone. Their playback GUI is similar to other professional playback systems, but their configuring interface is still a work in progress.
I was able to control the hardware with a CenterPoint interface created by the Pronology development team. CenterPoint houses all of its workflow modules, including Live Logging, Search Functions, Storyboard application, Workflow Builder and Archival. This allows me to create a folder structure within the database, highlighting certain record channels. Its ability to seamlessly transition from one file to the next was a huge asset.
The CenterPoint application indicates if the transfer workflows I configured are kicked off and completed, giving me peace of mind during the record process. On this particular show, I configured the Sony boxes to record to its internal four Terabyte hard drive, where I took off the loop recording function, as well as a Small Tree Z5 shared storage. The first night, 5.5 TB of data was recorded for a three-hour show. The second night, we recorded over 6 TB of data. What's great about this workflow is that the transfer of footage happens in real-time, making it possible to walk away with all files minutes after production concludes.
I was excited to work on a show with a new 4k workflow. But I'll admit that the show went so smoothly following the hours of testing completed by Pronology's developers, it was almost a letdown. I love testing new workflows and configurations, but I found almost no anomalies in the process. CenterPoint's configuration was solid, and the transfer off the Sony boxes was better than expected. Failure in technology is always exciting to me. It means a new challenge, and room to start fresh with a new idea. Having said that, as a seasoned operator, stress-free productions are now obviously welcome, and my appreciation only grows for the behind-the-scenes developers.
Seven months into our first year on Atlas, and I now call the truck, "my other ride." The recordist station is continuously being improved for two operators to comfortably work in a small galley environment. The sound of six mRes boxes, ten Sony PWS-4500 servers and a dozen other machines is now comforting. I know their sounds like a mother knows her child's sleeping patterns. Forty-eight streams of video are now commonplace, and productions are continuously pushing the technology in ways that are exciting and adventurous. Recently, I set a truck, and personal record of one hundred and thirty-six terabytes recorded, with integrity, in forty hours of production.
As I continue to push this position to new perimeters, I am reminded of the members of our Local that came before me. The technology I am using today was created by our members, for our members. The experience we have amassed in our careers becomes a means of development and innovation for the next generation of video engineers. I still turn on the two tape decks that sit in Atlas as I boot up the rest of the rack. To this Video Engineer, their presence is a romantic gesture to the past.