News & Announcements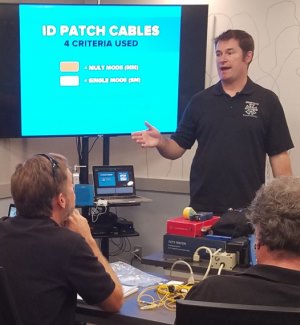 Two Days of Fiber Optic Training
The usage of more and more cameras at ever higher definitions is gradually maxing out the bandwidth capabilities of traditional copper cabling, leading to fiber optic as the only solution capable of meeting highvolume on-set data transmission needs. And in addition to vastly more bandwidth, fiber is stronger, more secure and cheaper than copper. Fiber is definitely in our future and perhaps that's why there wasn't an empty seat in the room during our two days of fiber optic training in November.
Attendees learned how to properly handle, clean, test and identify the standard fiber optic cables and connectors used in the entertainment industry. The classes were geared specifically toward teaching the skills and knowhow needed on a show-by-show basis to make sure our members are confident and knowledgeable when it comes to fiber optics. Under the guidance of our instructor, Jesse Madison, and his training assistants, the class included lots of hands-on time plus one-on-one with the instructors. As well as a repeat of this introductory session, we will be running an Advanced Fiber Optic class soon.
Demand for both of these classes was high and we still weren't able to accommodate everyone but for those who missed out this time, watch for announcements of more classes soon.
---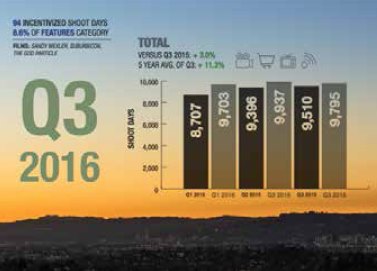 Third Quarter On-Location Filming Up 3 Percent Last Quarter in Greater Los Angeles
FilmL.A. Research issued a new report this week, revealing that on-location filming in Greater Los Angeles increased 3.0 percent last quarter to a record-setting 9,795 shoot days. From July through September, an increase in television production (up 2.7 percent to 4,423 SDs) offset modest declines in on-location feature (down 5 percent to 1,089 SDs) and commercials (down 2.6 percent to 1,245 SDs).
"From 2015 to 2016, we had four straight quarters of triple—or near triple-digit—growth in TV comedy," said Adrian McDonald, Research Analyst for FilmL.A. "Year to date, 2016 is actually leading 2015 in total comedy shoot days, with 1,623 SDs this year so far compared to 1,554 SDs at the same time last year."
"California's film incentive is now helping to sustain local TV production after seven straight quarters of growth," noted FilmL.A. President Paul Audley. "We knew we'd see a leveling off as the program reached full utilization. With the program doing all it can to support filming in California, our focus is on the neighborhoods where filming happens and on managing the activity taking place."
---
Welcome New Members
Peter Beer, Y-1
Johny Camilo, Y-1
Angelo Carvuoto, II, Y-1
John "JP" De La Cruz, Y-7A
Joshua Hawcraft, Y-8
Garett Martocello, Y-1
Josue Pena, Y-1
Jacques Pienaar, Y-8
Alex Sethian, Y-7A
Cgad Sonenberg, Y-1
Charles Stroh, Y-1
Janet Travis, KTLA
Alberto Vasquez, Y-9
Brandon Walz, Y-8
---
SAVE THE DATE!
The next General Membership Meeting is scheduled for 10 a.m. on Saturday, January 21, 2017, at the Local 80 Stage, 2520 W. Olive Avenue in Burbank.
---
IN MEMORIAM
DONALD BERRY
Projectionist
October 16, 1925 – August 20, 2016