Sound Apps
by Matt Price
With the proliferation of iPhones, iPads and Android devices, there are many new and powerful apps that help us each day. In this edition, we feature a free app designed by Matt Price in Great Britain, called Soundrolling.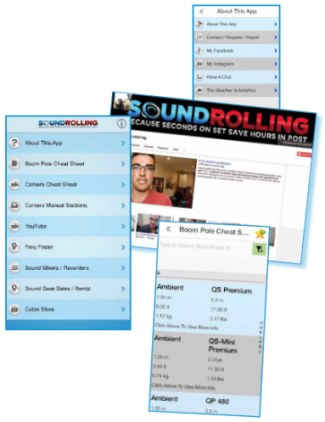 Matt explains, "Soundrolling app is basically a natural progression of my blogs and other ventures over the past five years. Gear was coming down in price and more people were buying equipment and getting started, so I felt as a community, we need to better communicate the values and unwritten rules.
I decided to make the app free because to me, the real value is the community; with more people, there are more ideas that have a multiplier effect of helping the people and attracting a wider audience. There are some great ideas coming out of Soundrolling I will eventually incorporate other departments such as editorial and post production sound to essentially be a central source that is as fluid as the community it serves.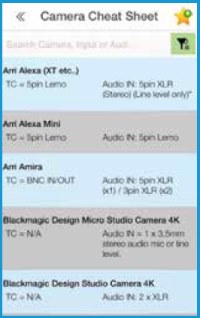 "I've spent around £2,000-f3,000 on the app with failed attempts and even trying to unsuccessfully outsource it a few times, so I decided just to do it all myself and found an interface that works really well along with £60 a month going to support from others to help implement some features and keep the app with as little bugs as possible. I will be spending about £800 a year in outsourcing some tasks and £97 goes to Apple every year for being a developer."
Despite his own expenses, Matt is determined to keep the app free.
"I have had over two thousand downloads and plenty of suggestions for more features. I'm really looking forward to how it develops, and I'm currently getting between 1,000-2,000 page views a day.
The more people get involved, the better it will become and I am more than happy to fit pieces of this giant puzzle together."
HERE ARE ITS FEATURES:
1 – CAMERA CHEAT SHEET
This is where you can view the timecode inputs and audio inputs for major digital production cameras (Arri, Blackmagic, RED, Sony, Canon …)
2 – YOU TUBE VIDEOS
From tutorials on how to recover formatted cards to comparing £1.20 lavalier to a £270 lavalier. I've been on You- Tube for more than five years doing tutorials and sharing what I do.
3 – SOUND CHATS
I have more than forty interviews with Dialog Editors, Sound Mixers, Re-recording Mixers, Foley Artists and Boom Operators on some of the world's biggest blockbusters and Oscar-winning films. These are also available as podcasts and videos.
4 – FINDING LOCAL AUDIO VENDORS AROUND THE WORLD
Finding audio vendors local to where you are at the moment is going to vastly cut down your research time and get you on with the job at hand.
5 – BOOM POLE CHEAT SHEET
This compares more than 125 boom poles in min height/max height/weight/material/locking mechanism and units are in imperial and metric measurements. There is a view to sort them all by weight as well.
6 – FREQ FINDER
Find legal frequencies for countries around the world as sourced by mixers who live or work there, with links to government websites for extra reading. Meaning you can travel around the world and recommend the best ones to build up a better picture. You can also submit scans using your phone camera.
7 – BLOG (BETA)
Over the past five years, I've added more than three hundred- plus blog posts to soundrolling.com and I'm in the process of making it easy to find them through this app.
8 – SOUND MANUALS/TIMECODE MANUALS
PDF versions of some popular products along with a firmware checklist with links to manuals and firmware notes. Timecode manuals link directly to manuals and firmware pages also.
9 – FOLEY CHEAT SHEET
I've added more than two hundred items and ideas for Foley you can do to make awesome sound effects. I'm building more and more Foley-related material out of my previous articles.
10 – SOUND EVENTS ONLINE AND AROUND THE WORLD
This is a list of sound Meet-ups and industry events for sound people so you can connect with other mixers around the world and in your local area. It's really simple to submit new listings.
11 – POST PRODUCTION HELP AND FAQS
Here are useful docs for importing and exporting AAF/OMF's and more, to help explain post to others. The idea is to better integrate editorial and other members of the team with the Sound Department and vice versa to solve those pesky communication errors that can occur with different deliverables.
12 – SOUND TRIVIA/ JOKES
This is a collection of articles I've collected from around the web, of trivia for the sound world. Just a bit of fun and light reading, along with some on-set banter.
13 – POCKET SOUND DICTIONARY
Two hundred-plus sound terms explained right on your phone.
14 – WIRING DIAGRAM ARCHIVE
This is a collection for all those who DIY and make their own cables or you want to make sure you are wiring them correctly. This is also useful for different connections to different cameras like the RED.
15 – FACEBOOK GROUP
There is a Facebook group setup for those with the app to easily make suggestions and connect with each other and build a community. I'm also trying to incentivize feedback with polls and prizes.
16 – BUY/SELL FREE
List your used gear and get in front of more than two thousand sound professionals for free. In 2017, listings will be no commission and just £1 to submit. All organized into categories.
Matt is very happy to have all feedback emailed to him at matt@soundrolling. com. Check it out. It's a free app, so you can't lose.