"Present & Future Digital Workflows for Video Engineers"
TWO VIDEO CLASSES LAST MONTH AND MORE TO COME
Presented by Local 695 Video Engineers Jillian Arnold and Tom Vanasse, these training sessions began with a discussion about the Video Engineer's place in today's rapidly evolving production environment. Needless to say, with video now the medium of choice on nearly all film and television production, there was much to discuss.
Topics included off-camera recording, standard playback and 24-frame playback, green-screen compositing, motion capture, transcoding, backup, distribution and more.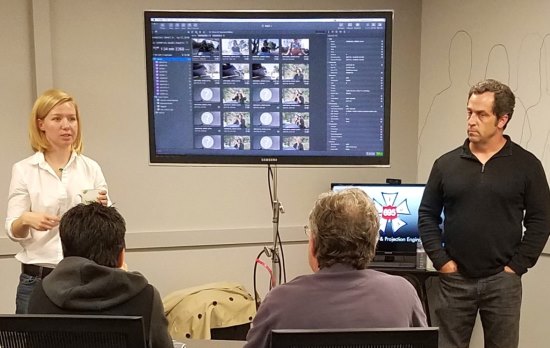 Tom stressed that a complete understanding of digital acquisition demands operational expertise on all the major external data recorders, including those from Codex, Odyssey, Sound Devices, AJA, Atmos Systems, Cinedeck, Pronology, Grass Valley, Turbos, EVS, Blackmagic and Nexto.
The data path is critical, too, and Jillian explored the strengths and weaknesses in a wide variety of connectivity options, such as Cat5/Cat6, SAS, fiber, Thunderbolt, Expresscard34, and ultimately, IP and the cloud.
A lot of additional ground was covered in both training sessions, including storage, archiving, software, file structure, verification and industry best practices. And there were a lot of opportunities for members to share their experiences doing this work in the field and to trade suggestions and advice.
Demand for both of these classes was high and we still weren't able to accommodate everyone but for those who missed out this time, watch for announcements of more classes soon.
---
Local 695 Set Visits
Local 695 Field Representative Joe Aredas reports that he has logged close to sixty set visits so far this year, visiting studio lots, commercials and locations taken off the FilmL.A. database, meeting with sound and video crews at work. Joe has been partnering up with other locals, so don't be surprised to see him with other union representatives on his visits.
Field Representative Joe Aredas can be reached at (818) 985-9204 or joea@local695.com
---
Mark Ulano Receives Lifetime Achievement Award
Local 695 continues to be on the forefront of organizing productions, according to 695 Field Representative Joe Aredas.
Among the recently organized productions are commercials for Hasbro, Copperpoint, Mitsubishi, Unit 9, AT&T and Samsung, the reality show American Grit and the features True to the Game and The Men.
If you're on a nonunion production, call a Local 695 rep to discuss the situation. Remember to always fill out an online job report, union or nonunion.
---
Holiday Brunch & Brews
About 140 sound and video professionals got together at Golden Road Brewing in Glendale on December 13 for a holiday mixer. Organized by Social Media & Events Committee members Chris Howland, Devendra Cleary and Steve Morantz, the event featured the fine food and beverages from Golden Road, and many prizes from around a dozen manufacturers were raffled off. The next mixer is planned for February 21 at Bunker Hill Bar & Grill, across the street from the Biltmore Hotel.
---
Local 695 Office Gets Makeover
The School of Visual Arts (SVA) honored Local 695 President Mark Ulano on May 10, with its Lifetime Achievement Award at its 27th Dusty Film & Animation Festival. Mark's award was presented by Chris Newman at the SVA Theater on 23rd Street in Manhattan.
---
Friedrichs v. California Teachers Association
On March 29, due to a 4-4 tie vote, the US Supreme Court ruled that it would not overturn the US 9th Circuit Court of Appeals rejection of Friedrichs v. California Teachers Association. The case would have overturned an earlier ruling that required public sector unions from charging a "fair use" fee for negotiating wages and working conditions, and would have the effect of severely weakening all unions by making the payment of dues optional.
---
Social Media & Events Committee
The Social Media & Events (SM&E) Committee has been busy with three great events!
The 3rd Annual LA Sound Mixers Winter Lunch & Mixer was held at the Bunker Hill Bar & Grill in downtown Los Angeles, right across the street from the Biltmore Hotel where the Cinema Audio Society awards banquet was held the previous night. More than a hundred people crowded into the restaurant for food, drink and networking.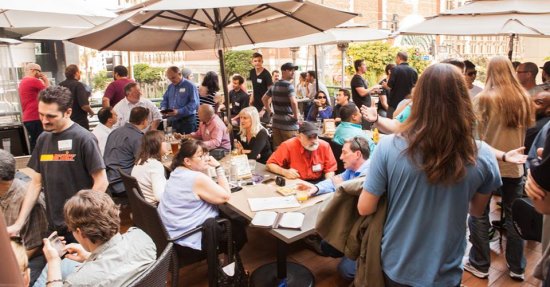 On Saturday, March 5, the SM&E Committee teamed up with Trew Audio for the LA Sound Mixers Flea Market. Over 140 folks came by from noon to 3 PM to buy lots of used gear from 20+ sellers. Refreshments, hamburgers and hot dogs were served.
Wildfire/Sonic Magic Studios was the site for the "Bridging the Gap Between Production & Post" seminar on Sunday, April 17. The day began with food and refreshments in the lobby provided by the Audio Department, and from there everyone moved to the mix stage for the seminar. Topics covered were dialogue editing techniques, noise reduction and the differences between mixing for feature releases as opposed to TV broadcast. Participants were able to gain significant insight as to how some of our daily practices as Production Mixers affect the Post Mixers workflow.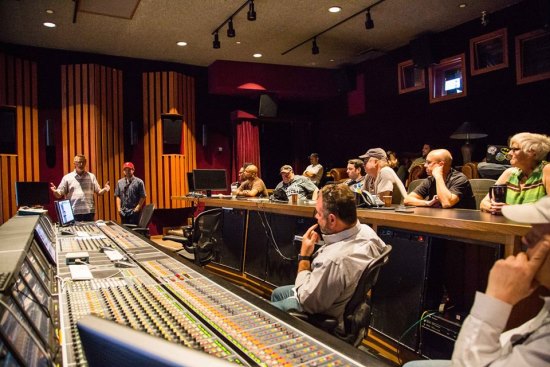 ---
Save the Date!
The next General Membership Meeting is scheduled for 10 AM on Saturday, July 16, at the Local 80 stage, 2520 W. Olive Avenue in Burbank.