by Jamie Gambell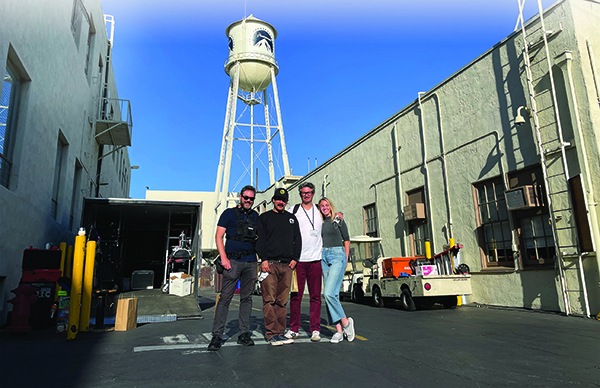 My career began in the dark Hackney Odeon Picture house in London, when I was just four years old. A small Rebel cruiser passed overhead, pursued by a gargantuan, imposing Star Destroyer. Like the rest of the world, I was enthralled by the characters, the aliens, the robots, the fantastical weapons, and the spaceships, but there was one thing that stayed with me on a deeper level: The Sound. Nothing in the world had ever sounded like Star Wars. I became, much to my parents' chagrin, that kid who sat in the cinema after the film had finished, taking in the credits and trying to learn all of the different job titles. My passion for film coincided with the growth of home video systems, and I would watch anything and everything I could, rushing home from school to catch Das Boot and getting a pass from my parents to stay up late to catch Paris, Texas. Throughout all of this, I always kept an ear turned to the sound.
Eventually, I made my way into the film industry and was lucky enough to find myself under the tutelage of someone whose passion for sound in cinema exceeded my own, Simon Hayes. As mentors go, I really won the lottery. Between Simon and his Boom Op, Arthur Fenn, I had the greatest teachers anyone could want. It made me really appreciate the importance of not only doing the work and learning new ways to approach the craft, but also making sure that you give back to the future generation of potential sound engineers. Simon and Arthur both provided the perfect balance of demand for excellence and a nurturing environment to learn in. They instilled the idea that you could succeed or fail, but you better try your best no matter the circumstance. This was reinforced by my next mentor, Douglas Axtell. He, Simon, and Arthur all tried to instill a passion for learning, and more importantly, to always think about what you can teach and pass forward to your crew.
In this spirit of giving back, I sat in on the cable making and wiring classes offered by the Local, which was a rewarding experience that I felt was of great value to the participants. However, I felt that there should be something more concrete; something that codified the value of taking the opportunities afforded to us and passing them along to the next generation. So, just before the initial COVID shutdown in 2020, I visited Scott Bernard and Laurence Abrams at the Local about trying to formulate a more structured training program for our members and prospective members. Scott quickly told me that both Ben Greaves and Devendra Cleary had asked the same question within the space of a few weeks. Then they asked me the million-dollar question: "Have you heard about Y-16A?"
The Y-16A is a non-rostered classification that has existed in Local 695's Collective Bargaining Agreement since the '90s, and allows for a Sound or Video Trainee to come onto the set and, at a living wage, shadow, and gain hands-on experience from experienced industry professionals. It had seen relatively little use in the twenty-five years since its inception, but it had the potential to be repurposed for tremendous good. The kernel of an idea started to pop.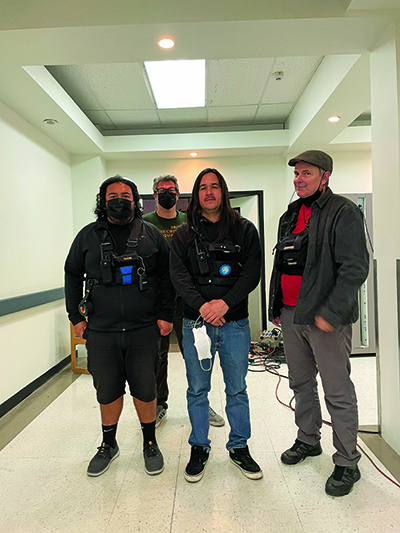 Later in 2020, I found myself picking Ben Greaves up to take him to collect his car. He had been part of a protest following the murder of George Floyd. Before I dropped him off, we discussed how the media and politicians were all saying the same things they had been years before, and how we could only hope that maybe, this time, we'd see something resembling meaningful change. We were both white men. We were both lucky enough to have worked with people who were both willing and able to train, teach, and mentor us early and throughout our careers—for no reason other than a passion for the craft and a drive to share that passion. We'd been trying, on a small scale, to help people out; to offer advice and support where possible, but both felt that the expansion and demands of the Sound Utility duties on set always made most mixers reluctant to hire someone without a wealth of experience, or who might need help around the sound cart and set.
The time afforded us by the temporary shutdown during the early days of COVID, as well as the constant reports of studios and networks willing to put the money into promoting diversity, let a volunteer group of us (made up of technicians and office members) cobble together a plan to use the Y-16A Trainee classification as the basis of a codified trainee program.
Productions could hire a Trainee as an additional member of the Production Sound or Video departments. As a non-rostered position, trainees could come onto the set and begin accruing benefit hours without the need to interface with Contract Services. At the same time, they would work under the direct supervision of industry veterans, giving them hands-on, on-the-job training without the need to displace another member's job. With the right person guiding a trainee, it could serve as an alternative route to union membership than the non-union route.
As we were a small group, we wanted to make sure that we weren't overstretched in what we could offer prospective members. We did not want to overpromise and underdeliver, which by necessity meant keeping the program small at first and building onto it over time. Our earliest efforts involved vetting potential candidates, both to get a sense of how suited they are for the work they are pursuing, but also to help them determine whether or not the rigorous hours and lifestyle of Hollywood production is something they're prepared to embrace. Once we had a sense of an individual's personality and strengths, we began working to place them on the correct production with a mentor team suited to their specific needs. This could be challenging, as convincing productions to hire an additional member of the crew is always a struggle. But the combination of greater events taking place in the world and relentless dedication on the part of our team began to see progress. One by one, we were able to find work for trainees on productions for Disney, Warner Bros. Discovery, ViacomCBS, NBCUniversal, Amazon, Apple, and Lionsgate.
It has been a process of trial and error. To be sure, not every trainee we've worked with has been ready to step into a Hollywood lifestyle. Two years in, however, our workflow has been continuously refined to the point where success stories far outweigh our negative outcomes, and we are able to offer trainees and potential trainees more resources than when we started. Earlier this year, we began holding our first pre-training events for the Y-16A's, allowing them to simulate some of the work on set in a safe and controlled environment. Our office team has begun working with trainees to understand basic industry faire like reading a call sheet or filling out a timecard. Trainee meetups and mixers take place every few months in order to give trainees the opportunity to network with one another and potential mentors.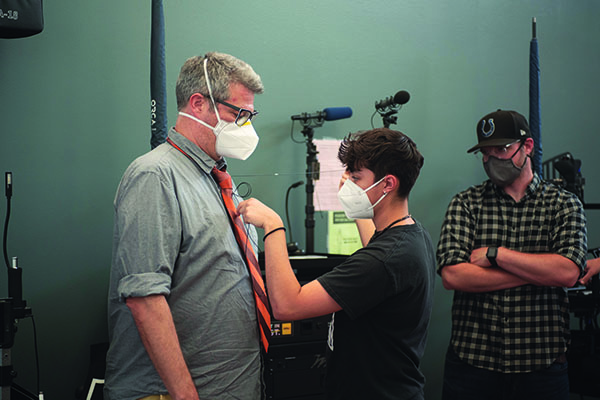 That being said, the success stories that we have seen have been nothing short of inspiring. Some of our earliest program graduates, like Yohannes Skoda, Britney Darrett, and Terrell Woodard have become full Y-7A Utilities and are quickly becoming some of the most sought-after young workers in our Local. The training program has taken a mother living out of her car with her two children and put a roof over her family's head. Through our program, a young Ukrainian man was able to gather the money necessary to evacuate his mother to Poland following the outbreak of violence by Russian forces. People who might otherwise have never found an opportunity to be a part of our industry or community are now thriving because of the program we've built, as well as the ambition, dedication, and hard work of the trainees themselves. We've come a long way, but there is still much work to be done.
Now, there are several other programs that ostensibly share our goal of bringing representation to the Hollywood crafts. Various studios and organizations are all trying to tackle the difficult issue of racial disparity and systemic obstacles that have been put in front of those from underrepresented backgrounds. However, there are key benefits to the Y-16A initiative that stand to make more of a positive impact than similar programs. For one, all of the "intern" or training programs I have found seek to hire workers of color at a reduced rate. Minimum wage and "for the experience" oriented programs are becoming quite popular among the studios. Why shouldn't they? Being able to hire workers of diverse backgrounds while paying the least amount of money is a win/win, right? The problem is that this is tokenism at its finest. These programs seek only to increase the visibility of disenfranchised individuals without considering their overall well-being.
The Y-16A program gives trainees nearly all of the benefits of union membership. They are entitled to all of the representation and protections that the union has to offer. Their worked hours contribute to the union's health and pension programs–benefiting not only the trainees, but the whole of the union as well. The trainee rate, which stands at $24.65 an hour, has been calculated based on the minimum cost-of-living index for the Los Angeles area. These factors work together to set the minimum standard for which a person—any person—should be expected to work and be compensated in our industry. Any diversity program that offers less is essentially saying that people of diverse backgrounds are expected to work in the lesser tier of a two-tier system; that they are not entitled the sort of union representation, wages, conditions, and benefits that people who look like me get to enjoy every day. From my point of view, that is unacceptable. As we work to bring diverse representation to our productions and to our crews, it must always be with the intention of bringing equality and equity to those who help us diversify. That said, we are grateful for the support we have found. Our program would not have grown to the extent that it has without the support of the employers who believe in the work that we are doing and have extended life-changing opportunities to our trainees.
In an ideal world, more shows would have trainees and all crews would have the skills and time afforded to them to help these people. In time, it is our hope to expand the program to include in-classroom training, mentor workshops and seminars, and a more clearly defined path for our Y-16A's to transition to full Y-7 or Y-7A classification. We will continue to see the program evolve and grow into an even more positive force for good in our world. A better represented workforce helps our industry, a better trained union helps our Local.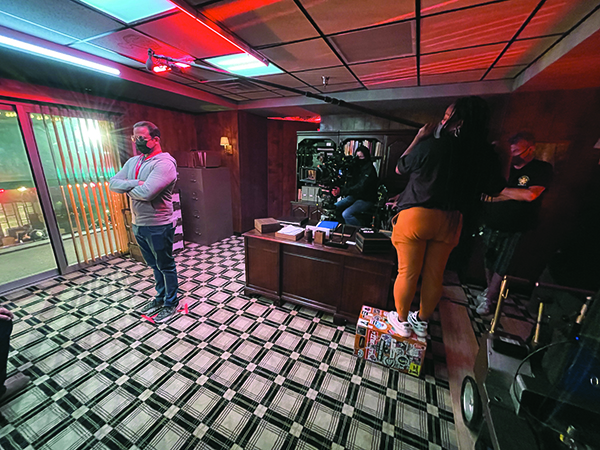 There are several ways that members of our Local can become involved and help this program grow into an even larger force for good in our community. If you are interested in becoming a mentor, contact the Local so that we can begin discussions with your productions. Donate your skills to our next trainee event so that the next generation can learn from your wealth of experience. Take a chance and bring on a recently graduated trainee as the Sound Utility or Video Assist assistant on your next production. Buy-in from our members is how this program has built up to what it is today, but with more support from the membership at large, Local 695 can build something unique and wholly positive within the culture of Hollywood.
Real change can come around. At the very least, a few of us old white men can try to help where we can.