by Erik H. Magnus CAS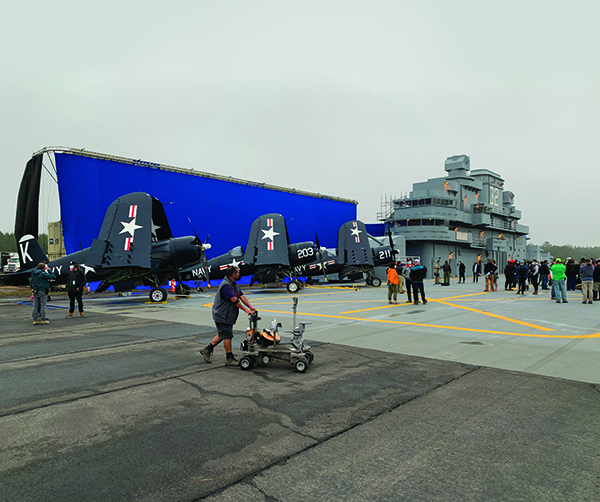 Devotion is a movie based on a nonfiction book of the same name. Taking place in the first year of the Korean War, it tells the story of the friendship of two Navy pilots: Ensign Jesse Brown, the Navy's first Black carrier pilot, a sharecropper's son from Mississippi played by Jonathan Majors, and Lieutenant Tom Hudner, a white New Englander from the country club scene, played by Glenn Powell.
We filmed on location in Savannah, GA, including at a military base. On an airfield landing strip, a full-scale set of the top of the Leyte aircraft carrier ship was constructed with green screen extensions so that actual working fighter planes from the Korean War could land and take off during the scenes to be filmed. A variety of authentic Korean War fighter planes were brought in from out of state, including F4U Corsairs, F8F Bearcats, AD Skyraiders, a Mig 15, and Sikorsky H0S5-1s. These were the last propeller-based planes to be used in combat before the jet age started.
Coincidentally, Glenn Powel and our aerial camera unit had recently completed flight sequences for that other Navy fighter pilot movie in the pipeline, Top Gun: Maverick. I knew this was going to be a fun and satisfying production sound shoot, and it didn't disappoint!
For my part, I just enjoy working on motion pictures with historical stories. Any script set prior to the 1980s always seems to give us an extra edge in recording good clean production tracks. The lack of all the modern technology noisemakers and generally slower pace of life in the past makes for a less acoustically polluted set atmosphere. Frequently, the props from a bygone era afford us opportunities for onset sound effects recording as well. I find that directors on films taking place in the past are often more open to discussions with me about production sound. The environment triggers nostalgic sounds from their childhood, which puts them in a good frame of mind to imagine the soundtrack of the story we set out to tell.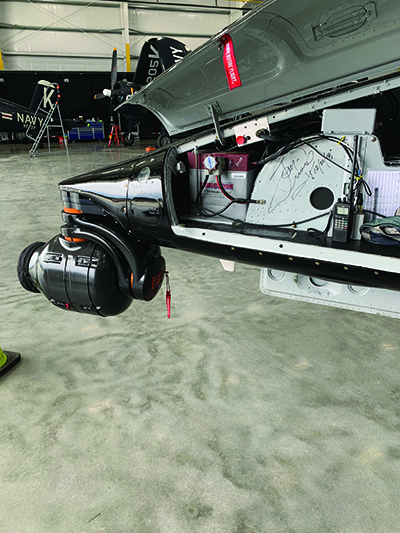 My Zoom interview with Director J.D. Dillard went as well as a Sound Mixer could hope for. Most of the interview was spent discussing the needs of production sound and what he envisioned for his story. The first thing he told me was that his father had been in the armed services and had always felt that movies and TV shows that portrayed military stories were rarely accurate in the details. He promised his dad he would make this movie as true to life as possible, and that included the soundtrack. To achieve this, J.D. wanted to record the authentic propeller planes we would be filming with as much as possible. In flight, take off, landing, etc., the Korean War was the last time propeller-based planes were used by the Navy. After that war, the jet age was upon us and propeller propulsion was a thing of the past. So it was important to him that the soundtrack be as authentic to these planes as possible.
He also wanted to record dialog while the planes were in the air. This was an understandable request, but a challenging one to fulfill. At times, the cockpit canopy would be open, and even when closed provided very little supression of the engine/propeller noises in flight. Moreover, these original Korean War planes had very small cockpits. Whatever available room wasn't being taken up by an actor or the pilot was occupied by multiple cinema cameras. The Sound Department was told we had to use the smallest recorder possible.
At first, we didn't think this would be a problem. The plane did have a communications system that we were told worked and that we could tap into to record during flight. With modern aircraft and helicopters, I have successfully recorded an actor in the scene by using an aviation specialty CAAVMIC cable from the Remote Audio company (a Trew Audio company) to tap into the flight communications connected to the boom mic of the flight helmet the actor is wearing. The aerial crew provided me with an interface cable built to connect to the modern jet used in Top Gun: Maverick, but unfortunately, the 1940s era Corsair plane we were using on Devotion was not compatible with this custom cable. The next stop was contacting a company called Bell's Aviation, which specializes in historical flight gear. The owner said he could make an interface cable for this 1940s plane, but the pandemic had disrupted supply chains. The part we needed was not going to be available until well after we would be done filming the scenes. We could not escape the fact that this 1940s technology was too old school for our modern recording solutions.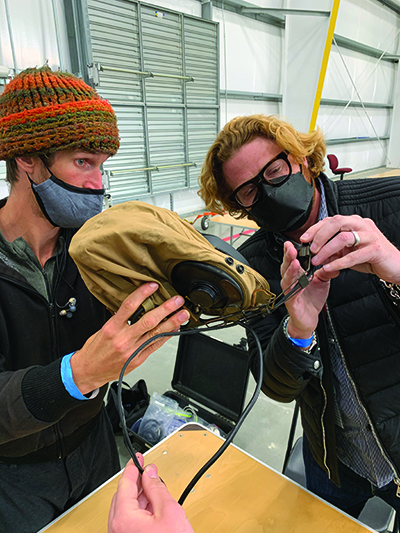 So we had to get creative. Our first attempt was connecting a Lectrosonics SPDR Stereo Portable Digital Recorder to the original Sound Devices Mixpre so we could take advantage of the superior limiter in the Sound Devices unit. This was another piece of equipment purchased years ago that had not been used in quite a while. This and a couple of plant mics mounted around the cockpit were to be connected to the Mixpre mic XLR inputs, providing us with what we believed would be a workable solution. During a test flight, this proved not to be the case. The noise level in the cockpit was way too high to record any usable dialogue and the Mixpre pan pots kept getting hit by the actors knees. Back to the drawing board.
Our next idea evolved over time to become something workable. The sound team experimented with using a red dot, black Sanken COS-11D padded lavalier wired under the actor's chest to see if that gave us the sort of clarity and quality we needed. It was an improvement to be sure, but still not quite up to par. Thankfully, our Sound Utility, John "Hank" Martin, is pretty handy at rigging and soldering, so he was able to thread the COS-11D into the flight helmet mic boom. Only by using this lavalier mic that was almost touching the actor's mouth were we able to cut through the deafening noise and record something intelligible. Best of all, the setup passed inspection by our Director of Photography, Erik Messerschmidt, ASC, who was confident that it would not be seen on camera. In the end, our compact rig consisted of the Sanken COS-11D wired directly into the flight helmet mic boom and plugged directly into the Lectrosonics SPDR Stereo Portable recorder and powered by an Ambient Eumel. Dual mono recording right track recorded -5db to be lower with limiters on both.
In addition to filming during flight, we had about a week and a half on Video Wall stage where each of the actors would film coverage shots in the plane on a buck rig that was synchronized with the LED backdrop.
The Director and First AD both needed to be able to communicate with the actors in the buck rig (a full-sized gimbal mount which is used to articulate the plane to simulate flight), so an earwig was requested. This made me nervous. The uncomfortable helmets the actors needed to wear were often pulled off in frustration at a moment's notice. The real possibility of my one remaining Phonak Invisity ear wig falling into the bottom of the cockpit floor where it could be stepped on or fall into any of the small dark crevices made us come up with a new solution. The Sidekick 3 IFB single-ear monitor from Bumblebee has a cable so thin as to nearly be invisible when properly hidden and had just become available for sale. Version three was now universal for either right or left ear. The first two generations required you to choose either the left or right ear. We connected it to a Comtek PR 216 receiver so that there was no chance of it falling out. Our Director and First AD had individual push to talk handheld microphones feeding into each actor's Comtek PR 216 receiver, allowing direct communication as required. Another problem solved.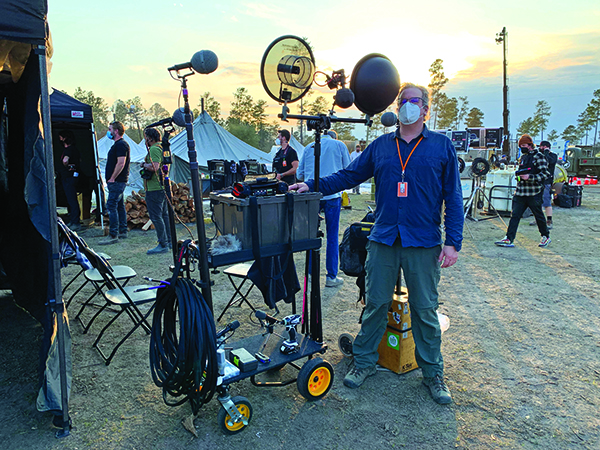 But of course, there were plenty of challenges outside of the planes as well. Many of our sets were large and spread out, meaning that a remote antenna setup was required. Hank assembled the first iteration of the remote antenna cart using my active Wisycom LPDA antennas. Seventy-five feet of cable was usually enough to get the job done, but starting with the aircraft destroyer scenes, the Wisycoms began struggling to reliably pick up the actors' transmitted signals as they darted to and from the Corsair planes. To solve this RF issue, we switched them out for a couple of professional wireless brand Helicals. The circular polarization pattern of Helical antennas made it possible to pick up the RF signals despite all the metal plane bodies that had been interfering with signal transmission. I tend to collect sound carts and gear in general. I don't like to sell or get rid of older equipment when I upgrade to more modern tools. Sure enough, an old rock-and-roll brand cart I picked up years ago at Guitar Center ended up forming the base of the remote antenna cart. After we got to the muddy battlefield set, I was forced to upgrade to bigger front wheels and added the top shelf for stability.
One of our main exterior sets that was built to scale was the flight deck of a Navy aircraft destroyer. It was built on an airstrip outside of Savannah, Georgia. Some of the scenes to be filmed included Corsair planes landing and taking off. This required an aerial unit located in Seattle, Washington to begin shooting coverage several weeks prior to the start of principal photography, and continuing their work concurrently with our own. Scenes with 1940s cars were going to be filmed as well. Plenty of opportunities to grab on-set production sound effects. I knew we were going to have to capture any sound effects on the fly, as holding up production was not an option. I set about to build a quick deploy stereo sound effect recording rig based around the Sound Devices Mixpre3 II that I already owned. The size of those Mixpre 3s is so small and light that they are easy to deploy quickly. Up to 192 kHz recording capability, Mid side, and jamable time code made it the perfect choice for the assignment. To supplement my Audio-Technica BP4025 condenser XY stereo microphone, I added a newer Sanken Short M-S Stereo Shotgun mic. The smallest K-Tek Stingray bag and a Sound Guy solution belt clip made for a very tidy rig. A Triad-Orbit tripod and a sandbag made for a stable mic mount to set up on set. With all that, we were ready to go.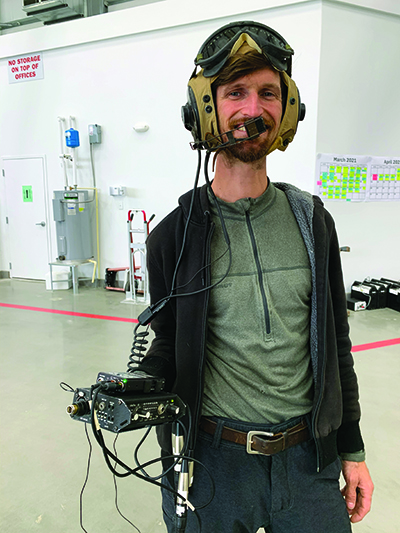 During battlefield scenes, explosions were so loud we used a couple of Shure SM 57 dynamic mics attached to Lectrosonics plug-on transmitters sending a signal back to the venue receivers and on the back of my main sound cart.
The story of Devotion and our director's wish for a period accurate soundtrack afforded us many opportunities throughout filming to record many on-set sound effects. It is always a team effort. My crew consisted of Patrick M. Wylie, Boom Operator, John "Hank" Martin, Utility Sound, Alex Lowe, Pro Tools Music Playback Operator and Graham Kicklighter, 2nd Unit Sound Mixer assisted us with additional plane recordings. Devotion is a Sony/Columbia Pictures/Black Label Media production releasing exclusively in theaters on November 23.