by Lisa Piñero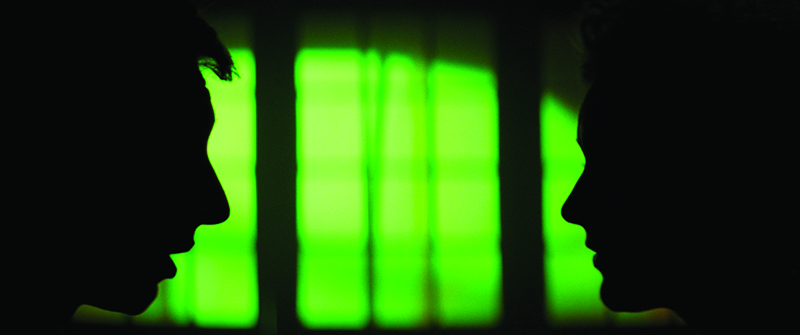 My first opportunity to work with Noah Baumbach was on Marriage Story (2019). I have been a fan of his films for many years, so I was excited to be involved in the project. We had a great sound team on that show which included Randy Johnson (Boom Op) and Eva Rismanforoush (Sound Utility and lots of 2nd Boom). We enjoyed working with Noah and I was happy to hear back from his team in September of 2020 that Noah wanted us back for his next project that would shoot in 2021. White Noise is director Noah Baumbach's first film adaptation of another writer's work. In this case, the writer Don DeLillo and the work, his 1985 novel of the same name. Noah had assembled a great cast, including Adam Driver, Greta Gerwig, Don Cheadle, Jodie Turner-Smith, and Lars Eidinger. It's a story narrated by the character played by Adam Driver but features many others in his life, including his family, his colleagues, and other members of his community. There are also large crowd scenes and several sequences that take place in cars.


Having worked with Noah previously, I knew that he would encourage his cast to talk the way people naturally talk in large familiar groups. Conversations overlapping between individuals inside of larger groups would be rehearsed and shot many times until he and the cast developed the rhythm and execution that Noah was looking for. We always boom everything and wire everyone to give Noah and the cast the freedom to say the words wherever, whenever, and at whatever level they want on the set without worrying about losing even a syllable, no matter the location, set, or lighting.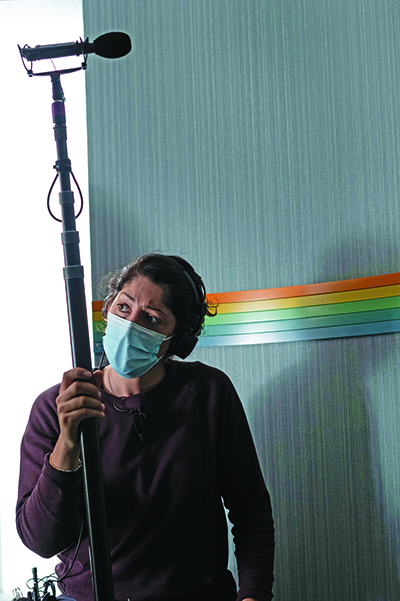 I mixed a film here in Los Angeles the summer of 2020 during the height of COVID. Even though the city was working at one quarter of its capacity, we had been very challenged in finding clean frequencies at our practical locations with the hybrid wireless system I was using at the time. There were a lot of scenes with high cast counts and I found myself scanning and coordinating frequencies multiple times during the day which was time-consuming. I used Shure's ADX system previously on a music show we shot in June 2019. That introduced me to the power of Shure Wireless Workbench software and reliability of Shure Axient Digital wideband wireless system. After using it, I was smitten with the range, the sound, the rugged build quality, the well-designed body pack, and the bulletproof implementation of Dante which made the system amazingly easy to scale. Along with many others, I had been begging Shure for a 12-volt DC option on the rack receivers and hoping for a portable slot-based receiver. As soon as the 12V DC receiver option was available, my order was in for twelve channels of Shure ADX. By early 2021, I had converted my Cantar X3 recording cart to fully Dante based with Shure ADX wireless. Shure came through with three ADX5D slot receivers in early May, assuring that White Noise would be our first show with 100% Shure ADX wireless.

On the first day of scouting in Ohio, Noah asked me to always have at least twenty wireless mics available for cast. The cast counts on the schedules showed frequent scenes with cast numbers in the teens but he wanted to be able to upgrade additional people he chose from our background players at any time. The plan was that he would write and give them lines on the spot, and we were likely to have very short notice as to how many additional there would be. I was glad to have the heads up early and I got to work with Matt Tenero at Gotham Sound's rental department which had already built up a rental inventory of Shure ADX. Matt and his team put together a single rack case housing a couple of Shure AD4Q receivers (four channels each), a Shure AXT600 Spectrum Manager, a network switch, antenna, and power distribution. The rack case fit perfectly on the bottom shelf of a Backstage Junior cart we keep on the truck for extras. Only two connections to make—one to my antennas and the second to the network switch on my cart. Just like that, we were ready to go with twenty channels of wireless available on Dante inputs at the recorder. The system worked flawlessly throughout the show, including some very wet, hot, and dusty locations. Adding a wireless router allowed us to change transmitter settings easily using the Shure Channels App and Showlink without ever going near a cast member. We also had a chance to utilize Q5X AquaMic waterproof transmitters which work with Shure ADX receivers for a scene with five cast members waist-deep in water floating across a creek in a station wagon. Shure Axient Digital has been the go-to wireless system for mission critical applications like arena touring, live theater, and broadcast for years. I'm glad we finally have these robust tools available to us in production sound.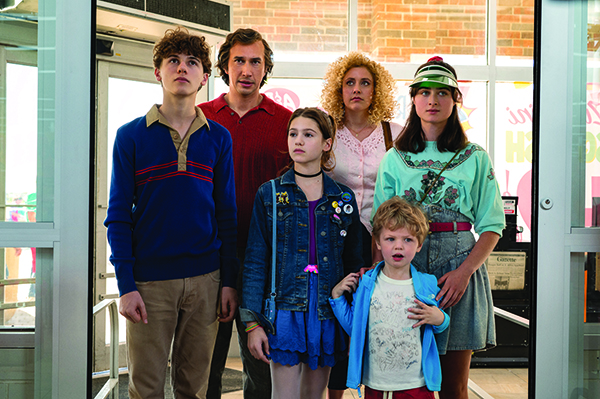 As is almost always the case, doing the best work requires teamwork and collaboration with other departments. We had our share of challenging locations but one set worried us the most. In fact, I had been sent an iPhone video from a director's scout of this location months earlier because the acoustics were so bad that pretty much everyone on the early scout thought it would be impossible to shoot there. Everyone except Noah, who wanted us to find a way. The space had been a reception area of a now defunct theater space in Cleveland. The room had an octagon footprint with twenty-one and a half foot tall walls and a parabolic ceiling. All surfaces, including very large glass windows were hard and reflective. There were two adjacent rooms. On one side double doors opened to an even larger lobby area with a parabolic ceiling. The other side opened to a circular ante room with a very high ceiling and a stairway. This wasn't your average variety reverb situation. The existing acoustics in this space made speech barely intelligible. The scene to be shot here would be a spirited debate between two professors. The written dialog was expected to be performed in a dynamic fashion and came at a pivotal moment in the story. After sharing room recordings and discussing the situation with Sound Designer Chris Scarabosio, we worked with our producers to bring in an acoustical consultant to run a series of impulse-response tests in the space and make recommendations on possible treatment options. Enter Quincey Smail of ABD Engineering and Design, who was brought to Cleveland to acoustically model the space and make recommendations on modifications to improve reverberation time and background noise. Production Designer Jess Gonchor and Art Director Chris Farmer took Quincey's findings and materials suggestions to make the space completely suitable for recording the scene while keeping intact all the visual design elements that Noah loved.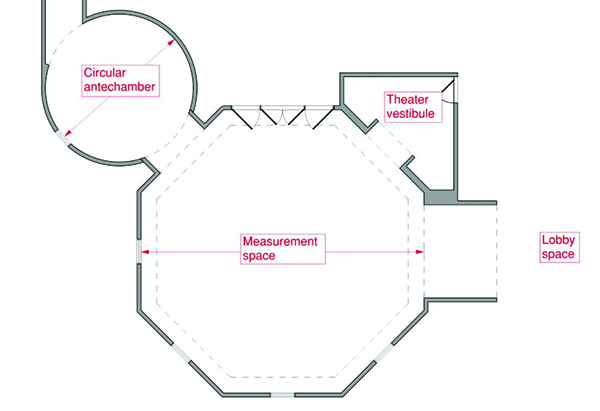 Our "stage" had been a Walmart store in a prior life. It was part of an abandoned mall where our production was based. It was a funny setup with the production office occupying a space previously used for a bank and every other department using a former retail space. The so-called stage space was plagued by the usual problems associated with using a space designed to be one thing for another thing entirely. The room had a metal roof which is extremely problematic in the very rainy and stormy Cleveland, Ohio, summer. You could not hear a person talking to you from a foot away during the frequent downpours. There was also a club in the mall which had remained open and had extremely loud music scheduled for just about every evening between 6 to 11 p.m. This was a tad distracting to our cast who had a hard time ignoring it while we attempted to shoot through it. There were many more challenges in the space, including a haphazardly assembled air-conditioning system that persisted as a work in progress throughout our shoot and the hideous acoustics in a hard wall and floored square box. Our grip team headed by Mike Popovich made the place somewhat workable for recording dialog by surrounding our sets with heavy floor-to-ceiling velvet drapes. Teamwork and good inter-department working relationships can make almost anything doable.
Another of the many instances when the Art and Grip departments helped us improve the sound for a scene was in the lecture hall film projection sequences. The scene would have a large and loud commercial grade projector running in a college lecture hall's booth while one of the professor characters in the film spoke on the featured sequences. During our scouts, I noticed that the booth was not soundproofed, making it difficult to get clean dialog while the projector ran. To isolate the noisy projector inside the booth, we lined its interior wall with mass loaded vinyl (MLV). "We" in this case means Randy and Eva, along with some help from our Art Department and grips. MLV is a VERY difficult product to work with. It's very heavy and unwieldy. I located a local source for the MLV product and Randy hit the hardware store to get the hardware and tools together. Randy and Eva cut custom-shaped pieces from large rolls and then drilled the heavyweight soundproofing into the walls. It was a grueling job that they managed to get done on our last day of prep so that we could shoot the scene the next day. Their work made a huge difference in terms of the quality of our recording and allowed our director to shoot the scene in the way he preferred.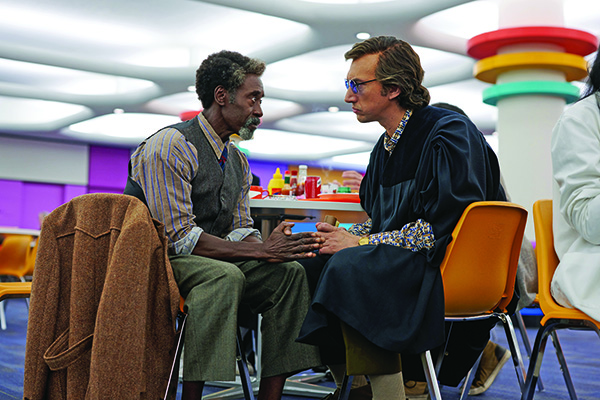 It doesn't take long for anyone who works in production sound to come to an understanding about how important a good relationship with the Costume Department is. The quality of our work depends on it. On White Noise, we had the honor of working with legendary Costumer Designer Ann Roth. Julian-Andres Arango, Lucy Cobbs and the rest of the on-set costume team were a joy to be on set with and worked tirelessly with us to get body mics into the best positions possible.
We worked long hours with considerable drive times back-and-forth to many of our locations. The show was plagued by COVID flare-ups in the crew, complications with locations, etc., which kept us working in Ohio into November. Wiring the large cast counts, along with a frequent need for two working booms on set, gave us good reason to add another crew member to our sound team. Kelly Doran joined us as a fourth a few weeks into our schedule and was a huge help at both utility and additional boom. Jason Fyrberg came on soon after to handle Second Unit sound mixing duties. When we went well past our original wrap date, we lost Randy Johnson to prior commitments. Dave Roberts did us the favor of booming us through those last days on the freeway traffic jam and in the woods where his experience clearing the Appalachian Trail came in handy. After we wrapped principal photography in Ohio, Jason and Kelly went on to handle 2nd Unit sound duties with the stunt unit in Georgia.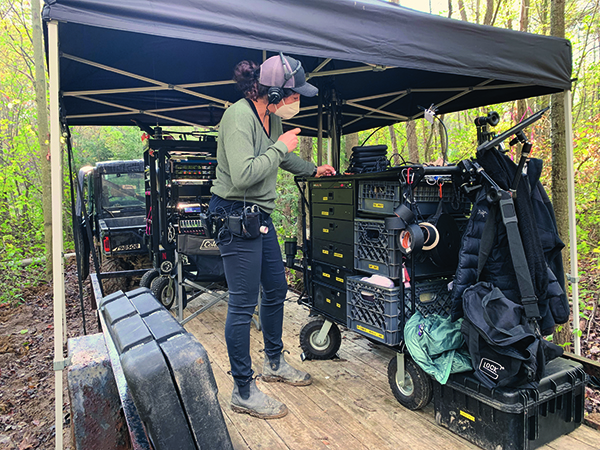 While you're watching White Noise, make sure to keep an eye out for a cameo by our very own Randy Johnson.