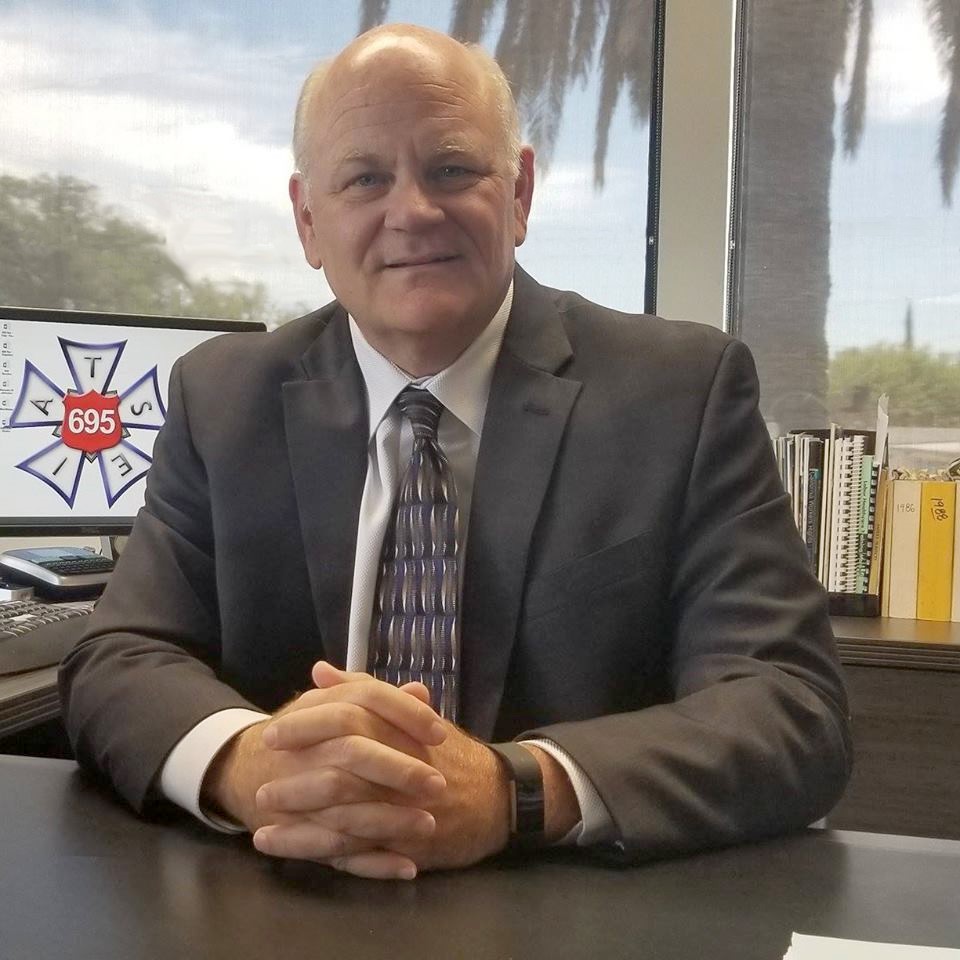 Returning to Normal
For two years, Local 695 has been forced to conduct its General Membership Meetings online via the Zoom video conferencing software as we distanced ourselves from one another in response to the COVID-19 pandemic. We are fortunate to live in a time where such a thing was possible. Had the pandemic come a decade earlier, meetings of any sort might have been impossible. Still, virtual meetings just aren't the same as getting to be in the room with everyone. Talking to a computer screen can't replace the experience of having one-on-one conversations with someone else in the same room. So, I was eager to get back to meeting with our members in person and we were finally able to do so during our fourth quarter membership meeting. However, there's no denying that Zoom has its advantages and so the Local 695 Board of Directors made the decision to host this first meeting back in a hybrid format. We knew from experience that the Zoom software was not designed to be used in this hybrid format. But who better to make it work than Local 695's Broadcast Engineers? Heck, this is what we do for a living. The task was taken on by our very own President Jillian Arnold and Local 695 In-House Video Engineer James Delhauer.

Jillian and James put together a team of Local 695 members and trainees, all of whom are experts in live broadcast production. Zak Holley, owner of Holley Video, is an expert in video streaming and remote video conferencing. He and new member Tristen Poliseno built a five-camera broadcast setup with its very own control room in the back of the main presentation stage at Local 80. Using this setup, they were able to live switch the meeting so that viewers on Zoom would always be able to see the current speaker, regardless of where they stood in the room. There is a sound system available for use at Local 80, but it had not been designed or configured for this sort of job. Thankfully, members Bill Kaplan and Samantha Cowen joined Jillian's team for the afternoon before the meeting and helped recalibrate the speaker system and replace the existing microphones with units more suited for our purposes. The meeting itself was mixed by one of our Y-16A Sound Trainees, Oscar Alva, who had the difficult job of juggling six live microphones alongside the audio from the Zoom feed, both of which would cause painful feedback if they were being tracked simultaneously. Oscar was supported by our Y-16A Program Directors, Jamie Gambell and Ben Greaves, who arrived early to ensure he had everything he needed for success and acted as stand-ins while Oscar learned the system. And all of this was run and coordinated with help from Cindy Vivar and Casey Weiss from our office staff.

The meeting started with a couple of technical hiccups that were quickly fixed and then we were off and running. Everyone could feel the positive energy in the room. Being together again to share in solidarity and fellowship after so long apart was emotional. We get so much out of these meetings. For the Local's leadership, it's our opportunity to share the work we've been doing with our members and learn what areas they need us to focus on going forward. It's no exaggeration to say that the members who come to these meetings to discuss issues within the industry help shape the direction of the Local going forward.

The meeting was a success and by the time it was done, all I could think about was how excited I was for next year's first quarter meeting. If you are in town, I highly encourage members to come to the meeting in-person. The exchanging of ideas and collaborative spirit that comes to life in the room just can't be matched behind a computer screen. A very profound and heartfelt thank you to everyone who helped to make this meeting a success. I'm very proud of what we were able to achieve that day at Local 80 and look forward to seeing what we'll continue to achieve going forward.

In Solidarity,
Scott Bernard, Business Representative
scottb@local695.com