By Richard Lightstone CAS AMPS
Drew Kunin is a Production Sound Mixer with a wide range of international locations and projects. To name a few; Crouching Tiger, Hidden Dragon (2000), Adaptation (2002), Lost in Translation (2003), Brokeback Mountain (2005), Life of Pi (2012), Bridge of Spies (2015), Mank (2020), for which he received his third Oscar nomination, plus In the Heights (2021), and The Whale (2022).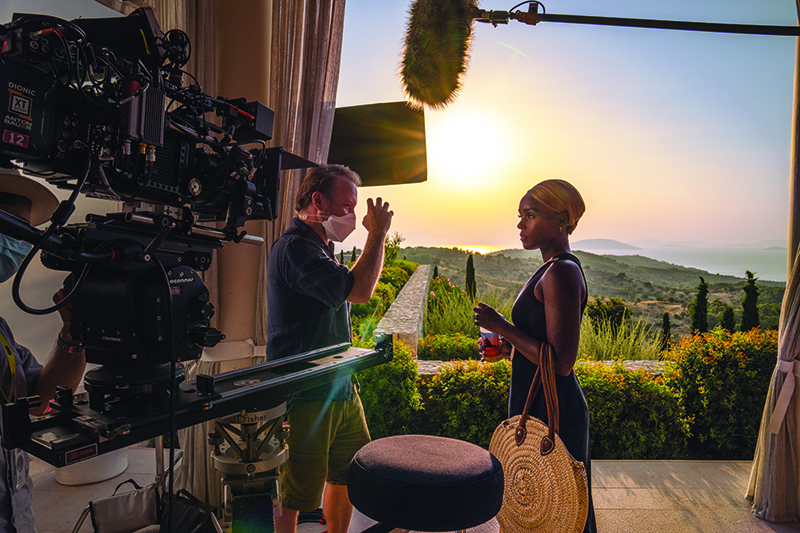 I caught up with Drew while he and his wife were on vacation in Portugal where we discussed his work on Glass Onion: A Knives Out Mystery, his second feature for Director Rian Johnson, and the sequel to Knives Out (2019). Drew had wrapped The Killer for David Fincher and was getting some needed away time before starting May December for Todd Haynes.
Drew describes Rian Johnson, the Director of Glass Onion, this way, "He's really smart and really cinema-savvy, with an encyclopedic knowledge of modern movies. He's a cinephile in a way that's truly fun. He's enjoyable to be around, he does a lot of homework, and comes ready, every day. He knows what each shot's for and how the scene's cutting together."
Drew continues, "The Producer, Tom Karnowski, was the Producer on The Post, a Steven Spielberg film that I had also been the mixer on. That was a show that involved some huge scenes with lots of characters talking. There were scenes with sixteen people, eighteen people speaking. There were long, very busy, very talky scenes that went from room to room to room without cutting. It was very complex to record. Steven was really pleased with how we were able to get all that stuff, and his post team was, too, as I believe they had the shortest post schedule of any film Steven has made since the 1970's. The original Knives Out was similarly talky, with complicated, dialog-driven scenes and lots of characters speaking. I don't think we ever got to eighteen, but there were like fourteen, ten, or twelve people all talking at once and it just was very busy. When Rian and Tom were discussing the potential recording difficulties in early pre-production, I think my name came up."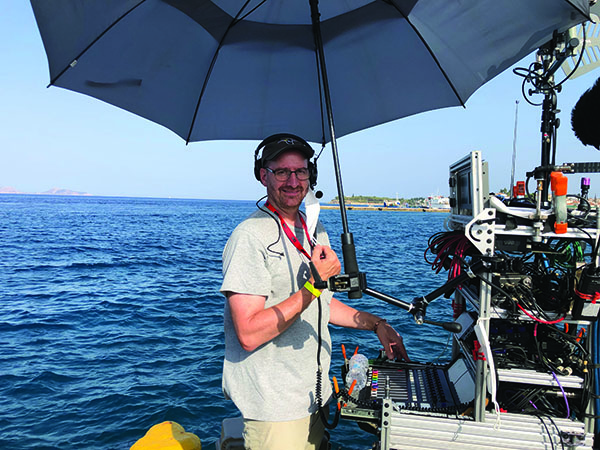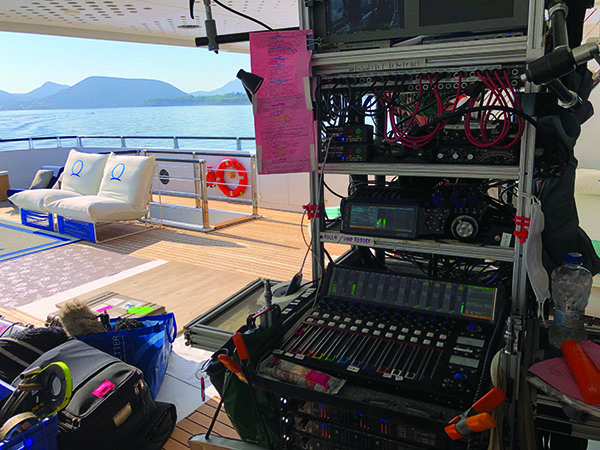 Knives Out shot in and around Boston during a particularly chilly autumn, with a bitter cold snap in November and December, but the sequel ventured to southern Greece and the city of Porto Cheli, plus the island of Spetses. The main set was a large villa made up of twelve pavilions that cascade down a hillside with a huge central staircase and six pools. Some of the interior sets in the main villa were then built on an enormous stage in Belgrade, Serbia.
"As I heard it, when the idea of a sequel was mooted, Daniel Craig was like, "Yeah, I'd love to do the character again. I'd love to be involved, but I want it to be some place really nice. I want it to be like a holiday in a great location … somewhere that's warm." When they first began talking to me, I believe they thought it might be Tahiti or Bora Bora or something like that. But we ended up in a part of Greece that's gorgeous and in an amazing villa that's just phenomenal. Once they found that house in Greece, they were like, "Oh yeah, this will be it," and then they were able to build the production around this one, outrageous villa."
Glass Onion is a crime whodunnit where Detective Benoit Blanc, played by Daniel Craig, solves another murder mystery. The cast included Kate Hudson, Ethan Hawke, Edward Norton, Dave Bautista, Janelle Monae, Kathryn Hahn, Leslie Odom Jr., Madelyne Cline, and Jessica Henwick, with some intriguing cameos, including Hugh Grant, Yo-Yo Ma, and the late Angela Lansbury and Stephen Sondheim, to name some of the large cast.
Drew explains, "The location was very exposed to the sun and the wind in the afternoons, the wind comes up as the land heats from the sun, causing thermals to rise, and this wind comes in off the ocean. We had to deal with that almost every day. There was a lot of wind, a lot of exposure, and difficult booming, because there were hard shadows visible from the bright sunlight, plus we had multiple cameras. And there was another thing that was an issue with the villa, there were cicadas. It was a year with a particularly big hatch of them, and we were shooting at the peak of their cacophony. I did a lot of wild tracks of them to try to build up an archive of variations that would give the post team some ammo to help find a way to blend it all. I've spent my career working my butt off to try and create quality production tracks, and we try to get pristine tracks as much as we can, but that's not always possible, sometimes for factors beyond our control. In this case, Matthew Wood and Josh Gold and their post team were diligent in trying to preserve and massage the production tracks as much as possible, to see if they could find a way to utilize what we had delivered. Thankfully, they managed to stitch it all together seamlessly, between clever processing and pulling occasional words from other takes when necessary. Amazingly, they were able to work with and augment most everything we gave them, and ultimately, everyone was extremely happy with results (and the cicadas are still in there; not as a problem, but as part of the soundscape)."
On the original Knives Out, Mike Primmer was the Boom Operator, with Boston local Utility Ryan Baker. Mike was not available for the sequel, so Patrick Martens got the call. Drew had met Patrick on Mank, as he had come in when Drew needed three Boom Operators for the big party and banquet scenes (more scenes with eighteen different characters speaking!). Drew was eventually able to convince the producers that it would be worth it to bring Ryan onto Glass Onion as well, because he had done such great work on the first film overseeing and organizing the wiring of that sizable cast, and more of the same expertise would be required.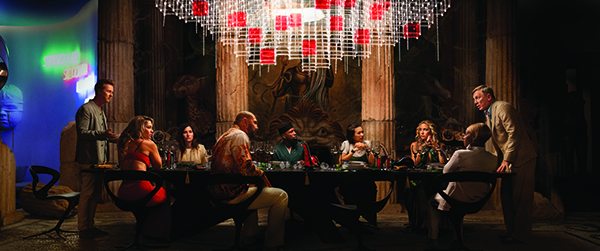 Drew's microphone of choice for interiors is usually the Sennheiser MKH 50, and sometimes the Schoeps CMIT 5U for wider shots, with the CMIT taking the primary role on exteriors, as well as the Neumann KMR 82 and sometimes the Sennheiser 8070. The big change from the first film was his switch to the Shure Axient wireless system after he first used them on In the Heights. Mank was actually the first film released that used the Axient Digital system on set. Despite being shot after In the Heights (and West Side Story), it was released many months earlier. "The Axient Digital system, from my end of it, has been very stable and user-friendly. It has handled lots of transmitters running simultaneously in difficult RF environments, generally without a fuss. It will manage the frequencies of all the transmitters with Show Link, which is really nice, as I already have enough to worry about." Drew explained why he continues to invest in his equipment package. "One of the big issues is that we are independent contractors. You've invested a lot of your money over the decades to build an ecosystem that you keep populating with more equipment that is still reverse compatible to what you already had. The thought of changing it all over is a huge investment that no one is gonna pay you for. You're not going to get a penny more from a producer because you've got this system or another system. But it's part of your cost of doing business. Because you know the twist that you're feeling in your bowels when it's all going haywire … what would it be worth to have that go away?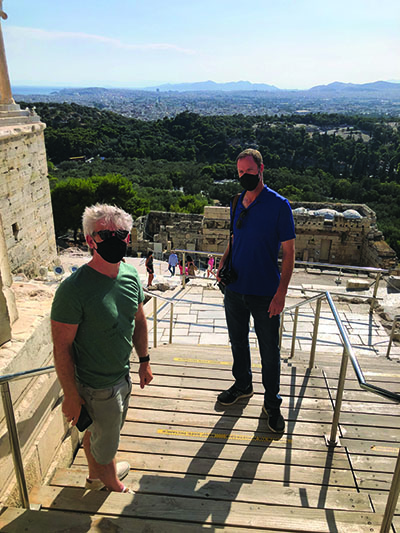 "I use the Cantar X3 as a recorder, with a Cantaress mixing surface for tracks one through twelve, and a Cantarem 2, alongside for those scenes when I need to expand to tracks thirteen through twenty-four. In the end, I was able to get my cart to most places where we shot, however, I also wanted to have a bag rig setup, and have the ability to leave the transmitters on the actors for times when I'd be in a more mobile mode. If we have to shoot on the docks or the boat or a car, I could just grab a bag rig that had the receivers matching the existing transmitters and go over the shoulder.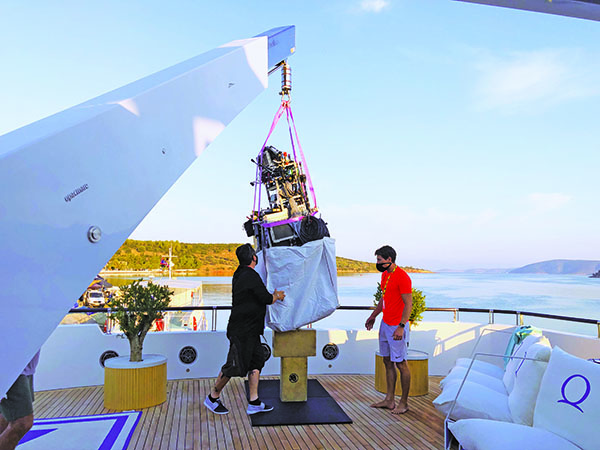 "I used six Shure ADX5D's (actually these were some of the very first ADX5D released) in two PSC 6-Packs (as they're double receivers that would give me twelve wireless) with the Aaton Hydra card, and I had what I needed, all with the onboard mixer or the Cantarem 2. I made a cart built around the bag where I could unplug the cart from the bag and go over the shoulder. This tiny cart is quite vertical, and folds up to fit inside a rifle case that I can check on an airplane."
The main villa location being on six levels meant a lot of moving of the gear. The crew spent a great deal of time lugging equipment like Sherpas up and down the massive hillside staircase to the various pavilions and gardens on different levels. There was a lot of dark humor based on speculation about which level the next setup would be on. Drew found that the villa had an underground and hidden funicular car system that stops at each level. It allowed all the various pavilions and rooms to be serviced with laundry and food and such like, without seeing the mechanics of how things were transported. Unfortunately, it was a bit small, dimensionally, for much of the film equipment. "It happens that my main cart is an unusual size and shape, and it actually managed to fit into the funicular, which allowed me to zoom up and down to all the different levels. I work standing up. I don't sit and I've always done that, so I've built my cart very upright, in a vertical orientation, and it has a quite small footprint, although it's really tall. Then I have fold-out shelves, two wings that are for a second mixer or computers and peripheral stuff, but the shelves tuck away to allow me to get through tight spots … like the funicular.
"On Glass Onion, it's summer, it's in Greece. The actors were wearing light gossamer clothes and other skimpy costumes and it was tricky to get mics on them. There was a lot of work with the Costume Department that was very helpful and amenable. We did things like sewing mics on a strap of a bikini, or pre-rigging mics sewed into the seams of relatively see-through clothes, for example." For lavaliers, Drew generally uses the DPA 4061, although he will also use the 6061 when he needs something smaller. Occasionally, he'll also use a Countryman when he needs a super tiny mic, and also Sanken COS-11 in certain particular situations."
Steve Yedlin was the DP, working with the Sony Venice camera. Steve has actually worked together with Rian Johnson on all of his films. Drew says, "Steve is a very unique Director of Photography, in that he is the DP, and he is the DIT and he is also the Dimmer Board Operator, controlling all the lights on the set. He is extremely tech-savvy, but he does it with artistry, which is quite impressive. He has a workstation setup of his own design with all these keyboards and screens, usually very close to the cameras, and he's like, the man behind the curtain."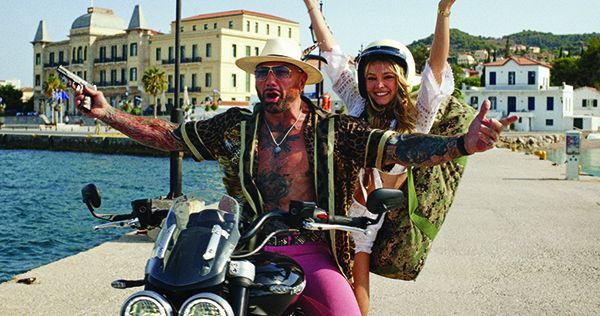 Rian likes to use multiple cameras in scenes, and he's diagrammed them out. He knows what's on his shot list, and sometimes they will end up doing wide and tight shots simultaneously; so occasionally you have to advocate for the sound. Sometimes, I would ask, "Hey, can we do just one camera? Can we have we have one take, once you're happy with that wide camera and you feel you got it?"
Rian would answer, "Sure, sure. Sure. Absolutely." You got to remind him, and he will do it. I don't want to be in an adversarial position with anybody, because we're all making the same movie. I think that asking to have at least a take or two with the closer cameras and not the wide, once they feel like they got what they wanted out of the wide camera, is possible with a director who understands what it can mean for the performance. If you make the case, then you can have it sound really fat and sweet.
"Ultimately, as a Production Sound Mixer, what I'm hoping to do is capture the magic of a great performance, as it happens in real time, with presence and clarity such that an audience can experience that same magic, wherever and whenever they see the film. With Glass Onion, hopefully the viewers will be pulled in by the very clever story and entertained by all the snappy dialog and enthralled with the fun performances, without ever giving a thought to all the crazy work it took to make it."
Glass Onion: A Knives Out Mystery was released in cinemas on November 23 and will then stream on Netflix on December 23, 2022.