by James Delhauer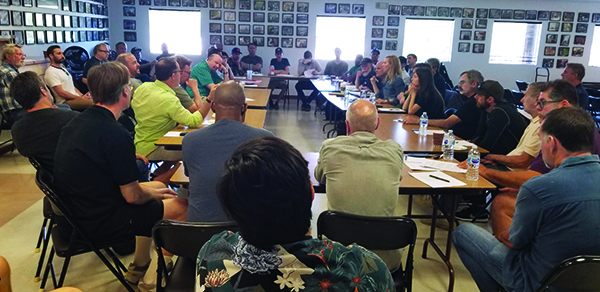 On March 30 of this year, almost fifty of the foremost video specialist members of Local 695 came together and held the Spring 2019 Video Caucus. The assembled specialists featured a diverse group of artists, each with their own sphere of expertise. Video Assist Technicians, Digital Media Managers, Playback Operators, Broadcast Video Engineers, and Projectionists all sat down with one another to take stock of the current state of affairs within both the union and the industry. Chaired by Vice President Jillian Arnold, the meeting served as an opportunity for workers across all fields to discuss their shared challenges on sets with local leadership and to explore constructive means of addressing those challenges. Local 695 Business Representative Scott Bernard, Recording Secretary and Education & Communications Director Laurence Abrams, Assistant Business Representatives Joe Aredas and Heidi Nakamura were all in attendance to field questions from the group and listen to feedback on how the Local can best serve the membership moving forward.
Throughout the day, a wide variety of topics were discussed, including how the evolution of technology has impacted the role of 695 workers, ways in which we can prepare for future developments in technology, maintaining our craft integrity, and means of effectively reporting contractual violations to the union.

Since the turn of the century, we have seen the technology that defines our industry growth at the prodigious rate. Innovations in digital cinema cameras, server-based media, LED projection panels, and web-based streaming platforms have altered the landscape of the video local. Digital video has come to be omnipresent on the set now, with modern workflows requiring monitors for most departments, digital dailies to be distributed across a variety of web-based platforms, terabytes of data to be captured and secured, and sometimes dozens of screens to be populated so they may be properly recorded on camera. For Local 695 Video, Playback, and Projection Artists—whose responsibilities include media playback, on-set chroma keying, off-camera recording, copying files from camera media to external storage devices, backup and redundancy creation, transcoding, and syncing—the changing technical needs require perpetual innovation. Our Video Engineers are at the forefront of the most bleeding-edge developments in service to our clients and our productions. Vice President Jillian Arnold stated that "Education is the key. Our membership needs to make sure it is abreast of what is coming out. If you can go to trade shows, go. Read every periodical you can. As the world continues to innovate, I know that the industry is finding that 695 techs not only have the knowledge required but have the passion and drive that makes them the best in the field. We need to continue that."

To that end, the Local is committed to doing what it can to help. Recording Secretary and Education & Communications Director Laurence Abrams stated to the assembled workers, "We already offer free classes at the Local. And I want to offer more. If anyone has a need for training that would benefit our membership, come talk to me and we will try to put it together."
But the growth of technology has not been without its drawbacks. In a time where digital media is such a prevalent force on the set, more and more 695 Video Engineers are finding their work being infringed upon by a variety of non-695 members. In fact, the majority of the caucus participants had personal anecdotes regarding others assuming their duties at work. Video Playback, on-set screen or projection work (sometimes referred to as 24-frame playback), and digital media management are all too often being mis-assigned to other departments, despite being long established duties of 695 workers. The widespread nature of these stories would suggest that these issues are not confined to a small series of isolated incidents.
Though technology has advanced and many displays are now outfitted with their own media playback devices, Local 695 specialists are trained in playback troubleshooting. Relying on others to do our jobs in order to save money can cause costly problems during productions. When the system goes down and plug and play doesn't work, the whole shoot can come grinding to a halt and each minute that ticks away is an expensive waste of time. At that point, it is essential to bring in a 695 engineer who should have already been there from the start. A production that has tried to save itself money has lost more in the long run.
But the largest subject of craft integrity was the topic of digital media management. Every single media specialist in the room had a personal story in which they were told that they could not copy files from camera media to external drives because that is the responsibility of a Local 600 DIT.
This is factually incorrect.
In March of 2017, IATSE President Matthew Loeb issued a ruling on this very subject, stating that the tasks of copying files from camera media to external storage drives, backup creation, transcoding, applying previously created LUTS, quality control, and syncing and recording copies for dailies creation were all contained within the Local 695 Basic Agreement and that going forward, jurisdiction would be shared between the two Locals. Nonetheless, the misconception is still prevalent.
With all of these issues out in the open amongst 695 membership, the conversation turned to what to do next. The leadership was vocal about their intention to address these issues and will continue working on them for the membership. Scott Bernard will continue his diplomatic efforts with other Locals to ensure that 695 work is being done by 695 members. Going forward, Local 695 intends to hold additional video caucuses on a regular basis so that it can continue to gain valuable feedback and insight from its members and work to address issues in that area. In the interim, all members are encouraged to reach out to the Local if they have and questions, concerns, or comments.