by Daron James
Sound channels dialog and music to capture P.T. Barnum tale.
Musicals can be a difficult task for production sound mixers. There's spoken dialog, dialog that transitions into live song or playback and vice versa. There's straight playback recordings, thumpers, earwigs, speakers, Pro Tools rigs, music editors on set and other contingencies you need to answer. The Greatest Showman from Australian Director Michael Gracey is as ambitious as they come and Production Sound Mixer Tod Maitland was up for challenge.
Maitland has traveled the sound block since the '70s, earning his Los Angeles union card working on the TV series MASH as a Boom Operator. He eventually found steady work on the mixing board and since has worked with some of the biggest titans in the industry. In 1990, he snagged his first Oscar nomination for Oliver Stone's Born on the Fourth of July and followed that up with two more noms for JFK (1991) and Seabiscuit, from Director Gary Ross.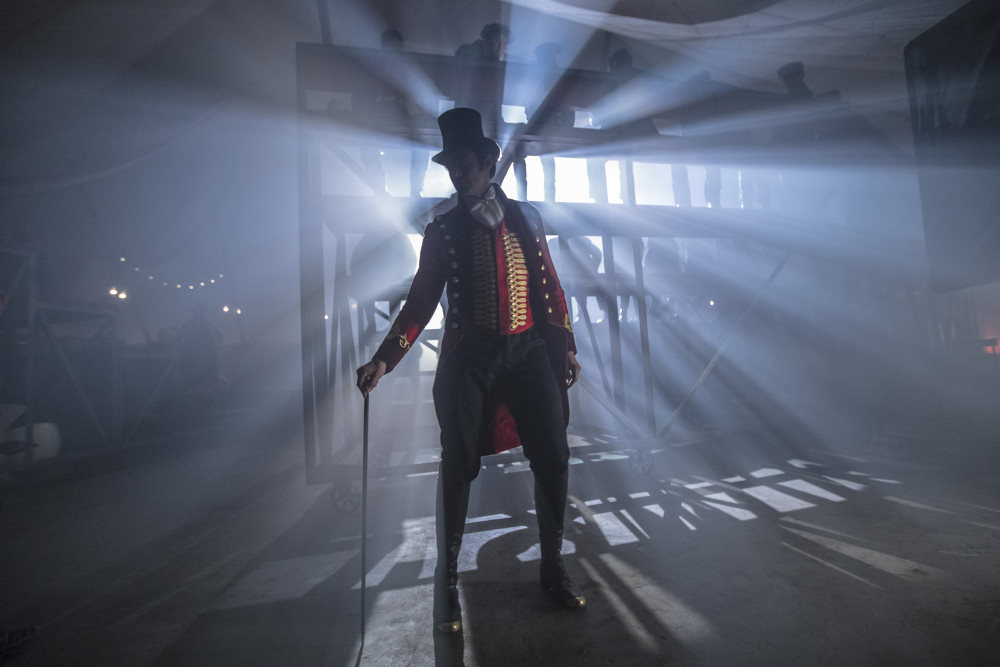 One of the films Maitland worked on that featured plenty of music—The Doors (1991)—initiated many of the techniques he uses today. The Greatest Showman is a rags-to-riches tale about America's original pop culture promoter P.T. Barnum (Hugh Jackman) and how he turned his family's life around in the most peculiar way.
Before shooting began, there were eight weeks of rehearsals in Brooklyn which the actors used to become familiar with their lines and songs. As actors gained traction, it provided an opportunity for sound to record those songs in their own voice at the rehearsal space to use for playback. "We began by already having prerecorded music and temp vocals sung by professional singers. This is what we played back when rehearsals began for dance and music," explains Maitland. "We built a small recording booth there and once the actors started to get the movements and feeling comfortable singing to the prerecorded temp vocals, we began to record temp vocals with the actors. Together with the music editor, we recorded using the booth in the rehearsal space. This is advantageous for two reasons. First, it allows the actor to bring in their inflection and have an idea of how it works with dance. The other, being that you want them to be comfortable with their own voice." During rehearsals, sound also implemented earwigs and thumper so actors were comfortable using them when production began.
Once an actor had the performance down, they went to the recording studio to record the final track. There the studio would use three different microphones to record. One being the studio mic, the other two being Maitland's boom and wireless mic. "Recording the tracks this way allows for a smooth transition in editing the dialog on set to the prerecorded singing. By using the same microphones I use on set, the transition from studio mic to set mic sounds more real," Maitland notes.

Re-recording Mixer Paul Massey couldn't agree more. "The songs fall into a few categories. They're either an all-out performance inside the circus or an auditorium or one that is more reflective. When we transitioned from dialog to song, it had to be seamless. The challenge is in the vocals and to make sure the environment around it doesn't disappear coming in and out of song. Matching pitch, timbre, quality, voice and reverb all needed to be addressed. Having the studio recordings use the same production microphones helps this tremendously so you can dirty up the studio vocals to match the grit and voice of the production dialog."
Rounding Maitland's sound team were Boom Operator Mike Scott, Sound Recordist Jerry Yuen and Playback Mixer Jason Stasium. Production shot in New York, using historic locations like the Woolworth mansion, the Prospect Park boathouse, the Brooklyn Academy of Music and the Tweed Courthouse, among others. To bring to life Barnum's museum of wonders, an extensive set was built at Capsys, an old brick factory owned by Steiner Studios.
The script is laced with dialog and more than ten original songs from Academy Award winners Benj Pasek and Justin Paul (La La Land) of which sound needed to track. When actors were required to lip sync, they were wired with a microphone so production could listen to the sync. "We set up a dual monitoring system for the sound supervisors and music editors so they can hear the playback in one ear and the live actor singing in the other. This way, they can hear if the actor is on or off sync. We also have them use binoculars to watch live, not off video monitors, which has a two-frame delay. It's all about keeping it as real as possible," states Maitland.
The song "A Million Dreams" between Barnum and his wife Charity (Michelle Williams) illustrates the technique. Cinematographer Seamus McGarvey captured the rooftop performance with Alexa 65 cameras skimming over 1800s New York with the Hudson River in the background. Since the rooftop was so big, sound placed speakers so the actors were never fifteen feet away from one. "You never want to set up a speaker fifty feet away and blast the actors because you will have time delay. Every frame is important to lip syncing," Maitland continues. "Hugh and Michelle are dancing everywhere on the roof, so we placed speakers all over so it was equal for them."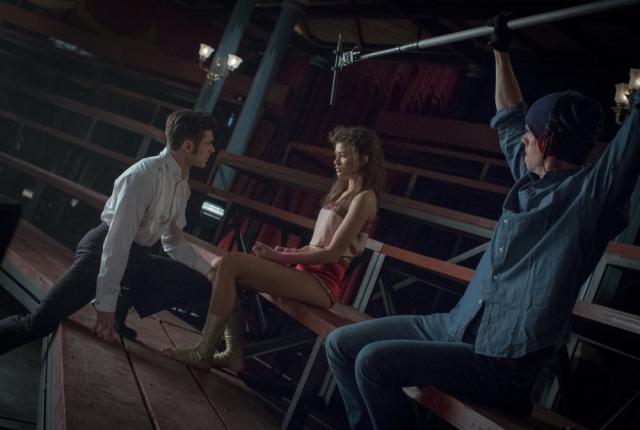 Live singing required everyone who needed to hear the music to wear earwigs and the team would mic everyone vocally involved. Scenes that started off in dialog and then transitioned into playback also required earwigs for the actors so they could start singing on cue.
One of those ambitious sequences takes place between Barnum and Phillip Carlyle (Zac Efron). The two sit at a bar having a drink and Barnum is trying to convince Phillip, a sophisticated man of the theatre, to quit and join him in the circus as his protégé. What ensues is a choreographed bar song dubbed "The Other Side" that includes dance, drinking shots and flipping glasses. It's flashy and fun.
After camera filmed the scene, they will do an additional take for sound which allows them to record all of the body movements as a separate wild track. "The actors use earwigs or Comteks with headphones so they can hear the music and then continue to make all the same movements while shooting the scene to playback. This allows post to add the track under the recorded audio to make the sound more believable," says Maitland. In fact, this technique was used for all the musical numbers involving playback, including "The Greatest Show," "Come Alive" and the Golden Globe Award-winning "This Is Me." Similarly, songs filmed inside the circus tent would have the crowd reenact their actions while actors performed with earwigs to create the wild track that didn't contain any dialog or music.
Sound looked to create a seamless operation for the director finding ways to make things easier on set. They found themselves switching from Sanken COS-11D and Countryman B6s lavs depending on the wardrobe and went out of their way to record any props that were period, like the cash machines or typewriters, to create a catalog for post.
Maitland regularly maxed out his two Cooper 208 mixers, admitting he prefers the Cooper over any digital board because of the ability to EQ. "I like the immediacy of EQ. Some people don't want you to EQ, but when you get an actor's voice in your head, you want to deliver that same voice through the entire movie. If the actor is wired and they turn their head all the way to their left, they're going to be off mic, losing the high end. I can adjust that with one hand of my fader and the other on the high-end EQ. You just can't do that on a digital board."
Looking back on what was Maitland's second feature of the year, he admits he couldn't have done it without the good people around him. "We had a really great crew. When you're surrounded by people you can trust, it makes it so much easier to get done what you need to accomplish."