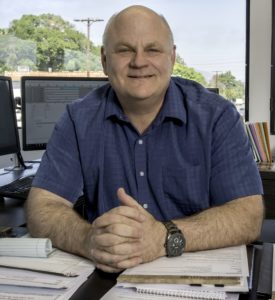 I think I can speak for all of the members of Local 695 by welcoming the newly elected Board of Directors. This new Board is made up of some first-time Board members, along with many who have served for one, two and as many as ten terms in office, all volunteering their time to help guide your Local into the future. 2017 was a very busy year for the members of Local 695. The overall work hours reported to the Motion Picture Plan well exceeded the previous year's record results. Although we don't have the final numbers yet, as of today, the hours reported on behalf of Local 695 members are up 5.6 percent from 2016. In the works at MPI are several new services that we plan to roll out to the membership of Local 695 in the coming months.
In March and April this year, we will be engaged in contract negotiations with the AMPTP for the Local, Basic and Electronic Supplemental Agreements. After receiving suggestions from the membership and the Board of Directors, the Negotiating Committee reviewed all of these proposals. After careful evaluation and consideration, 695's completed proposals have been submitted to the Board of Directors for final approval.
Also coming up this year, will be efforts to ensure the renewal of the California Film and Television Tax incentive program, as well as the very important mid-term elections which are likely to have a significant impact on our members. Anti-worker legislation is on the table in the US Senate and House of Representatives and our members need to be informed as to how these bills can impact the security of our families. To bring members up to speed, Local 695 Education & Communications Director Laurence Abrams asked President Loeb to assist by sending the IA's "Why Unions Still Matter" presentation to our January membership meeting, along with Assistant Political and Legislative Director Erika Dinkel-Smith. Most of us at the meeting walked away energized and inspired to step up and get involved. A good place to start is by making even just a small monthly contribution to the IATSE PAC fund right here http://www.iatse.net/get-involved/contribute.
I thank all the Brothers and Sisters of Local 695 for the great work you do on production. This work continues to prove that Local 695 members are industry leaders in the development and advancement of audio, video and projection in the motion picture industry. I also thank you for all the support you give me and the Board of Directors in our quest to represent you and your families. We are union, we are one, and always, we stand together in solidarity.
Fraternally,
Scott Bernard
scottb@local695.com
Business Representative