Community Outreach at Valley College
On January 25, more than 200 attendees came to Los Angeles Valley College to learn about unions and jobs in the motion picture and television industry.
Hosted by Assembly member Adrin Nazarian (California 46th Assembly District) with panelists from Local 695, Property Local 44, Lighting Technicians Local 728, Script Supervisors Local 871 and Costume Designers Local 892.
The main presentation was by Laurence Abrams, 695's Education & Communications Director, giving students a foundational understanding of Labor history, the development of unions and why labor unions are good for the country's economy. At the conclusion of the evening, Laurence was joined by Production Mixer and Board member Steve Nelson answering questions with the attendees about our Local 695 crafts and how to get into the industry.
This event was part of a growing effort by IATSE Locals to reach out to surrounding communities, helping to develop diversity employment opportunities, as well as spread education and understanding about the role of unions in California's huge entertainment economy.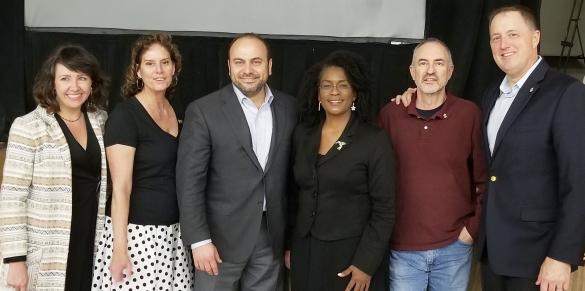 ---
Holiday Brunch & Brews
On December 10, 2017, Chris Howland, Devendra Cleary and Steve Morantz hosted their annual Holiday Brunch & Brews Mixer. A huge thank-you goes out to Yalda Sharif Howland, the vendors and all the people who were willing to volunteer their time to help us pull the event together on the day.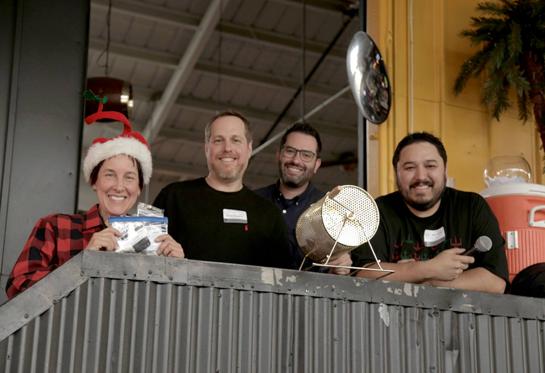 ---
Young Workers Committee: HomeWalk 2017
On Saturday, November 18, 2017, the Local 695 Young Workers Committee walked for the AFL-CIO team, alongside Mayor Eric Garcetti and ten thousand LA residents in a 5K fundraiser. Collectively, $1 million was raised to house homeless veterans, families and individuals in Los Angeles.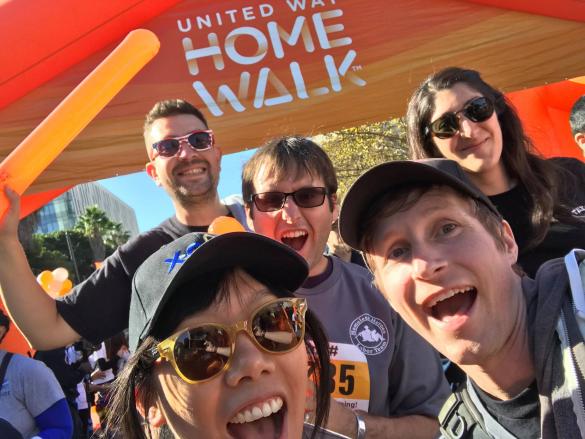 ---
Young Workers Committee: Save a Life Sunday
On Sunday, January 7, 2018, the Young Workers Committees of Local 695, 892 and 705 co-hosted a blood drive in partnership with the Red Cross. We would like to thank Local 80 for providing its space for a second year in a row, but most importantly, we thank all forty-eight donors whose generous gift helped save the lives of their fellow Angelinos.
---
Welcome Local 695 New Members
John A. Garcia Y-4
Lena Alkhatib Y-1
Mike Budzik Y-1
Kevin Bellante Y-1
Joseph Oliveira, III Proj.
Michael Rich Y-1
George A. Gomez Y-1
Mayra Rodriguez Mejia Y-8
Ryan De Grazzio Y-4
Mike De Grazzio Y-4
Jake Garcia Y-4
Evan Menak Y-1
Patrick McQuown Y-16
Alexander Warrick A2
Philip Galler Y-4
Jefferson Fugitt Y-4
Johnny Karlsson Y-8
Kailyn Cornish Y-7
Eric Bucklin Y-1
Ryan Brennan Fee Y-7A
Dylan Acio Y-8
Ethan Speakman Proj.
John Anderson Y-1
Aaron Martz Proj.
Wyatt Bartel Y-4
Erika Sampson Y-4
Nicholas Stuebe Y-16
Kari Aiya Barber Y-1
Tyler Blythe Y-7A
Cassiano "Casey" Pereira Y-1
Arik Freeman-Anderson A2
Thomas Duarte Y-1
Jacob Varley Y-8
---
IN MEMORIAM
THOMAS BECKERT Y-1
STERLING CROSS Y-7A
EDWARD J. GREENE Y-1
MALCOLM "MEL" RENNINGS Y-8