Production sound travels the desolate countryside for Director Scott Cooper's genre film.
The film opens on the wide plains of the West, a family tending to its prairie farm. Safe, happy. Until it's disrupt­ed by a group of wild Comanche on a war path of massacre and thievery. The father, mother and two daughters have little chance. One after another, they fall to the ground, breath leaving their body. Clutching her wounded baby girl, Rosalie Quaid (Rosamund Pike) hides herself until the calamity calms—a reminder of life in Southwest 1890s America.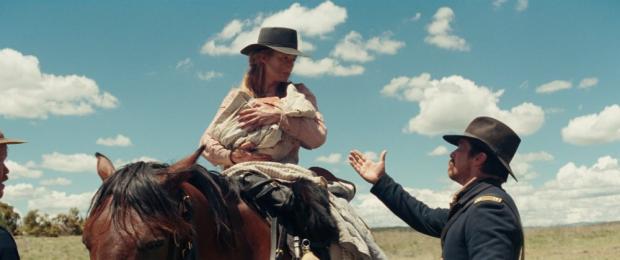 Director Scott Cooper (Black Mass) wanted to honor the legacy of the Western genre in Hostiles, but blend modern themes of reconciliation, healing and equality into the nar­rative. Set in 1892, Army Capt. Joseph Blocker (Christian Bale) is exhausted from decades of battle and sees retirement around the bend. Reluctant, because of their dark history, he's tasked with escorting Chief Yellow Hawk (Wes Studi), a dying Cheyenne and his fam­ily from New Mexico to the tribal grasslands of Montana. As the discordant group journeys from the isolated Army outpost of Fort Berringer, they encounter the widow Quaid, and later, the hostile Comanche. In order to survive the 1,000-mile trip, they're forced to confront their preconceived notions of one another and band together in a story of compassion and tolerance that tests the resilience of the human spirit and our wiliness to change.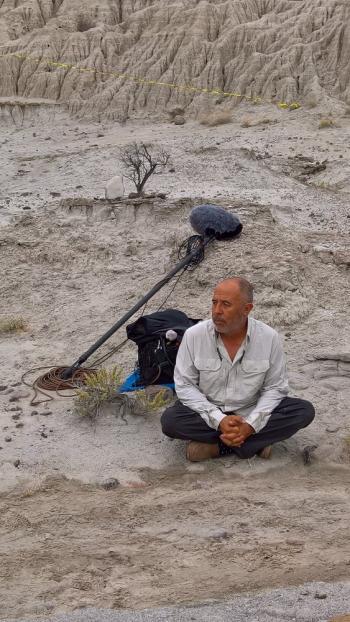 José Antonio García finds a moment to rest on the location-heavy shootProduction Sound Mixer José Antonio García, alongside Boom Operator Jonathan Fuh and Sound Utilities Daniel Duerre and Daniel Carlton, captured the audio to the location-based shoot. Both Local 695 members, García and Fuh have been a team for decades now. "We met twenty-eight years ago on a low-budget, nonunion proj­ect," recalls Fuh. "His boom operator at the time didn't show up and the UPM gave José my num­ber to call. The rest is history."
The two mesh well because they share similar high expec­tations in the work they produce and seemingly enjoy the same movies. As Fuh puts it, García comes from Mexican new wave cinema, knowing directors like Alejandro Iñárritu (The Revenant) and cinematographers like Emmanuel Lubezki (Gravity) with Fuh's background stemming from Taiwanese new wave filmmaking. And it shows how well they work together, having been nominated for an Oscar on Ben Affleck's Argo and CAS Award noms for Babel, Iron Man 3 and Clint Eastwood's biopic of American pilot Chesley Sullenberger, Sully.
Hostiles was their third project of 2017, sandwiched between the short Carne y Arena and the Dan Gilroy feature Roman J. Israel, Esq. "The locations of this film were challeng­ing. I couldn't tell you how many times we had to shut down because of thunder or lightning in the area," says García. Production roamed the horizons of New Mexico and Colorado to create the visual grammar as Cinematographer Masanobu Takayanagi (Silver Linings Playbook) shot ana­morphic, pairing Panavision Panaflex Millennium XL2s (G-series, T-series lenses) and Kodak stock.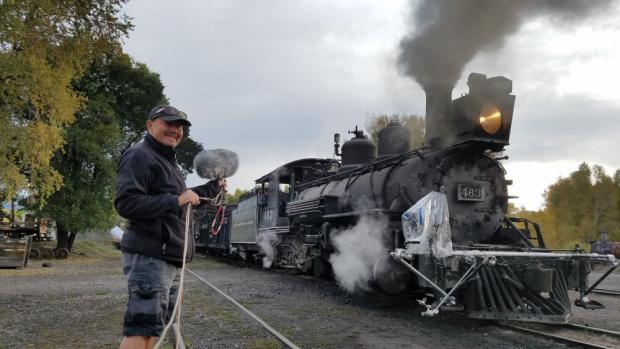 Wardrobe attracted sound's attention early on as Costume Designer Jenny Eagan (Beasts of No Nation) used wool for the Army suits worn by Capt. Blocker and his men. Characters, more or less, dressed in the same attire which allowed sound to collaborate with costume to sew in special pouches for wireless transmitters. "Acoustically, wool is very loud and you can hear the mic rustle against the fabric, so we needed to find the right placement for our mics," notes García. By using Countryman B6s, they were able to hide the tiny lavalier behind buttons, and for Bale's character, the mic was placed inside the scarf instead of the body. "The B6s don't have as great of a sound as the Sankens or DPAs, but they did very well protecting us against the wind," adds Fuh.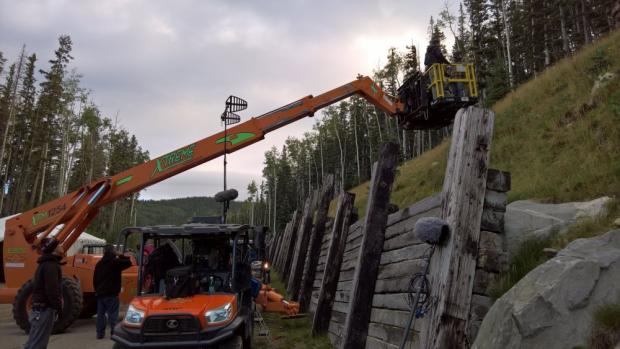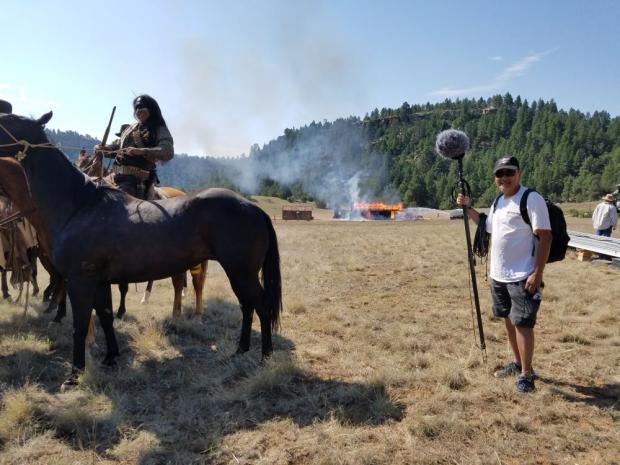 Since nearly eighty percent of the movie was exterior loca­tions, wind was a constant battle with sound changing out its wind protection for the boom during heavier gusts. As with many productions today, two cameras shot wide and tight frames so the sound team reacted by wiring actors and finding the best place for the boom. "We always try to get as close to the action as possible," Fuh says. "The radio mic will always win, but we always have a wild track on the boom because it may not be that bad when it comes time for post." Instead of a monitor on his boom, Fuh relies on knowing what kind of lens is on the camera to bring him closer to the scene. Sound also recorded wild tracks of wind for post that includes Supervising Sound Editor/Re-recording Mixer Skip Lievsay, Sound Designer/Re-recording Mixer Paul Urmson and Sound Designer Craig Berkey.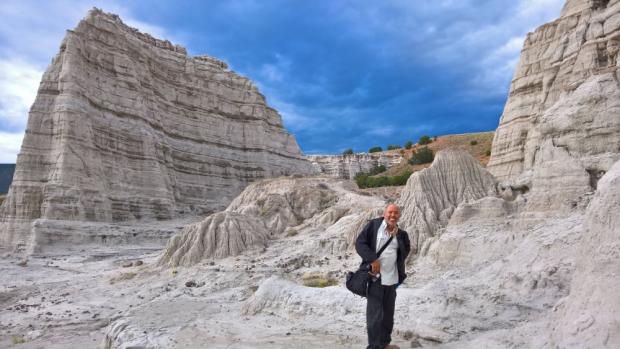 Characters traveled through the valleys and mountains by horseback, and while production minimized dialog sequences of them riding, plenty still existed. The camera was mounted on either an electric golf cart with an arm and stabilizing head, or when action was intensified, a suspension buggy was brought in. Sound needed to be bag-ready, covering up to six different actors at a time. There's some instances where they traveled with their own mule to get through the mountains or would set up a remote wireless system in order to get closer to the action with minimal equipment.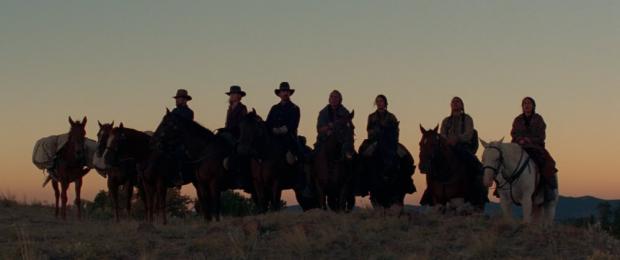 Sound needed to be cautious working with the horses as to not make them nervous. "We were limited to what we could boom," admits Fuh. "We had to be really gentle about it as you don't want to trick or put them in a panic with actors riding them. You almost have to be like a ninja so you're not seen or heard." Cooper went to great lengths to create accurate depictions of Native people. A team was on set to help actors with gestures, rituals and language. A significant amount of the dialog was spoken in the Northern Cheyenne dialect to firm the cultural and historical integrity of the film. The multilingual García had to pick up the language quickly to decipher when actors would stop and start talking. "I have a natural way with lan­guage and it really boiled down to needing to learn the first and last few words or sounds to mix accordingly."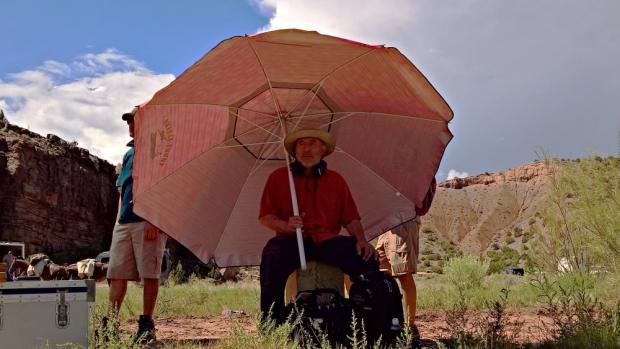 When the story reaches Fort Winslow, a resting stop for the travelers, Blocker is asked to take a prisoner to a nearby city to face sentencing. The confined is Sgt. Charles Wills (Ben Foster), who knows Blocker's grim history well. Expected to face certain death, Wills tries to persuade Blocker to release him and questions why he's escorting Yellow Hawk instead of killing the family as they ride toward Montana.
One rainy night, Wills is tied to a tree pleading his case. Water-resistant mics were able to cut through the weather and capture the dialog. Unfortunately, that wasn't the case for another scene when Master Sgt. Thomas Metz (Rory Cochrane) spoke to Blocker about leaving the convoy. "What we didn't expect was how soft-spoken this movie would be," says García. "We were able to get through it all except this particular scene with Rory. They had so much rain coming down on set and there was a canopy overhead creating this drum sound. It was too much." The production mixer made Cooper aware of the situation, but because of the visual demand of the scene, it would require looping in post—something every sound mixer tries to avoid but happens in nearly every film.
A scene that took sound in a new direction was a song accompanied by guitar around a nighttime campfire. It was meant to be playback with lip sync, but since the actor had a decent voice, they recorded it live. The lav was placed on the outside of his shirt behind the button and caught the instrument and voice perfectly.
For this shoot, and the many others García and Fuh have done together, they approach each scene like water. Whatever the shape of the production, they flow into the open spaces they are given. García admits this project had an astounding group of people. "It really starts with Scott. We enjoyed working with him. His energy is contagious and he's enthusiastic. He has a way of conveying his message that makes our job and everyone else's life easier."