Sound delivers dialog-driven true story for Director Steven Spielberg
by Daron James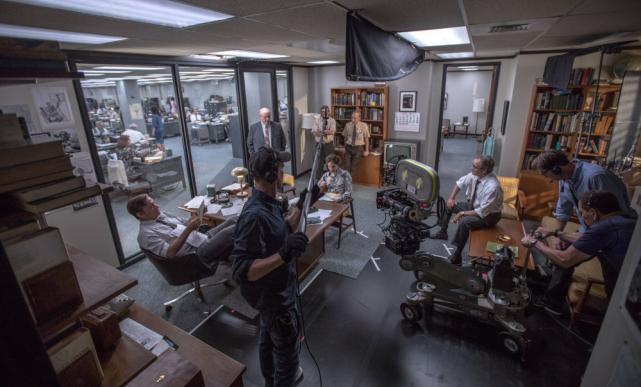 For Production Sound Mixer Drew Kunin, The Post isn't his first film with the iconic, award-winning director, Steven Spielberg—that memorable moment goes to the Cold War-thriller Bridge of Spies, starring Tom Hanks and Mark Rylance (Dunkirk), which Kunin, along with Andy Nelson and Gary Rydstrom, shared a Sound Mixing Oscar nomination in 2016. A New York native and 695 member, Kunin is a first-generation mixer and started from the ground up, booming student and indie films before catching a break on Jim Jarmusch's Stranger Than Paradise (1984).
The Post reunites Hanks with Spielberg, and for the first time in her career, Meryl Streep joins his cast in a film that may not have been released in 2017. In March of the same year, actor Oscar Isaac (Star Wars: The Force Awakens) dropped out of Spielberg's The Kidnapping of Edgardo Mortara, for "personal reasons" which shifted the director's focus to The Post.
This true story is about bringing long-buried truths to life and the protection of free press under the First Amendment. Streep stars as Kay Graham, the first female publisher of The Washington Post and co-star Hanks as its driven editor, Ben Bradlee. Scooped by The New York Times, they race to catch up and expose a massive cover-up of government secrets that span three decades and four U.S. Presidents.
Graham and Bradlee must set aside their differences and risk their careers and freedom to publish the now famous Pentagon Papers.
Harmlessly titled the "History of U.S. Decision-making in Vietnam, 1945-66," the documents were originally prepared for U.S. Defense Secretary Robert McNamara in 1967, and in this film, played by actor Bruce Greenwood (Star Trek Into Darkness). It was Daniel Ellsberg (Matthew Rhys), a military analyst at RAND Corporation-turned-whistleblower who began secretly photocopying all seven thousand pages of the papers sheet by sheet with his girlfriend Lynda Resnick at her advertising agency.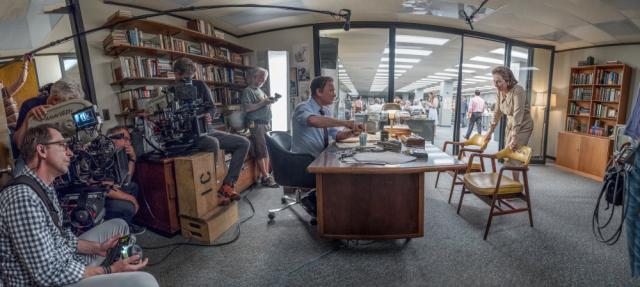 The Pentagon Papers revealed that Presidents Truman, Eisenhower, Kennedy and Johnson repeatedly misled the public about U.S. operations in Vietnam—even as the government said it was pursuing peace, behind the scenes it was covertly expanding the war. The truth may not have been exposed if it wasn't for Ellsberg and The New York Times, and then The Washington Post stepping in to publish these documents.
The production spanned only eleven weeks in New York, and even though it would be Kunin's fourth project of the year (Wonderstruck, You Were Never Really Here & The Upside), the schedule worked for the mixer, Boom Operator Michael Scott and Utility Jeanne Gilliland. "I don't know how much has been emphasized about how truncated the production and post were in the press, but it was very rapid. The shoot was the shortest for Steven since the '70s and he certainly hasn't had this quick of a post production," says Kunin.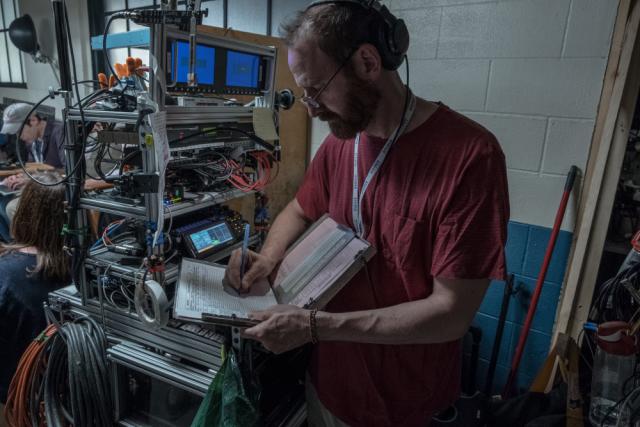 Pre-production was more relevant than ever as the director turned to longtime Cinematographer Janusz Kaminski to pace the visual details set in 1971 America. Panavision Panaflex Millennium XL2s and 35mm film focused the look that played out in newsrooms, offices and dinner parties. "There was so much dialog in this script," Kunin continues. "Bridge of Spies was extremely talkie with scenes up to five people but The Post had up to fifteen actors in scenes, scripted with really great dialog that was super snappy. Scenes were crammed with words." To record the overwhelming amount of dialog, Kunin deployed multiple Sonosax mixers and an Aaton Cantar X-3 recorder.
Spielberg also understood the importance of capturing good production sound and was a voice for it during the entire process. "He's always had an ear for sound, but he became more of an advocate because he really wanted the production sound not to be problematic," notes Kunin.
An early obstacle was the newsroom of The Post. Production Designer Rick Carter scouted an empty office building in White Plains, NY, that was about to be turned into luxury condos. The production moved in and used its floors to slate the world filled with desks, mid-century typewriters, Rolodexes, period telephones and carbon copies of stories everywhere. The problem being, there were still tenants in the building so they couldn't fully control the air conditioning.
As many sound mixers know, any noisy machine can bleed into an audio track. Based on Kunin's recommendation, production brought in a consultant who was able to divert the air conditioning from the shooting side of the floor to the staging area where video village stood.
One sound theme in the narrative was plot points spoken through telephone calls. "The calls were all done live. The actors on both ends of the phone were being recorded through period phones so post wouldn't necessarily have to add a filter," explains Kunin. "The very first time Meryl was in the film, she wasn't on set but calling in. I hooked up a more complex system than I wanted, but it allowed both Steven and Tom, who she was speaking with, to hear her through the phone." During the rehearsal, Kunin mixed Streep quite higher than he normally would. "Steven loved the sound so we kept it that way for the scene. When we did the next phone scene with reporter Ben Bagdikian [Bob Odenkirk], Steven requested that I make it sound like Meryl's call. We then proceeded to do all phone calls for the film this way."
According to Kunin, the setup involved a Viking DLE200B "ring down" box. The unit could power two telephones with four conductor modular plugs and standard phone cables, which allowed the actors to talk to each other on a closed line without needing to be connected to a network. The on-camera performer would speak into a working period phone connected by a phone line to one input of the Viking box. Sound then put a telephone splitter on the downstream side of the Viking box where one side of that split would be routed to the off-screen performer on a period phone or cell. The other side of the split would be run to an additional period phone that was used to record the dialog of the off-screen performer.
Kunin removed the mouthpiece of that additional period phone and then taped a DPA 4061 lav against the earpiece speaker with foam over it wrapped in Duvetyne fabric and sealed with gaffer tape to isolate it from ambient sounds. "By removing the mouthpiece and cutting out the wires, we made it like a deadline, and there wouldn't be any feedback from the room. But you could still hear it and record through the earpiece." The DPA was normally hardwired with an Ambient XLR adaptor and 48v power to the mixer's Sonosax. At times, it was connected and powered with a Lectrosonics SMQ transmitter. Sound resorted to variations of this rig numerous times, even creating one for a live seven-way call where Kay Graham decides whether or not to print the papers as Ben Bradlee and members of the Board plead their case on why she should or should not.
Scenes were covered with more cameras than normal because of the truncated schedule forcing sound to keep a lav on everyone and double boom the pirouetting cameras. For Streep, generally a Sanken COS-11D was paired with Lectrosonics transmitters while Hanks had on a DPA, but a mix of both, along with Countryman mics were used in the production.
A sequence that had plenty of movement was when The Pentagon Papers first arrive in the hands of Bradlee and his team. They end up mining through them at his Georgetown home that was built on the soundstages at Brooklyn's Steiner Studios. "Steven has a great sense of what he wants to do and we get to see all the moves Janusz has worked out in rehearsal," says Kunin. "We always try to get a boom overhead, but with a scene this radical, we had to look to the lavs, especially going from room to room to room. Sometimes there was no way for Michael to walk through a doorway with the boom, so Jeanne would step in with a second boom or we would plant mics. We even planted mics in the rooms to help build the tension to the scene."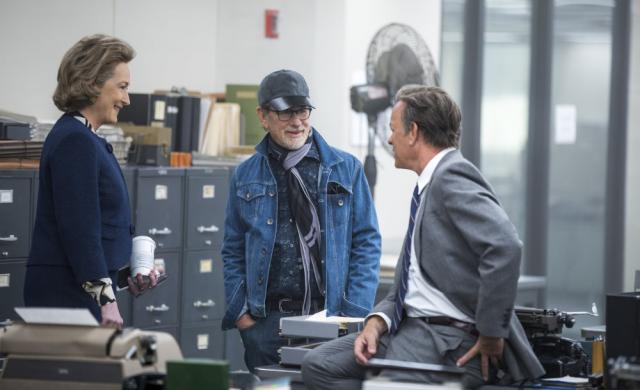 Graham was often the only woman in this man's world, a theme sound capitalized on by shaping her point of view in the mix which Supervising Editors Richard Hymns and Brian Chumney and Re-recording Mixers Andy Nelson and Gary Rydstrom continued in post. "Steven wanted the sound to be period accurate. Especially in the newsroom," says Rydstrom. "But the other thing was this idea of a wom­an in a man's world. We looked at things as simple as the way her high heels sounded to add to the subliminal under­tones of the movie."
After The New York Times published its front-page story, "Vietnam Archive: Pentagon Study Traces 3 Decades of Growing U.S. Involvement," on Sunday, June 13, 1971, it only took the Nixon administration two days to ask a federal court for an injunction to halt any further publication. The Washington Post took a huge gamble publishing the pa­pers, but in the end, it paid off as other newspapers followed suit. For Kunin and his team to relive this history, he says it was tremendously challenging because of the amount of dialog but genuinely they all had a lot of fun.