DARON JAMES
Daron James is a veteran journalist having written about the film and television industry for more than a decade. He's currently seeking the best sope in Los Angeles, California.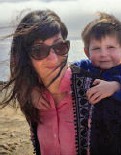 EVA RISMANFOROUSH
Eva began working in sound while attending college in Northern California. Shortly after graduation, she joined Local 695 and is working as a Utility Sound Technician in Los Angeles. She has been the Co-chair of the Young Workers Committee since 2014.
Photos courtesy of the respective contributors.