24frame.com
by Richard Lightstone and Mark Ulano
Before there was green screen, there was blue screen, but well before computer graphics, there was rear projection. The Fox Film Corporation in 1930, on the film Liliom, directed by Frank Borzage, first used it.
The best example would be Alfred Hitchcock's North by Northwest (MGM 1959). The iconic scene of Cary Grant running for his life as a crop-duster attempts to mow him down.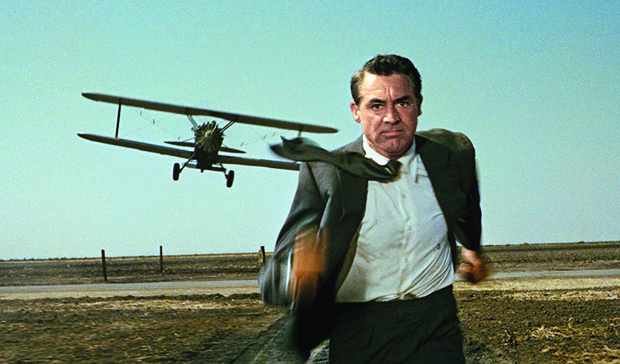 The bulk of that scene was shot on location in Bakersfield with Cary running well ahead of the low-flying crop-duster. The most dramatic shot was him diving into a ditch to save himself from the swooping aircraft. That cut was shot on an MGM soundstage, with Cary diving into a set-built ditch and the crop-duster images being rear-projected. Robert Chartier and his company, 24frame.com, have advanced this technique into an even more efficient process. They were invited to enter and demo their process to the Academy Scientific & Technical Awards Committee for the 2018, 90th Oscars.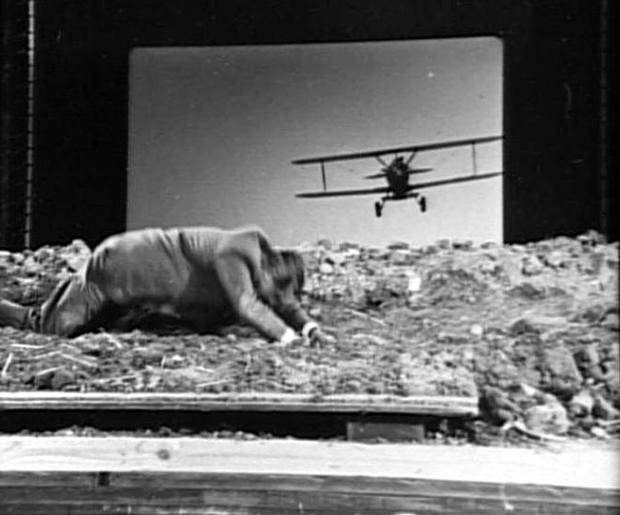 Mark Ulano CAS AMPS and I paid him a visit at their massive facility just off of Venice Boulevard in downtown Los Angeles.
We've all been involved on insert car work with a process trailer. A time-consuming procedure involving street closures, motorcycle police, safety officers, film permits, stunt drivers and logistics that hopefully, are well coordinated as many lives are at risk.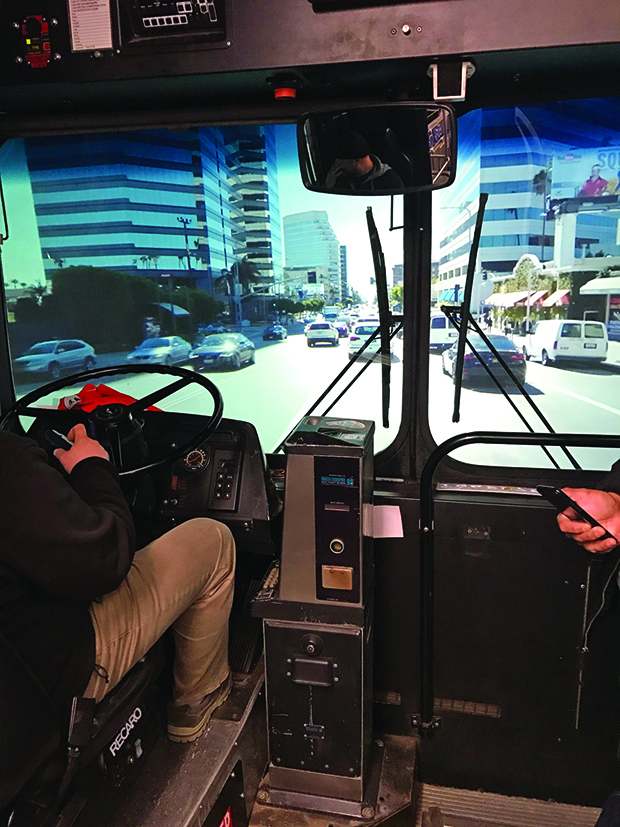 Robert's company removes all those potential obstacles by rear-projecting multiple screens surrounding the picture vehicle with made-to-order in sync footage of the street scenes in the safety and comfort of an air-conditioned soundstage.
Robert Chartier first conceived this process in 1994, using Sony 1080i projectors at eighteen hundred lumens with a DLP engine from Texas Instruments. On a project with Director of Photography Gale Tattersall, Robert did video playback of some plates in the windows of the vehicle, but it could only be night shots with the streetlamps going by.
The technique advanced when Christie Digital came out with their 18K projectors. Robert describes his vision: "Basically, the cameras got better, everything's gotten better, we've changed the equipment over and over and over to try to do it right. Then I opted to build our own capture van that had all this equipment in it. Currently, we are using Christie Digital projectors stacked up to fifty thousand lumens."
Chartier continues, "We are deck operators and we always record everything on decks and that's for protection but it's also the fact that we are playback operators and we will play it back on stage, live, all in sync, using four to five projectors at once with five screens."
They'll often get a call from a producer or a DP with a script that has car scenes and they are looking for a better alternative then a process trailer or just green screen.
Robert explains, "They can manipulate the lighting, they have all the time in the world to do what they do as DPs. It's a controlled environment. Safe, visually accurate, with no location permits, police, process trailers, insert cars. This is still cheaper than doing it any other way."
24frame.com can go out and shoot custom plates for that project or the client can select from Chartier's vast library with thousands of hours of footage and multiple angles. Choosing the exact footage and location they want for live playback on stage.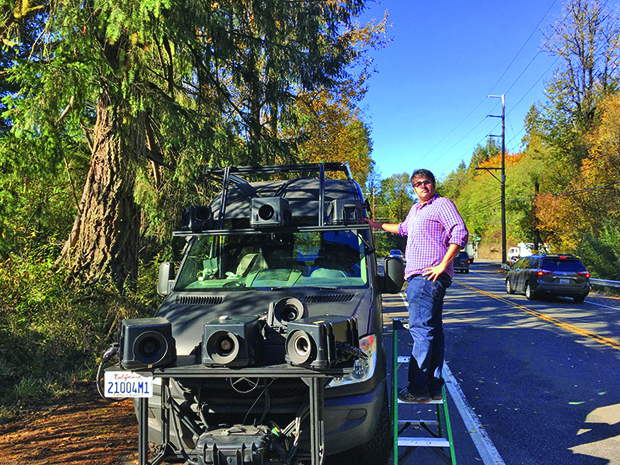 If the client needs specific plates, they'll go out in one of their three proprietary capture vehicles and Aashish Gandhi, a dual card holder of Local 695 & Local 600, their staff cameraperson, will man the cameras.
They recently were in Seattle for the new Shonda Rhimes show Station 19 and captured images with seventeen cameras. The entire series is shot in Los Angeles.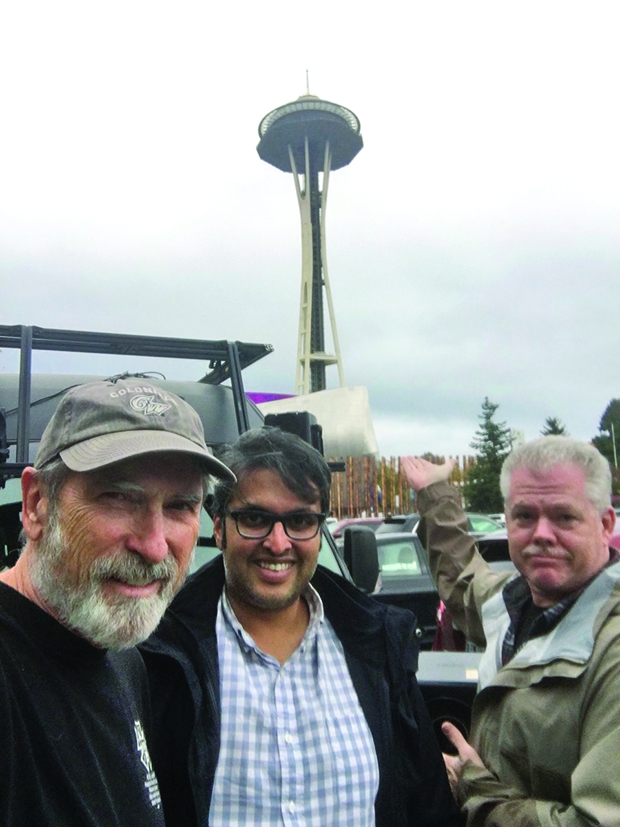 "All our footage is in sync, when we show up on the set, we get all the reflections, we get everything going for you," says Robert. "We become the DP's best friend with everything we offer. Our Video Engineers do full-color corrections on the fly. We have designed everything to capture an image that will size correctly when we project it. The capture vehicles are built for specific functions that mimic the picture car we are capturing for, whether it is a fire truck, ambulance, bus or passenger car. We come to the stage and all the math and all the physics are correct."
Recently, Mr. Chartier got a call from an executive post producer at Disney who was about to start a film with a cast of young children with lots of driving sequences.
She was concerned about using a large amount of green screen and then have to figure out later what angle the DP shot through the car to try to get that correct plate.

They brought a busload of Disney executives to 24frame.com and Robert showed them the demo and, right then and there they said, "This is how we're doing it."
When Steve Carell walked on the set, he said, "My God, now we're making movies. This is what movies are all about. On Little Miss Sunshine, we were stuck in the desert for three days filming the Volkswagen van and, God, did we, need this." The capture vehicles record to SSD drives but everything is backed up to multiple rotary drives. All of the footage is owned by 24frame.com and becomes part of their vast location library.
Robert Chartier: "It's on a 100TB server and they can view through the web and access the actual files. Some of our plates are twenty-two-minutes long. They can choose the segment and then our coordinator will make sure that they have the plates requested on the set. We always have the shot before and the shot after, so, if the director or DP doesn't like the bus pass-by in the shot, we shift forward, they can queue up and re-queue and do anything they want, all live on the set. They can ask for a red Corvette, PCH, dusk, dawn, day or night and if we have it, it's gonna come up all on a searchable database." A commercial agency from Mexico brought the cast up to LA and shot it on their stage, instead of Mexico City.
Chartier explains, "We provide motion lighting with LED panels in sync with the projected video to reflect onto the vehicle. Because it's live video, we can pump it into the car, onto the actor's face, if they go under trees, you see it, if it's under a bridge, etc."
Aashish continues, "Because we start every scene from the top of the clip, when the camera turns around for coverage, you still have the same environment. The lighting is consistent from the left or the right, front or back. You have the same truck pass-bys, tree branches and shadows. It's perfect for any angle you shoot."
They essentially bring the location to Los Angeles. For the production of Wolves, they drove the capture van to Davenport, Iowa, for two days bringing the footage back and the production shot all the scene here, saving a lot of money and not having to bring an entire cast and crew to Davenport. A train set was built on their stage for The Newsroom, projecting their plates for two days. "It was a lot of work with three cameras, wide and tight angles, handheld, with the actors walking around the train," explains Hayk Margaryan.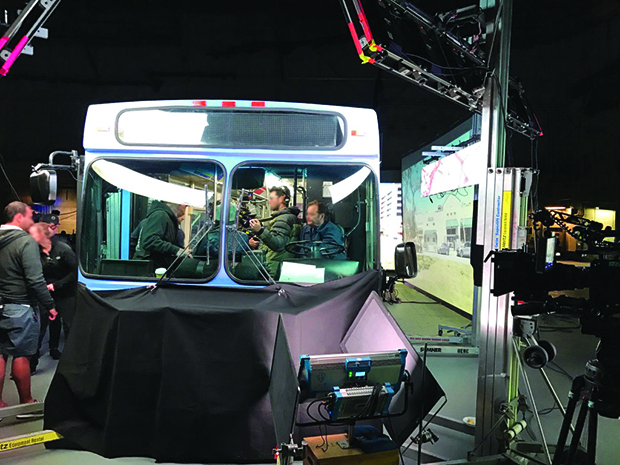 For Curb Your Enthusiasm, they brought a bus onto stage for some driving scenes. Brian Wright describes, "I remember at one point, the effect was so realistic that you could see grips, gaffers, everyone leaning into the turn, but the bus was not moving. It was so interesting to see that."
Robert continues, "We've had complete productions shoot their show here, ten episodes in eight days; it's all done indoors. They could not have done it in twenty days outside, apart from heat exhaustion and everything that comes with it."
Hayk Margaryan concludes, "You know, it makes it easier for the crew and the cast to be in a ontrolled environment, to be in an air-conditioned place, have a place to sit, wait until they relight and then just walk back into the vehicle. You don't need to drive, it's safe and a completely controllable situation."
We want to thank Robert Chartier, Hayk Margaryan, Pacific Winter, Aashish Gandhi, Brian Wright and Jim McDonald for their time and hospitality on a busy day at their facility.
Robert Chartier and his team are pioneers in the video engineering discipline and proud members of Local 695.