Remembering CHINHDA 1954-2018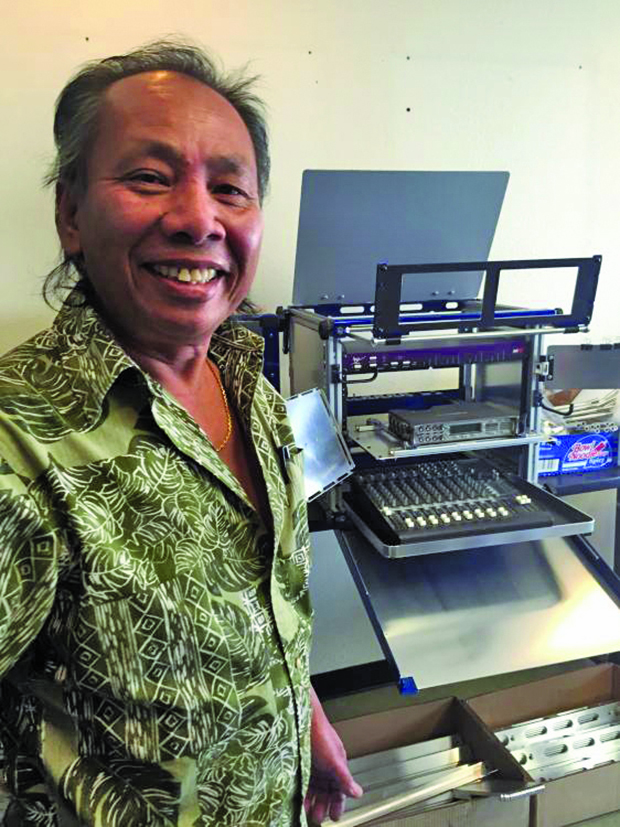 by David Waelder
Chinhda Khommarath was the most imaginative, creative, technically-savvy, generous, exasperating, shy, opinionated and mercurial individual I've known. It was a love of fast motorcycles and rock-and-roll that brought him to our community.
I met him twenty years ago when I sought someone to make custom alterations to my sound cart. There's not a crowded field of skilled machinists willing to take on cockamamie projects so I was keenly interested when both Neil Stone and Mike Denecke recommended Chinhda right away. Mike gave the project a boost when he took me in hand and personally introduced me. Chinhda hated meeting with clients but he had an especially close relationship with Mike, who used to bring him along as his boom operator when he was, at that time, still doing commercials. Without Mike vouching for me, Chinhda might not even have met with me.
Peter Weibel of KEM Editing Systems was Chinhda's first employer in California. The KEM was a marvelous but sometimes temperamental beast and Peter needed a service technician. He asked a teacher at the Los Angeles Tradetech to send his best student. Chinhda showed up, was hired, set up a machine shop and serviced KEM editing tables throughout the west for many years. Peter said his work consistently exceeded expectations. After Peter moved on to other endeavors, Chinhda continued to service KEMs as an independent technician and set up a company with Joe D'Augustine to rent Avid systems. He also mixed One Night with You for Joe D'Augustine. Over time, Chinhda became a part of the small film community that settled into an industrial corner of North Hollywood not far from the current Local 695 offices. Mike Denecke, Manfred Klemme, Ray Cymoszinski and Neil Stone would get together often for lunch, an Algonquin Club for movie engineers.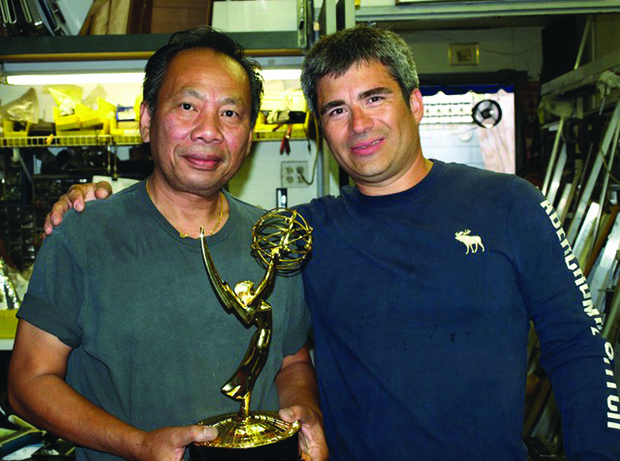 Chinhda's work for me also exceeded my expectations. He haunted the aero surplus shops, especially Joe Factor Sales, to find specialty latches and instrument shock mounts to provide protection for the equipment. When I picked up my cart, I mentioned that I thought there was a market for a cart purpose-built to production needs. He nodded and we parted.
Mike Denecke "Father Time," also a Local 695 Production Sound Mixer, designed and manufactured the first practical timecode slate. He is profiled in the Fall 2009 issue of the 695 Quarterly. [Fall 2009 – Volume 1 – Issue 3 – PDF]
Manfred Klemme At various times, Manfred Klemme was a representative for Cinema Products, Nagra and Sonosax. He assisted Mike Denecke in the development of the timecode slate. Later, with Mike's encouragement, he established K-Tek as a supplier of boom poles and other professional audio tools.
Ray Cymoszinski Ray Cymoszinski was a Local 695 Sound Mixer working primarily in television. His credits included Everybody Hates Chris, Columbo, Turks and Crime Story. He was also a skilled electrical engineer and designed a portable battery system that Chinhda supplied to local outlets like Location Sound and Coffey Sound.
Neil Stone An independent service technician, Neil developed a timecode conversion for the Nagra 4.2.
More than three years later, Chinhda called and said, "I'm ready." We developed the design together but, as we worked, it became clear that he had already given the project considerable thought. He had previously built a cart for Mike Denecke and, later, a special cart for Peter Weibel to showcase the Nagra D. My role in the design was secondary. Every piece in that first cart was crafted by hand. Chinhda took great care to make every surface smooth and every corner rounded so that each touch would bring tactile pleasure.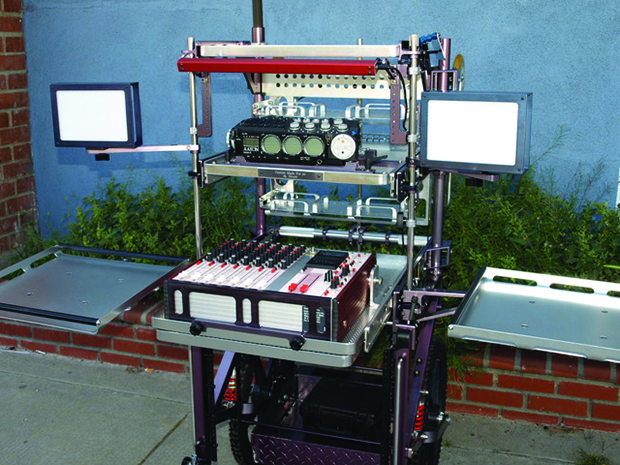 He had a remarkable ability to see transformative shapes in ordinary objects. An I-beam could be milled to yield a mounting bracket for a recorder; tubing, both round and square, might be cut to produce folding handles and other elements that made the product both attractive and useful. Elegance always had a purpose: folding trays expanded the workstation; gear was securely affixed by custom brackets; crabbing wheels in follow carts permitted straddling the wheel hump in a crowded camera truck. And, his creative energies were not restricted to carts; he also made, from scratch, a portable telecine machine for projects that wanted to shoot film, screen dailies, but also cut on computer.
This perfection presented its own challenges. As features were added to the carts, the cost rose until we were charging $10,000 each but making very little money even though we sold every cart Chinhda could make. His fertile imagination prevented him from locking down designs so we were never able to have components outsourced to CNC fabrication. Everything he made was milled on a Bridgeport with Chinhda moving the work table against the cutting bit by hand. And everything was crafted exquisitely. Creating those parts was his special pleasure.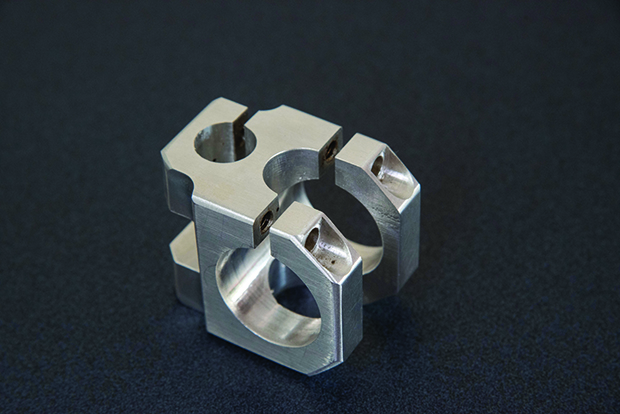 His engineering genius was largely self-taught but he did have some instruction in mechanics and electrics. He told me that, while just a teenager in Laos, he took classes in applied arts and worked part time to repair vehicles damaged by wartime service in Vietnam. But it was the draw of motorcycles that brought him to California. Schoolwork assignments did not bring in enough money to buy fast bikes, but smuggling in a war zone was profitable. Inevitably, this led to a reckoning and police arrived with questions. His mother knew immediately what had to be done—she sent the police on their way and locked Chinhda into his room until she could arrange passage to California where he might join his brother. He was on a plane just two days later.
He joined his brother in mechanical engineering classes that, through the instructor's friendship, brought him to Peter Weibel and motion picture editing. His youthful passions stayed with him throughout his life. He collected guitars and played in a band. While, as an adult, he no longer rode bikes, many of his friends were sure that he would kill himself on that wicked fast Ducati that occupied the front of his shop for more than a year. Wisely, he never took it out.
Chinhda had strong family connections, as one might expect from someone shanghaied into safety by his mother. He never failed to ask about my son. He was close to his brothers and took special pride in his nephews, who formed the core of the technical workforce in early days at K-Tek. He complained bitterly about how Manfred poached them, but you could tell he was proud. He was proudest of the accomplishments of his daughter Kathy, who studied law, gave him a grandchild and now works as an immigration attorney.
He lost his wife K.K. to cancer a few years ago and he yearned to be reunited with her. We wish them both good karma.
Chinhda Clients
The list of lives he touched, either from the sale of products or other work, is extensive. Cart and accessory clients include Coleman Metts, Glenn Berkovitz, Mark Ulano, Mike Guarino, Michael Barosky, Duke Marsh, Geoff Maxwell, Jan McLaughlin, Eric Rueff, Tom Visser, Mark Weber, Steve Tibbo, Noah Timan, Simon Bishop, Mike Sexton, Tom Stasinis, Walt Hoylman, Cloud Wang, Matt Israel, Adam Jones, Ao Loo, Ludvik Bohadlo, Henry Embry, Christoph Schilling, Caleb Mose, Susan Moore-Chong, Peter Kurland, Chris Duesterdiek, Von Varga, Paul Ledford, Edward Tise and Jeff Jones.
(Apologies to anyone omitted.) Besides the USA, countries represented include China, Poland, England, Germany and Canada.
Names in boldface are members of Local 695; italicized names are believed to be IATSE members in their respective regions. Names in plain type are from outside IATSE membership jurisdiction but are often trade unionists in their respective countries.