COMMUNITY
Save the Date! JUNE 16, 2018, 7-11 PM, MARINA DEL REY, CA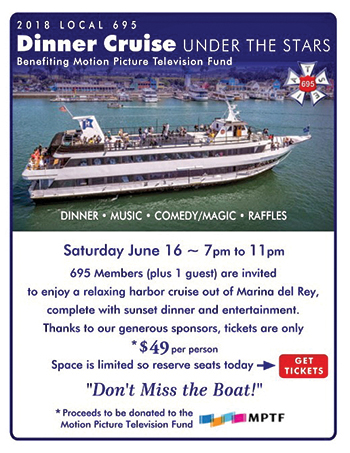 Local 695 invites you to the Dinner Cruise Under the Stars, benefiting the Motion Picture Television Fund. Local 695 members plus one guest are invited to enjoy a relaxing habor cruise out of Marina Del Rey, complete with sunset dinner and entertainment. Thanks to our generous sponsors, tickets are only $49 per person. Space is limited, so reserve your seats today. "Don't miss the boat!"
Winter Lunch 2018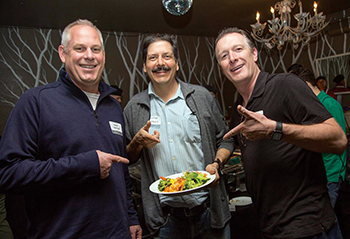 On February 25, 2018, sound mixers Chris Howland, Devendra Cleary and Steve Morantz held their annual Winter Lunch Mixer at River Rock Lounge in Studio City. Sound and video professionals from Los Angeles and across the nation got together for this post-CAS Awards annual gathering.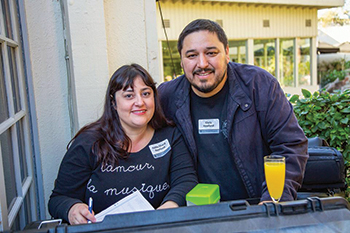 ---
EDUCATION
Safety Pass Deadlines Have Passed
If your job requires placement on the Roster, failure to complete all required training will make you ineligible for work. The deadlines have passed for Rostered 695 members to complete the following training:
Safety Pass Refresher Training:
A and A2
This training can be taken ONLINE.
(If you took this after 7/1/15, you're NOT required to repeat it now.)
Harassment Prevention:
HP1 or HP2
This training can be taken ONLINE.
To check the status of your training and verify that you are current, go to www.csatf.org and on the left, click Online Roster/General Access and then enter your last name and Local number.
Info about Safety Passport:
www.csatf.org/safety.shtml
Online registration:
https://portal.csatf.org/auth/login
Refresher Training FAQ:
https://csatf.org/refresher_train ing_faq.pdf
Contact Contract Services: 818.847.0040 ext. 1200
---
POLITICS
IA Solidarity Bowling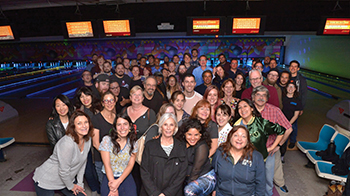 On March 25, 2018, thirteen Hollywood Locals and Local 839 (The Animation Guild) came out in support of #IASolidarity at our first Bowling for Solidarity event. The International Cinematographers Guild Local 600 thanks everyone who came and bowled alongside their fellow IA Sisters and Brothers.
#IASOLIDARITY
IATSE locals in the motion picture film and television industry have come together to build strength and unity to:
Support each other in negotiations;
Build a strong, unified IATSE;
Protect our standard of living;
Maintain sustainable health and retirement benefits;
Ensure our safety at work;
WHEN WE STAND TOGETHER,
WE THRIVE TOGETHER.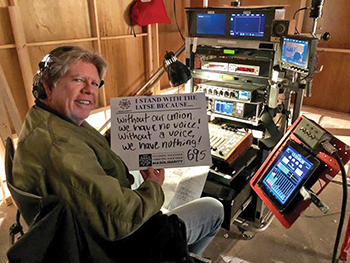 To find out more,
visit IASOLIDARITY.COM
---
YOUNG WORKERS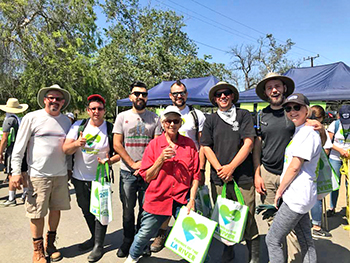 LA River Cleanup 2018
On April 14, 2018, members of Local 695 and the Young Workers Committee joined Friends of the LA River on their annual cleanup day at Glendale Narrows Riverwalk.
Since 1986, the Friends of the LA River has been devoted to restoring the LA River's natural habitat and is fueled by the dream of a river free from concrete and to transform it into a swimmable, boat-able, fishable, bike-able river for all. Thank you to all Local 695 members who dedicated their time to clean up our river!
---
NEW MEMBERS
Local 695 welcomes its new members
Aaron Martz
Wyatt Bartel
Erika Sampson
Nicholas Stuebe
Kari Aiya Barber
Tyler Blythe
Jacob Varley
Cassiano "Casey" Pereira
Arik Freeman-Anderson
Thomas Duarte
Nick Amico
Mark Lyons
Jaime Sanchez, Jr.
Russell Walbert
Douglas V. Monson
Jade Carter
Jason Denagy
Chris Dahlstrom
Arran Murphy
Patrick Hanlon
Nelson Cruz
Danny Maurer
Kendra Bates
Michael Flores
Robert "Marty" Warren
Boramey "Mey" Chan
---
IN MEMORIAM
BARRY THOMAS
Y-1
June 8, 1932 – October 3, 2017

CHARLES HOUSE
Projectionist
May 19, 1935 – February 16, 2018