Introducing ProRes RAW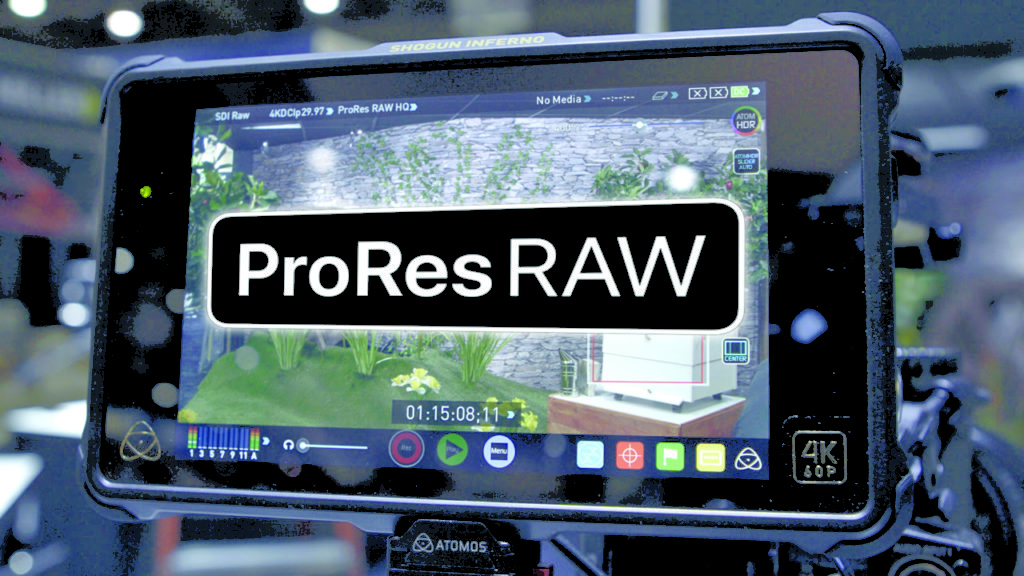 by James Delhauer
In ProRes RAW, Apple seemingly hopes to introduce a new standard that blends the ease of use of the original ProRes family with the post-production flexibility of a RAW file format. In short, this will give ProRes users the capability of accessing information directly from a camera's sensor during the intermediate and editorial processes.
Though technology in our industry is an ever-evolving force, there are some constants that we have come to rely upon. In 2007, Apple unveiled the ProRes family of video codecs—a series of lossy video compression intermediate formats intended for use with the company's Final Cut Studio bundle of post-production applications. The core concept was to introduce an easy-to-use, processor-efficient file type that editors could work with quickly while maintaining a high standard of image quality. The result was a "visually lossless" intermediate codec that celluloid film scans and larger digital files alike could be converted to for the purpose of real-time playback editing in a nonlinear environment. With a wide variety of future-thinking features such as 8K video resolution support, 10-bit sampling depth and variable bitrate encoding, the original four ProRes codecs quickly outshined their predecessor—the simply named Apple Intermediate Codec—and rivaled the capabilities of Apple's main competitor: Avid Technology's DNxHD. In 2009, the addition of two new ProRes formats increased these capabilities to 12-bit sampling depth at higher bitrates, making the codec that much more versatile.

Though initially intended for sole use with Apple's suite of proprietary software, ProRes grew far beyond its original intended purpose. Recognizing the value and efficiency of a high-quality but low-size intermediate codec, other companies began licensing ProRes for use in their own platforms. Adobe Systems quickly integrated it into their Premiere Pro, Media Encoder and After Effects applications—direct competitors to Apple's Final Cut Pro, Compressor and Motion platforms. Avid Technology, despite having its own intermediate format, added ProRes support into Media Composer—the application that has been the industry standard for nonlinear editing since its release in 1989.

In the last decade, almost the whole industry has followed suit. ProRes has become an integral part of daily life for those of us who work in cinema and television. Platforms critical to Local 695 video engineers such as Pronology's mRes, AJA's KiPros, EVS's XT3, In2Core's Qtake, Atomos recorders, Adobe System's Media Encoder and Blackmagic Design's DaVinci Resolve, all offer ProRes encoding and decoding as a standard feature. More and more camera systems that we provide data management services for offer it as a native capture format. In my personal experience on more than two dozen broadcast series, ProRes has been the preferred format on the majority of them. My experience in this regard hardly deviates from the norm.

And that is why it was so exciting when a new version of ProRes was announced at the National Association of Broadcasters (NAB) trade show in Las Vegas in April. Released as part of a joint venture between Apple and Atomos, ProRes RAW hopes to bridge the gap between convenient, easy-to-edit lossy compression formats and their larger, more robust lossless counterparts. A RAW file format is one that contains unprocessed or minimally processed data directly from a digital image sensor. These formats typically result in video files that are untenably large and, in most cases, are too dense for real-time playback or processing without expensive top-of-the-line workstation computers. This sort of compression has been restricted to edit-unfriendly non-intermediary codecs, such as the proprietary formats developed by Red and Arri or the more widely available but processor- and storage-intensive CinemaDNG format. Apple, it would appear, has taken aim to change that.
In ProRes RAW, Apple seemingly hopes to introduce a new standard that blends the ease of use of the original ProRes family with the post-production flexibility of a RAW file format. In short, this will give ProRes users the capability of accessing information directly from a camera's sensor during the intermediate and editorial processes. This information includes the sensor's white balance, color tinting, ISO and dynamic range up to 12RGB bits and sixteen alpha bits. The result is more mainstream access to expensive high dynamic range technology—a process by which multiple exposures can be blended into a single image to maximize both highlight and shadow detail. Moreover, resolution support has been increased to beyond 8K, though the current cap has not been specified by either Apple or Atomos.
Somewhat astoundingly, this has all been done without a significant increase in file size over existing ProRes formats. At release, ProRes RAW comes in two distinct flavors. The first, simply called "ProRes RAW," is comparable in file size to the original ProRes 422 HQ with a variable bitrate that averages approximately 220mbps at a resolution 1080p with a frame rate of thirty frames per second. The second, entitled "ProRes RAW HQ," is similar in size to the existing ProRes 4444 XQ at an average bitrate of 500mbps at 1080p30. By patterning these new formats on the two most popular variants of the original ProRes family, it appears that Apple plans to integrate this new technology in a manner that is as un-invasive as possible so as not to disturb users during rollout. As companies adopt ProRes RAW into their platforms, the original line of ProRes products will likely be phased out as obsolete and unnecessary.
In practical terms, this could result in major cost saving and increased time efficiency across the industry. With regards to Local 695 specifically, the various responsibilities of a video engineer or technician include media playback, on-set chroma keying, off-camera recording, copying files from camera media to external storage devices, backup and redundancy creation, transcoding with or without previously created LUTs, quality control, and syncing and recording copies for the purpose of dailies creation. This often requires both high-end workstation computers with large amounts of both processing power and graphics memory, as well as large storage solutions with high-speed media. These tools are expensive, with an introductory iMac Pro (Apple's current professional level workstation) costing $4,999. A fully upgraded machine can cost a user upward of $13,000. While this may seem excessive, that sort of computational power is often a necessity as feature films standardize 4K productions and push beyond to 6K and 8K workflows—especially for live chroma keying or compositing. Storage costs are not cheap either, with a single use 4tb shuttle drive costing productions around $170 on the low end. But if widely adopted, ProRes RAW could make the inevitable days of higher resolution productions more manageable for engineers at a fraction of the cost. By allowing productions to maintain levels of quality with smaller and less demanding files, ProRes RAW could reduce these costs all around.
It also has the power to simplify and streamline our workflows. A common complaint from producers and engineers alike over the last few years has been the non-standardization of ingest formats in cinema-grade cameras. At present, a video engineer is required to be familiar with just about every file format and codec out there. On feature productions, commercials and high-budget television series, it is not uncommon to juggle REDCODE RAW, ArriRAW and CinemaDNG files in a given day. Each of these require their own unique workflow in order to process clips for editorial so that they will be ready for use and offline to online editing at the end of post production and to create dailies for producers. We are required to be intimately familiar with each workflow and seamlessly move from one to the next during the course of a single day. The widespread adoption of ProRes RAW could be the standardization of RAW video that we have been waiting for, allowing engineers to work via a single workflow in any given day rather than bouncing back-and-forth between two or three separate ones.
Currently, ProRes RAW can only be captured through external recorders manufactured by Atomos. Officially, the Atomos Ninja V external HDMI monitor/recorder was the first system to allow ingest of ProRes RAW files in cameras manufactured by Canon, Sony and Panasonic but a firmware update was released the following day that granted these same capabilities to the Shogun Inferno and Sumo19 recorders as well. These recorders are capable of ingesting the new format at a resolution of DCI 4K (4096 x 2160) at sixty frames per second. DJI then announced that their Zenmuse x7 camera would receive a firmware update allowing it to capture ProRes RAW at a resolution of 6016 x 3200 at 23.976 frames per second. On the post-production end, the new codecs are currently only supported for use in Apple's Final Cut Pro X platform, version 10.4.1 or higher.
That didn't stop the whole of NAB from asking about the future of this new codec. Representatives from BlackMagic Design, Adobe Systems, AJA, EVS and Canon Inc. were all flooded with inquiries as to when users could expect ProRes RAW support in their systems. However, Adobe Systems' Senior Product Manager Patrick Palmer quickly put out a simple statement on the company's forum: "We're looking into adding support for ProRes RAW as we speak." Excitement spread like wildfire throughout the week as everyone from feature filmmakers to video enthusiasts and YouTubers clamored to find out more. There seemed to be an unspoken consensus in the air throughout the Las Vegas Convention Center. The next big thing might have just arrived.