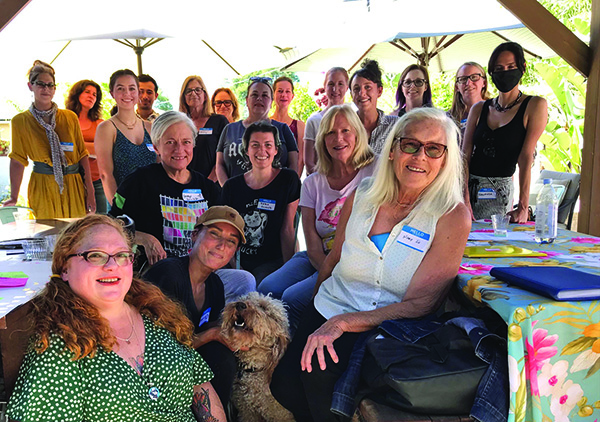 by Jennifer Winslow
On a hot June day, as the new Local 695 Women's Committee gathered for our first official meeting, a dream of mine was realized.
When I joined 695 in 1990, we had about as many female members as I could count on my two hands. Women were not welcomed into our industry. To the contrary, there were many who wouldn't consider hiring women onto their crews at all. I was even subtly brainwashed into thinking two women on a sound crew would never work out! Can you imagine those days? The first sound and video women members were trailblazers in every sense of the word, breaking barriers and opening doors for future generations. Back then, I wondered if I'd be one of the few to continue with a career as a Sound/Video Tech. I was harassed, told by some men on the crew that their boss made less than me and I should feel ashamed, and generally bullied because of my gender.
Despite the cards stacked against me, I persevered, pushing myself to become a better sound technician and continued learning, and as a result, I enjoyed the high level of success surrounded by my union brothers and sisters, from my early years, all the way through to today.
Fortunately, over my thirty-three years in the business, the tide changed, and the number of women working in sound and video grew. Female technicians were becoming a part of every film and TV crew. This level of growth and progress was much needed, and as fate would have it, we now have enough members and interest to warrant a Local 695 Women's Committee.
With Jillian Arnold as our stereotype-smashing, ceiling-breaking president, the times have certainly changed. (Interesting fact: We've recently grown from six percent to eight percent of 695 represented by women and female identifying members.) And this growth is far from through, a PA on my current job just applied to the Local 695 Training Program hoping to become a Utility Sound Technician in her future career.
So, the launching of this committee was a big deal and our first meeting is a huge moment in our Local's history!
Thanks to Mixer (and longtime 695 member) Anna Wilborn for generously hosting our meeting at her beautiful home. Under sunny skies, our committee gathered with positive energy, all joining together in community and forging a much-needed connection. A connection that has been lacking in years past (and especially over the last year with the Pandemic Social Distancing, Safer at Home Orders, and Safe Way Back to Work COVID Restrictions on set). After an extended period of emotional darkness, we've arrived in a new era of understanding, empathy, and progress.
Here comes the sun! It was so great to see everyone again after the difficult year that was 2020.
The committee is composed of more than forty Local 695 women, female identifying members and allies, twenty of whom were present, to support the committee's work. Many members have expressed interest in joining us for our next quarterly meeting, to be held in the fall.
I'm a female mixer working in Los Angeles, and this opportunity to meet with fellow technicians old and new made me so grateful. Discussing matters that mean a lot to us, and hearing everyone's feedback was so beneficial. I really value the relationships that we as a community are growing. It makes me feel very empowered. Can't wait for the next.
Thank you. Chantilly Hensley
A post-COVID quandary arose as we faced the dilemma of how to navigate our first social gathering. Coming out of a worldwide pandemic wasn't an easy task, and some anxiety existed: To mask or not to mask? Would single-serve packages of chips, or pre-packed cheese and crackers suffice? Would a large bowl of guacamole be OK? (Answer: Guacamole is always OK!)
As the afternoon unfolded and members arrived, we all realized how nice it was to see faces and smiles again! Soon enough, talk about masks was replaced by easy conversation amongst our sisters and kin. As we relaxed and enjoyed each other's company, we shared stories, ate and drank, laughed, and commiserated, we listened with empathy, to the horror stories many have lived through in our past. The food was plentiful and the mood was powerful!
It wasn't all social however; we tackled some tough issues facing women working in tech within the film and TV industry.
I had a goal to achieve for this first meeting. In particular, I was determined to identify four to five objectives for the committee to work on this year. I designed a group activity that I called the "Hot Topic Boards."
The activity began with poster boards (decorated beautifully by Anna's daughters) with large colorful Post-it notes, listing issues ranging from unequal level of promotion, to microaggressions at work. Together, members chose their top five issues from more than forty hot topics presented.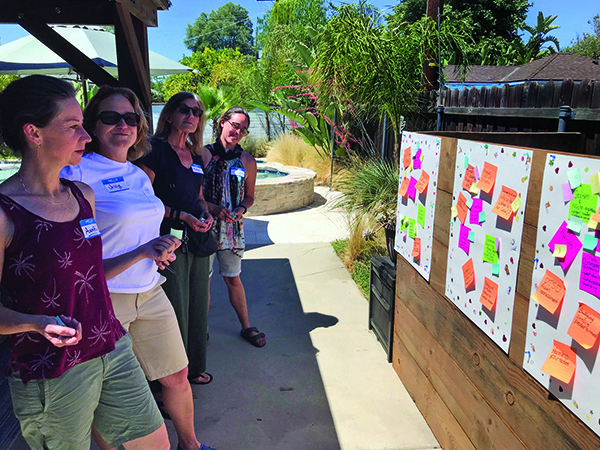 When the results were compiled, we sat down and got to business. The meeting portion was rather spirited, and the survey of topics led way to epic levels of conversation. As soon as we selected five pressing issues of focus for the committee's first efforts, many members came to a consensus that we have much work to do to create lasting change amongst our ranks.
The Women's Committee meeting was engaging on many levels.
The members in attendance put forth what they felt were the most pressing in order of priority and it was a very welcoming environment all around. Hats off to Jennifer Winslow for putting it all together and for Anna Wilborn's use of her lovely home.
Best regards, Heidi Nakamura Assistant Business Agent
The members read, discussed, and shared their valuable feedback on the following Local 695 Women's Committee Mission Statement.
Mission Statement: The Local 695 Women's Committee
The committee is dedicated to serving our members by providing networking and mentorship, promoting and celebrating our diversity, and encouraging growth. We plan to engage in social and community activism and outreach, provide resources, oversee educational opportunities for the women of IATSE Local 695, allies, and kin. The committee will endeavor to foster a deeper sense of community, set goals, and highlight the achievements of women in order to enhance all women's advancement, and increase the potential for success in our union and industry.
After the meeting ended and official business was taken care of, I was able to relax and enjoy the rest of the time with our awesome members. I felt we did much more than dip our toes into the pool. We have our five top issues to dive into. We will focus our group's attention, and continue to keep up with the growth cycle we are now enjoying. Co-chair Sara Glaser and I are already planning our next meeting.
The Local 695 Women's Committee meeting turned out to be much more than I'd ever hoped for. Change may be a slow-moving train, but the new face of the members onboard will shape our future into a more diverse and dynamic community. I thank all who participated. See you this fall!
All Local 695 members are welcome!
I just have to express how wonderful our June 13 meeting of the Local 695 Women's Committee made me feel. It was so inspiring to hear a cohort of our intelligent and committed members identifying and addressing issues that have needed changing for decades. Mary Jo Devenney
As a female Video Maintenance Engineer in a male-dominated occupation, I really appreciated the opportunity to meet other women in technical roles in the film and television industry and discuss the unique challenges that our group faces on the job. Lara Jessen
The breadth of experience in the Women's Committee is inspiring. Lots of the issues brought up come from lived experience, and are things that would likely benefit all members. There are definitely issues that were brought up that resonated. I know if more voices (members) speak up and help make these changes possible, all members will benefit from a more equitable workplace. Daniel Martinez Local 695 member
It is absolutely critical for us to support each other. I really enjoyed learning about all the different paths our sisters have taken within our union. By coming together in a fun, relaxed atmosphere, we could really open up and discuss our ambitions and encourage each other to reach our goals. Anna Wilborn