by Blas Kisic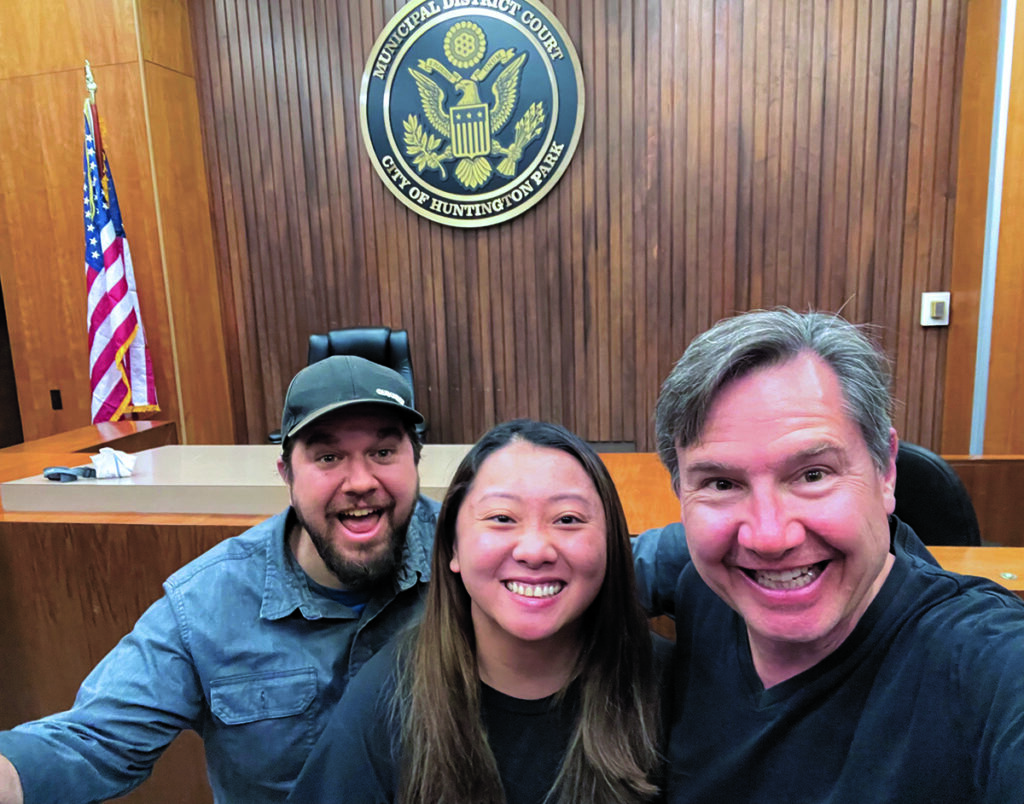 I remember the phone call very well—a producer I've known for years, Matthew McIntyre, was on the other end. He got straight to the point, "Blas, have you ever done a hidden-camera show?"
Indeed, I'd worked on a few. They were typically in a contained space, and lasted a few hours at the most. I came to realize a few weeks later, when it was too late to back out of the job, that my notion of a "hidden-camera show" and the project Matt was asking me about were two very different things.
The show in question was Jury Duty, starring James Marsden, and it premiered on Amazon Freevee in April. It follows a volunteer whom we called "Hero," who signed up to participate in a documentary-style project about the legal system in Los Angeles. What he didn't know was that everyone he would interact with was an actor, and that the trial was a recreation.
The scale and scope of the project (which I'd describe as "The Truman Show in real life") was unprecedented. We had to convince the volunteer he was involved in a jury trial in an actual courthouse during a period of three weeks. We had to control whom he spoke to, what he saw or read, where he went and, naturally, he'd have no access to any electronic devices to keep him from finding out what was happening in the real world. As far as I know, this had not been attempted before.
To be honest (I hope the EP's don't read this), I had my doubts. The challenges, especially for the Sound Department, were many. We had two weeks of prep at the courthouse, rehearsing with our cast, who were in character during the whole day, but were also amazing improvisers. Finally, we brought in our Hero for the three-week shoot. What could possibly go wrong?
Two mixers, one utility
My first request to production was to hire a second mixer. I assumed that we'd have to deploy multiple rigs in different sets, requiring two mixers at all times.
I'm incredibly fortunate Dan Kelly was available. He's a very experienced mixer with many "live-to-tape" projects under his belt. Those typically contend with multiple cameras and elaborate technology, and also, more to the point, few opportunities for a second take. Besides, he's such a calming presence on set, a welcome contrast to my hyperactive, somewhat neurotic self.
I had to find a new Utility Sound person as my "usual suspects" were already working on other shows. I decided to try out Jennifer Zhang based on a colleague's recommendation. Jen lived up to her accolades; she's extremely organized and efficient, and always with a smile on her face. We were lucky to have her, considering all the moving parts we had to deal with every single day.
Several other Local 695 members helped us along the way. John Maynard was with us for a couple of days during prep, as well as Denis Perez, Raam Brousard, and Ethan Molomut who joined the team on some of the "big" days. Tad Chamberlain jumped onboard for one day as well, to replace Dan. I feel extremely lucky to work with such experienced and dedicated professionals.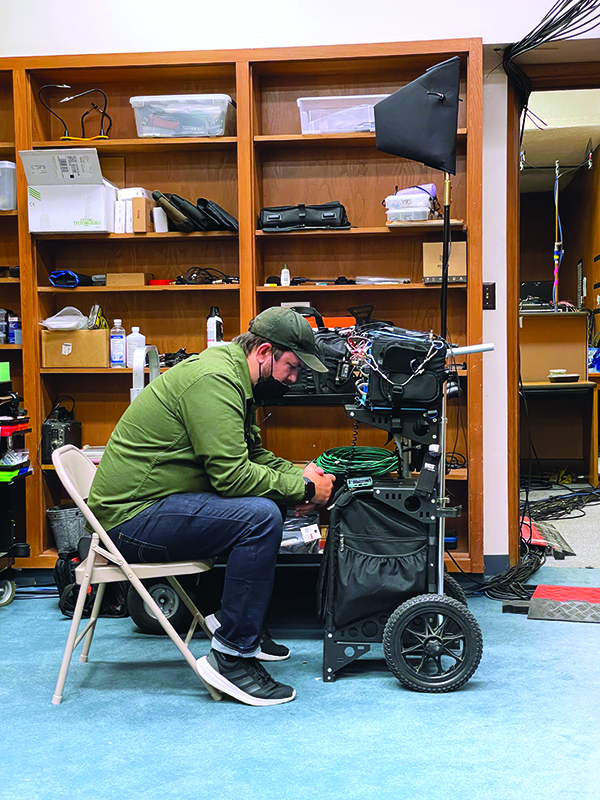 Location, location, location
Our script called for a courthouse, a hotel for sequestered jurors, a restaurant, and a city park. Only the courthouse and the hotel were locked-down sets. The others were open to the public while we filmed, which, as you can imagine, made those days that much more interesting.
The courthouse was located in Huntington Park, which is five miles south of Los Angeles. It was decommissioned for budgetary reasons years ago, and it's been in disuse since. Most recently, it was used as a, wait for it, a Halloween funhouse. The Construction Department did an amazing job of bringing the building back to its former glory.
The building sits between city hall and the police station, both still active, which caused us unending grief with RF issues (more on that later).
All the sets had hidden cameras installed. We considered hiding plant microphones in a couple of the sets, but we soon abandoned the idea, as it's one thing to hide a mic from the cameras for a few hours, and quite another for someone who might be sitting only a few inches away, day after day.
Most of the story beats take place in the jury deliberation room. The cast and our Hero would start the day here before entering the courtroom, and then later be back to discuss the case or spend their lunch breaks.
The other main set was the courtroom. We had several MKH50 microphones on fixed mounts, hardwired to the main cart. As a backup, both the judge and the attorneys had their own lavaliers feeding recording packs, which we downloaded at the end of every day.
We also had interview spaces on the north side of the building. They were pre-lit, with booms set up for proper sit-down interviews. The windows in the interview rooms faced the police department just one hundred yards north of the courthouse blasting twenty watts of RF at random times. We had constant issues here, which kept me from recording clean audio at the main cart.
This prompted us to run hundreds of feet of antenna cable, from one end of the courthouse to the other; even to the roof, to cover the action in a couple of exterior scenes. We installed an RF Venue 4 Zone antenna combiner in the cart, which I had to "operate" when the action moved from one set to another. In order to avoid overloading the antennas, I had to switch different zones on and off, depending on where the actors were headed.
The 4 Zone combiner wasn't designed for active switching in that manner. It took several button pushes to switch each antenna bank. Naturally, a handful of times in the heat of battle, I managed to keep the wrong zone on, causing dropouts and other issues…
We soon came up with a plan B, a Super Zuca cart (created by fellow 695 member Eric Ballew), which contained two bags; one with a Sound Devices 688 and another with a 633, for a total of eighteen wireless channels. Dan, as part of the "documentary" crew, wheeled it into different locations. During interviews, I would turn off the Comtek feed in the main cart and Dan would switch on a transmitter installed on the Super Zuca, so the creative team at video village could listen to a clean mix devoid of RF hits.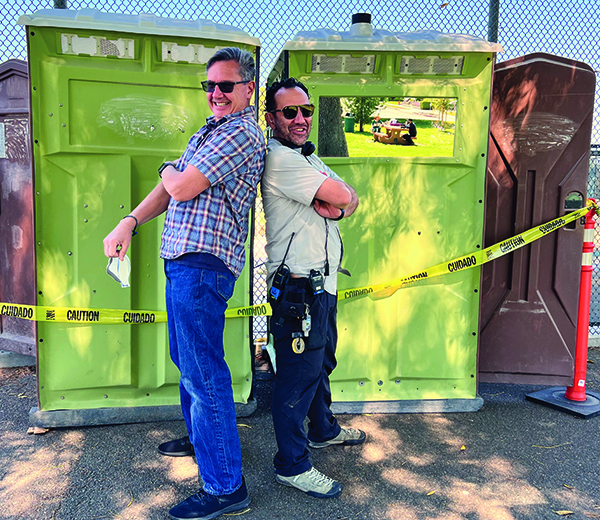 Filming in a restaurant teeming with customers
When I saw "INT. MARGARITAVILLE – NIGHT" in one of the scripts, I immediately called our PM to confirm whether that name was just a placeholder or the well-known restaurant located at Universal CityWalk. I was obviously concerned about all the logistics involved.
The answer was "Yeah, the restaurant will be open to the public." In the script, this would be a personal outing, away from the court and the "documentary" crew. I was extremely nervous about our ability to capture all the dialogue without lavs, to say nothing of where our rig would be located, and how we'd route feeds for the earwig channels, Comteks, antenna placement, etc.
We did have a pretty thorough location scout a few weeks before, where we had a chance to formulate a plan of attack. To my relief, it was decided the "documentary" crew would tag along with the group of jurors, at least for the first hour or so, which helped bring down my blood pressure a bit.
This was definitely the most difficult location for us. It came after an already long day, starting at the hotel and then at a garment factory downtown. Lots of moving parts, additional day players, duplicate sound teams leapfrogging the cast bus in order to prepare for the next scene, wiring talent with seconds to spare. At the end of the night, we were all exhausted, but also exhilarated because we were able to pull off the seemingly impossible.
Home away from home
In order for The Truman Show conceit to work, we needed a plausible reason to cut off all communication with the outside world. Our Hero would have to relinquish his connected devices, and would not be allowed to go home. Thus, James Marsden's celebrity became a distraction to the proceedings, which gave our judge a reason to sequester the jury.
Production found a hotel that was closed for renovations, perfect for our needs. The first two or three floors had been remodeled, we could have a mini-production office in one of the rooms, and there would be no other guests that would get in our way.
There was a common area with books, a TV set, and gaming consoles, where the jurors could spend time together, and it would be the setting for a couple of key plot points. We did experiment with a DPA 4097 connected to a recording pack, which we hid high up behind a curtain fold—but, as we suspected, it never provided more than a fuzzy ambient perspective. You can't fault us for trying!
Another major location involved a birthday party at a city park, which the "documentary" crew would not attend. All the actors would be wearing lavs—except for the Hero. We planned on having him wear a micro recorder and tested a few different models. We asked Prop Master Jason Phillips to come up with a hat or some accessory that could house the recording device.
One of the characters, Barbara, played by Susan Berger, crocheted during court hearings. Jason suggested we make crochet lapel pin buttons in which we could hide the miniature recorder. The story would be that Barbara had made a few crocheted buttons the night before as party favors, which she would pin on various people, one of whom, of course, would be the Hero. Ultimately, our EPs decided the risk of the recorder being noticed was too high, and we shelved it.
The park was a couple of miles from the hotel. It had plenty of trees and a nearby parking lot, where a video village van could be staged relatively inconspicuously. Two "porta-potties" were set up very close to the set, one was occupied by yours truly, operating the Super Zuca, and the other by Steve Canas, our Video Tech Supervisor. We'll always look back at this shoot as the time when our careers literally, ended up in the toilet…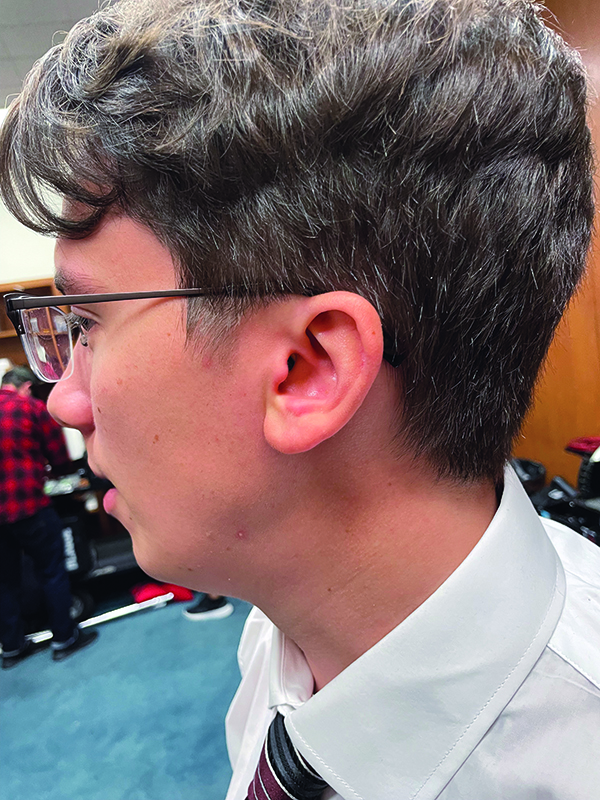 Digital wireless—a steep learning curve
We needed more RF channels to cover the show's needs. I briefly debated whether to get a third venue VRM, but I also realized that having digital channels in such a hostile RF environment would help our reliability. I chose Lectrosonics products, a DSQD receiver and DBSM transmitters.
Dan had already worked with DSQD's and DBSM's, and he had learned a couple of valuable tips, contrary to what we're used to with hybrid wireless devices. The DSQD tends to react poorly when digital signals are received by a powered antenna at full strength; there's intermittent garbling in the dialogue. We spent some time adjusting the antenna bias power to keep them at around 75%-80%. We tested extensively and played with the antenna bias gain to optimize the signal quality.
Perhaps more important, reducing noise is far more effective than boosting the TX signal. We scanned several times, reducing the bias power to the antennas, until the histogram looked pristine. Once the noise detected was minimal or nonexistent, coordinating frequencies became much easier.
Considering that the wires would be in close proximity most of the time, we decided to keep all analog TX's at 50mW, and the four digital TX's at 25mW. We also switched the step size on all channels to 25KHz, which helps fine-tune the coordination—100KHz steps are too far apart when coordinating that many channels.
For scanning and coordinating, we used Wireless Designer. It's quite powerful and has many useful features. Besides the talent wires, we had a handful of earwig and comms channels which we had to coordinate as well. My receivers are mounted on the back of my cart, so I keep Wireless Designer open on my laptop at all times. This allows me to check the signal strength and battery health on each channel regularly.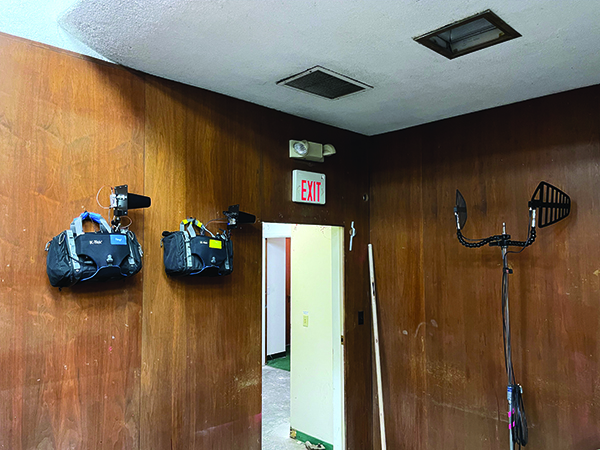 An old dog learns new tricks
Many of my colleagues have been using Dante for years. In case you're not familiar, Dante is an AOE (Audio Over Internet) protocol that allows you to transmit full bandwidth audio over long distances, as well as routing signals to multiple devices. It requires Dante-enabled devices, a laptop that can run Audinate's Dante Controller, and an Ethernet switch.
Before this project, I simply did not have a reason to use Dante. But when we looked at this project's needs, it was obvious we'd have no choice recording upward of twenty tracks at a time, without counting comms and other inputs. We chose the Sound Devices Scorpio recorder. It has sixteen physical inputs, but with Dante, you can access all thirty-two inputs.
We started looking for a rack-mounted, DC-powered 16×16 Dante interface to feed the analog inputs from my two Lectrosonics Venue VRM's into the recorder. Unfortunately, there weren't many options. Worse yet, availability in late 2021 was very limited, thanks to the pervasive COVID-related parts shortage.
We settled on the Audio Science Iyo Dante 16.16MD. I ordered it in early November, and kept my fingers crossed. The expected delivery date stretched into December, then January. I was getting nervous as we still had to install the unit, program the network, and test routing. Fortunately, Aaron "Cujo" Cooley in Atlanta had an Iyo Dante 8.8MD, which he kindly rented to me for the duration of the show. It wasn't a permanent solution, but it got us through.
The Scorpio, the DSQD, the Iyo interface, and my MacBook Pro laptop were all connected via Dante, while the two Lectrosonics Venue VRM's were connected to the Iyo.
Besides running the network via Dante Controller, the laptop would also run Boom Recorder by Pokitec, which would serve as our backup recorder. We recorded a mono mix, the first thirteen ISO tracks, plus a sub-mix of all the plants in the courtroom.
Once we completed the initial test/prep period, all our inputs and routing were pretty much set, and there would be no need to fiddle with anything. It proved to be a reliable, solid Dante system, and it gave us zero problems through the run of the show.
Wireless overload
We had our hands full with our wireless channels: sixteen tracks for talent, three earwig channels, and a couple of comms. Coordinating them all took longer and longer, as we tried to optimize our system. We had reached the practical limits for that location.
As the story developed, we saw the need to cover more actors. Dan proposed bringing in additional DBSM's, to be used as recording-only devices, for day players with one or two lines. To distinguish them from the other DBSM's, we marked them with bright red plastic covers on the SMA connectors. We jammed them with timecode in the morning. To ID the file, we would record a verbal ID at the beginning of the clip. Jen would whisper the date, time, and character name into the lav while placing the transmitter in an ankle strap.
Can you hear me now?
Earwigs would be a key element of the production. The Phonak Roger system became the de facto standard after the original 216MHz Invisity system was discontinued. It broadcasts in the 2.4MHz range, which can be unreliable, because film sets nowadays are full of RF devices using the same frequencies.
I knew there were repeaters and other solutions out there, but none felt like a winner. Once again, having Dan in our team proved to be a blessing. He showed me his own earwig setup, adding a 2.5 watt signal booster for the Roger base station, feeding the signal through a CP Beam antenna; all in a small, lightweight sound bag. The range is much better, and more reliable than the stock unit.
Since we needed two discreet earwig channels, I shamelessly copied Dan's bag. They looked so much alike, we christened the two bags "Thing 1" and "Thing 2."
The Roger earwig system was used by the judge, the defense attorney, and one of the jurors. The judge, played with gusto by Alan Barinholtz, was far enough away from our Hero that we were not concerned the earwig would be visible. The other two cast members were female; their hair covered their ears, so they were safe even at close quarters.
The creative team requested earwigs for other cast members, as the plot progressed. Regular earwigs would be noticed up close, however. Jen mentioned some micro earwigs she had worked with in the past, so small that you couldn't see them. I asked her to order a couple of different models for us to test.
These units are small because they're fed from an induction loop, so they aren't as simple or quick to deploy as the traditional Roger units. The actor cannot wear a thin top, that would reveal the loop around the neck.
These actors had to wear two devices, a single-battery Lectrosonics transmitter for their mic, and a Sennheiser G3 receiver on their ankle, feeding the induction loop. The micro earwigs were a success by virtue of being so small. In fact, they were embedded so deep in the ear, we had to order a couple of rubber-tipped tweezers to pull them out!
Jake Szymanski, our Director/EP, guided the talent from a producer's console, which allowed him to address individual earwig wearers by choosing one of three push-to-talk buttons. The earwig channels were routed to my cart before being fed to the transmitters, so I could monitor them. I knew there'd be quite a few "audibles" and unexpected changes, so I wanted to make sure our team would always be one step ahead.
Synching sound and picture
We shot with twelve cameras of various models and specs. Seven of them had SMPTE timecode ports, while the rest were either DSLR's or GoPro-type cameras. We deployed seven Denecke JB-1 sync boxes. These have been the most reliable and convenient timecode devices I've ever used. They're small and light, they have a clear readout, and their battery life is exceptional.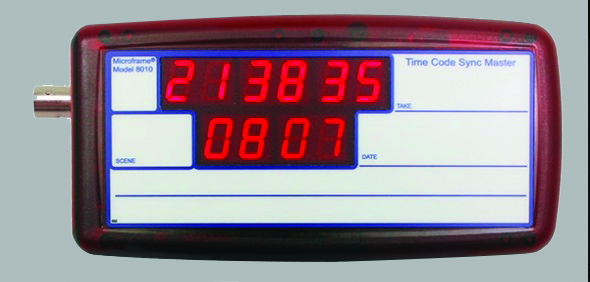 For the cameras that can't take timecode, we had two Microframe Timecode Sync Masters. The camera team called them "pillbox slates," and the name stuck. They're small timecode displays powered by a 9V battery, without a clapper, which can be stored in a pouch or pocket, and flashed in front of cameras at the start of a take.
I've tested the Sync Masters and they're pretty accurate but, because I haven't quite tamed my OCD, we kept them jammed with Tentacle Syncs taped to the back, rather than trusting their internal clocks. We installed a 27" video monitor on top of my cart, with a nine-camera split screen. I checked their timecode readouts several times per hour. I'm happy to report that, in three months, I only saw a few scenes in which a camera was out of sync—and it was fixed within minutes.
The proof is in the pudding
I'm still amazed that Ronald, our Hero, never suspected any foul play, even though there were a couple of moments of utter panic when we thought he'd figured it all out. But, as improbable as it would seem, he never did. I think that's a testament to how professional and dedicated every member of the cast and crew were.
A year later, thinking back, I'm very proud of what we were able to achieve. Even when I was frustrated with our results, Dan constantly reassured me that I had unreasonable expectations. He had a mantra, "We'll try it again tomorrow." It's an apt phrase, considering what we were up against, and it helped me relax a bit, and enjoy the ride.