by James Delhauer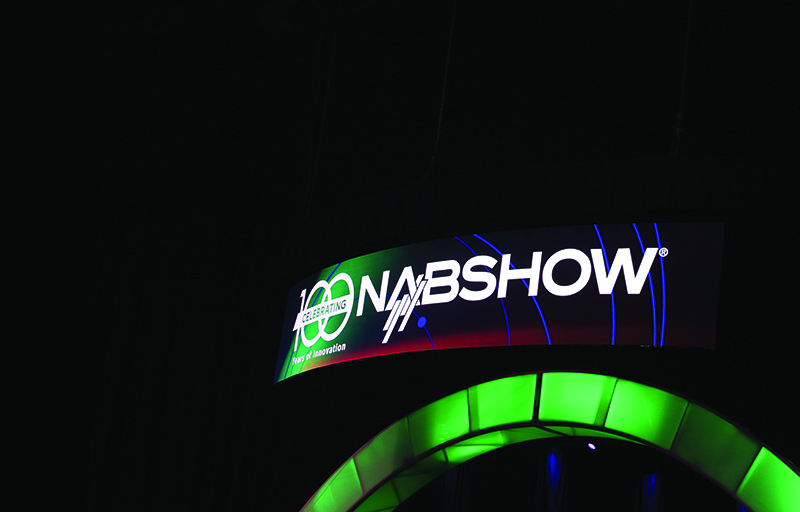 The first National Association of Broadcasters (NAB) trade show opened its doors one hundred years ago in New York City. In the century that followed, NAB grew to become one of the most important annual events to those working in the worlds of film and television. It's where all the latest gizmos and gadgets from the most serious vendors are debuted. Reps from the various companies are there to interface with potential customers; marketing their wares and soliciting feedback from end users. It's like Disneyland for production nerds and, after last year's small return to the Las Vegas Convention Center following the COVID-19 pandemic, this year's centennial celebration was a return to form for this grandiose event.
The technology in our industry is changing at an accelerated rate. While digital workflows were only making their way into the mainstream just fifteen years ago, this year's NAB show was dominated by LED video wall systems, cloud-based solutions, and artificial intelligence systems. Digital technologies have never been more integrated into the arts of filmmaking than they are today. Heck, the term filmmaking is, in and of itself, a misnomer at this point, as I saw exactly one exhibit pertaining to actual celluloid film during the run of the convention.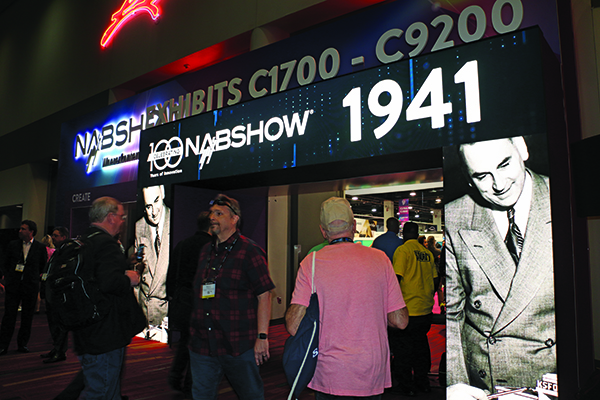 In the last five years, we've seen the sudden rise of "virtual production," largely brought about by the development of interlocking LED panels to create larger-than-life "Video Walls." This technology goes by many names. "The Volume," "Infinity Stage," and "Virtual Stages" are just a few that spring to mind. The terminology is not standardized, screens that play back content.
This technology is versatile in its use. Narrative-driven productions can create immersive digital sets on stage, eliminating the need for time-consuming post-production visual effects work. Talent can visualize the environment that they're in, making for more naturalistic and believable performances. This can be useful for things as mundane as simulating a car ride or as extravagant as setting foot on an alien planet. In broadcast environments like game shows, concerts, and award shows, LED panel systems can create infinitely unique experiences. Photorealistic or abstract, it doesn't matter. Fireworks can be in the room when someone wins an award or the hosts can float through space. Much of the visual spectacle once exclusive to hundred-million-dollar blockbusters can now be achieved and broadcast in real time thanks to the proliferation of this technology. And if this year's NAB show was any indication, these systems are here to stay.
Unfortunately, many productions have taken to referring to virtual production as an "on-set visual effect" in order to circumvent the need to hire IATSE members. Visual Effects Artists do not currently work under a union contract, meaning employers can bypass the need to contribute to benefit funds that provide artists with a pension or healthcare. This situation leaves these artists vulnerable to exploitation and poor working conditions, with many news stories recently discussing long working hours and inhumane conditions. Despite the value they bring to production, Visual Effects Artists and companies are not compensated appropriately, with even Academy Award-winning VFX houses being forced to shut their doors or file for bankruptcy due to an inability to make ends meet (such was the case for Life of Pi VFX house, Rhythm & Hues, which was forced to file for Chapter 11 Bankruptcy just two weeks before accepting the Academy Award for Best Visual Effects in 2013). By choosing to assign this additional labor of "virtual production" to VFX houses instead of hiring IATSE workers under their contract rates and benefits, studios are perpetuating an unethical and unsustainable system—all while violating the contracts that the employers sign with the IATSE.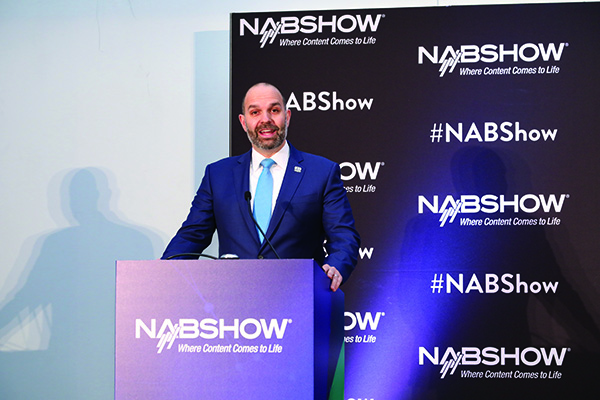 At its core, virtual production technology is an evolution of the work that Local 695 engineers have been doing for decades. It is derived from the Rear Screen Projector/Camera Interlock Process shot, a system originally conceived and developed by IATSE member Henry V. Miller in 1930 (a story we covered in the Fall 2022 edition of this publication). Though LED panels, networking systems, and video throughput workflow have been improved upon with almost a century's worth of innovation, the primary function of the job has not changed. Video Walls, Volumes, Virtual Production Stages, or whatever you want to call them are a means of playing back an image for the purpose of being photographed by the Camera Department. That work is the jurisdiction of Local 695.
Virtual production is not the only disruptive technology that is gaining traction in the entertainment industry. At this year's NAB convention, a wide range of new artificial intelligence (AI) and machine-learning applications were unveiled, such as Adobe Firefly (an art generator), Move AI's Invisible (a real-time marker-less motion-capture tool), and Whisper by OpenAI (an automatic speech recognition tool). While these applications are still in their infancy, there is no denying their potential for development and continued growth. Artificial intelligence and machine learning are poised to revolutionize the industry in the same way as past technological innovations like the internet and smartphones. With AI and machine learning, the industry is expected to become more efficient, streamlined, and cost-effective. However, these new technologies also raise concerns about the displacement of human workers, job security, and ethical considerations.
In fact, during this year's trade show, NAB CEO Curtis LeGeyt took to the stage to give his thoughts on this emerging market, stating that "This is an area where NAB will absolutely be active… It is just amazing how quickly the relevance of AI to our entire economy, but specifically, since we're in this room, the broadcast industry has gone from [an] amorphous concept to real." His presentation echoed many of the concerns that members throughout our industry have expressed since tools like ChatGPT and Stable Diffusion have come into play. "We have been fighting for legislation to put some guardrails on it," he said. "We need to ensure that our stations, our content creators are going to be fairly compensated."
This warning already rings true for many, as we've seen companies like Microsoft, Disney, Google, and Amazon announce mass layoffs even as they invest billions into research and development for artificial intelligence tools. However, that is not to say that artificial intelligence does not create an opportunity at the same time. As the entertainment industry continues to embrace new technologies, the most desirable workers will be those who make themselves familiar with the latest tools and software on the market. With the rise of machine learning, the rate at which these tools come to market is expected to accelerate rapidly, making it more important than ever for professionals to stay up to date. This will require due diligence and a willingness to constantly learn and adapt as new tools and techniques emerge. Those who are able to do so will be better equipped to compete in a rapidly changing job market, while those who are unable or unwilling to keep up with the latest trends may find themselves left behind. Ultimately, staying abreast of the latest tools and technologies is critical for success in today's entertainment industry, and those who can do so effectively will be the most in-demand workers.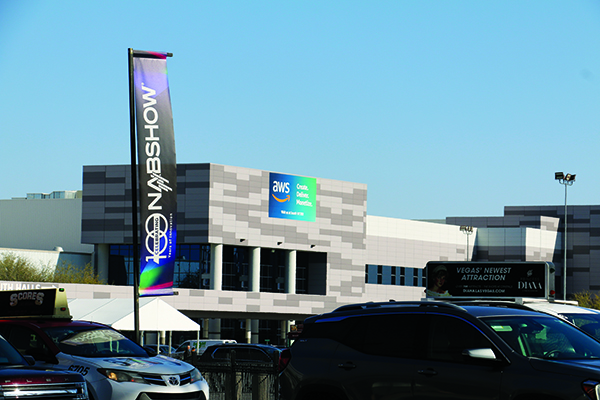 With the rapid pace of development in machine learning, it is likely that these technologies will take over the entire show by next year. In fact, in the coming years, I suspect it will become increasingly difficult to find an audio or video system that does not incorporate some form of machine learning or AI. As these tools reshape our industry, those who are able to harness its power effectively will be at the forefront of this revolution.
And the last area of disruption we'll discuss today is the advent of Camera-to-Cloud recording. This is a workflow that allows filmmakers to record digital files directly to online servers and into a post-production environment in real time or near-real time, enabling near instant feedback from production stakeholders and accelerating the post-production process. Though such workflows have been theoretically possible for the last few years, the acceleration of remote work thanks to the COVID-19 pandemic resulted in advancements in internet connectivity. Consumer, prosumer, and business pipelines are now reaching the point where uploading material directly from the camera or a recording device is practical. However, this creates some jurisdictional issues on the set. Off-camera recording, such as through a media server, record deck, or hardline ingest system are the jurisdiction of Local 695 recordists. Camera-to-Cloud is, by definition, an off-camera recording and transmission system, both of which are codified in the Local 695 Collective Bargaining Agreement. This does not mean that productions cannot take advantage of these innovations, but it must be done with a Local 695 Video Engineer on-set to oversee such operations. Even when transmission systems are built directly into the camera (such is the case with Red's V-Raptor system) or portable camera monitors (such is the case with Atomos's Ninja V+ video monitor), this is Local 695 work. Before a production can assign this work, a conversation must be had between the involved Local unions, the on-set department heads, and the producers to sort out who will be responsible for what work in a manner that is consistent with the contracts we've all negotiated with one another.
NAB 2023 was a wonderful return to form, showcasing countless new devices and tools that continue to push the limits of what is possible in Hollywood. From virtual production to AI and machine learning, the entertainment industry is rapidly evolving and embracing new technologies that promise to revolutionize the way we create and consume content. However, as we embrace these innovations, it is important to be cautious and ensure that they are being used in a responsible and ethical manner. We must also be mindful of the potential consequences, such as job displacement and the erosion of privacy, that come with these new technologies. Ultimately, while the future of the entertainment industry is exciting and full of potential, we must approach it with care and responsibility to ensure that we are building a sustainable and equitable industry that benefits everyone involved.