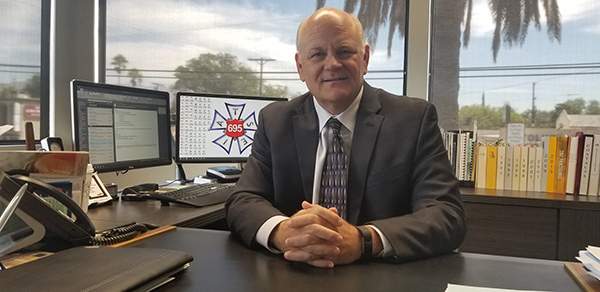 Are you ready to take advantage of the changes that are coming our way?
After the conclusion of our second quarter membership meeting on Saturday, April 15, I drove straight to Las Vegas for the 100th NAB (National Association of Broadcasters) Convention. I have always been excited to attend this show as it offers a glimpse into the future of production. Let's face it, we are all technology enthusiasts and love to try out new equipment. I have been going to this convention for many years and have formed numerous relationships with people working for various manufacturers. Some of these relationships go back to my time as the sales manager at Location Sound Corporation. During my visit this year, I met up with James Delhauer and we spent three days exploring the new ways in which manufacturers are developing products to enhance our work. In his article, James will discuss several new products that caught our attention and how they may be of interest to you.
It is crucial that we, as video and audio engineers, embrace and contribute to the development of new technology. "Virtual Production," a buzzword that has been circulating in Hollywood for the past few years, was one of the highlights of this year's convention. While several of the new products and software were labeled Virtual Production, it is clear that the term is still being used in a very broad way. Some are using the term to describe work that has been around for decades, such as the Process Shot. We see the term In-Camera VFX on "LED Walls," which I believe was coined by post-production VFX houses to describe playback work on set. This is work that our members have been performing for decades. We saw several booths displaying LED Video Walls playing back images to be captured during live performances. All of this represents the latest use of the Process Shot. The difference between manufacturers lies in the software and hardware used to get the image on the screen.
Similarly, AI (artificial intelligence) is one of the hottest topics in the news, and we have heard how it is going to revolutionize the way we do just about everything. While some companies at NAB were only dipping their toes into the market, I believe that AI will be the leading item at the next NAB convention. Mobius Labs, one company we encountered, was promoting the advanced use of AI to automate the mundane task of tagging metadata. I think this is an excellent use for AI. It is clear that we have a unique opportunity to learn about these new workflows right now. The future job opportunities for our Video and Audio Engineers are vast. Our Education Department has already started offering classes on some of this new hardware and software. There are new engineering jobs in production, some of which are being developed by our members. For instance, setting up and managing a tracking system that is used with game engine software to control playback. This system tracks the location of the camera in space so that the image on the video LED wall can respond to the camera's location. This is just one area on which our members can focus. Look around, learn a new skill, and if you find a piece of software or hardware that is relevant to our field and you want to have our Local train our members, reach out to the Education Department. Together, we can bring these new innovations to production and continue to lead in technology advancements in the motion picture industry.
In Solidarity,
Scott Bernard, Business Representative
scottb@local695.com