by Julian Howarth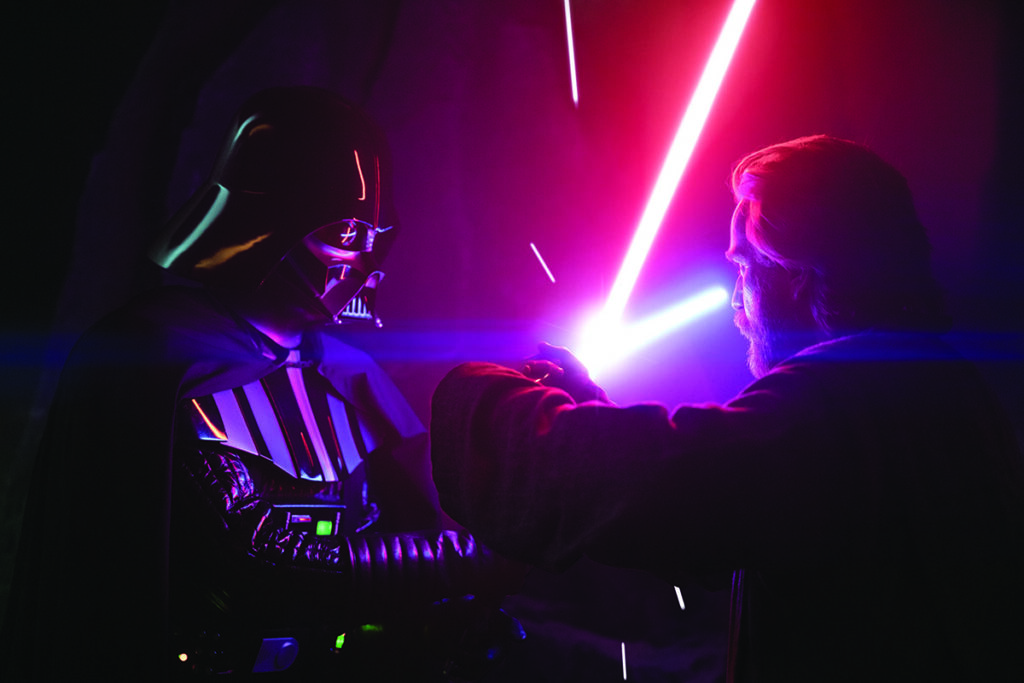 In a galaxy, far, far away and back in January 2021, I first got the call about a new Lucasfilm series to be made at Manhattan Beach Studios. I can remember how excited I was and the rush of being asked to work on a Star Wars project. This was the reason I wanted to work in film in the first place. I couldn't believe that this might happen. Would the Force be with me?
This series would also showcase Industrial Light & Magic's (ILM) virtual production platform, StageCraft, to help bring the worlds of Star Wars to life.
I immediately knew I had to glean what information and tips I could from fellow Production Sound Mixer, Shawn Holden, in terms of methodology and how to cope with the excessive reverb we would face on this type of stage. This is a circular LED volume surrounding the set, a very reflective surface around and above us at all times. Shawn had been working on The Mandalorian for the last two years, and I wanted to emulate her work as best as possible. Shawn was incredibly open, and as I've learned over the few years I've been in the US, our sound community is utterly supportive, helpful, encouraging, and just downright lovely.
First thing was to make sure we had the same sound baffles that we could deploy in ILM's volume, and after that, it came down to a negotiation with Chung-hoon Chung, our brilliantly talented Director of Photography, and myself, as to where and when we can bring in the baffles onto set, so as not to affect the lighting or performances. "Get them in front of the actors and as close as you can," said Shawn, she was not wrong. A lot of carpet was utilized, and we also ensured that set builds incorporated sound-dampening materials which would make sure this was a much less reverberant experience.
Soft prep meant getting together a crew that were keen and capable, and the size of this project meant we had to have a 4-person crew, sometimes expanding should the occasion call for it.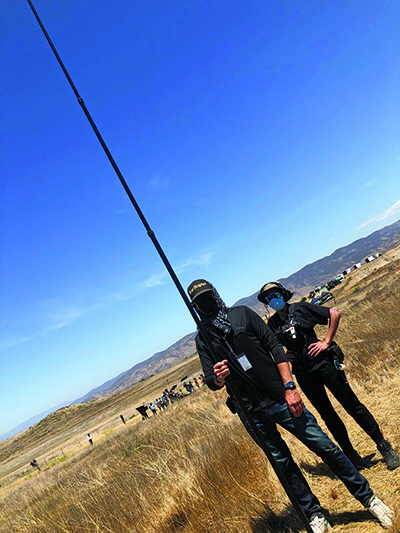 Firstly, and with every project I have been on in the last ten years, it was a call to 1st Assistant Sound, Best Boy Sound, Boom Operator, 2nd Unit Mixer, and problem solver Ben Greaves. Ben has been my partner in all things film sound for the majority of my time here in the US. He is solid on every level. I can make the equipment talk and sing, but Ben can turn a film crew into a collaborative family all intent on helping the Sound Department out, and vice versa. He is the greatest at that.
Next was our Utility Sound Technician, coming with us from Avatar: The Way of Water was Yohannes Skoda. He was to join us as Utility and all-around super sweeper, as a personality he fits right in, I know of no harder worker and closer friend.
This would be then supplemented with a sound trainee. The decision to use the Local 695's Y16a training program was a simple one to make and an even easier decision for production to give the green light to. The trainees would alleviate the workload and keep us all in check and our feet on the ground. From the jump-off with such a long period of work, we decided that we could have two trainees join us for two halves of the show.
Yisel Pupo Calles and Chris Burr would fill these shoes admirably. Yisel joined for the first half, Chris would finish the show off. They started with basic tasks that expanded as they became more experienced and able. They were responsible for cable runs, a huge amount of carpet and baffle wrangling and looking after two VOG systems that leap-frogged across the stages we were filming on, amongst a large list of other responsibilities. It is my feeling that any trainees working with me should get a good lesson in preparedness, always be on the lookout for potential problems, and know what you put in is what you get out. Yisel and Chris both graduated after the show and are both established and hugely talented Utilities. If anyone hasn't worked with one of Local 695's vetted trainees, I cannot recommend it highly enough.
Finally, we put together a supporting sound crew for dailies and second units that would supplement when we needed. Erik Altstadt, Scott Solan, Cole Chamberlain, and Terrell Woodard would fill those shoes admirably. I was very lucky to have them.
There are a lot of hero costumes on a Star Wars set and some difficult rigs for radio mics, so during prep, Ben and I spent valuable time with the Costume Department deciding how we should rig them. At no point were we as a department deciding how to rig a mic while setting up for the scene on set—it was all decided weeks before that point.
During filming, Yohannes was three scenes ahead of what we were shooting. We were prepared for every eventuality and scenario. I really don't like surprises and this forethought and planning from the whole team meant that surprises never happened. Hero costumes all had their own dedicated mic and a spare just in case. These mics were sewn into costumes, fitted in helmets and breastplates, and squeezed into body-hugging suits. The on-set dressers were amazing and hugely experienced and without whom again we couldn't have done such an amazing job.
The people. It's always the people.
Let's face it. Sound is dead in the water without everyone else's help; just being quiet around set, making camera rigs, dollies and props silent, working with costumes to fit radio mics, and generally giving us the time and space to do our work properly and professionally.
Grip Department, Lighting, Camera, Costume, Props, Art Department, AD's, PA's, Background Artists, Puppeteers, and Visual Effects, in fact, the entire crew as a whole. We owe them all so much for their patience and understanding of the importance of great sound to a film or TV show. I cannot thank the incredible crew enough for all their understanding and that they were so willing to help us out in any way. I put this down to a great crew but also to the fact that Ben, Yohannes, Yisel, and Chris make a huge impression around the set. Their affability and presence turn this kind of collaboration into an art form. It's a marvel to see and watch.
I am not a ninja Sound Mixer. I thoroughly disapprove of that term. It minimizes what we do and what we can give to a production. We are a hugely creative addition to storytelling. I never just try to get through the day unnoticed, unseen, and unheard. I always make sure I am in sight and earshot of the Director and the DP. I am there to answer questions and offer solutions. I am there to cheer the crew along too, but with that said, I also understand that there are days when we as a Sound Department should take a less prominent seat. Knowing the difference, I believe, is what makes our involvement and input valued and often requested.
Skywalker Sound's Randy Thom once wrote a little piece on his Facebook page, and I can't stop thinking about it. He said, "In a new book on creativity, Rick Rubin says, 'No matter what tools you use to create, the true instrument is you.'" This is precisely why mixers should be asking fewer questions about gear, and more questions about creativity as it relates to their own thought processes. When nearly all your questions are about tech, it means that you think you have the other bases covered when in fact, you don't."
This became apparent when discussing filming with our Director and fearless leader, Deborah Chow. During prep, Deborah talked about wanting to use quite a lot of music and sound FX playback on set for motivational purposes and setting a scene.
Deborah would ask for moody, marching, hero, scary, the light and dark side. Every description was an emotion or pace she desired. She was specific and so well-prepared, it was a joy to be asked for this type of collaboration. Every question I asked back was answered thoughtfully and in precise detail.
I remember the first time we used music, it was the show's entrance of Darth Vader. He was walking down a street flanked by stormtroopers, while handing out cruel punishments to the planet's inhabitants, and on the lookout for Obi-Wan. It was a massive setup, multiple cameras, hundreds of background actors, and a large crew. I found a moody and dark "Imperial March" section and it worked beautifully. The stormtroopers stood straighter and with menace, Darth Vader had a rhythm and dark purpose to his walk, even the crew felt an emotional connection while it played out, and I know it made a huge difference to the final shot.
This was to be used so many more times and became a fun and hugely enjoyable part of our days. Even to the final duel between Obi-Wan Kenobi and Darth Vader, where we played a version of John Williams' "Duel of the Fates," while they sparred. I know Ewan McGregor and Hayden Christensen were hugely appreciative of the additional motivation and emotive push that it gave to the scene.
Playback sometimes ruins whatever dialog and sound effects we want to get from a shot, and our primary job is to protect the performances of our actors. But we are also there to help a director elicit something different and exciting, too. I always get at least one clean take and a wild track with grunts, Foley, and breaths, for the action track. For the rest, we let the music play out.
Now for the kit and set up…
Digital recorders and wireless systems don't make creative decisions. We do. My driving message is this: "Does it sound good?" That's it. Not what I use, but how I use it and what my ears think. With a constant dialog from the beginning with post-production, the editorial team, and Deborah Chow, I kept affirming throughout filming that we were doing well and getting them everything the show and the Director needed.
I have the ability to record up to twenty-four tracks with my digital system, using two to three booms, combined with plant mics and the ability to have up to twenty individual radio mics at one time. Discrete IEM's when needed, underwater speakers for use in water tank scenes, and many more little gadgets that help me get through any given day or problems that usually come up.
We have twio VOG systems. PTT mics were made available to the 1st AD and Deborah. We also provided comms for all our helmet wearing actors and BG artists, prosthetic wearing aliens, and their puppeteers. They could get a combination or individual feeds of AD's, director, music, sound FX, or program sound.
I used Avid Pro Tools and Ableton Live for editing, sound design, FX, and music playback.
I know this is not the kit list you wanted but none of this would have worked if it wasn't for the amazing people I had the honor to work alongside and learn from every day.
Yisel is originally from Cuba and moved to Los Angeles five years ago to pursue the dream of working on major motion pictures and TV shows that would allow her to work with sound mixers, actors, and directors that she admired. After her graduation from the International School of Film and Television, where she specialized in production and post-production sound, she headed to Barcelona to work in significant post-production houses for nearly four years. There she gained experience as a Sound Designer, Foley Recording Engineer, and Dialog Editor; a knowledge that serves her today to be a much better Sound Technician on set.
Chris Burr, born and raised in northeast Mississippi, in a small town called Columbus, just outside of Tupelo, moved to Los Angeles in 2020, right before the pandemic in the hopes of starting a career in the industry. He grew up as an only child, with his imagination and creativity running deep. He believes that if you dream it—and put in the work—you can achieve anything. Chris's first sound job was the feature film Dog, and he hopes to continue this journey and keep encouraging others along the way.
Yohannes came into motion picture sound from a background in music production. Additionally, he worked as a Production Assistant and stand-in for many years, giving him an insider's view of the collaborative nature of filmmaking. Over the last year, he has worked primarily as a Boom Operator, and three years prior honing his craft as a Sound Utility. He is currently working as a Boom Operator on a TV show and appreciates the unique set of challenges that come with the position. He really enjoys the energy of being right on set, working with camera, grips, and electric to solve problems and get the job done. Going forward, he would love to continue working as a Boom Operator for movies and TV shows.
Ben Greaves is my closest friend, ally, and confidant. Ben came to the US the same time I did, however, we didn't know each other at that time. Ben started his audio journey as a child, accompanying his father to the Manor Studios. He would play among the cables and mixing desks while his dad was recording his latest album. Ben started his film career working with UK mixers, including Simon Hayes and Jamie Gambell, soaking up everything he could. He is dedicated to great sound and one of the best. Creative, collaborative, and concise.
Me? Well, I'm having a hoot and absolutely love what I do. I listen with my heart and my ears and sincerely hope I can continue to do so for many years to come.