by James Delhauer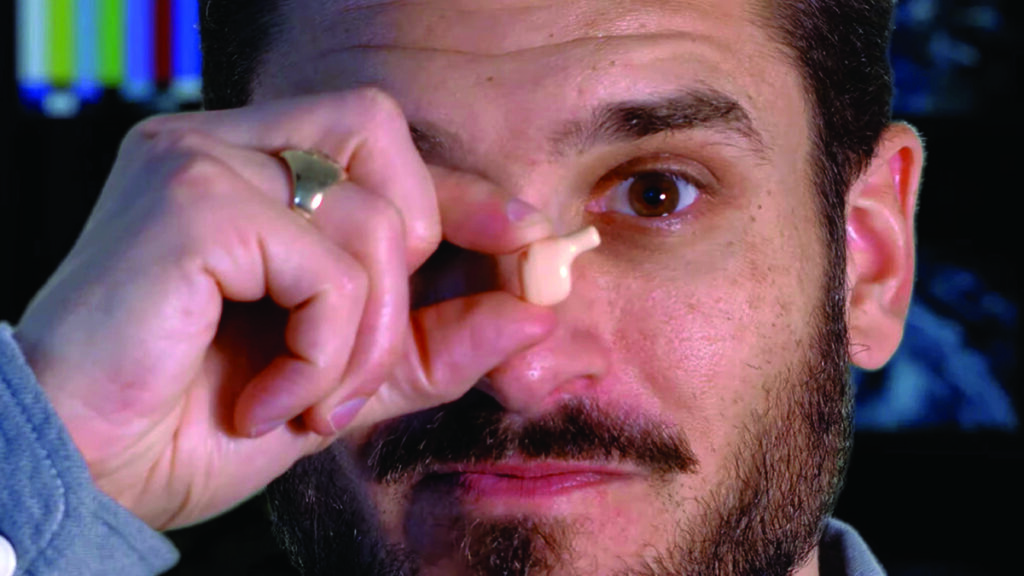 Equipment in the film and television industries is highly specialized. The tools that we use are custom designed to their purpose, making it difficult to "shop off the rack," as it were. This can make gear an expensive investment and, what's more, many of the products we buy as part of our kits or equipment rental packages are not designed by the people who are going to use them. To be sure, they are developed with end users in mind and the most successful vendors have found success because of their ability to internalize feedback and incorporate it into their products. But a disconnect between developer and customer is not uncommon. That cannot be said for the products of Halter Technical, which have been developed for production sound workers by production sound workers. Following this year's NAB Trade Show in Las Vegas, I had the opportunity to sit down with Halter Technical CEO and Founder (and Local 695 member) Doc Justice—who shared some insight into new production sound products like the Microsone Discreet Audio Monitoring System.
Q: Alright, tell me about you. What's your story?
Growing up in Philly, my start in sound came as a DJ as a teenager in the mid-'90s. At first it was mobile parties, Bar/Bat Mitzvahs, weddings, and country club events. That led to nightclubs and even a stint in commercial radio. After college, MTV's The Real World came to town and I got my first taste of production as a PA. From there, I moved out to LA to put my full efforts into mixing sound for unscripted TV. I worked mostly in large-scale house reality, competition shows, dating, and cooking shows. My specialty was working with large track counts with a lot of RF channels.

Q: This was before Halter Technical, right?
Halter Technical was born on set. In reality TV, handing out an IFB meant giving Producers and Directors a coiled headset that so many of them just hated. These headsets weren't made for IFB's; they were designed as "listen-only" walkie-talkie headsets. They sound terrible, they're not comfortable, and they're just not made for producing TV. When I couldn't find a better offering, I made one myself. That's how the field monitor came to be. Once that started to take off, other sound pros asked me to make something for scripted work. That led to the release of the scene monitor. Then, people wanted something more substantial for scripted Directors and Producers. That became the elite monitor. Now, we have a line of headphones that are built specifically for these different jobs on set.

Q: And that led to the development of the Microsone?
Each piece of gear is a tool to accomplish a job on set. Microsone Discreet Audio Monitoring System is our new take on an earwig, so on-screen or onstage talent can monitor audio, take cues, be fed lines, listen to playback; all without having to stop the action.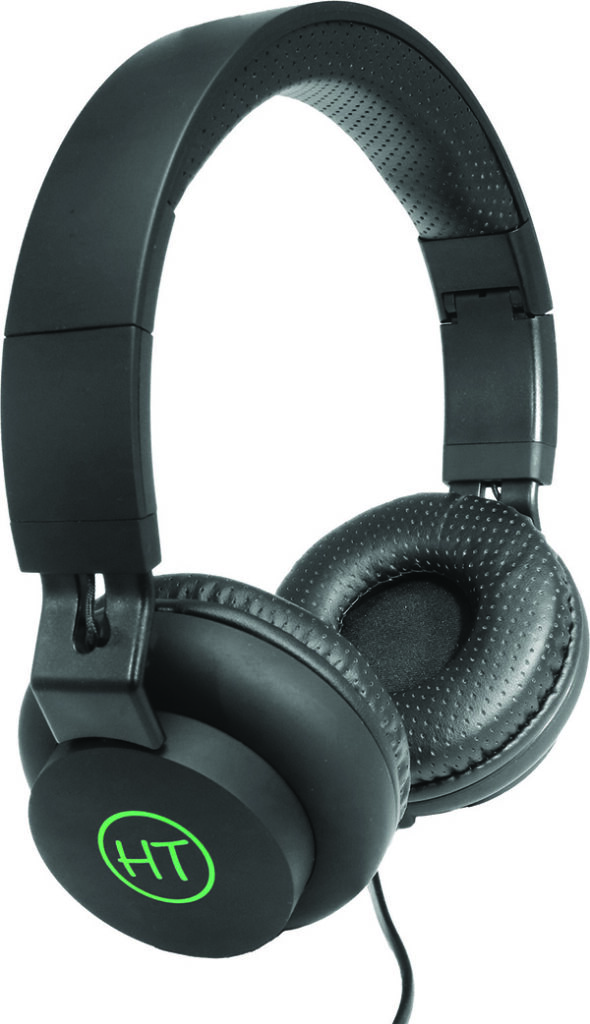 Q: An earwig is pretty common in an audio kit, isn't it? What makes this unit different from all the other devices on the market?
Microsone was born out of frustration. I set out to solve as many of the issues of previous systems as I possibly could. Our system works by connecting the Microsone (the earbud, itself) to our Control Pack via Bluetooth. The Control Pack is an IFB receiver that can be fed by any analog transmitter that you currently use, so you're not tied down to a proprietary base station or frequency limited technology. So your long-range transmission comes from your transmitter to the Control Pack, and that audio is then retransmitted up to the user's ear. We were able to really modernize the whole earwig concept and pack it with advanced features.

Like what? Give me some examples.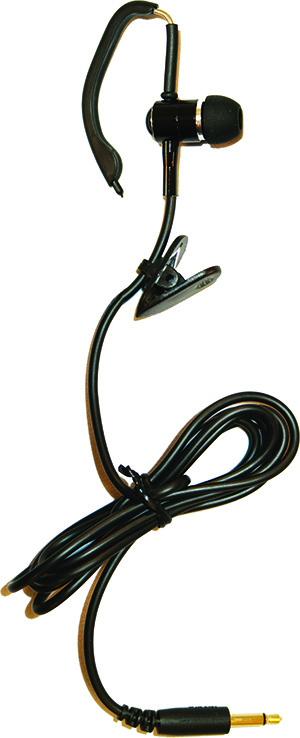 The Control Pack can receive VHF (174 MHz-217 MHz) and UHF (470 MHz-608 MHz) audio. This enables you to have as many isolated channels as you can coordinate. There are four banks of frequencies with seven channels per bank you can manually program. The top-seated 3.5mm jack works as an output to be used with a wired headphone like a typical IFB, but it can also be used as a line input jack to feed a source directly in without RF. Since we use Bluetooth, you could pair the Control Pack to any Bluetooth headphone to use as a wireless IFB. Or you could pair it to a Bluetooth speaker and have an instant wireless video village speaker setup.

So you can use the Microsone to listen to tunes at work?
We have one customer who purchased a system because they work with a method actor who likes to have music fed into his ear to keep him in character. Now, he can have a Microsone paired directly with his own phone, and control his own music, even if he's off set in his trailer.

Awesome. How do you handle volume control so you're not blowing out an actor's ear?
The Control Pack has a volume knob that allows the user to set their own volume. They don't need to call out to the Sound Mixer to raise or lower their volume. If the production or talent's wardrobe doesn't allow them to wear the Control Pack on their person, it can just be stashed nearby since the distance from it to the Microsone is typical Bluetooth range (10'-25').

And what's the power situation like? What kind of batteries does the system use.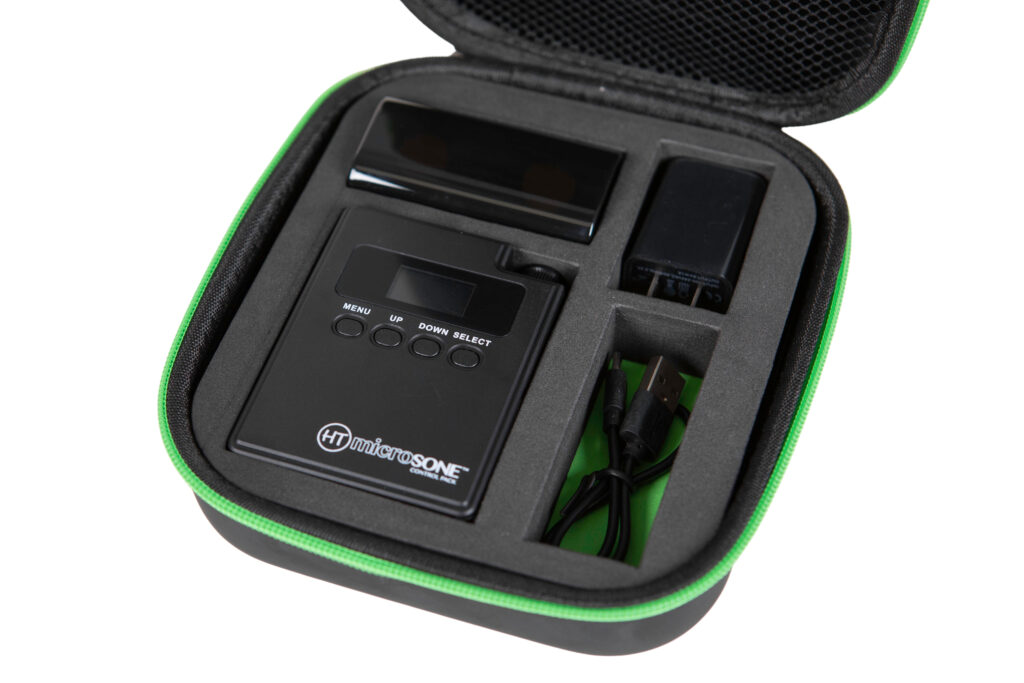 The Control Pack powers off two AA batteries. With the Control Pack receiving UHF audio and retransmitting it over Bluetooth, you can expect about twenty-four hours of use. If you're using rechargeable AA batteries, those can be recharged internally using the USB-C port on the side of the Control Pack. That USB port can also power the Control Pack without batteries, which is great for permanent installations or powering off a bag kit. Anyone who has used an earpiece that takes hearing-aid batteries knows how frustrating they can be. The Microsone has a built-in rechargeable lithium ion battery that lasts for five hours of continuous music. It recharges in the charging case from 0%-100% in just forty minutes. Two Microsones are included with each system. You can transmit to both Microsones simultaneously or have a spare ready to be deployed on demand.

What else makes this a better investment than something from one of the other audio companies out there?
The Microsone itself is built as one, completely sealed device. It can withstand a drop with anything breaking off it. It can be completely painted with makeup to match the talent without worry about sealing a battery door or corroding the inside. Beyond that, you've got all the versatility and power of the Control Pack as well.

Oh, that's handy. I assume you don't wash it in water afterward?
Cleaning it is as easy as wiping it with an alcohol pad.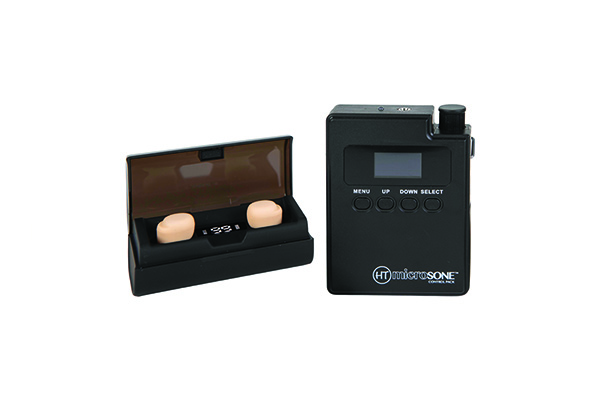 Q: That makes more sense. But let's bottom line it. How much does the system cost?
The entire Microsone D.A.M.S. kit, which includes two Microsones, the Control Pack, the charging case, a wall charger, and a USB Type C cable retails for US $1,200. Production sound professionals know that this is an incredible value, and something that can earn themselves a significant rental on.
Q: How does the Microsone fit in with the rest of the products you make at Halter Technical?
All our audio monitoring solutions are built for professional use. Everything we do, and everything I do personally, is done with the goal of solving problems on set. Microsone is a great problem solver, and fits in place with a line of great tools that are developed specifically for us.

That all sounds awesome. And where can folk buy this gear?
All our products are available from our wonderful retail partners. The full list of dealers can be found at our website at https://www.haltertechnical.com

Any sneak peaks at whatever your team is working on next?
I can't give away any secret recipes or anything, but I will say that all of our products exist due to user feedback. The only way we're solve users' needs is if people tell us what those needs are. I know from my own experience on set, the products I think would benefit people, but everyone's experiences are different and diverse feedback is paramount for the company. That's why we've tried to make ourselves extremely reachable through social media and through the website. For anyone who wants to talk shop, please reach out!

I would like to thank Doc Justice for his time and for sharing the latest from his company with us here at Local 695. From the time I spent with the Microsone, I would say that it really is a useful tool for a production sound mixer's kit and, if this is an example of what's to come at Halter Technical, I look forward to seeing what Doc and his team will bring to the table next.