Leading the Industry Back to Work Using Networking
by Thomas Vanasse, Local 695 Video Engineer
OVERVIEW:
The Covid-19 pandemic has caused a worldwide disruption and the entertainment industry is no exception. Faced with barriers to work that didn't exist a few months ago, Video Engineers have updated existing workflows to help circumvent some of those challenges and solve the problems of how to get back to work. These workflows are viable regardless of the length of the disruption and will increase efficiency afterward.
This article will highlight aspects and details of some of those workflows and outline a future roadmap. In short:
• Safety – Distance is key, and networked separation allows necessary crew to maintain proper distance.
• Security – Encoding, watermarks, two-factor authentication, account approval, and tested secure networks allow sensitive content to remain in the proper hands.
• Efficiency – Networked delivery of live and recorded video, audio and metadata to on, near, and far set. 24/7 access to creative, footage, VFX, and post. Instant collaboration empowers all departments to coordinate better and faster product.
• General Workflow – Illustration of the video engineering networked workflow, and simple description of connections and procedures.
• Road Map – The future of data-driven production, and how Video Engineers are already at the cutting edge.
SAFETY:
The primary obstacle productions face is safety. Without that, the rest would be a non-starter. For this situation, the answer is distance. Some of what was once achieved by congregating on set must now be achieved by monitoring.
Monitoring at a near distance, whether it be in a separate building or a near set trailer, can be achieved by setting up a local network in wired or wireless configurations. Access to the live stream or previously recorded shots is accomplished by either a monitor or an interactive access point such as a phone or touch screen. Support teams can occupy previously sterilized spaces and issue instructions over a chat line, with an audio feed, or physically interact with the set on a limited basis if that is the only option.
Far distance monitoring can be achieved by cloud streaming to offices and residences. Various available hardware and software solutions may be utilized depending on the needs at distance. The cloud services can include live streams with playback only, or also include remote clip viewing 24/7 on home or mobile devices.
This system was used recently on an episodic series, where the actors each had cameras at their homes. The multiple video and audio feeds, along with the metadata, were recorded by the Video Engineer. Live monitoring, playback and assorted cues & overlays were simultaneously fed to the director, DP, 1st and 2nd ADs, script supervisor, and five actors in their respective homes. The footage was relayed to editorial and there was almost no person to person interaction.
SECURITY:
The secondary barrier is security, as many productions have sensitive content and communications. Local 695 Video Engineers have adapted several different secure encoding and transport protocols to ensure that the streams and files are viewed only by approved parties. From open source methods such as SRT to Qtake to Core-verified cloud services, encryption provides the necessary assurance that the creative is contained. In addition, watermarks and streaming approval with two factor authentication of both the live feed and any clips ensure that even approved sources are limited only to the work at hand and that all data is traceable. There has been an immense amount of testing by the studios to confirm the security of these networks.
Although the streams and files are encrypted, there is still very little latency, so that all monitoring departments can comment and give input in real time. Proxies to editorial can have burned in user data to accelerate identification and origination source, as well as director and script notes embedded in their metadata.
EFFICIENCY:
Instant feedback while safely maintaining distance eliminates the third barrier of delay due to distancing by speeding up what could otherwise be a much lengthier process. While not optimal, having all departments focused on monitoring the work allows necessary duties to be performed while priority access is organized. Crews can see when they are needed rather than having to be located and directed.
Remote linking is also an improvement as creatives would not be required to travel to set, freeing up their time and room in production budgets while still allowing immediate creative input and feedback for post production and VFX. Witness cameras can also give an overview for lighting, Art Department, blocking, and parental supervision—all at a distance.
Pre-visualizations, scores, visual effects, and roughs are immediately available and can be altered as soon as the supporting departments update them.
Recently, the set for a large blockbuster in production was relocated so that the director and crew could work remotely. The Video Engineer was able to record, play back, and live stream from a completely different location.
GENERAL WORKFLOW: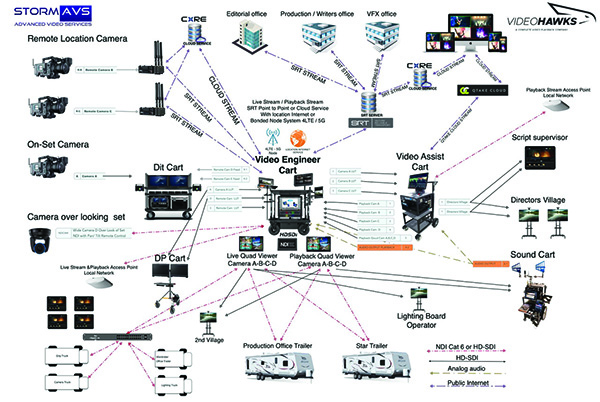 The flowchart shows a generic workflow that is applicable now and into the future.
At the hub of operations is the Video Engineer cart. Signals are received from on-set cameras and processed for distribution. Second or third units on other stages or on distant locations are streamed via LAN or cloud to the cart as well. All video is sent to the Video Assist cart and sound cart, allowing video with embedded audio to be received back from the Video Assist cart and forwarded to several destinations. (Depending on the size of the production, some of these operations may be combined.)
Signals are sent to any secondary villages, lighting board ops, and star production trailers, regardless of distance. The Video Engineer also encodes the signals to an NDI (network device interface) or other codec and sends them over the network to wardrobe, lighting, grip, and camera trucks. Simultaneously, the signals are streamed wirelessly to devices around the area, as well as to an SRT server for distribution to editorial, writers, and VFX offices. Another destination is cloud streaming to devices, either by the Video Assist or Video Engineer.
The Video Engineer's coordination of signals—wireless, wired, video, audio, and metadata—will result in vast improvements to the efficiency and stability of the workflow.
This workflow has the ability to scale up or down and has the capability to reach anywhere there is internet or cellular service with very little latency. Any video or audio codec can be ingested and many streaming codecs can be used for distribution.
Bandwidth and storage requirements are also scalable, so costs keep pace with production needs and aren't wasted.
ROAD MAP:
Network scaling maximizes savings and efficiency by only using resources that are needed during production, while enhancing interconnectivity and ensuring safety.
The Video Engineer is also on the forefront of the virtual set, providing workflows for motion-capture-based productions or Video Wall environment productions (sometimes called the Volume). These systems utilize networked digital environments to represent reality and are part of a growing re-thinking of entertainment production that is larger in scope than possibly any previous industry-wide change.
Whatever the change, the Video Engineer is currently developing the workflows at the leading edge of the technical curve and will continue to provide the experience and creativity that powers the technical future of the industry.
CLOSING:
The use of network workflows has solved many aspects of the current dilemma imposed by the pandemic. They are applicable to almost any production and will scale and continue to improve as the Local 695 Video Engineers adjust to the changing needs of production.