by Jay Patterson CAS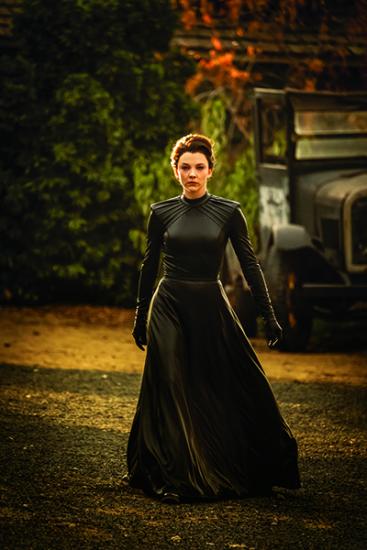 According to Wikipedia, a penny dreadful was "cheap popular serial literature produced during the nineteenth century in the United Kingdom," and, "typically sensational, focusing on the exploits of detectives, criminals, or supernatural entities." The character Sweeney Todd was first introduced in a penny dreadful. Eight or so pages of exciting escapism, all for a penny.
The series Penny Dreadful is the creation of John Logan, the very talented writer that brought us Any Given Sunday, Rango, Sweeney Todd, Gladiator, Aviator, The Last Samurai, Hugo, and the Bond films, Skyfall and Spectre. He kills it on Broadway, and his most recent musical, The Last Ship, starring Sting, is currently touring with rave reviews. For his first iteration of a penny dreadful for the screen, Logan created a three-season period piece set in nineteenth-century London. A tale populated with some of the most colorful and horrible characters of the time, from history and fiction. Characterized by compelling writing, a spectacular cast, lush production design, and the superb photography of John Conroy ISC, its fans were saddened when the series ended in 2016.
Penny Dreadful: City of Angels is Logan's second version, and is a much different one. Taking place in Los Angeles in the year 1938, it dramatizes the multitude of social pressures, raised to the boiling point in this fast-growing city, on the eve of the Second World War. At the center of the scenario is one Mexican-American family, the Vegas. Events around them are being manipulated by the extremely malicious Magda, a powerful evil spirit. In addition to causing pain, suffering, and death for humans, Magda delights in tormenting her sister Santa Muerte, the Angel of Death, who has taken an interest in the Vega family. This show has it all; from family dinners to gruesome murders, huge dance scenes, Pachukos, Nazis, bad cops, corrupt politicians, the Jewish mob, sex with evil spirits, eternal salvation, riots, and a devil child. Something for everyone, with a touch of social commentary to boot!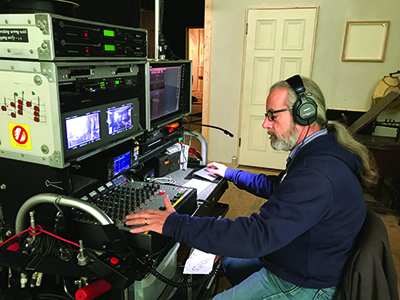 When I was contacted by Michael Aguilar and Mark Tobey to see if I was available to mix a show with them in the fall, I was very excited. I met Michael Aguilar on the Showtime show, I'm Dying Up Here, a dark drama about standup comedians, circa 1973, a show with many sound challenges. Penny Dreadful would present its own set of challenges.
For a television production, Penny Dreadful: City of Angels was huge—literally and figuratively. It was well funded, with a wonderful large cast, including Natalie Dormer, Nathan Lane, Daniel Zovatto, Adriana Barraza, Rory Kinnear (the only cast member who was in the first Penny Dreadful), Kerry Bishé, Michael Gladis, Piper Perabo, and Adam Rodriguez. The show used all three stages at Melody Ranch, and every inch of Melody's backlots. There were also permanent and swing sets at the LA North stages in Santa Clarita. Exterior scenes usually had at least one hundred background artists and dozens of period cars.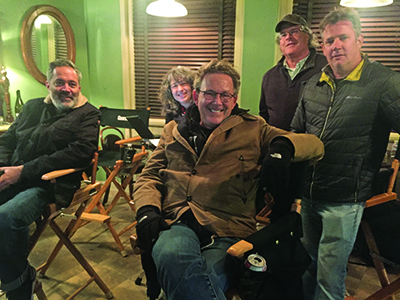 My teammates for the show were Rob Scott as Boom and Kris Manning as 2nd Boom/Utility. Rob is the consummate sound person. Though he is a very accomplished production mixer in his own right, Rob also loves to boom. He's got first-rate chops on a Fisher, and decades of dancing alongside cameras with a boom pole. Great with plants, his physical skills are matched by his people skills. A calm diplomat, with a wry sense of humor, yet always tactfully representing the interests of our department. Ever the gentleman, he easily earns the respect of the other departments on the set. Kris Manning, a protégé of Peter Damski, has been working with me on and off for about six years. I use a second boom so often that I only hire very competent boom operators as sound utility. Kris always has my back and is a whiz with the wires. A wonderful team! Though I knew the show would be fun, it would also be a lot of work, and this team has enjoyed working hard together. We had finished the first season of All American, earlier in the year. That show had a large ensemble cast and a tight schedule, shooting football games at night, ten-plus speaking parts, often in the rain; so, my confidence in this team was high.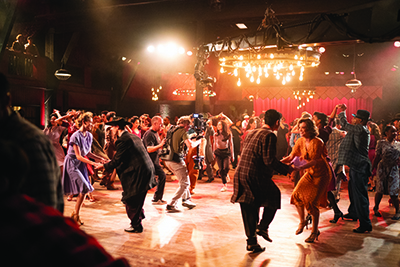 The Director of Photography John Conroy ISC was the "Minister of Image," who had photographed the first Penny Dreadful series, and John Logan asked him to do it again for Penny Dreadful: City of Angels. A second-generation DP, John's work was amazing. His complete understanding of all of the departments functioning on the set, manifested itself in his choreography of the day's work. John uses only prime lenses, an extensive use of cranes of all sizes, a Steadicam, but no handheld shots, and creates an extremely solid look for the show. Crucially, John always acknowledged the Sound Department, frame lines were very accommodating for the booms when the actors got around to talking.
John Conroy, along with alternate DP Pedro Luque, captured the grandeur of Maria Caso's production design. Two of our exterior sets, North Main Street and Belvedere Heights, ran for several city blocks in almost any direction. Belvedere Heights was the barrio home to the Mexican-American community, and covered most of the backlot of Melody Ranch.
When a Sound Department has the cooperation of an entire company, coming to work every day is fun. We could never have achieved the results we did without the continual help of all the departments. The camera crews were a pleasure to work with, and always helpful; James Reid on "A" camera and Steadicam, and Andrea Rossetto on "B" camera, exemplified "old school" skills using all the new toys. Nowadays, we mixers watch the Camera Department's operation in great detail, noting a perfect dramatic focus rack, or knowing that a particular dolly move will end up in the finished product because it was just perfect. It was a pleasure to work with our Focus Pullers, Kevin Akers and Steve Taylor-Wehr, who were excellent, as well as our Dolly Grips, Tommy Ruffner and Tommy O'Connell. There was mutual respect between camera and sound. Gaffer Ed Maloney, who led our set electric crew, was always attentive to our needs. Paul Perkins, Key Grip, moved heaven and earth on a daily basis for the show, yet was always ready to help sound. When I walked on set, and held my fist in the air where I thought a plant mic should be, Paul would have the grip support there in seconds. Christie Wittenborn, Costume Designer, whom I met on I'm Dying Up Here, had a field day with Penny Dreadful. Aside from her skill in design, she has a core crew that is the epitome of professionalism. Lili Acevedo and Alejandro Hernandez, Key On-Set Dressers, were adjunct members of the Sound Department when we wired talent, their assistance was exemplary. We also received invaluable assistance from the Art Department; Assistant Prop Master Pat Russo was proactive in quieting props, while Set Dresser Mike Chang would graciously allow us to use his furniture as mic stands.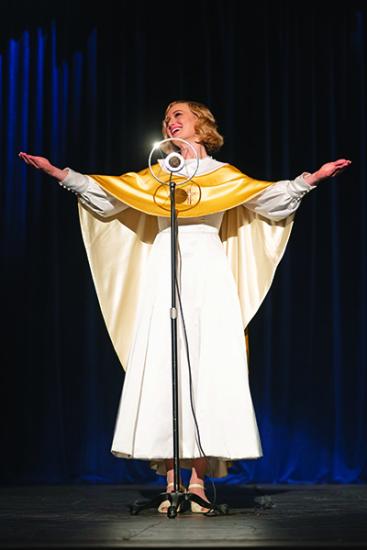 Music is a large part of Penny Dreadful: City of Angels. Claire Newman, our Post Producer and resident logistical magician, guided the creatives involved in all of the music scenes, and because of her efforts, everything happened on target. With her calm demeanor and attention to detail, she reassured Peter Rotter, Music Producer, and Music Supervisor Deva Anderson on their work from concept through prep, and always on set on the day.
John Logan often desired the ability to play back mood pieces while shooting certain scenes, so I had to be ready to play back at any time. When a new episode was coming up, Claire Newman would provide me with all of the possible mood choices, which I would then load as one Pro Tools file per episode, allowing me to access any of the tracks within a second or two. Real playback scenes were always handed off to Mark Agostino.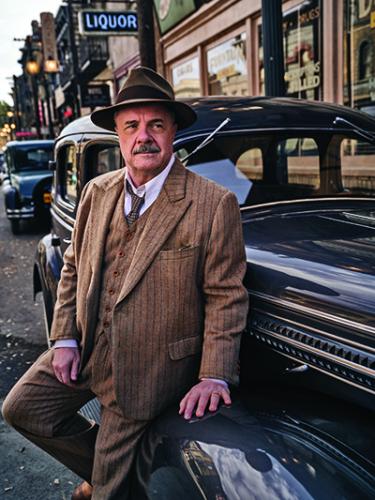 There were several big dance sequences during the season, with two taking place in The Crimson Cat, a dance club patronized by the Mexican-American community. In addition to more than a hundred background artists in full costume, these scenes boasted a "live" band, our cast, and one hundred and four professional dancers. There was considerable preparation that went into these scenes. Under Peter and Deva's guidance, musical selections were composed or selected, then scored. The "live" band rehearsed the pieces extensively before going into the studio and recording.
Production music playback was handled by Mark Agostino, with Jeff Zimmerman filling in on occasion. The musicians were fed the music via earwigs, and the dance floor had a thump track, when dialog took place. The musicians in the band were incredibly convincing on camera, especially in their individual solos. The dancers having been well rehearsed, were nothing short of spectacular, all led by Choreographer Tommy Tonge and his assistant, Alexandra Hulme, swing dancing and acrobatics galore. The Music Department would get their own mix in their IFB receivers, as they wanted to hear the music continuously when playback was muted to the speakers. This was so they could monitor the performance of the musicians miming their parts during dialog, or making sure the dancers were holding the beat. These scenes took days to shoot, three cameras all the time, cranes and Steadicam to boot. On all of the big dance number days, days with big SFX, VFX, and stunts, Video Assist was handled by Local 695's Kya Kheshtenejad.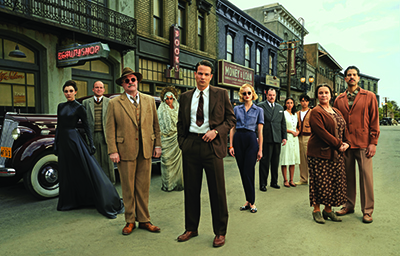 Another enjoyable challenge was recording an actor singing live. My preference is to use a high-quality practical mic, in addition to an overhead boom and a body mic, when a scene calls for singing into a period microphone. The challenge here was to find period mics. Acquiring a circa 1938 mic that looked brand new and sounded well, wasn't feasible, so modern reproductions were called for. A radio broadcast scene, sung by the multi-talented Kerry Bishé, was recorded with an ear trumpet reproduction of the classic "ring" mic, which has a large diaphragm condenser element. Much thanks to Property Master Ross Anderson, who was able to provide it. In a club scene featuring Patti LuPone singing live, a reproduction of the classic Shure 55 was used, though purists will note that the 55 wasn't manufactured until 1939! In scenes where talent was not singing into practical microphones, I prefer using the Schoeps CMIT, as well as an overhead Schoeps CMC6-MK5 in cardioid mode (my favorite microphone of all time…).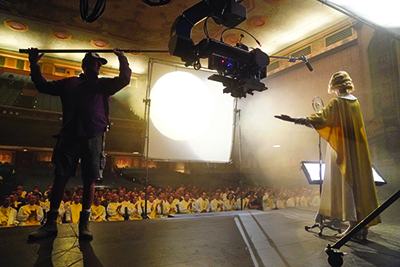 As in any period piece, production sound had to deal with vintage vehicles, and Penny Dreadful was no exception. Realism is one of John Logan's signature production values. Exterior shots that extended for blocks, with hundreds of background in period hair, makeup, and wardrobe, also demanded practical period vehicles as far as could be seen. Thanks to George Sack and Alex Pena on picture cars, one of the finest Transportation Departments I've ever worked with, production sound never suffered. On large crane shots that revealed several city blocks, many scenes involved more than forty period vehicles, several over ninety years old. The company purchased more than fifteen period cars for the duration of the show, and Alex and his crew replaced all of the ancient ignitions with modern 12V units, and added RF suppression spark plug cables to them. This allowed the AD Department to slot in vehicles on dialog with no ignition interference on my wireless receivers. Driving shots were photographed on the road, and also on stage with a blue screen for the dialog portions. This Sound Department did not complain.
The heart of my production cart is a Cooper 206D v.2, feeding a Sound Devices 970 recorder. The eight channels of pre-fader ISO's on a 25-pin D-sub connector use the analog input of the 970. A Lectrosonics DNT BOB88 Dante interface gives me eight balanced line inputs and eight balanced outputs. Two input channels of the BOB88 are fed the A and B buss outputs of the Cooper, two of the outputs of the BOB88 are the A and B returns. A loom is permanently installed on the cart that allows easy hookup of a Cooper 306 to the system, which brings my input channel count to fourteen. The loom terminates in a 25-pin connector that feeds the 306's, ISO's to Dante; six additional radio channels to the 306's inputs, the cable gangs the busses of the two mixers together, including power. This allows me to add the 306 in less than five minutes, when needed. An analog Cooper front end, into the digital domain of Dante—the best of both worlds.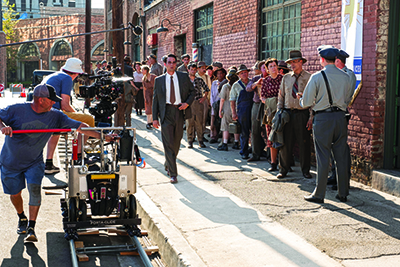 I have twelve channels of Lectrosonics in two Venues. The Lectro's are used for all body mics and condenser plants. The Tx gains are all set between eight and ten to avoid limiting at the transmitter. I am using an Audio Ltd A10 Rx with two A10 Tx mounted on booms. All condensers used are Schoeps: CMIT-5U (x3), a MINI CMIT for plants, MK-5 (x3), MK-41 (x2), a MK-4, and a MK-8 for MS. Sanken COS-11's for body mics and the occasional plant. Two channels of Lectro IFBT4 feed the Village and my crew, and there are two Comtek BST-25 Tx for earwigs. The two IFBT4's and the Audio Ltd A10 Rx are housed in a repurposed Lectro 200 series quad rack. All Rx and Tx connections to the cart are on twenty-five feet of RG-8X, with the antennas on a mast that can be raised seventeen feet.
Two Mac Mini's reside on the cart, one is connected to the Dante network, the Lectro radios, and PixNet, along with Wireless Designer, Dante Controller, and a few other nifty production applications. The second Mini is used exclusively for playback. At the expense of six rack units' worth of real estate, a Marshall V-MD171 17" 2K monitor is used for computer display, via HDMI. The Mini's are AC powered by a 300W sine wave inverter. High-speed hubs manage two fast CF readers, SD and micro SD readers. A Remote Audio Speak Easy is the on-cart speaker. A second Speak Easy is on the support cart as a quick, small, battery-operated PB unit.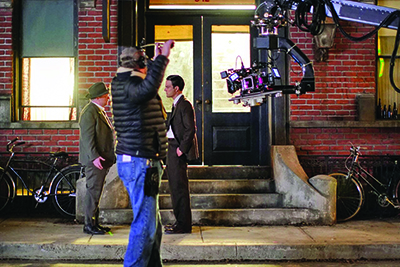 I monitor the cameras on a Blackmagic Duo, with an additional Duo available when shooting three or four cameras. All of this is powered by a PSC Zeus 35-amp supply, the cart draws about 15A, and the entire cart weighs in at about three hundred and ninety pounds.
I have a dedicated bag rig with a 788/CL-8, Lectro SRC's, and an Audio Ltd A10 Rx. For insert car work, I use my Cooper 306 feeding a Sound Devices 788T-SSD.
Two Anchor/Shure combos are used as Voice of God systems, and when big guns are required, a pair of Crest LQ 15P powered speakers come out.
At the wrap party for Penny Dreadful: City of Angels, Kris Manning (2nd Boom/Utility) turned to me and said, "You know, this was the job that everybody wants." He was correct; a show where the creator's vision was strong and clearly communicated. It had a worthy cast, every key was hand-picked, a decent budget that allowed realistic scheduling on the part of the AD's, and from the top down, good production sound was a family value. And a couple of days a week, I got to watch Nathan Lane act…