Covid-19 News
The news of the COVID-19 pandemic swept the industry in mid-March, shutting down production completely, until further notice. The loss of work has affected all of us, from the Sound Department to Craft Services. This has also been felt by local businesses that support and service productions, such as dry-cleaners that work with Costume Departments, gas stations that supply camera trucks, and many other vendors that all are so important to our industry.
As a result of Gov. Newsom and Mayor Garcetti's "Safer at Home" order, our Local's office was closed. Business agents and staff have been working from home, but have jumped into action to offer guidance and assistance in answering the flood of phone calls.
The newly formed 695 FAM Committee offered grocery and prescription pickups for retired members and those in high risk categories. IATSE CARES created a drive-through grocery pickup, which served many of our members. The Motion Picture Fund offered assistance to members in need, and the Actor's Fund helped SAG members during this unprecedented time.
The Local 695 Board of Directors has been holding meetings through Zoom, as well as communicating weekly to keep abreast of the changes that are bound to be introduced post COVID-19.
---
695 Service Pin Ceremony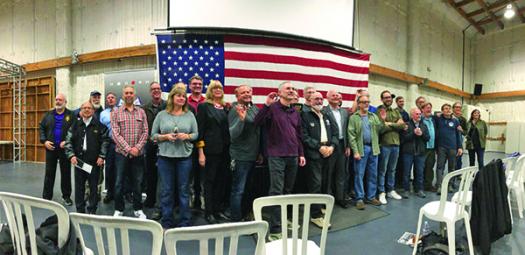 Congratulations to the 164 Local 695 members who reached their ten, twenty, thirty- and forty-year milestones this year! To see the full list of names, please log on to the 695 website.
---
Communication Skills on Production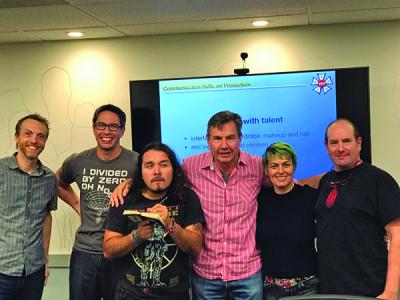 Local 695 continues to conduct training for our members with a recent addition to our education program called "Communication Skills on Production." This class was created when instructor Blas Kisic came to us with the idea that effective communication is an important but often overlooked component to our overall success when working on production. From there, Blas expanded the concept into a class that would touch on areas such as effectively relaying the needs of the Sound, Video and Projection teams to the producer, interfacing with other departments on set, such as Camera, Grip, Set Lighting, and Costume, and emphasizing the need to communicate appropriately with performers regarding wireless mic usage. The class incorporates lecture and discussion as well as role-playing exercises to help demonstrate some of the concepts behind improved communications in the film and television production environment.
This class is conducted periodically and in small groups, allowing for lots of questions and discussion. Normally we run it in the Local 695 Boardroom but with State and City stay-at-home orders still in place, Blas has done a fantastic job redesigning the presentation of this class so it could be presented as a Zoom teleconference.
In case you've missed this training, we'll keep running more of these classes in the future so watch your email for announcements about this and other upcoming classes from the Local.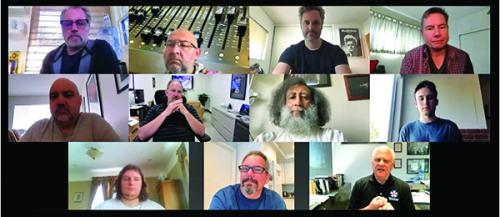 ---
Women's March LA 2020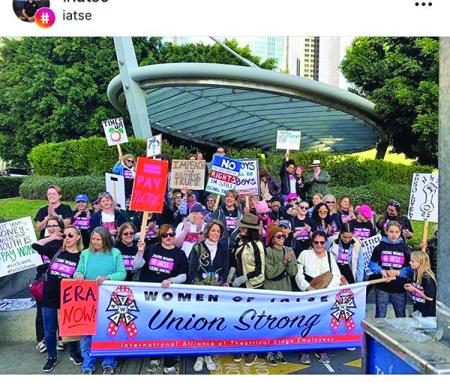 January brought thousands of women, the LGBTQIA community, allies, and friends together for this impassioned march through downtown LA. Our IATSE family was well represented by many different locals and craftspeople. Participants marched from Pershing Square to Grand Park/LA Civic Center, keeping with the tradition that started on Inauguration Day 2017. Let's keep up the good fight for equality and democracy for all!
---
The Hollywood Commission Survey
Assessing the needs and experiences of workers across the entertainment industry.
Last winter, The Hollywood Commission on Eliminating Sexual Harassment and Advancing Equality, chaired by Anita Hill, announced the launch of "The Hollywood Survey." This internet survey was designed to gage the ethical climate and culture of the entertainment industry. The survey was aimed at people working in all aspects of the film industry, including film crews, actors, directors, writers, stunt people, and more, from past and present. The mission of this anonymous survey was to gather critical data on subjects of workplace harassment. The data will be used by The Hollywood Commission to develop programs that will address harassment and discrimination of all kinds. We look forward to the positive changes implemented by information gained through this survey.
---
Young Workers Committee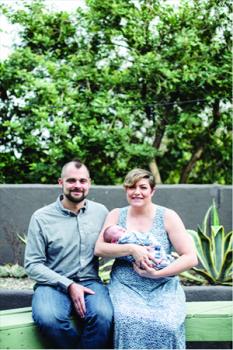 Congratulations to Sara and Nathan Whitcombe (YWC Chair) on the arrival of baby Wyatt! We invite any YWC members to share their newborn baby pics with us here. For more info, contact Jennifer Winslow, Chair of 695 Family and Member Support Committee @695FAM2local695.com
---
Local 695 Retirees Outreach Covid-19 Help
Many thanks to Linda Skinner, Office Manager/Membership Specialist, and Heidi Nakamura, Assistant Business Representative, for reaching out to our 695 Silver and Gold Retirees, in this time of need. They spent many hours on the phone with our most cherished members, finding out what they needed, be it groceries, prescription pickup, or just a friendly ear to listen to their concerns. During this outreach, we discovered some of our retirees had passed away. Please take a moment as we honor these members.
---
Retirees Special In Memoriam
Gene Ashbrook
Y-8
March 10, 1929 – Feb. 23, 2014
Allen Black
Proj.
April 30, 1938 – Dec. 30, 2018
Robert Dubuque
Proj.
May 27, 1942 – July 10, 2018
Juri Kauk
Y-4
Jan. 24, 1923 – May 5, 2013
Norman Pringle
Y-7
Dec. 9, 1923 – March 17, 2012
Clem Sheaffer
Y-8
July 11, 1920 – Nov. 1, 2019
Jeff Strailey
Maintenance Engineer
April 15, 1955 – Nov. 8, 2018
---
In Memoriam
Howard "Bud" Hogarth
Y-7A
Aug. 4, 1931 – Dec. 2, 2019
Steven Grothe
Y-1
June 11, 1968 – March 18, 2020
Steven Prichett
Proj.
Feb. 28, 1954 – May 4, 2020
Matthew D. Yerke
A2 & Sports Broadcast
Sept. 26, 1975 – May 5, 2020
Vic Carpenter
Y-1
Oct. 26, 1926 – May 5, 2020