by John Bauman CAS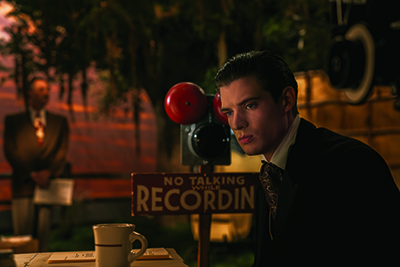 Hollywood is the sixth episodic series I've mixed for Ryan Murphy Television and the fourth first-season series. Among them; American Crime Story, Feud, and Ratched were each quite different in terms of story and characters, but they all shared at least one thing in common, they are some of the best shows I've ever worked on. It has been my great privilege to be a part of all of them, and Hollywood is no different.
Every first-season series I have mixed, always screens a rough cut of Episode 1, to show studio executives and producers. The first time I was invited to one of these screenings, I realized that they used my raw mix track, sweetened with the minimal tools available in Avid, along with temporary music and sound effects. I have been very fortunate to work with incredible editors who were able to make this sound surprisingly good when screened in a studio theater. However, I wanted to make the production tracks used for Hollywood's inevitable Episode 1 screening to sound even better.
I decided to upgrade from the Zaxcom Deva 5 and Yamaha 01V96i to the Deva 24 and the Zaxcom Mix 16 Control Surface. The 01V96i was not able to sync word clock with my Zaxcom receivers, so I was relegated to having an analog step in my signal chain. I'd run my wireless transmitters as loud as possible to avoid having to turn up the 01V. Hollywood was my first show using a completely digital signal chain (starting at the Zaxcom transmitter). The change in audio quality was startling at first. The lack of system noise was so profound, I was initially unable to tell the difference between the boom being on and off.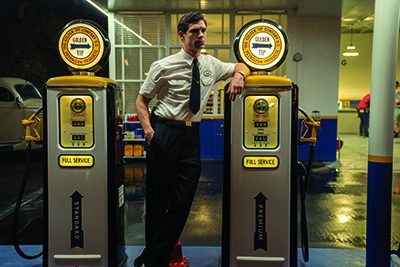 Bypassing the 01V's analog preamp stage, I was able to run the wireless transmitters at a lower gain, which when added to Zaxcom's Neverclip feature, meant distortion was practically nonexistent. The dynamic range was remarkable. I added a second Zaxcom RX12 and changed my video monitoring to a single 17" HD monitor (Datavideo TLM-170P), with a quad splitter (Decimator DMON Quad). These changes saved in both overall cart size and more substantially in weight. I kept the PSC Powerstar LiFE for DC distribution and a Furman PL-PRO C for circuit breaking between the cart and the generator.
Video Village gets PR-216's and my boom ops have been using the Shure PSM 900 system. But the real game changer was adding the Cedar DNS 2.
I assumed that we'd encounter the common problem faced by production sound everywhere of not being able to stop ambient noise, especially on location, due to either time or budget constraints. Hollywood had some exceptionally difficult situations for sound. On one occasion, we used the Paramount lot for some Ace Pictures exteriors. One scene took place on a section of road surrounded by four-story office buildings. Every office had a window AC unit and by noon, every one of them was on. Production was not permitted to request any of them to be turned off. With no other option, the scene was shot while thirty individual units were running.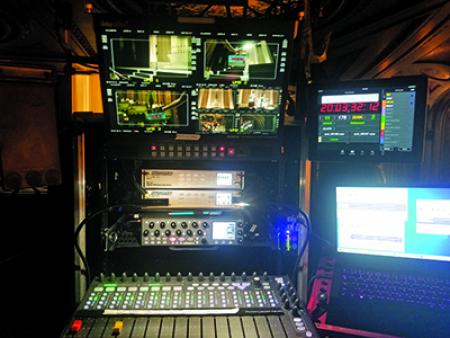 Incidents of ambient noise happened on stage as well. We often ran into issues with dimmer packs, ballasts, smoke machines, and the now ubiquitous "Vornado" fans, along with the current crop of HD cameras whose fans would occasionally kick on during a take. The Cedar did an excellent job minimizing virtually all of these. I provided a standard composite mix, as well as two additional mix tracks with different degrees of noise reduction. Monitoring these tracks was easy with the Mix-16's PFL and headphone-listening options. The Cedar is no match for the tools available to re-recording mixers on the dub stage, but it provided a nice option to our picture editors who used them extensively throughout the season.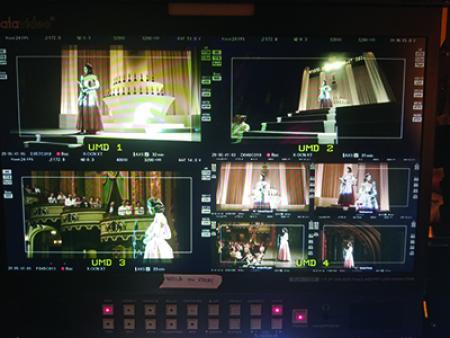 We used a combination of Sennheiser MKH 50 and Schoeps CMIT 5U microphones for almost all of our booming. Sanken COS-11D's are our lavalier workhorses and were also used to plant even more often than our MKH 8050 or Sanken CUB-01's. We used the DPA 6060's for special lavalier rigs and button holes. I'd situationally adjust high shelf equalization (@2k) for my wires if, for example, we had tie rigs working in a scene with mics placed closer to the sternum. Depending on the talent, tie placement of a COS-11D can sound muddy when compared to another COS-11D placed lower on the chest, so I chose to normalize them. I also rolled off all mics @ 100Hz.
None of that really matters unless the mics are placed correctly and I firmly believe that the boom operators are the linchpin of the department and are the primary reason for high-quality sound. I am so fortunate to have two award-winning Boom Operators in Ace Williams and Kris Wilcox for my crew. Hollywood moved at a fast pace and we almost always mic'd every speaking part whether they were on camera or off. Ace and Kris are second to none when it comes to navigating the constant fluidity of a film set. Changing frames, lighting, reflections, dialog, and actor idiosyncrasies are all handled in stride. Both have worked on series set in this time period, so they were aware of the particular challenges with noisy background footwear, unusual costume fabrics, noisy props, and antique vehicles. Working as a team, either one would lay carpet, wire an actor, or boom a scene. Their extensive experience allowed them to anticipate and solve potential noise issues without any direction from me, which was a critical component to our success as a department. Their prodigious talent meant I didn't have to constantly worry about where the boom was placed.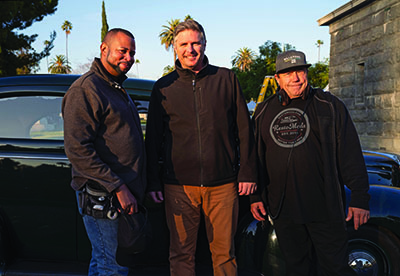 Hollywood, like all RMTV productions, was beautifully wrought. Ryan Murphy has a keen eye for set design, decoration, costumes, hair, makeup, and photography. He has assembled some of the very best artists in these fields and many have been with Mr. Murphy for years. Together, they brought 1940's Hollywoodland to life in every detail, from a perfect interior recreation of the iconic Schwab's Pharmacy, to the color of lipstick Vivien Leigh might have chosen to wear to a dinner party. No easy feat considering the rarity of color photographs from the era.
As you might imagine, our show involves film making in the '40s. I loved shooting the "behind the scenes" scenes, with all the old moviemaking props, especially the old Mole Richardson microphone perambulators. They would always show up broken and in disarray. I worked with the Prop Department to string them as best as we could, which usually meant that they couldn't really be operated. I would instruct the BG person designated as the boom operator, so he would look like he knew what he was doing. It was my contribution to the show, and it was really fun.
Our toughest and most fun days were when we shot the 1948 Academy Awards. The sequence included thirteen speaking parts, seven music cues, and six cameras. We mounted a COS-11D on the stage mic, wired everyone, and had two boom mics for the crowd. I primarily ended up using that plant mic for the presenters and winners on stage, and filled it with the boom mics pointed at the audience. The music cues wouldn't have timed out correctly if they had been preceded by clicks, so Composer Jasper Randall, who also played the orchestra conductor, and I, had to feel when the music would come in after each announcement. The timing of those scenes was almost entirely reliant on us. Each character would begin to speak when the music stopped and the audience would applaud when the music started. I enjoy the times when I get to be so much a part of the scene. It reminds me of what I learned a long time ago.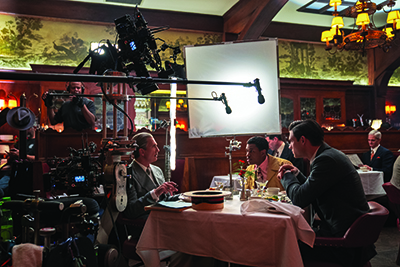 Early in my career, my boss, Petur Hliddal, admonished me to be a filmmaker and not just a "sound guy." I do my best to apply that perspective every day. I'm convinced it provides the very best results when faced with the challenges of recording sound for a visual medium. Sometimes it means compromising sound because it represents a net gain for the show. An obvious example is to allow relatively poor sound on very wide shots, knowing the dialog can easily be replaced. Maybe less obvious would be allowing (and recording) overlaps, because it serves the scene and the performances best. Being able to anticipate dialog changes and ad-libs during a take, based on the cadence and intention of the scene and performances. Understanding when to insist that the very best possible sound is the best way to tell the story. This is another reason the filmmaker's perspective is so valuable. Knowing how to couch a request in terms of visual storytelling is far more persuasive to a director, whose job is to visualize the story we are trying to tell.
I accept that many decisions are made based solely on what is best for picture. Hollywood had sets built with practical ceilings and walls that weren't made to fly, costumes that were visually stunning but scratchy, and mechanically loud. There were exterior locations that were chosen because they suited the look of our time period, even though we wouldn't have ITC during rush hour and period-accurate props and cars that were distractingly noisy. Thankfully, this was when our crew would step in to work with us on solutions.
When we were in a tight set with three cameras, which happened just about every week, Key Grip David Donoho, and his outstanding Grip Department would always create workable space for Ace and Kris. Set Costumers Ben Kaufher and Ric Spencer found ways to hide transmitters and tack down fabrics to keep them from rubbing together. They were also responsible for wiring many of the female cast in private, based only on our instructions. For the lack of ITC during rush hour, our production staff, led by 1st AD's Michelle LaBrucherie and Anastacia Nemec, suggested we shoot as much coverage as we can before we lost control of the street, which I readily agreed to. Loud props and vehicles were turned off when not seen, which was made more complex while shooting with three cameras. Ace and Kris worked with props to try to minimize prop noise wherever possible. DP Simon Dennis, another regular with RMTV and a great friend, was always willing to change the framing to either include or exclude noisy offenders. We often discussed the planned shots following a blocking rehearsal, and found ways to help each other. Sometimes we even agreed to put a boom in one or more of the camera frames and call it a VFX shot. The advent of this option has been a complete paradigm shift in what is possible for us. We did our best not to overuse it, but it sure was nice to have in our back pocket. I expect most sound crews are familiar with these kinds of issues, but I mention them because this show seemed to have an abundance of them every single day. It kept us on our toes while emphasizing how much we relied on our fellow crew members.
Ace, Kris, and I are only partly responsible for the sound you'll hear when you watch Hollywood. We ran two full crews for the last several weeks, and I was thrilled to get Brian Robinson to mix. He brought along Glenn Young to Boom and Erik Alstadt as Utility. The perennially Emmy-nominated post sound team of Supervising Sound Editor, Gary Megregian, and Re-recording Mixers Joe Earle and Doug Andham, consistently elevate our production sound to the highest level. These are some of the finest engineers in this business, and I am so grateful that our hard work is in such capable hands.
Hollywood is a story about individuals coming together and succeeding as a team in the face of seemingly insurmountable resistance. The story of Hollywood's Sound Department is really about the whole production and post production crew, and how much we depended on them for our success. I look forward to working with many of them again on American Crime Story: Impeachment.