Working With Jim Webb
by Andy Rovins, CAS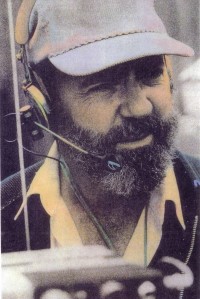 One day in 1981, while standing in line at a bank, I struck up a conversation with an older gentleman who said he was a retired Prop Master. When I replied that I was a Boom Operator, he said that his son, Chris McLaughlin, was a Boom Operator. "Really, Chris McLaughlin is revered among boom operators. He works with Jim Webb and gets equal billing with Jim as the sound team." The next day, I got a call from Chris. "Who are you, and why are you saying nice things about me to my pop?" We chatted a bit about mikes and booms and stuff. "What do you like," he asked? "A Schoeps is my favorite." "We use an 815 on everything. We did All the Presidents' Men with one 815 underneath and won an Oscar." You had to be spot-on with an 815 or it would sound funky; if you could handle one all the time you were a real Boom Operator.
A few days later, Chris asked me if I wanted to work on pickups for One From the Heart. Their regular third, Jim Steube, was on vacation. I jumped at the opportunity. I got to work with this famous team, and I'd heard about this film, with Francis Coppola directing from the Silverfish (a custom airstream trailer stuffed with monitors and video gear), Vittorio Storaro's lighting and Dean Tavoularis' forced perspective Las Vegas sets. I also got to meet Jim, whom I'd heard so much about. Jim was congenial and different from most Mixers I knew. He didn't want to be near the set, but was content to cable in and give his Boom Operators autonomy. We did scenes with Teri Garr and Raul Julia, and one with Nastassja Kinski sitting in a big martini glass singing "Little Boy Blue." Nastassja was a real flirt. I think every guy on the set had a crush on her.
At one point, Francis came on set and tried to talk Joanie Blum, the Script Supervisor, into directing the scene, but she wanted no part of it. I offered to do it, but Francis declined. "Who are you?' "I'm your new Sound Utilityman." "Oh, yeah, I used to do that job." He decided to direct it himself.
The last day, Chris felt ill so Jim told me I could boom. It was only a little announcement from Francis—they wanted to show the film to exhibitors, but the opticals weren't done so it would have some slugs that he wanted to explain. Francis was late that day and we sat around. Finally, someone came up with an idea. Ron Garcia, DP for the pickups, looked kind of like Francis with his beard. So we sat Ron in a director's chair holding a film can, while a prop guy dropped money into it from above, and Ron looked at the camera and said, "We will show no film before its time," a goof on an Orson Welles wine commercial running at the time. I think Ron still has a print of it.
Jim brought me on some more projects after that. He would drive up in his white van, and we would pull out the Fisher boom—Jim was the only guy I knew who owned his own. He had his anodized black and changed out the platform wrench to a socket for faster action. When possible, Jim would mix from the van and we would run cable out. A cool thing about having our own Fisher was that we didn't have to bargain for one; it was there if we needed it.
Jim got some interesting gigs in those days. He brought me on Get High on Yourself, an anti-drug special produced by Robert Evans as part of a plea bargain negotiated after an arrest for possession. It was a huge production with many bands and stars, including Ted Nugent, The Osmonds, Leif Garrett, Brooke Shields, Carol Burnett and Paul Newman. There were concerts and audience Q&As with lots of kids asking the celebrities questions. There was also a big production number with many stars and kids all singing the theme song in a style that would be mirrored by "We Are the World" a few years later. Jeff Fecteau and Chris Seidenglanz were the A2s and co-booms. There were many producers on that show; the event was kind of thrown together and disorganized but I think Jim thrived on being able to hold together challenges like that.
Jim liked my boom work so he asked me to come along for another unique show—recording a concert by pianist Mona Golabek in a women's prison in Chino, California. It was an odd scene. The prison had been built as a luxury resort in the '20s, so it was all marble and stone floors with high-vaulted ceilings.
The acoustics were somewhat echoey, so we put up furny pads when we could, mic'd the pianos with some Shure dynamics and set up an SM58 for Mona. We rolled the Fisher out of Jim's white van for me (with the 815) to mike questions and reactions from the prisoners.
It was somewhat incongruous: we had a classical pianist in a stately, beautiful building playing Chopin and Liszt for an audience of very rough-looking women in prison fatigues, but they were an appreciative group and seemed to regard the experience as a treat. I think Jim still has a recording of that show.
Jim is not just a great Sound Mixer. He's also one of the best raconteurs I've ever met. Just sit down with him if you get a chance. He tells me that one of his favorite stories comes from Get High on Yourself when I was working that long 815 on the Fisher boom to get unscripted audience responses. To be part of Jim's stories is a real honor!