News & Announcements
Set Safety
When I first started doing narrative projects in California, I worked for an assortment of sketchy producers with more ambition than good sense. Like me, they were near the beginning of their careers and didn't yet have production experience in depth. Many of these shows had car crash stunts with pipe ramps and explosions. Gunfire was common and most scripts had moving car shots with process trailers.
Despite these potentially hazardous elements, I never felt that I was ever in any real danger. At that time, any film with location power requirements exceeding what could be provided by ordinary household outlets was required to employ a Fire Safety Officer. Local fire departments maintained a roster of retired or semiretired officers to supervise film sets. They had the responsibility to ensure that the film didn't burn down the building or electrocute anyone. Some of these officers interpreted their responsibility very narrowly and only concerned themselves with fire and electrical safety. But many took on a larger role and would oversee any activity they considered a potential hazard. They might, for instance, inspect scaffolding for weight-bearing capability. Although their authority to dictate practices outside of fire safety was untested, Producers generally acted on their recommendations. Liability for an accident would be more acute if they were to proceed in spite of a warning from a safety official.
Producers often chafed under the requirement. On a low-budget show, it wasn't unusual for the Fire Safety Official to be the highest paid employee on the project. But there was a benefit for the Producer as well. If an accident did occur, the presence of an independent safety officer made it apparent that the production was probably not operating recklessly.
The Los Angeles Fire Department continues to assign Fire Safety Officers to film sets but the requirements have been eased in recent years. In an effort to make the permit process more production-friendly, officers are no longer assigned to every production that uses a generator. A Safety Officer is now assigned only if particular hazards are present, based on an evaluation of the permit application.
Recent events give reason to question whether thinning out independent oversight was wise. The presence of a trained officer with independent authority is a stabilizing element on a set. It discourages reckless behavior. This is a practice that should be encouraged on professional sets everywhere.
You may find more information about the on-set Fire Safety Program at: http://www.filmla.com (Navigate through "For Filmmakers" to the "Forms" section for PDF downloads).
-David Waelder
---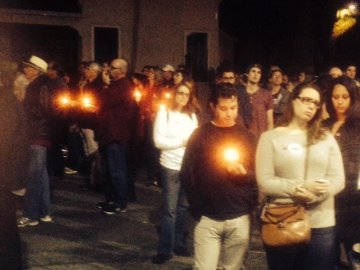 Candlelight Vigil
A candlelight vigil on February 20 held in honor of Sarah Elizabeth Jones, the camera assistant killed in the train trestle accident during the filming of Midnight Rider, drew nearly 1,000 marchers. Her parents, Richard and Elizabeth Jones, were among those attending and pledged to make the event the beginning of a campaign for improved set safety.
---
J.L. Fisher Open House
The 9th Annual J.L. Fisher Open House, Mixer and BBQ Lunch (free) will be held on Saturday, May 17, 2014. The event starts at 9 a.m. and runs until 4 p.m. J.L. Fisher hosts the annual event in association with SOC, ICG and ASC and numerous corporate sponsors. It's an excellent opportunity to meet other production technicians, tour the Fisher facility and enjoy an outstanding lunch. Local 695 will be demonstrating the 23-ft. Fisher boom and you're welcome to take the opportunity to hop up and spend some time on it yourself. We'll be there all day. Stop by anytime. For more information, go to http://www.jlfisher.com/JLF-2014-Open-House
---
Sign of the Times

Replacing the ratty old sign on the building. Come by to see the new one proudly displayed.

---
Bringing Jobs Back to California
More than 2,000 film workers assembled at the Pickwick Gardens in Burbank on Saturday, February 22, to address the challenge of runaway production. This was the first event in a campaign sponsored by the Entertainment Union Coalition (EUC), a consortium of representatives from IATSE, DGA, SAG-AFTRA, PGA and Teamsters. The immediate objective was to rally support for an expansion of California's tax credit program through AB 1839, a bill introduced by Assemblymen Mike Gatto (D-Los Angeles) and Raul Bocanegra (D-Pacoima).

The need is both immediate and apparent. Of 41 big-budget pictures made in 2012 and 2013, only one was shot entirely in California. According to the Milken Institute, California lost 16,137 film and TV jobs between 2004 and 2012. And the Los Angeles Times reports that 1,694 members of IATSE have already permanently moved from California to pursue work opportunities in Georgia, Louisiana and other states with active incentive programs. Attendance at the rally underscored these figures: it was standing room only in the meeting room and attendees spilled out into the anterooms.
If there's a bright spot, it's the recognition this need is receiving from local politicians. The Gatto-Bocanegra bill received 40 immediate co-signers and had 20 more within a few days. Since then, it received unanimous approval in its first committee vote. Numerous local politicians attended the rally including both of the sponsoring Assemblymen, IATSE International VP Thom Davis (keynote speaker), Art Pulaski, Executive Secretary-Treasurer of the California Labor Federation, and others.
To assist this effort, visit 695.com for regular updates and go to http://www.backtoca.com for information on volunteering.