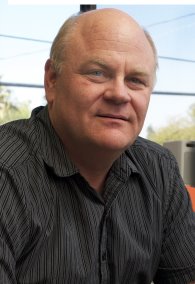 Trustees appointed by the International now administer Local 695. The International President asked me to act as your Business Agent during this transition period. As a 35-year member of Local 695, 10 of those years as a Special Representative for the Local, I take great pride in being able to serve the membership. I pledge to navigate these choppy waters with both respect for the accomplishments of my predecessors and commitment to practices that will benefit members in the future.
Every change comes with opportunities. The Trustee Administrators are eager to fulfill a mandate to leave the Local in better condition than they found it. Together, we have been reviewing office infrastructure, equipment lease contracts and the phone system, seeking ways to improve service and manage costs. It's a good practice to perform this sort of top-to-bottom review periodically, and upgraded phones, computers and work assignments will enhance efficiency in assisting members. Webmaster Laurence Abrams has already implemented a change permitting members to pay dues and financial obligations online with a credit card.
Although there have been some changes in work assignments, most of the office staff is unchanged. Donna Gamble continues as our Executive Secretary, Leslie Otsuki still handles Accounting and Membership Services and Michael Kanyer handles the reception desk and also inputs data to the production tracking system. We welcome new employee Nicole (Nikki) Riordan in the Accountant & Membership Services Department. She comes to us with a background in accounting and computer networking. We also welcome Joe Aredas Jr. as a Special/Field Representative. Members coming to the office should expect to find assistance from a capable staff.
Local 695 is a participating member of the Entertainment Union Coalition (EUC). The EUC is a consortium of organizations committed to bringing production and post-production work back to California. The turnout for their kickoff event in February more than filled the largest meeting room at the Pickwick Center and, with more than 2,000 members attending, was the largest gathering of IATSE members ever. The goal of this first event (there will be others in the future) was to support the passage of AB 1839. We expect that bill to come up for its second committee review soon and we'll again be distributing letters for members to sign and forward to their representatives. Please watch your email for that distribution and for other information about activities at the Local.
The Local belongs to the membership and derives its strength from you. With your support and participation, we will emerge stronger.
Scott Bernard
Interim Business Agent