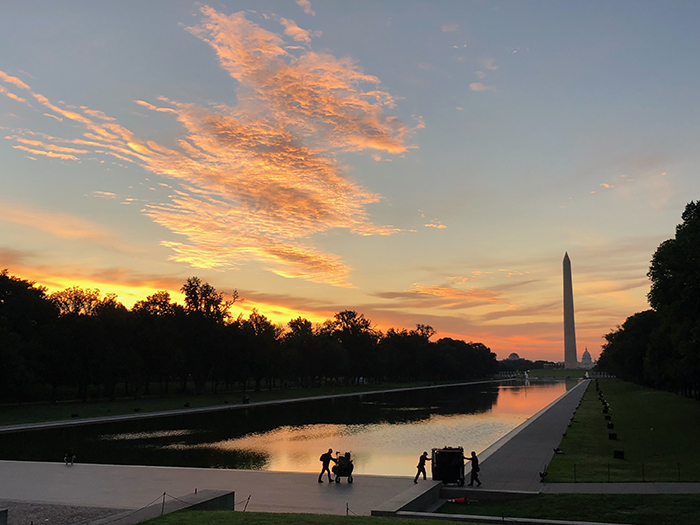 by Peter J. Devlin CAS
On Father's Day, June 17, 2018, my sound cart was set up on Pennsylvania Avenue in D.C., but I had a feeling all was not as it seemed. Attorney General Jeff Sessions had just visited the set with his entourage, our Director Patty Jenkins had just rehearsed the camera moves with our DP, Matthew Jensen, and our huge cast of extras were dressed from another era. Ben Greaves, my Boom Operator, was standing on top of a fire truck, gas-guzzling cars were idling in neutral, and everybody was waiting for our First AD Toby Hefferman to call action. I was on the set of Wonder Woman 1984, at a time when social distancing was not part of the vocabulary, and the only masks needed to be worn was when a dust storm hit our production in the aptly named Fuerteventura in the Grand Canaries, later in the year.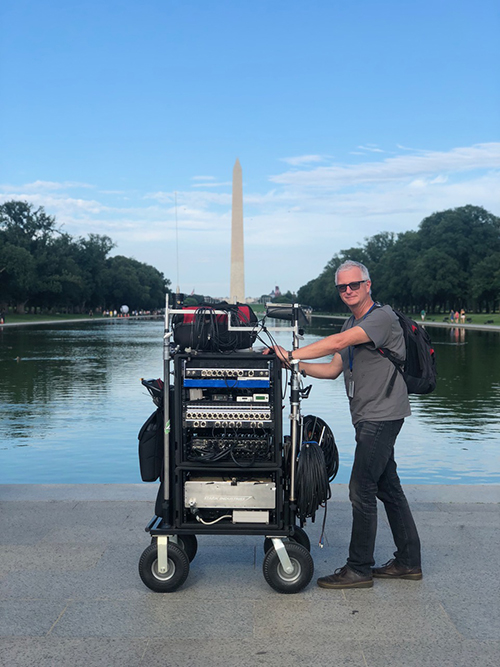 Washington, D.C., was our first month of production on WW84, and we showed off the wonders of the capital circa 1984. However, one of the more challenging locations was the rooftop restaurant, opposite the White House. Gal Gadot (Diana) and Kristen Wiig (Barbara) settled into their characters, with the Washington Monument behind them, but it was the sound of jack hammers that made a greater impression on me. With both actors wired for sound, Ben's Sanken CS-3 sitting on the edge of frame for Diana, and local Utility Nate Sessions on 2nd Boom over Barbra, it was touch and go as far as getting the dialog above that noise floor. Of course, I had to make a request to the Location Department, "Can someone go over to the White House and see if they would work with us on "Cuts and Rolls"? I have to hand it to our great location crew, they tried but the answer from the WH was "No." With a Sanken CS-5 pointed toward the White House, capturing stereo ambience, I believed we had managed to capture the performance and hopefully a scene that would not need to be recreated in ADR later.
Boom Operator Ben Greaves and I have known each other for many years. He hails from the UK and is another film craftsman who has spent time in the world of big screen superheroes. We both believe the key to success in radio mic'ing is preparation. It is so important to see the fabrics and costumes early on. Prior to WW84, we had both worked with our Costume Designer, Lindy Hemming, and her Set Supervisor, Dan Grace. Because of this relationship, our attention to detail, and their willingness to understand our concerns, we were able to change the fabric in one piece of wardrobe, as well as resoling shoes for actor Chris Pine. With our reliance on radio mics and the importance of clean iso tracks for editorial for all speaking characters, the relationship between Wardrobe and Sound must be truly collaborative.
In that busy first month, we managed to bring to life the world that Diana found herself in the 1980's, featuring Watergate, Georgetown, and a nighttime walk and talk with the Lincoln Memorial as a backdrop. Our traveling circus made Leavesden Studios our next place to pitch our tents. Filming in the UK also meant that production licensed all my radio mics through OFCOM for the time I was there. It was here that I started with a new team of Adam Ridge, 1st Assistant, Milos Momcilovic, 2nd Assistant, and our Trainee, Pete Blaxill. I had several days of prep in London and time to get to know the local team. Milos had worked with me on Transformers 5 and so impressed me with a great attitude in challenging situations. Adam had come recommended to me by fellow Belfast Mixer, Mervyn Moore.
We got to know each other at the first order of business, a tech scout of a set that would be at the Royal College of Physicians in central London. I had been warned that it would be a sound problem. It was a critical scene in the film, where characters Diana Prince and Steve Trevor are reunited after a period of almost seventy years. It was a location with lots of background, high heels, and dialog underneath the center point of a semi-spherical ceiling; totally non-conducive to recording quiet dialog. My suggestion was to have acoustical engineers come in and put in some temporary baffling that could be later removed. I was told that nothing could be erected in the space, so our quick-fix solution was to have balloons filled with helium and floated to the ceiling to diminish and break up the reflections. It certainly helped and we managed to get out of that location unscathed. During those three nights, there were some questionable music choices from 1984 that were used as playback to motivate our crew and cast!!!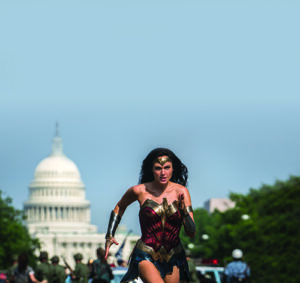 As we moved into September the nights grew cooler, and we took advantage of many London locations that would double for Washington, D.C. One particular location called "Black Gold" in the film, was the home of one of our protagonists, Max Lord, played by Pedro Pascal. It was here that I was introduced to "Silent Wind." Special FX Dave and Mark Holt, brothers, designed a system that would bring a quick blast of air to create movement in our actors' hair and clothes. They built a system that keeps the main body of the wind machine far enough away and carries the air through tubes to the set, thereby minimizing the intrusion of noise on the soundtrack.
This was a welcome relief from an e-fan and a rheostat just off camera. I can't thank Dave and Mark enough as they were always mindful of how practical on set Special FX can impact the Sound Department. They were always accommodating in adjusting for many scenes in the film. On one occasion they did ask, "Isn't there a system on your cart that takes out that background noise?" Well, that is a discussion for another time, and another place!!!
With Carnet's done, lithium batteries specially packed, we were on the road again mid-September, leaving 1984 behind. We were off to Fuerteventura, aka "Themyscira" for flashback sequences of Diana as a child with the amazingly talented Lilly Aspell. It was here that we encountered some serious dust storms, the residue of which is still making an appearance on my equipment. Fuerteventura is aptly named "strong wind," yet for many of the dialog sequences we got lucky with a calmness that was uncharacteristic for that time of year.
Milos, who dealt with much of the wiring, was relieved that his rigs designed for 30 mph gusts were not needed, Adam was kept busy with Stereo FX recording when we got into crowd sequences, as well as dialog scenes with our Amazonian warriors. Trainee Pete Blaxill did a great job of cleaning and maintaining the equipment. For much of our time there, I was able to set up camp alongside Video Assist Dylan Jones in a Sprinter van that offered some relief on windy days and was also used for our driving sequences. Dylan was great company and kept a cool head at all times and had a great team of assistants with him.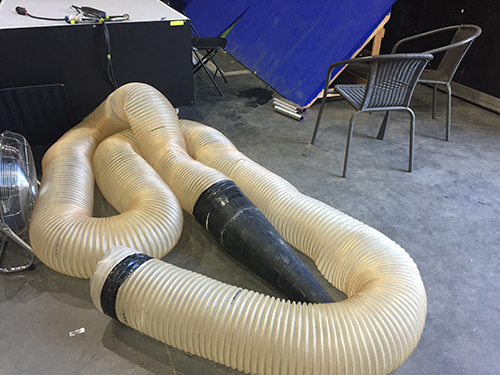 Once we had finished our work in the Gran Canaries, it was back to Leavesden to concentrate on stage work that would take us through December. Although I didn't get to see Simon Hayes at the same studio, I know he was very busy in prep for Cats. Fortunately, I was able to sit down with Simon and Chris Munro for the CAS podcasts In Conversation. My thanks to them for making the time on a Saturday to go into De Lane Lea in Soho. If you haven't heard the podcast, check it out with others on the CAS website.
As I sat in these massive sets so beautifully designed at WB's Leavesden, it brought me back to being a kid in Belfast, at the the Avenue Cinema, watching Christopher Reeve as "Superman" fly for the first time. With each film that I saw; Jaws, Earthquake, The Omen, and so many others, I became more determined to find a way to work in the film industry. I could never have imagined what would lie ahead.
We finally wrapped production of Wonder Woman 1984 on December 19, 2018. It was an epic journey and a wonderful opportunity to work with Patty Jenkins again. Our first outing together was on the film Monster in 2005. Patty is still as receptive to comments and suggestions regarding the soundtrack as she was then. She understands the practicalities of a set, having been a camera assistant. With a camera team that had Matt Jensen as DP, A Camera Operator, Steadicam, Simon Jayes, and B Camera Operator Simon Finney, we couldn't have asked for a greater synergy.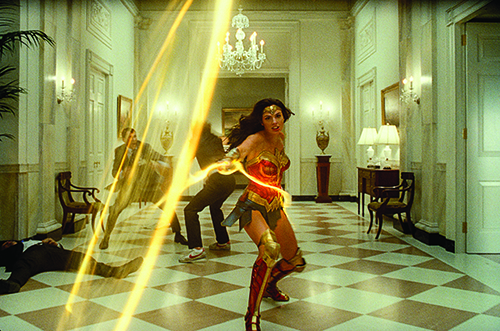 Post-production was handled by Warner Bros. De Lane Lea. Richard King was the Supervising Sound Editor alongside Jimmy Boyle. Re-recording Mixers Gary Rizzo and Gilbert Lake were on an AMS Neve DFC in Theater A. Iain Eyre would be the Dialog Editor, along with many others in the talented editorial crew. On completion of photography. I spoke with them giving an outline of areas that could be problematic with noise, and a rundown of my methodology and equipment used.
In November of 2019, I set off to London again to sit in with the post team on the final mix, and to watch and listen as those raw tracks become part of something that connects performance to all the other elements. One of the greatest thrills for me was Patty Jenkins inviting me to watch Hans Zimmer at work as they recorded the score for the film. The orchestra and choir were absolutely amazing. It is that circle of talent that makes the connection, becoming one with picture to make a finished soundtrack.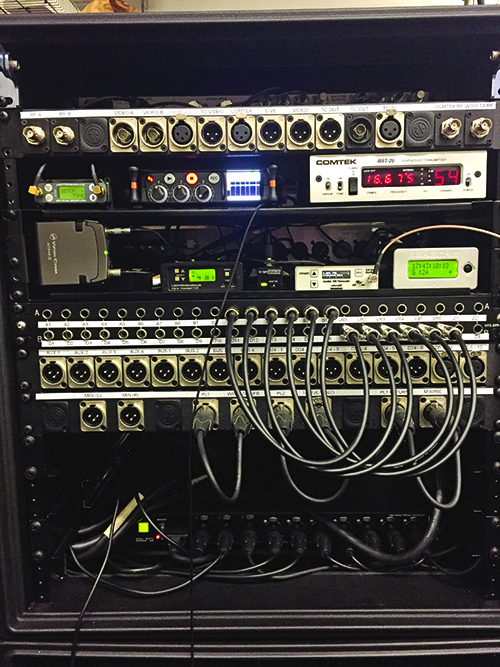 Equipment List
I decided I wanted two mixers on the cart. I love the pre-amps of the Sonosax but I wanted the ability to integrate the Zaxcom Mix 16 if I went to a bigger track count.
With the Deva 24 having the settings memories to switch between different setups, it was fairly easy to go back-and-forth or have both mixers working in tandem. The one thing that I find indispensable, in using the Zaxcom TRX743 transmitters, is the ability to remote gain them. When paired with the technology of Never Clip, it is difficult to be caught by surprise when an actor goes from a whisper to a scream in an unrehearsed scene. Zaxnet offers so much control from the recorder. The ZMT's onboard record capabilities were essential to cover the expansive areas on Pennsylvania Avenue with Wonder Woman. Driving sequences in Fuerteventura were handled with the knowledge that if the picture car went beyond the range of our follow vehicle, all the performances would be captured by the onboard sd cards in the Zaxcom transmitters for later transfer or remix.
Equipment Package
Exterior Mics – Sanken CS-3 in a Cinela Blimp
Sanken CS-1 in a Cosi Blimp
Stereo FX on a Sanken CS-5 or spaced Sanken CS-3's
Interior Mics – Sennheiser MKH50's in Cinela mounts, Sennheiser MKH 8050's in Cinela mounts
Interior Stereo FX recording, crossed pair of Sennheiser MKH50's
Lavaliers – Sanken Cos 11's
Button or exposed mic – Countryman B6
Wireless Transmitters
Zaxcom
TRX743's
ZMT's
Lectrosonics
SMQV
SMVL
SSMWB
SSM
Cart Front
Mixer 8 Channel Sonosax SX-ST (Digital Busses)
Zaxcom Mix 16
Lectrosonics Venue 1 Blocks 19, 20, and 25
Lectrosonics Venue 2 Blocks A, B, and C
Zaxcom RX 12 Receivers, Wisycom Powered Antenna Distribution
Wisycom HTP40 Transmitter
Meon Life + Meon Plus
Marshall Link Monitors
Cart Back
Jack Field
Lectrosonics Dual Receiver (Boom Ops Talk Back)
Wisycom MTP40S IFB Transmitter to Boom Ops
Sound Devices 3 Channels Receiver for Boom Op Talk Backs
Comtek BST-25 Transmitter
IFBT4 Transmitter
Zaxnet IFB system for remote control of Zax Wireless
Denecke GR-2
I would like to thank Lorenzo Milan and his crew who joined us for Second Unit in Washington, and Shaun Mills in London, who handled Second Unit there. Paul Munro was on hand to handle additional photography whilst I was on Star Trek Picard, and the many others who joined us on dailies through the course of the shoot in London. You can check out who they all are on IMDb as it's a long list and would take up this entire magazine.
In particular, I would like to conclude in thanking my crew in the US, Ben and Nate for starting the show on a particularly exciting morning at the Air and Space Museum in D.C. In London, Adam, Milos, and Pete, who throughout the course of our many days and nights brought a level of positivity and professionalism that made our time together memorable. Especially our night at the Air Museum at Duxford, where clothing noise became an additional character in the scene that wouldn't take the hint and leave, and when I considered a career break!!!