by James Delhauer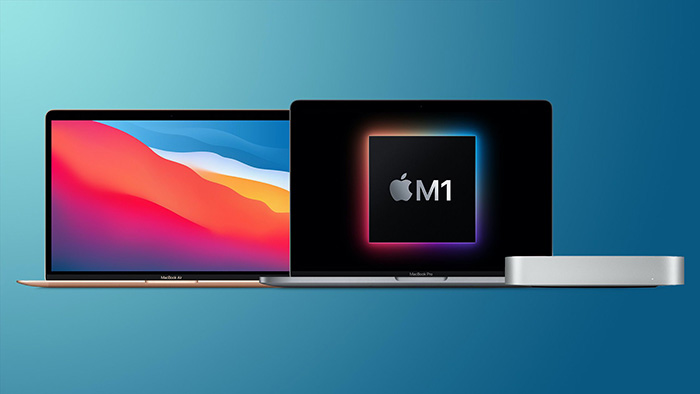 In today's technological zeitgeist, the assembly line of advancement and progress is rarely deterred by anything. Faster processors, nicer screens, and larger storage devices are always just around the corner, ready to supersede last year's latest and greatest gizmos and gadgets. Annual releases and product refreshments are so much the norm that not even a global sickness that caused the planet to lurch into lockdown could slow the wheels of change. Few have demonstrated this as dramatically as Apple with the release of their new line of M1 Silicon processor computers. For Local 695 technicians and artists, this could be a game changer.
To understand the significance of this launch, some historical context is necessary. Many of the earliest Apple computers, beginning with 1984's Macintosh 128K, featured 16 and 32-bit processors designed by Motorola. Though revolutionary for the time, these units quickly began to show their age and Apple sales lagged compared to their primary competitor, Microsoft. In 1991, Apple and Motorola joined with IBM to form the AIM Alliance, a group dedicated to developing the next generation of computer processors to compete with hardware being developed by Intel and AMD for Windows-based personal computers. This alliance led to the unveiling of the PowerPC processor, which Apple adopted into their identically named PowerPC line of computers beginning in 1994. These chips would remain the company's primary units in their Power Macintosh, PowerBook, iBook, iMac, and Xserve line of computers for more than a decade but they were not without their drawbacks. This hardware still struggled to meet the competition and software routinely used by Windows users was difficult to port to Apple units, limiting user options and product utility. Nonetheless, these chipsets have been credited with bringing the company out of the niche enthusiast market and into mainstream prominence, especially as Hollywood productions began to adopt them into the earliest digital post-production workflows.
However in 2006, Apple abandoned the AIM Alliance and elected to integrate more commonly used Intel-brand hardware into their computers going forward. The widely known Macbook, iMac, Mac Mini, and Mac Pro machines of the last fifteen years have all been powered by semi-customized Intel central processing units, as well as graphics processing units from Intel, Nvidia, and AMD. These computers have become so ubiquitous within the entertainment industry for their creative and design applications that filmmakers across the globe eagerly crave each new release from the world's first trillion-dollar company.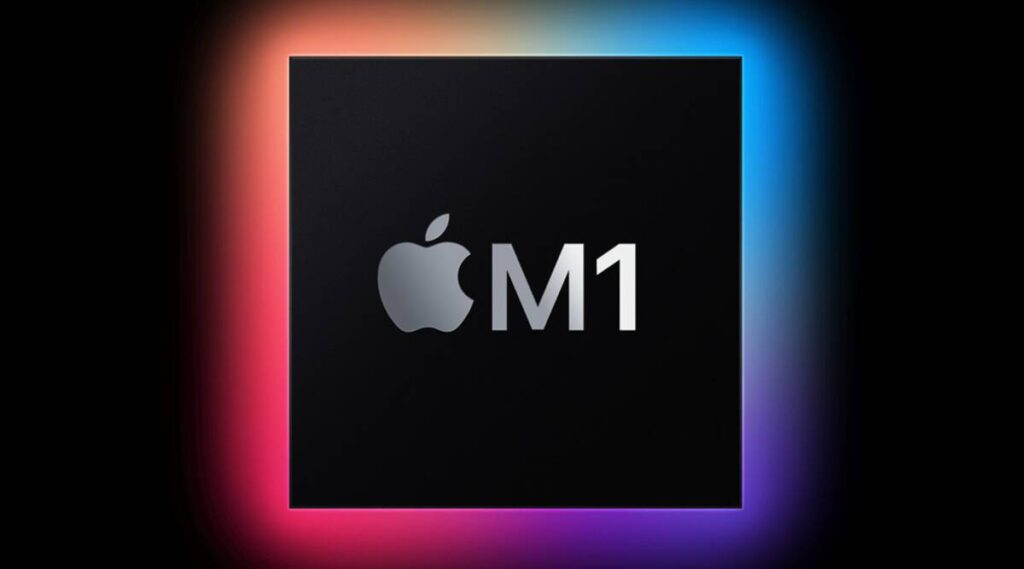 ""…it was so surprising when Apple announced that they would be abandoning Intel processors in favor of proprietary, in-house hardware beginning within the year."
That is why it was so surprising when Apple announced that they would be abandoning Intel processors in favor of proprietary, in-house hardware beginning within the year. The new Apple Silicon line is derived from the same ARM architecture that has powered Apple's extensive line of mobile devices since the release of the iPod in 2001, further narrowing the ever-blurring line between phones, computers, and tablets. This allows for direct cross platform support for apps initially developed and released for iOS devices such as the iPhone and iPad, meaning users can access mobile apps and games on their home computer systems.
The first of these new proprietary processors is the M1 chip, an all-in-one processing unit that streamlines under the hood performance in a great number of ways. Traditionally, the various processing devices inside of a computer each have been segregated from one another with each possessing a dedicated memory pool to cache data during processing. An inefficiency in this system has always been the need for redundant storage of the same data—with CPU's and GPU's requiring separate caches of the same information despite working together to complete a task. By integrating both central and graphics processing units into the same chipset, Apple has removed this limitation and allowed for a shared memory pool between devices. This allows the computer to do more work with fewer resources and reduces power consumption per watt. The end result is a chipset that boasts double the performance of both the CPU and GPU, which translates to 3.9 times faster video processing and 7.1x faster image processing across the company's entire line of Mac products.
The introduction of an entirely new processing architecture presents numerous compatibility challenges from a design and engineering standpoint. In the past, it has largely been the responsibility of software developers to program their applications with support for the various architectures available on the market. In 2006, Apple circumvented this problem with the introduction of Rosetta, a binary translator application designed to read software developed for PowerPC processors by emulating that older architecture on the newly designed Macs. For the introduction of the M1, Apple has resurrected Rosetta (now branded Rosetta 2) in order to emulate Intel's x86 architecture across their new line of ARM-based computers. The result is near universal software compatibility with applications designed prior to this migration. Though these applications will not be able to take full advantage of everything the new system has to offer until updated by their respective developers, Rosetta 2 emulation does provide users an immediate means of transitioning to the latest Apple products without the frustrations of generational incompatibility.
Additionally, the M1 chipset contains an emerging technology known as an AI accelerator, which Apple refers to as their Neural Engine. This technology has been present in the company's line of iPhone products since 2017 but the M1 variant is the first to be integrated into a personal computer platform. Designed to accelerate machine learning applications such as facial recognition and autonomous tasking, this Neural Engine boasts an incredible eleven trillion operations per second, positioning Apple to become the gold standard for the development and use of artificial intelligence applications as those technologies become more mainstream.
The response ranged from profane outrage to skepticism to tears of joy. It was just over a year ago that Apple unveiled its new line of modular and customizable Mac Pro systems. An emphasis on first-party hardware raised concerns that third-party support for these expensive machines may dwindle, punishing early adopters and potentially robbing them of their investments. Consumers old enough to remember the problematic era of the PowerPC were hesitant to embrace another proprietary solution from Apple. DIY enthusiasts have decried the expected loss of personalization and customization options, a common criticism of Apple products in the last two decades. User advocacy groups such as the Hackintosh community (a group of users who seek to modify the macOS operating system in order to run on similar Intel-based Windows machines) mourned the announcement as the beginning of the end for their practice.
It should be noted that Hackintosh practices both violate the Apple-user license agreement and are not endorsed by Local 695.
But more enthusiastically, some users welcomed the announcement with open arms, citing the impressive abilities of existing ARM processor devices such as the iPad Pro and the ability to download any existing mobile device app onto a laptop or desktop.
After months of speculation, the company finally released three computers outfitted with brand-new ARM architecture chipsets: the Macbook Air, Macbook Pro 13", and the Mac Mini. All three come outfitted with an 8-core M1 processor and are configurable with either eight or sixteen gigabytes of RAM and up to two terabytes of storage. While these three lines of products are generally considered to be entry-level computers in the Apple hierarchy, the company made impressive claims as to the performance capabilities of each of these machines. The Macbook Air, widely considered to be the least powerful machine in Apple's product lineup, boasts the ability to decode and playback 8K resolution ProRes video files in real time. Real-time 4K video editing is possible in both ARM optimized applications such as Apple's Final Cut Pro X and Intel-based programs like Adobe Premiere Pro. Similar results were achieved on the M1 Mac Mini, possibly making it one of the most affordable editing solutions out there.
But no debut is without its drawbacks. At launch, native M1 application support is largely limited to iOS applications and software developed and distributed directly by Apple, meaning third-party solutions will not perform at their best until their respective developers learn how to optimize them for both x86 and ARM architecture. At present, no third-party nonlinear editing platform or digital audio workstation has been optimized for use, meaning Avid, Adobe, and DaVinci users will have to be patient if they wish to take full advantage of their new computers. Most notably, Apple has remained silent on the future of their professional grade lines of products. The Macbook Pro 16", iMac, and Mac Pro systems continue to be manufactured using Intel-based processors, meaning power users will also have to wait before machines optimized for their needs become available.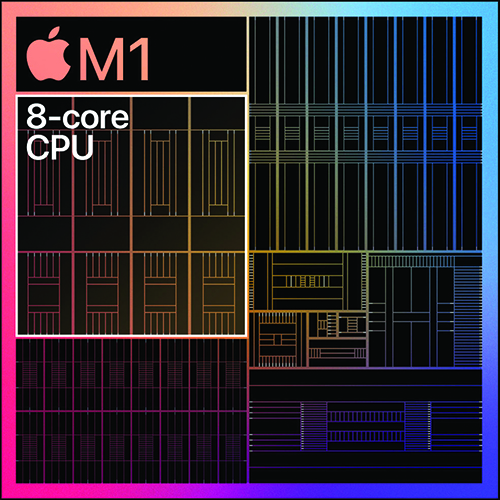 In practical terms, the first generation of ARM products represents an exciting glimpse into the future. These entry-level machines perform far and above the performance of their pre-2020 predecessors and dramatically shift Apple's price to power ratio in favor of consumers. For low to moderate processor intensive tasks like word processing, web browsing, image processing, media management, streamlined offline editing, light transcoding, and live session recording, the Macbook Pro 13" and Mac Mini could represent a low-cost workstation solution. For more labor-intensive tasks such as high-resolution transcoding, online editing, color-correction, and audio mastering, we're going to have to see what news emerges in the coming days.
Intel-powered Macs have been a staple of our industry for nearly fifteen years. The Local 695 Audio Technician has harnessed their power to record and mix some of the industry's greatest hits using the power that they've offered. The 695 Video Engineer has recorded, played back, keyed, and transcoded everything from commercial spots to major blockbuster motion pictures with them. And while they will continue to live on in Windows-based machines, it appears that the sun is setting on the x86 architecture Mac. As it does, I believe a moment of appreciation for all that we have accomplished during this time seems appropriate… Great, now onto the new.