by John Pritchett CAS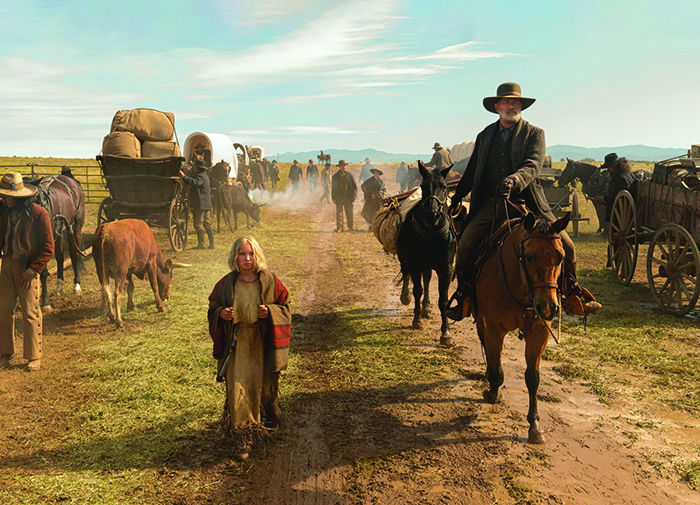 Rising up over a hill, you turn onto the road leading to the Galisteo Ranch outside of Santa Fe, NM, looking across the cactus-filled desert to observe an odd sight. In the distance is a strange caravan being led by a small buckboard wagon pulled by a single horse and carrying a middle-aged man and a ten-year-old girl. They are having a mostly one-sided conversation. Behind the wagon is an even stranger sight, a parade of vehicles starting with a truck-like thing with a large crane and a bunch of bundled up characters hanging on all sides. That is followed by two very large vans festooned with antennas and such, and then by an extended line of assorted other vehicles comprising several smaller vans, smaller trucks, a trailer carrying supplies, and food, and finally, a trailer loaded with two portable toilets. The entire train is moving slowly across the largely uncharted wasteland, dodging cholla and saguaro and gopher holes to get to an end at some point, only to turn around and go back where it started.
The locations in New Mexico offer tons of unique, at least in this country, challenges for each department and cast alike. Many of the sets sat on dirt fields and roads that turned into mud morasses at the least rain, which we got plenty of. The Grips and Transpo were constantly having to assist in getting us out and back to work. And then toward the end came the snow! Years ago, while working on Wyatt Earp in many of the exact same locations, we had a surprise snowstorm as we were setting up to start a multi-day daylight scene. The decision was made to shoot anyway. By the next morning, the snow was all gone. Effects had to find and bring in snow, foam, and ice-making machines so we could continue to shoot. This is a pretty common experience in New Mexico. But the place is just too awesome to resist.
What I'm describing, of course, is the filming of a scene for a movie, in this case, the movie News of the World. This will be part of Paul Greengrass' (Captain Phillips, The Bourne Ultimatum) latest effort, and his first Western. It stars Tom Hanks as Captain Jefferson Kyle Kidd, and Helena Zengel as Johanna.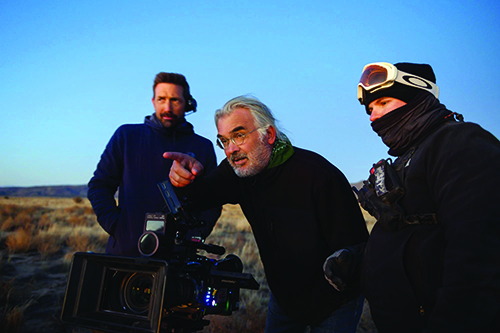 The movie, set in 1870 after the Civil War, tells the story of Kidd, who is widowed, before he could arrive back to his home in San Antonio. He then leaves his home to travel to small towns and villages throughout the South and West, bringing news and stories from afar to the people; regaling them with tales of wars, triumphs, joy, and sadness that they would otherwise never know.
Along the way, he is offered money to bring a ten-year-old girl, stolen as a toddler by Kiowa Indians from her murdered family and raised as one of their own, back to her extended family four hundred miles away in San Antonio. She speaks no English, and at every opportunity tries to escape Kidd to get back to her Kiowa "family." Adventure ensues.
This is also the story of the many challenges that arose trying to, in my case, record the audio on this enterprise. It turned out to be harder than expected. First of all, there's the location. This was my third outing in the Santa Fe area. I know many of you who have shot here remember the wind, the dust, the sand, the wind, the rain, the snow, the wind and the ever-present Wind. There is a dust storm where Kidd nearly loses Johanna, that is a true brute! But what I hadn't endured before was the challenge of recording dialog in a real practical buckboard, and driving it over open desert, and hard-packed regolith and unseen pits. It's a very, very noisy vehicle! The amazing grip crew did yeoman's work to try and de-rattle it, and often had good success. But some noises were insurmountable. I thought they would have to loop all the scenes in the wagon.
Turns out I was wrong. Thanks to the phenomenal work of Oliver Tarney and crew, the dialog was made usable. It's here that I need to mention the terrific Second Unit and splinter crew that did so much to aid the soundtrack. David Brownlow came in to do all the insane chase scenes and the physical stuff with Boom Zach Sneesby and Utility Jason Pinney, while the magnificent David Sickles (I owe him money, I think) came in for a few days to cover for me when the company went high into the rock where some old guys (me) dare not venture.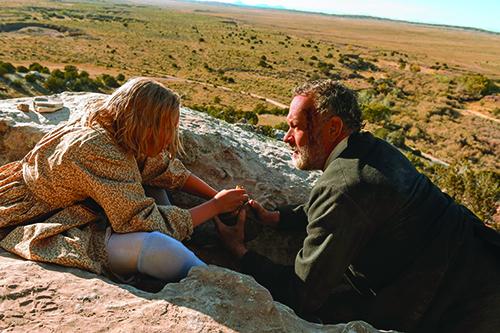 This story would not be complete without mentioning the remarkable DIT Ryan Nguyan, who had to keep up with the constantly moving targets, and all the cameras, to give us great images. Finally, the very congenial Video Assist guy, Adam Barth. Adam's job was especially difficult as we were constantly on the move. He rigged his SUV with monitors on the outside so his "village" could go anywhere it was needed, but still had to put up other villages, as well for makeup, hair, and costumes. He was a real trooper These fellows made it all look easy and helped out immeasurably.
As far as my setup is concerned, I'm a tad old school (or just old) in that I still use, and have for many years, the Zaxcom Cameo mixer and the Zaxcom Deva 8-track recorder. All of my wirelesses are Lectrosonics SMA's and HM plug-ons. Mercifully, the Santa Fe area is a largely conflict-free zone for RF issues. Added, the costumes, being soft period garb, made wiring actors mostly problem-free. For all the moving shots, I used the Zax Mix 12 sitting on my lap as we traveled in the caravan. For the boom, I use the amazing Schoeps CMIT and the Cinela Piano. It turns out that the boom was extremely important as the winds were often hard to deal with on the wires.
My intrepid Boom Operator, Dave Roberts, would do the insane task of walking (jogging really) alongside the buckboard or the horse Hanks and Zengel rode through a manmade raging "river," managing to not get hung up on the ubiquitous cactus or fall into a gopher hole, a scary sight to see. Our amazing Third, Rob Hidalgo, kept up with all the wiring and keeping the costumers happy. The large transport van was a godsend, saving us from the cold and wind, and gave shelter for myself, the Director, the DP (the brilliant Dariusz Wolski), Paul, Video Assist, and DIT.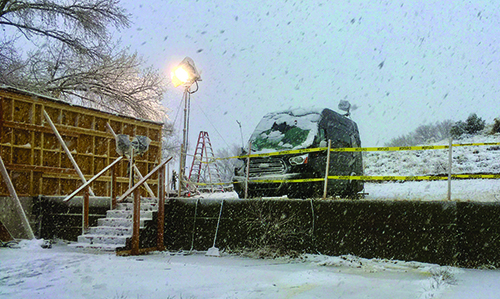 Those of you who have been fortunate enough to work with Hanks know what a joy he is, never having any kind of issue with anything any department might ask of him. Add to that, Paul Greengrass' amazing embrace of sound. Many times during most days, Paul would do something only Oliver Stone had done with me. He would come over to me, or ask me to come to his tent and request something specific for the sound. He had a very Robert Altman approach to crowd scenes in that he wanted to "let her rip" with everyone vocalizing fully which, of course, caused Hanks to play to that. It's always a risky move, but Paul, for all the right reasons, wanted it. There is an energy there that is hard to get doing it the pantomime way.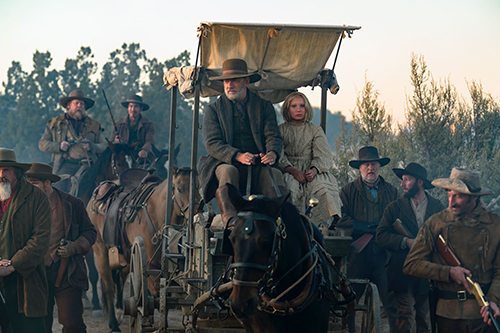 About our Producer, Gary Goetzman, I cannot say enough good things. He's one of the most supportive guys in the business. His encouraging words were always there when our confidence might ebb (remember the winds). I've had the great privilege of working for him over the years on several Hanks starrers, including That Thing You Do!, Larry Crowne, and Saving Mr. Banks. Many thanks to Gary's Co-producer, Greg Goodman, who was always there taking care of everyone's needs.