Power Play
Meticulous prep allows sound to track Writer-Director Adam McKay's Vice
by Daron James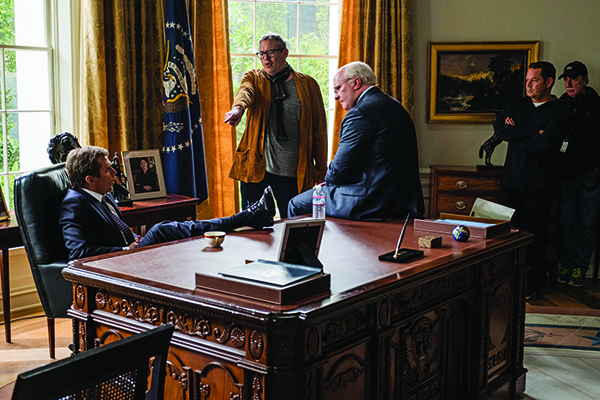 When Production Sound Mixer Ed Novick got the call about Adam McKay's film Vice, a fictional drama uncovering the unwavering power of Dick Cheney (Christian Bale) who served as the Vice President to George W. Bush from 2001 to 2009, the decision to say yes was an easy one.
Novick previously wrapped the pilot for McKay's Succession; HBO's must-watch series about a filthy rich and dysfunctional family trying to keep its media empire alive. In Vice, the writer-director follows his 2015 film The Big Short, another Bale-starring allegory focusing on the 2008 financial crisis, with a biopic of Cheney from adolescence to his rise in the political ranks.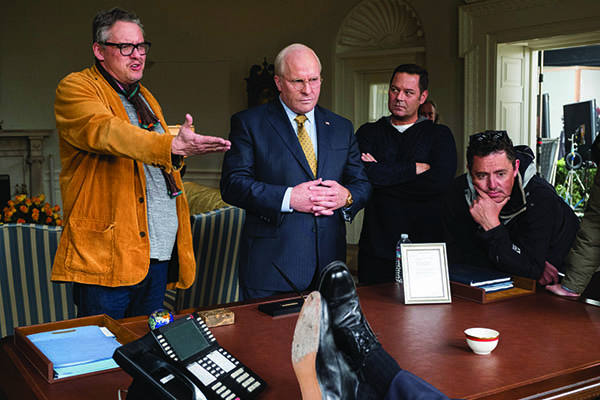 Sitting in the sound recordist's Los Angeles home, Novick admits he enjoys the "free -wheeling" directing style of McKay. "Adam has a way with actors where he lets them explore. As long as I have enough mics and tracks, I'm good to go," says Novick, who's been sliding faders since the early eighties and won an Oscar for Christopher Nolan's Inception.
Pre-production is where Novick puts in the brunt of the work to give sound its best chance during filming. "The tech scout is the most important day of prept," he says. "Going to look at the physical locations and finding out what the problems are in advance is going to allow you to solve them much better than you would on the day." Besides the locations' natural sound elements to contend with, the conversation involves other departments, especially grip and electric and deciding on where to station things like generators and cables.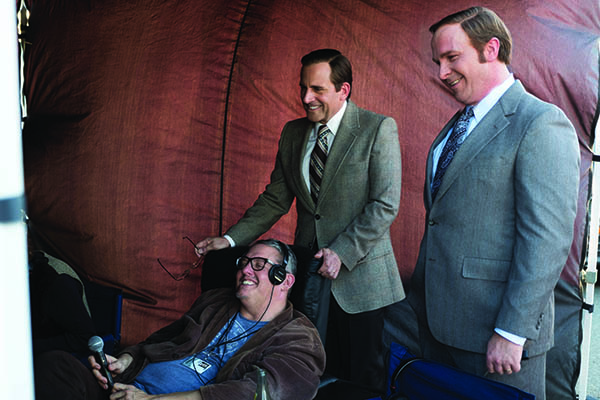 Tapping Boom Operator Randall Johnson and Sound Utility Ryan Farris, the dialog-driven script was shot roughly over sixty days with production ramping up in the Jefferson Park neighborhood of Los Angeles to stand in for 1950s Casper, Wyoming, where Cheney grew up. It's during this time, we learn how influential then girlfriend and future wife Lynne (Amy Adams) was on Cheney.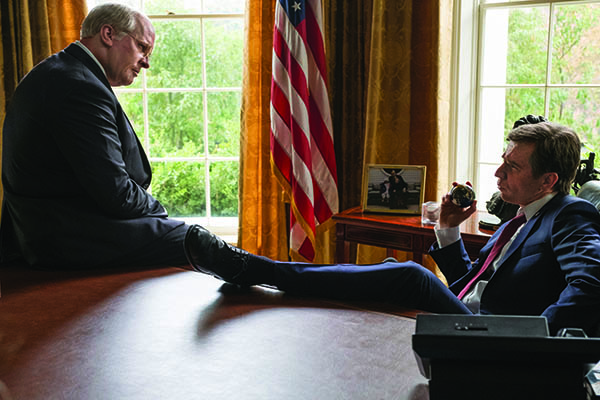 In a scene filmed in Newhall Orchard west of Santa Clarita, Cheney is driving drunk, singing along to the Hank Locklin song "Send Me the Pillow You Dream On." As the camera gets closer, sound drives the performance using an earwig, recording the live vocals sung by Bale with a plant mic and lav. His eventual crash and arrests forces Lynne's hand, telling Cheney over the phone she doesn't want to marry a nobody; sending him on a completely different path.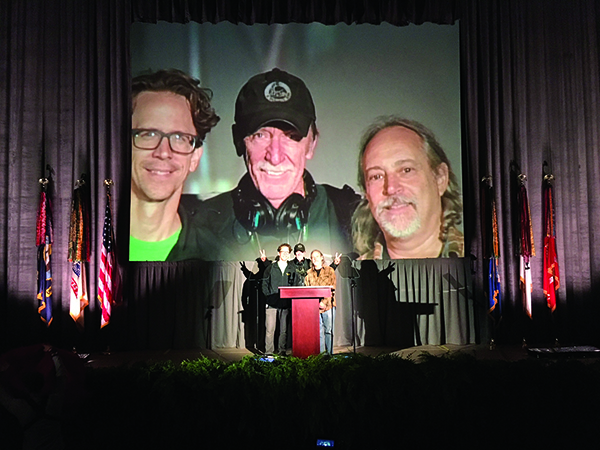 Phone conversations are a reoccurring theme in the film and Novick used different methods to record performances. The sound mixer will use a JK Audio BlueKeeper to connect cellphones, a Viking Ringdown and Genter box to connect landlines, and for playback, Soundplant, an application that allows the user to load audio into the program and trigger playback through
a QWERTY keyboard. "It's important for actors to have someone to talk to and I think they benefit more when they can have the other actor on the line rather than an AD or a script supervisor reading the material," he admits.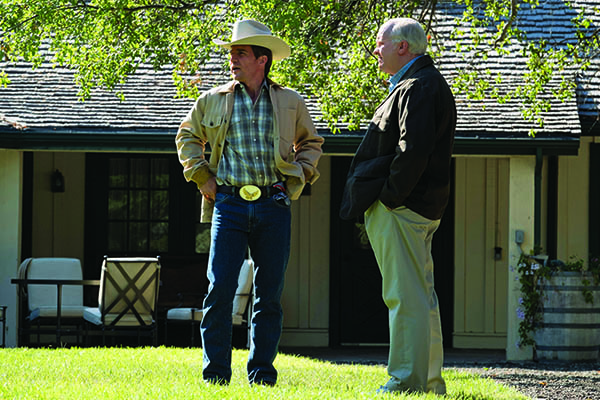 As Cheney starts his political path, his first stop is the Congressional Internship Program where Rumsfeld makes a speech to the inductees at a podium inside a large echoic room—something that doesn't bother the sound mixer. "We're making sound for picture," says Novick. "The most important tool I have on my cart is the video monitor. It tells me what the shot is. If we're in a big echoic room, we try to make it sound like what it looks like." The sound team also took the time to make every on-camera microphone practical; getting a lot of help from Property Master Matthew Cavaliero. In addition to the practical microphone recordings, an added lav and/or overhead mic provided multiple options for post.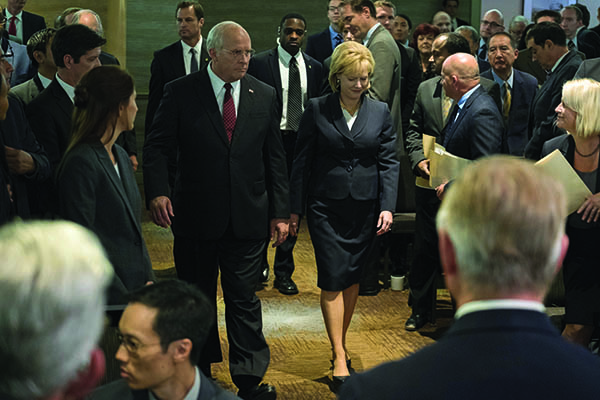 For most of the show, overhead wireless booms danced between multiple cameras shooting multiple angles and lavs were placed on everyone. For Cheney, Bale's performance touted a low voice coupled by him burying his chin into his neck. The actor also went through nearly one hundred costume changes. Sound used either a Sanken COS-11D underneath a necktie or a Countryman B6 through a button hole in the absence of one.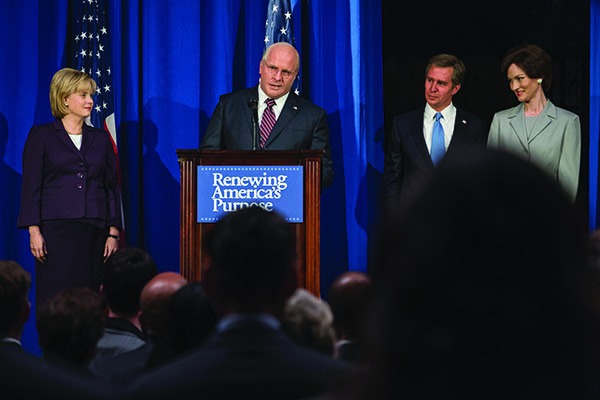 When George W. Bush (Sam Rockwell) entered the picture, a similar mic'ing strategy was put in place. One scene that did challenge sound was a walk and talk between Bush and Cheney at the Bush family home. The short stroll takes place right after Cheney accepts the VP position. Bush's costume entailed a very scratchy shirt and a tight-fitting hat. Needing to place a lav on Bush as the frame was very wide, Rockwell suggested putting the mic underneath the hat. "It's something we normally don't do. Not only because of the weight of the transmitter on the actor's head but the lav can affect how that hat fits," says Novick. "But since Sam suggested it, we didn't think twice about it."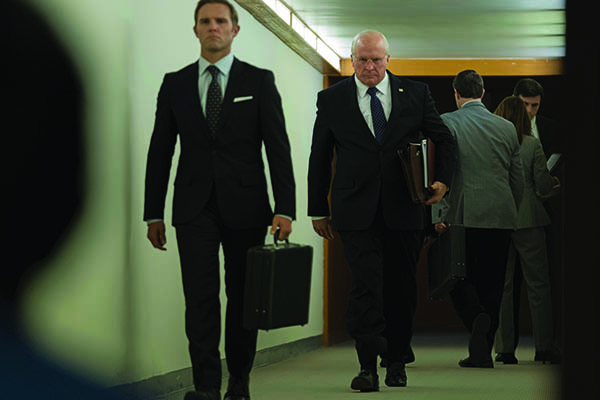 Another challenge was recreating the interview between ABC News journalist Martha Raddatz and Cheney that takes place near the end of the movie. The scene was recorded simultaneously in different formats; 35mm and NTSC video. "Because they were going to have video cameras as props, they went ahead and made them working cameras," says Novick. To record audio, two Deva 16 recorders were used. One slated at 24fps for the film cameras, the other slated at 29.97fps for the video cameras. Identical audio was then passed through AES to both Deva 16's and two iPads were used for notetaking. A 12-channel Sonosax served as the mixer.
While the majority of scenes made the final cut, one in particular did not and it just so happened to be sound's biggest day. It was a musical dance number set inside a cafeteria. Filmed at Santa Anita Park, the scene was between Cheney and Rumsfeld. It starts off in a cafeteria line and the two are talking about how things work in Washington. As they are about to sit down, Brittany Howard, from the musical group Alabama Shakes, stands up and starts singing about how things are supposed to work in Washington. The sequence served as a cutaway element that folded back into the story as if it never happened.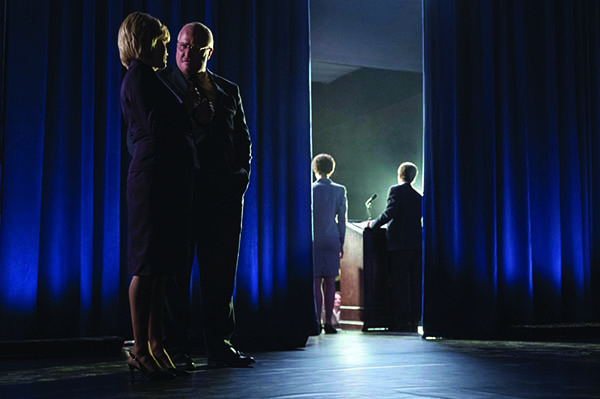 After a weekend of rehearsal and two shooting days that included dozens of extras and choreographed dances, sound provided live vocal recording via a lav hidden in Howard's hair, playback speakers, thumpers, earwigs, and brought in a separate Pro Tools operator to record the sequence. "It's the best scene. They just couldn't find a place for it in the movie," notes Novick.
For the sound team Novick says, "We're there to exclude the sounds that don't belong and include the ones that do belong. We know we're creating sound for picture and every piece of audio will be manipulated in some way. It's our job to capture the best performance and I think we did a pretty good job."
All Photos: Matt Kennedy/Annapurna Pictures, except as noted.