by James Delhauer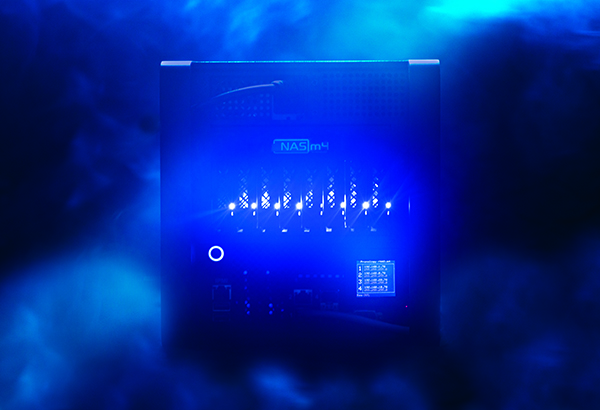 As laborers in an industry that constantly pushes the boundaries of what technology has to offer, members of the IATSE have unique technological needs. Productions demand custom-fit solutions to the challenges they present, often preventing workers from buying off the rack as it were. Sometimes, artists and craftspeople encounter obstacles for which the market has not presented an adequate solution and when they do, they take it upon themselves to make their own. Such is the case with the new rNAS.m4 and rTB storage units from Pronology, designed by Local 695 member and Pronology President Jon Aroesty to address the specific challenges faced by 695 engineers and technicians.
The story of the rNAS goes part and parcel with mRes, another Pronology product designed out of frustration with the lack of adequate workflow options. The mRes is a standalone server-based encoder capable of capturing multiple SDI inputs or IP streams and simultaneously writing a high-quality deliverable asset, a ready-to-edit proxy file, and a proxy optimized for web streaming for each input in real time. In practical terms, this means that camera or IP-based media can be ready for every stage of review and post production as soon as the director calls cut. However, this workflow presents the challenge of immense data loads, especially when networking multiple mRes servers together. Moving that much media around in real time requires storage hardware capable of sustained high bandwidth reading and writing. Furthermore, production environments are often harsh, requiring equipment that can stand up to the rigors of day-to-day use. After experimenting with various storage options on the market, Aroesty and his team concluded that there was nothing available at the time that presented an ideal solution to these problems.
"We couldn't find anything that could sustain the kind of write speeds we needed while also being portable and rugged enough to be practical in a production environment," Aroesty commented. "Eventually, we realized that we needed to build our own."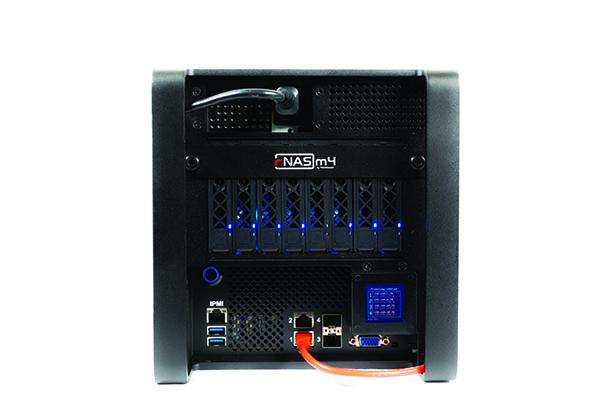 "We couldn't find anything that could sustain the kind of write speeds we needed while also being portable and rugged enough to be practical in a production environment… We realized that we needed to build our own."
–Jon Aroesty
After studying the shortcomings of existing network-attached storage devices, the first rNAS prototype was constructed in 2017 using off-the-shelf components and featured a full ATX-sized chassis outfitted with eight spinning disk hard drives and a PCIe hardware-based RAID controller. Though several prospective competitors were already offering units with support for RAID (a process whereby multiple storage devices are pooled together to increase speed or create redundancy), all of the units that the Pronology team researched utilized software based or integrated RAID controllers, making them more vulnerable to failure or corruption as the components controlling the disk pool needed to expend resources on other tasks. By having a dedicated piece of hardware to control the RAID, the team was able to achieve a significantly more stable storage volume. In conjunction with the more robust case that offered improved durability, this prototype was a step in the right direction but it was not without shortcomings of its own.
Local 695 President Jillian Arnold (then Vice President), member Nick Amico, and I put the prototype rNAS through its paces over the course of the following year. After stress testing it in every way we could imagine in both controlled and production environments, it was deemed too heavy and cumbersome, making it difficult to transport. The ATX chassis took up a large amount of space and could not be rack mounted, which made it unsuitable for the cramped confines of a production truck environment. Moreover, with the number of 4K productions already on the rise, higher write speeds were still going to be necessary for success. As testing progressed, the team began looking for ways to address these challenges.
Fortunately, all of this was happening as the price of solid-state media was becoming more affordable, which presented an opportunity. Aroesty and his team began to experiment with using both consumer and enterprise grade solid-state drives in conjunction with their hardware RAID configuration and immediately decided that this approach would be essential to increasing read and write speeds to the point where the rNAS would be up for the task of recording 4K media. This also helped to address the issue of weight, as a standard two-and-a-half-inch solid-state drive weighs in at approximately a tenth of a pound, whereas traditional three-and-a-half-inch spinning disk units are closer to a pound and a half. This allowed the team to shed more than eleven pounds off the previous design with no discernable drawbacks. However, no existing two-and-a-half-inch form factor chassis available at the time met the necessary durability requirements, forcing the team to commission custom fabrications. After receiving input from a cross section of 695 engineers familiar with a wide array of production environments, a compact aluminum and steel design was settled upon. The result was the rNAS .m3, a lightweight solid-state network attached storage system ready to take advantage of the complete bandwidth of a 10g network environment. For more than a year, 695 engineers have put it through its paces it in a diverse variety of broadcast television environments, including the Academy Awards, Grammy Awards, and MTV Video Music Awards.
Now, with the data collected over the past four years, Aroesty is proud to release the rNAS .m4, a modest redesign of that capitalizes on the successes of the .m3 while adding subtle improvements where needed. Newer solid-state drives boast longer life expectancies than those released even a few years ago, giving the .m4 a longer product life than its predecessor without requiring maintenance. The new chassis has been designed to easily integrate into a rack-mounted environment, making the devices convenient for long-term storage while remaining quite portable. The body can conveniently fit into a custom-designed insert carry-on suitcase and has been ruggedized for vibration and impact resistance, allowing multimillion-dollar productions to transport their content without fear of checking luggage. The device can be networked utilizing either the two 1g Ethernet ports or two 10g Ethernet ports, allowing for communication with up to four devices without the need for a network switch. Under the hood, the storage caddies have been tweaked to store the solid-state drives at the front of the unit, allowing all eight to be accessed from the front. This facilitates the ability to scale storage size as larger solid-state media continues to be produced at lower costs in the coming years. Several additional security updates have been added to the networking protocols, ensuring the digital safety of production content.
Most importantly, the entire system has been optimized for concurrent throughput. With the COVID-19 pandemic forcing productions to decentralize post-production environments, the ability to securely send digital files across a network in bulk has never been more important. This optimization allows Local 695 recordists to write new media to the rNAS while simultaneously allowing media to be read for the purpose of being copied, transcoded, or uploaded. rNAS supports any cloud-based transfer client, allowing recordists to send content directly to editors before the production even wraps. The result is that editors located anywhere in the world can be cutting content within hours or even minutes of it being shot.
Though specific production conditions may impact performance, the rNAS.m4 set an impressive benchmark recording up to thirty-two streams of high-definition ProRes 422 footage at 27.97fps or ten streams of ultra high-definition content at 59.94fps.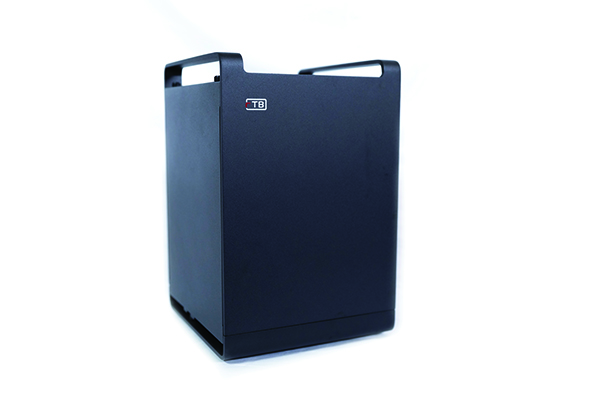 The rNAS .m4 and rTB were designed by members for members and are ready to meet of the many challenges of our craft.
The rTB evolved from the production of the rNAS to meet the growing needs of productions that have not or are unable to migrate to server-based production, including remote and single-camera productions. Nearly identical in design, this direct-attached storage unit boasts the same ruggedized steel and aluminum body but sports two Thunderbolt 3 inputs in lieu of networking ports and an LCD screen. The eight-disk solid-state RAID pool has resulted in write speeds of up to 1469 megabytes per second, bringing rNAS performance to those in need of direct storage solutions such as Digital Media Managers and Video Assist Technicians. These speeds are ideal in production environments where 4K, 8K, and newly emerging 12K video content is being created and requires rapid ingestion. Moreover, the Thunderbolt architecture's bidirectional protocol in conjunction with the customized RAID controller's optimization of concurrent throughput means that rTB is ideally suited for use in conjunction with platforms that require high simultaneous read and write speeds, such as In2Core QTAKE. When paired together, a set of rTB units represents one of the fastest drive-to-drive transfer solutions in its form factor. This can facilitate the rapid creation of redundant media, shrinking the period of vulnerability in which media exists in only a single location.
Aroesty adds that "695 members were involved at every stage of production. rNAS and rTB were developed in direct response to members' requests for resilient high-performance storage that can stand up to the rigors of remote production and transportation."
In the digital era in which we currently find ourselves, we are inundated with data. For Local 695 data engineers, whose responsibilities can include media playback, projection, on-set chroma keying, off-camera recording, copying files from camera media to external storage devices, backup and redundancy creation, transcoding, and syncing, digital real estate is critical.