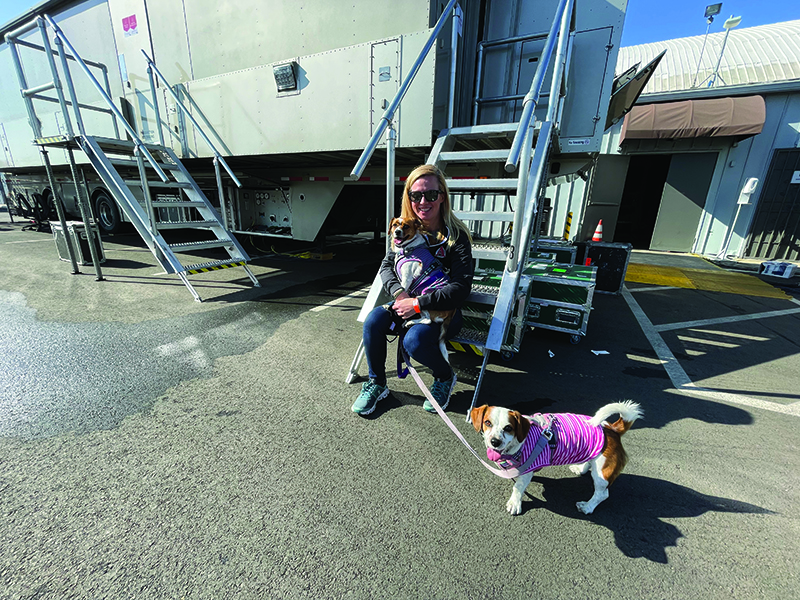 One of the most rewarding activities in my life is to guest lecture and mentor young women who are interested in pursuing careers in STEAM fields. Their enthusiasm, curiosity, and drive to explore technical roles within our society fill me with a renewed sense of passion for the work that I love. I believe that when women are immersed in technical fields, they inspire the power to create in other women. Such inspiration joins science, technology, engineering, and mathematics together with the arts in order to become what I like to call the STEAM fields—with the whole being greater than the sum of its parts. As technical fields and coding become a larger part of the infrastructure of our culture, teaching women and younger girls these skills will become of paramount importance.
At the end of my lecture, I include a conversation about the highs and lows of how having a healthy family can co-exist with the power to create. Within these discussions, there is a renewed driving force to revolutionize the perception, stigmas, and the culture around women in STEAM. My primary goal in writing this piece is to bring that conversational footnote front and center within our Local's daily discourse. One of my biggest motivations in serving as President of the Local is to help create a world where women can have a career in this business and have a healthy family life, side by side. Local 695 is Hollywood's technical local and we should be at the forefront of this conversation.
As women gain a larger presence in the technical fields of not only our Local and the industry beyond, we are forced to rethink and reshape our social and cultural structures. We are faced with new challenges that leave us struggling to maintain the necessary level of mental and physical wellness, both of the women who operate within these fields and parents in general as they strive to raise their families. We need to start a conversation on the new challenges we face with this reconstruction.
In researching this topic, I look to other industries to see how they are moving this conversation forward. The research amongst women who are in technical fields or are technical adjacent in places like Silicon Valley and the space agencies share much the same sentiments as those of us here in television and film. Women are constantly trying to reinvent gender perception by showing up to call prepared and more educated. The motherhood penalty assumes that women can't perform their jobs as well after becoming a parent. The difference between workers in those industries and those of us in IATSE is our employment by many entities rather than a singular employer. This means that both our Local, the International, and the AMPTP collectively have to take a look at how we can work on balancing family and career life. These are not just women's issues. They profoundly affect the lives of men as well. They affect our family.
As a woman who has yet to start a family, I struggle with the concept of balancing my work and the family life. During lockdown, I rescued two young pups who came from a violently abusive situation. Both have severe anxiety and require a considerable amount of time and attention. As a single dog-mom, I struggle to care for them and meet their unique needs while I work. The late nights, unpredictable schedule, and short turnarounds affect them. If this is such an undertaking with two fur babies, I often wonder how I will do this with children of my own. I believe there are many in this business who delay having a family as they struggle to pay off student loans, compete with increasing housing prices, and are saddled with more technological subscription needs (streaming, phones, computers, etc.) than our parents did a generation ago.
I was raised by a mother who started her own business and has since gone on to do it twice more with great success. I look to her and all of those who strive to create this balance as a foundation to build upon. How did they do it? And how can we do it more effectively? I will never forget and always respect those who are stay-at-home or work-from-home parents. You too are part of this conversation and the conversation begins here.
The biggest questions and the hardest to tackle include:
– How do we improve and then maintain the level of mental and physical well-being of our working members who are raising families?
– How can our careers and our families co-exist without one harming the other?
– How can we create maternity or paternity leave programs within the Local, the International, the employer, and the state?
– How can a parent who takes paternity or maternity leave be worry-free of healthcare hours and feel safe to return to work as they focus on the needs of their family?
– How can we find affordable and safe childcare and educational opportunities that are flexible with our demanding schedules?
At the local level, I am encouraging all to join either the newly formed Steering Committee or the Women's Committee. There, I will encourage the committees to work together on an array of topics all concerning the questions above, in addition to many more.
The Steering Committee's goal is to help guide the Local as it transitions organically to a stronger organization with more members entering our revolutionized technologies within our jurisdiction. The goal of this committee is to reshape our infrastructure to accommodate our growing membership and help meet the collective's needs more economically and efficiently.
The Women's Committee is a suggestion of Trustee and now Chair, Jennifer Winslow, who has been active at bringing family and women's issues to the Board of Directors. The goal of this committee is to focus on the needs, issues, and concerns of the 165 women within our Local.
I look at this conversation not as a women's issue, but as a family issue affecting both men and women. Coming together as a local to take care of our families only makes our work family stronger. We have many challenges to overcome in order to strike this balance. If you would like to be part of this conversation and participate in either the Steering Committee or the Women's Committee, please reach out to the Local. We would love to have you and will value your input.
Be Strong. Stand Proud. Be Courageous.
Jillian Arnold