by Richard Lightstone CAS AMPS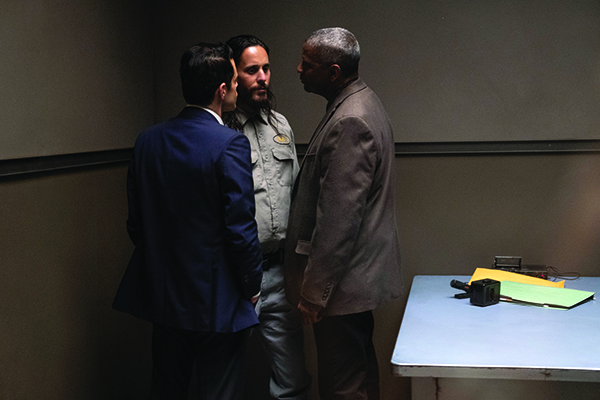 The Little Things, written and directed by John Lee Hancock, is another feature film that has had a much-delayed release into 2021. Sound Mixer Jose Antonio Garcia worked on it back in 2019, with Boom Operator Jonathan Fuh and Utility Sound Technician Sheraton Toyota. Starring Denzel Washington as Deke, a Deputy Sheriff from Kern County who mentors and partners with Detective Baxter, played by Rami Malek, in a cat-and-mouse hunt for a serial killer, Albert Sparma, chillingly portrayed by Jared Leto.
This was the first time Jose worked with Director John Lee Hancock, who he describes as a lovely man and amazing to work with. It was a concentrated forty-seven-day shoot with more than three hundred scenes, and lots of daily moves, so his equipment mostly lived on a stake bed. The locations were predominantly in the cities of Lancaster, Pomona, and Los Angeles, with some stage work in Santa Clarita.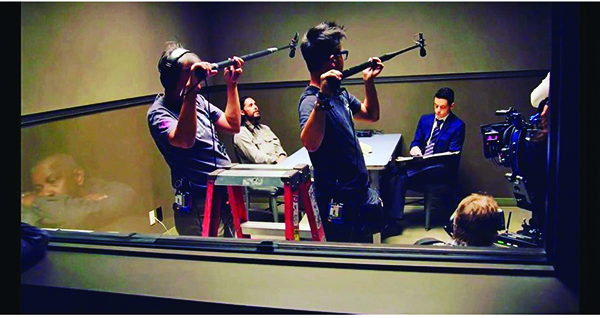 Jose previously worked with Denzel on Roman J. Israel, Esq. "Denzel is a very intense actor, and always prepared, he was very adamant about not seeing the crew using cellphones on the set because he was in character, and the story takes place at the time when there were no cellphones."
The routine was to wire everybody that had scripted dialog and always use two booms to cover overlaps. Jose routinely discusses this ahead of shooting with the director, as he believes it just makes the scene more alive. "It works so much better for the actor on the screen having that counterpoint."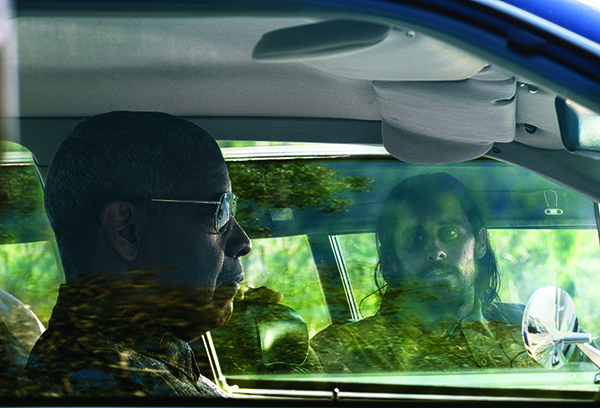 An interesting addition to Jose's sound package was the requirement of one of the lead cast wanting an earwig to hear his own voice, with added reverb. Jose had to split the output of his lav microphone into a separate mixer and found a guitar pedal device that would accomplish the reverb, feeding that signal into a separate Comtek transmitter. The actor also wanted his assistant to be able to communicate with him, so Jose fed an extra handheld wireless microphone into that monitor system as well.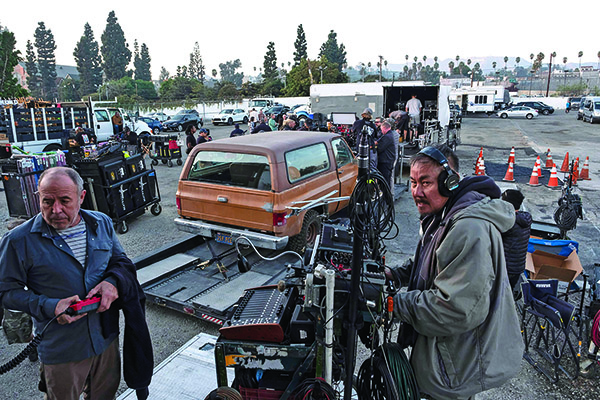 Jose continues, "It was an intense show, with multiple locations. Moving and packing the equipment, and moving again and again, there were days that we had four location moves. Despite that, it was very fluid, I think that's what most sticks out in my memory is it flowed really well, and I think it looked very good too."
"Our DP John Schwartzman was careful with his lighting," says Jose, "shooting with two cameras, there was matching head room that certainly helped us using two booms.
"There were some days with lots of cast at the police station with eight to ten wires required, but John Lee's writing is so precise and well thought out. He's a magnificent screenwriter."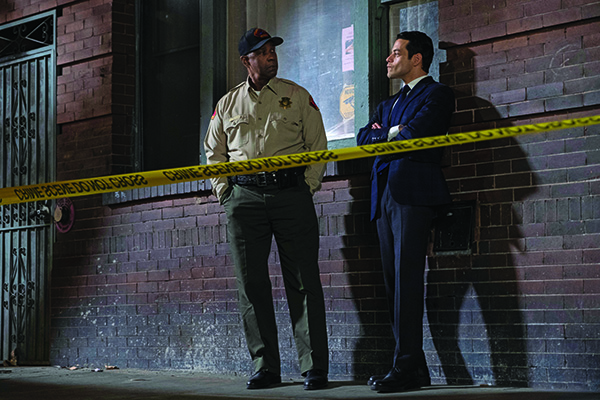 Jose expounded on the evermore crowded radio microphone spectrum, competing with wireless lighting controls, remote camera focus, and the shrinking bandwidth. In those situations, Jose would remote his powered wireless antenna.
There were many split calls, with full nights, sometime on Thursdays and always Fridays, as well as an entire week of nights later in the schedule. "It was very exhausting because you really never get the chance to turn yourself around," says Jose.
John Lee would block scenes to set the camera moves and have rehearsals instead of rolling as soon as the cast appears on set, giving Jose and his crew time to plan wiring, boom positions, and planting microphones when needed.
There are extensive automobile interiors scenes, from stakeouts, tailing a suspect, and car-to-car dialog. Boom Operator Jonathan Fuh explained that they would wire the actors but also plant lavs on the header with heavy wind protection when necessary. "The distance from the header plant mic is the same from the body mic to the mouth."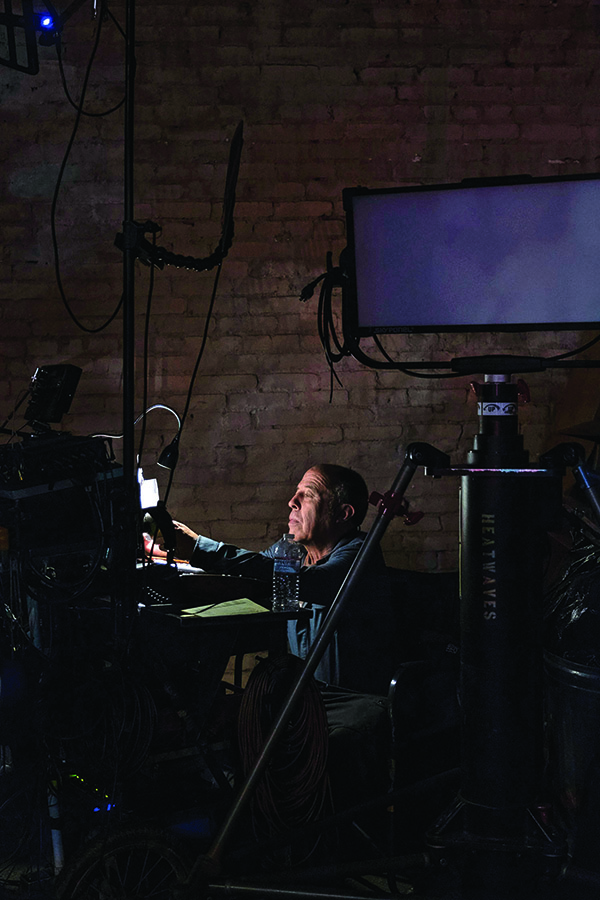 The title refers to a common thread throughout the narrative. Joe "Deke" Deacon (Denzel) is always looking for the tiny clues, "the little things" that can solve a crime. He's constantly observing, revisiting the crime scenes looking for that one nugget that cracks a case wide open.
Jose had a busy 2019, with Da 5 Bloods and Richard Jewell before tackling The Little Things. He's very grateful as we all know how 2020 worked out, "That's the only reason I still have my house, man," concluded Jose.
Production Sound Crew
Jose Antonio Garcia, Sound Mixer
Jonathan Fuh, Boom Operator
Sheraton Toyota,
Utility Sound and 2nd Boom Operator
Michael Herron, Video Assist
Jordan Kadovitz, Video Assist Utility
Matthew Morrissey & Steve Irwin,
Video Playback Supervisors