The Nagra Seven
by David Waelder and Brendan Beebe
The new Nagra Seven, a two-track recorder with a touchscreen interface, is a small jewel. Like all the iconic Nagras, it is made in Switzerland to exacting standards. Limited to only the two tracks, it is primarily intended for use by radio reporters and others who don't need a high track count. Still, it can be fitted with a timecode circuit and is entirely suitable in production work as an adjunct recorder.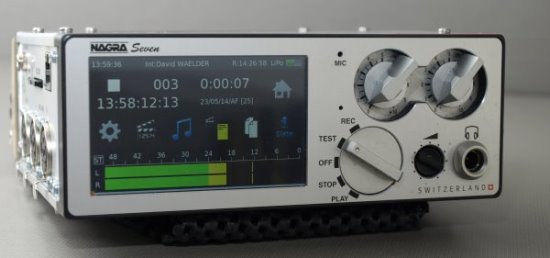 It's also of interest to media professionals because of its flexible design concept. Software provides for multiple configurations that can be recalled to meet various assignment demands, and circuit boards may be installed to provide capabilities not commonly found in a battery-operated recorder.
The timecode system, when installed, operates from a very stable temperature-controlled crystal (TCXO). In addition to all the standard frame rates, it is capable of user-selected pull-ups and pull-downs.
All Nagra Seven recorders are provided with full iXML Metadata and Ethernet connectivity that can send files by FTP. It is also possible to fit a circuit board to provide ISDN or Wi-Fi and 3G connectivity. The ISDN link can serve just as a connection for recording phone conversations but is also potentially useful for doing in-the-field re-recording. The recorder can be set up so that a director in another town, or another continent, can hear a recording as it was being made and at a quality level suitable for judging takes.
The editing function is another remarkable feature in a small recorder. When fitted, it provides non-destructive editing capabilities right on the recorder. The display screen shows an audio waveform that may be cut and pasted to a new file. An interview that wandered over topics might be edited before being uploaded to a radio station while preserving the original file. This might also be useful for occasions when the recorder is left running in a car that goes off to do remote work. The resulting hours-long file might be trimmed for inclusion with dailies materials without the risk of making permanent cuts.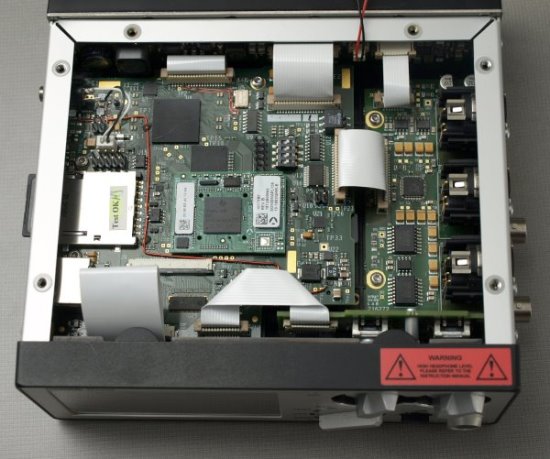 Brendan Beebe took the machine for a week when working The After for the Amazon network. He was positively impressed by its performance and specifically mentioned the extensive and flexible settings for preamp filters. With the ability to tailor roll-off slopes and limiter parameters, it was, he said, more like a studio mixer than a recorder in its capabilities.
Brendan referred to it as a "gentleman's portable recorder" and gave particularly high marks to the performance of the preamps and the headphone amp and to the flexible touch screen with intelligent shortcuts. "It would be difficult," he said, "to have poor sounding audio on the Nagra Seven."
At $3,300 for the base machine and $3,800 with the timecode option, it's reasonably priced for a professional Swiss recorder. Being very light and offering outstanding performance out to 192 kHz sampling frequency, it's a good choice for sound effects recording. With only the two tracks, its applications in production are limited but it's also a window into thinking at Nagra.