by Daron James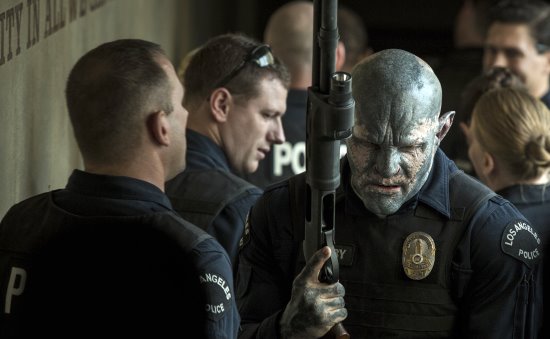 Will Smith in Bright, set in a world where mystical creatures live side by side with humans. A human cop is forced to work with an Orc to find a weapon everyone is prepared to kill for. (Photo: Scott Garfield)
Willow Jenkins' first credit on a fi lm was "Master of Time and Space." The joke title was given to him by Producer Butch Robinson and First Assistant Director Mike Ellis on The Original Kings of Comedy, a documentary directed by Spike Lee. But it was absolutely fi tting as his persistent hard work managed to catch the eye of Lee during production in San Diego, California. "I'm very thankful for the career I have now and I tribute a lot of it to Spike," says Jenkins during a morning phone call.
A Madison Wisconsin, native, the film enthusiast was living in San Diego taking on free production jobs to get his foot in the door while his wife finished her master's degree. "I remember getting a call for a two-week paid gig and I was so stoked to be there. I really worked my ass off and day one, a PA comes over and says, 'Spike wants to see you.' I thought there is no way this is true because I hadn't even seen him yet, but it was. I went over and Spike motioned for me to lie down next to him as we surveilled the Navy beach set and then asked me to clean up some debris off the beach so I did. The next day, he sees me working and tells me to go get a car for lunch. When I did, he said, 'Get in, you're driving.'"
From that moment on, Jenkins continued to work on the project as his driver and assistant, traveling to Hawaii, then to Texas and New York, always being there for Lee when he needed him—a master of time and space. "He saw something in me and gave me an opportunity I didn't want to spoil. It was my fi rst project with him and I've managed to work on almost everything he's done since."
Spike was the one who suggested Jenkins to consider becoming a Video Assist Operator. "Growing up, I was the kid who always wanted to set up your home entertainment system or plug things in. I honestly just enjoyed being on a film set but in retrospect, Spike nailed it. I absolutely love this job. You're right in the middle of it all, seeing the director's creative process and you still have these massive technical challenges that need to be overcome."
Willow Jenkins readies his system for a multiple stage shoot while Carlos Patzi sits in the background preparing a second system. Transferring footage and getting ready to handle two stages the following week. (Photo: Scott Garfield)
This year alone, you'll see Jenkins' name scroll by in the credits on four feature films as Key Video Assist or Video Assist. "It's been busy to say the least," says Jenkins, who's schedule started to fi ll after finding himself on The Revenant, his most demanding project to date. "That was a film where you had to push yourself to a whole new level. We traveled to the southernmost part of Argentina to finish the movie, which was wild because the entire crew and our equipment flew together on a private 767 aircraft. It took about twenty-seven hours to get there because we had to wait six hours on the ground while refueling in Peru for fog to clear in Ushuaia," he recalls.
When they did arrive, the camera crew wasted no time testing lenses in subzero temperatures well beyond midnight with Jenkins and Video Assist Rob Lynn following suit checking their own equipment. Cinematographer Emmanuel Lubezki ASC, AMC utilized five different cameras for the swift-moving production, making it necessary for Jenkins and Lynn to utilize a separate wireless system for each package. "We had no choice but to be quick, super mobile and keep batteries hot. It was important to have the wireless up at all times so they didn't need to wait for our signal to lock." While Lynn stationed himself at a briefcase running QTAKE, video assist software, and their own channel of headsets for constant communications, Jenkins was acting as a human tripod for a roving camera, holding a handheld monitor for Director Alejandro Iñárritu and Leonardo DiCaprio, who was very involved. "I had to stand five feet from them basically at all times," laughs Jenkins.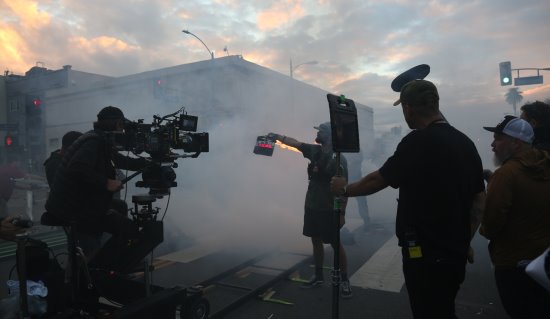 The process trailer getting set to pull out.
While 2017's releases of A Futile & Stupid Gesture (Director David Wain), The Evil Within (Director Andrew Getty) and The Circle (Director James Ponsoldt), starring Tom Hanks and Emma Watson had challenges of their own for the operator, larger obstacles loomed on Bright by Director David Ayer.
The big-budget Netflix original film set to be released December 2017 ushers viewers inside a present-day fantasy world where humans coexist with mythical creatures. Will Smith stars as Ward, a Los Angeles Police Department officer who patrols the night watch with an orc cop named Jakoby played by Joel Edgerton. When an evil darkness emerges, they fight to protect a young female elf (Lucy Fry) and a forgotten-yet-powerful relic she holds that can alter their existence.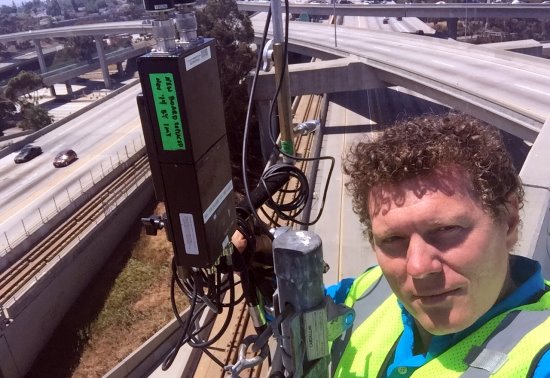 Willow rigging a wireless feed for Jake Scott.
It was Production Sound Mixer Lisa Piñero who recommended Jenkins for the job. "When I met with David, we were having a great conversation when it abruptly stopped. When I was officially hired the next day, I was told we had a great interview and found that when he makes up his mind, he doesn't spend anymore time on it. That quality translated well with him as a director on set which was a great thing," says Jenkins.
For the first sixty production days, Jenkins operated seven days straight working Saturday-Wednesday on Bright and Thursday-Friday on another series he committed to, Wet Hot American Summer: 10 Years Later. "The turnarounds weren't bad and the material we were doing on Wet Hot was completely different."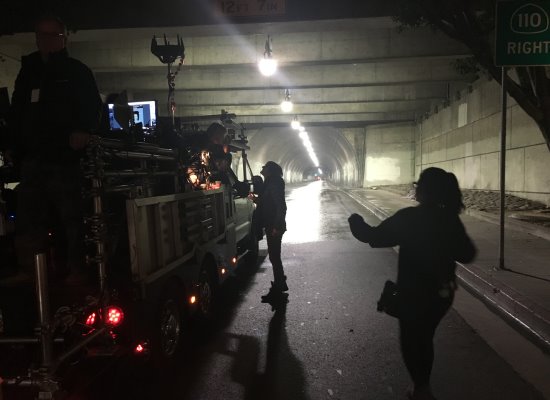 The process trailer getting set to pull out.
Bright had a two-man team every day with a third filling several times during production. There was also a second unit with two additional video assist operators. "For the main unit, it was me and mostly, Willie Tipp, Carlos Patzi and Byron Echeverria swapping out week by week but we also had Michael Bachman, Chris Kessler and Anthony Perkins on days where we needed three," says Jenkins. "I'm so thankful Damiana Kamishin, the Production Supervisor, allowed us to do this project properly. Major credit goes to her and Producer Adam Merims for being wise and approving my requests as much as they did." Carrying out the second unit stunt test days was Dave Schmalz and the second unit shooting was handled by Anthony Perkins and Chris Kessler until Jenkins helped out during the last week of intense stunt work.
The schedule called for three months of night shoots without breaking for lunch, moving through practical locations in the rain and cold. Gear needed to be hidden and far away behind buildings while still offering viewing feeds for the director and Cinematographer Roman Vasyanov, who preferred to be right in the action.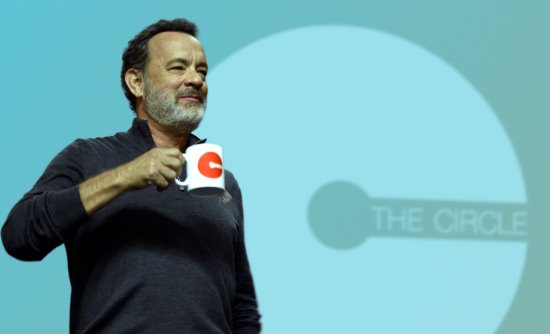 Tom Hanks stars in STX Entertainment's The Circle. (Photo: Frank Masi/Courtesy of STX Entertainment) Photo courtesy of STX Entertainment Motion Picture Artwork © 2017 STX Financing, LLC. All Rights Reserved.
To prepare, Jenkins reads the script but it doesn't tell him how the crew will operate. It's important for him to adjust to the shooting methods of the director and cinematographer on each project. "During pre-production, I will talk to the ADs or anyone who's worked with the director before to get as much information as I can," notes Jenkins. "I'll then try to find out how many cameras there will be, and on Bright it was two but a lot of times three. I'll try to find out how the ACs work if there is somehow a focus monitor that sits off somewhere. I will also find out who the key grip is and see how they work. Then I'll add up all the variables and find out what's the best way we can approach the project."
Since audiences will be watching on Netflix and it allowed Ayer and Vasyanov to be close to the action, they wanted to see the footage through an iPad. "Roman lived on the iPad Pro. He was actually lighting by it in many ways so he would know how it would translate to dailies later." Wireless systems that transmit video like Teredek's Bolt 3000 series were crucial to the work. On-set cameras would send a wireless feed to the DIT cart run by Arthur To. Then To would send a Rec. 709 or an image with a LUT to Jenkins' cart where he could feed set monitors and video village. Four rotating iPad Pros had QTAKE installed on them for Ayer and Vasyanov to select one camera or split screen up to four to watch a live feed or playback footage. "Arthur and I had to figure out a system to get the iPads up and running as quickly as possible because a lot of the times Roman would want it even before camera was off the truck."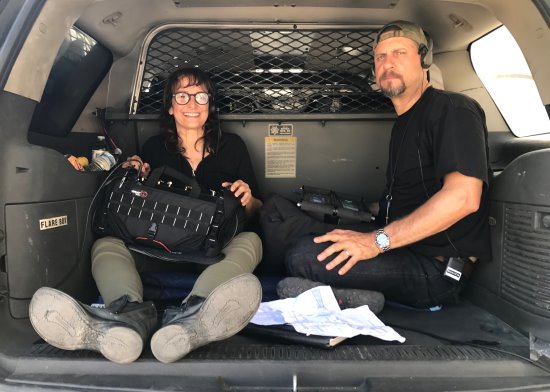 Sound Mixer Lisa Piñero and Director David Ayers
The crew found that out on the second day while shooting a scene that closed off a busy Los Angeles intersection—Alvarado and 7th near Langer's Deli. "We shut down the whole street in all directions and this was our first big setup with three hundred extras all outfitted in other-worldly makeup and dress. We quickly deduced where we needed to be and where video village had to go and it was pretty far from the action. And just as we got settled, Roman was already asking for his iPad. He really didn't know who we were so we needed to make a good first impression. The first challenge was power. Then as soon as we connected to Arthur, the DIT, Roman instructed him to move about 175' down the street toward the action and away from us. With every second counting, we were thankfully able to get our feed from the DIT by asking Arthur to move back six feet just in time. Once we got our system going, set decoration stepped in to hide our transmitter while Willie [Tipp] got electric to help us with power. When we handed off the iPads, we found out they were getting into a police cruiser and decided to back up further down the road to start the run—something we didn't factor in. Luckily, the wireless system worked and we managed to pull it off," Jenkins admits. "It was one of those moments where you say to yourself, so this is how it's going to be? Wow, OK. But then you develop a system, find your groove and it makes things easier."
The team became very efficient with the iPad system and particularly good adapting to challenging interference issues Jenkins looks forward to employing the system on future projects. "Our job is a lot about anticipation. We would try and read their minds and be handing them the iPad the moment they turned to ask us."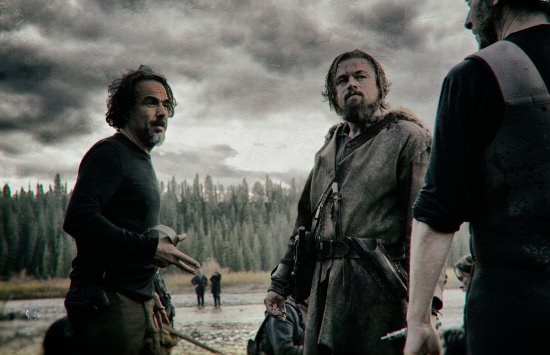 In The Revenant, renowned filmmaker Alejandro González Iñárritu (Birdman, Babel) directs Leonardo DiCaprio on set. (Photo: Kimberley French © 2015 20th Century Fox. All rights reserved.)
Another demanding task came during the last week of shooting where an action unit directed by the stunt coordinator was on the stage next to the main unit. Echeverria handled the video assist on the second unit since Ayer needed to be involved in both sets at the same time. "The challenge for us was making sure he could see everything everywhere at any given time," says Jenkins.
They ended up running snake cables and wireless between the stages and sent feeds in both directions to make the setups at L.A. Center Studios identical. "Doing this allowed David to run back-and-forth between sets with his iPads. We used a roving monitor with a live switcher attached to the top so he could manually choose the feed between the three main stage cameras and the two cameras from the action unit stage. It was a technological feat to give him the ability to review a shot next door, send approval to the action unit director or see a rehearsal or grab an iPad to view all the cameras at once or select them individually."
When asked about working with Ayer, Jenkins says, "He's a phenomenal person who surrounds himself with the best of the best as far as crew and talent goes. Once you get to know his sense of humor, which is very dark, and he starts saying hysterical things that bring the level down, you know you're doing your job right because that's his way of complimenting you."