Status of the Current FCC Incentive Auction
The Other Shoe
The FCC released DA-17-376A1 April 20, 2017, and though a bit unclear as to timelines, it does not bode very well for professional wireless users. The document is available at the FCC's website: http://transition.fcc.gov/… /Dai…/2017/db0420/DA-17-376A1.pdf
Immediately after the auction, we all breathed a sigh of relief when we realized that the band below 608 MHz (Lectro Blocks 23 and below) would still be available for our use, pending the reallocation of any UHF TV stations that would be relocating.
The 'other shoe' has dropped.
The number of UHF TV stations relocating from above UHF Ch. 37 to below 37 in most of the major markets, is going to dramatically reduce the bandwidth available for licensed and unlicensed wireless microphone use.
Remember, UHF TV Ch. 37 is reserved for Radio Astronomy only!
IATSE Local 695 is in LA (FCC—please read that as Hollywood…), which is probably one of the 'worst case' scenarios. Though the actual timetable is as yet uncertain, when the transition is complete by July 2020, this is what the spectrum in LA will look like:
The following VHF and UHF channels will be occupied by TV stations:
VHF: 4, 5, 12
UHF: 22, 24, 25, 27, 30, 31, 32 and 35.
In terms of Lectro Blocks, which are 25.5 MHz wide,
Block 470 will have about 8 MHz open for us,
Block 19 will have between 6 MHz and 18 MHz open,
Block 20 will have 12 MHz open,
Block 21 will have between zero and 13.5 MHz open,
Block 22 will have between zero and 7.5 MHz open,
Block 23 will have between 6 MHz and 12 MHz open.
There will be a "Guard Band" just above Ch. 37, 614 MHz to 616 MHz (UHF Channel 38, Lectro Block 24) and this will be open for licensed and unlicensed use.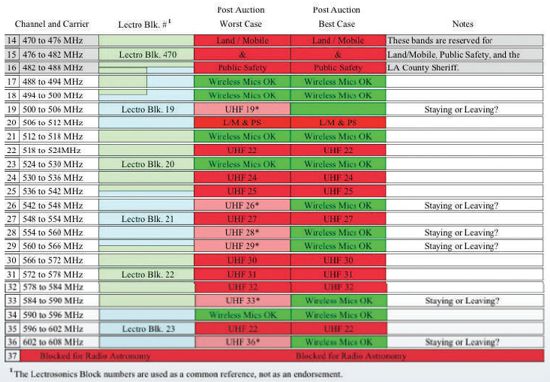 A larger band, the infamous 'duplex gap' (the 11 MHz guard band between up and down broadband) is also available for wireless mic use. 653 MHz through 657 MHz is available for licensed use only, and 657 MHz through 663 MHz is available for licensed and unlicensed wireless mic use (straddling UHF Channels 44 to 46, all in Lectro Block 25), but limited to 20 mW output at the transmitter. Some existing stations seem to be repurposed (Ch. 22), but if existing stations (18, 28, and 34) stay where they are, look for the worst possible case.
I consulted with RF guru Bill Ruck in San Francisco as to my accuracy in the below chart. The chart is based on available information, and all the details aren't in at this time, so please view as an accurate approximation, but still an approximation.
Bill Ruck's reply to the FCC's publication: "What is confusing me is that there is no place that I can find that gives details on which stations sold their channel and are going dark. Not sure if stations not listed are the ones going dark.
Stations were offered money to move from UHF to High Band VHF (7-13) and Low Band VHF (2-6). This allows them to keep transmitting which keeps them in cable TV systems as a broadcaster but really makes home off-air reception messier. Many "Digital TV Antennas" are UHF only and won't receive 2-6 and 7-13 well.
Also, the Part 90 Land Mobile channels are mandated to go away but some jurisdictions, especially the LA Sheriff, have told the FCC, "I've got a gun and a badge and you can't have my radio channels."
They need to go back to Congress to change the law. The reason why TV channels 14-20 are not shown in the postauction transition plan is because those are still in FCC Part 90 Land Mobile and not available for TV broadcasting. Channels allotted to Part 90 are also not available for Part 74 Low Power Auxiliary Services (LPAS). When the repacking is over, the law requires that those channels go away from Part 90 Land Mobile but there are rumors that Congress may be convinced to change the law and allow areas with "T-Band" Part 90 Land Mobile channels to remain especially for Public Safety licensees.
Exactly how this plays out is completely unknown.
Note that FCC Rule 90.303 shows TV channels 14, 16, and 20 as allotted to Part 90 in Los Angeles County. But Got Broken Equipment? Send It Our Way! Lectrosonics – Zaxcom – Sound Designs Sennheiser – Shure – Cooper Mixers Contact Us At: 1.888.259.4684 or Visit our website at: dwsoundservice.com If your equipment is not listed here Experts in the Repair of Production Sound Systems the LA Sheriff has one more TV channel, 15, licensed in Part 90 with licensee "Los Angeles County."
TV channels 17, 18, and 19 have no Part 90 licensees and have a bunch of LPAS licensees in LA so those can be used for wireless microphones.
The transition time is highly speculative. Congress mandated that but in many places the stations can't change fast enough. The geographical phases are meant to organize the transition so every station moves, at the same time. Interlocking coverage makes it impossible to do this randomly. Everybody I talked to at the NAB show realizes that the transition schedule is not based on reality. Because of interlocking station moves, all it will take is one station to have a hiccup and the whole process falls apart. There is no way to predict this but I heard that the NAB will be petitioning the FCC to make a more realistic transition schedule. Problem is, though, that the FCC is not the one that mandated thirty-nine months, it was Congress. Again, it will take Congress to change that law to allow a more reasonable transition. Compound that with ATSC 3.0, a totally incompatible modulation scheme with present ATSC, and how to manage that transition, it gets complicated.
Also, best as I know, no manufacturer has been able to make 900 MHz wireless microphone transmitters that meet the new, tighter, RF mask. Lectrosonics has petitioned the FCC to reconsider this regulation and supporting filings have been made by the other wireless microphone transmitter manufacturers.
Overall, it is best to watch a train wreck from a distance.
In the meantime, "Bring lots of mic cable™."
Bill Ruck San Francisco
There you have it. Look for updates in the next issue of Production Sound & Video.
Jay Patterson CAS
Vice President IATSE Local 695
Co-chair Technical Trends Committee