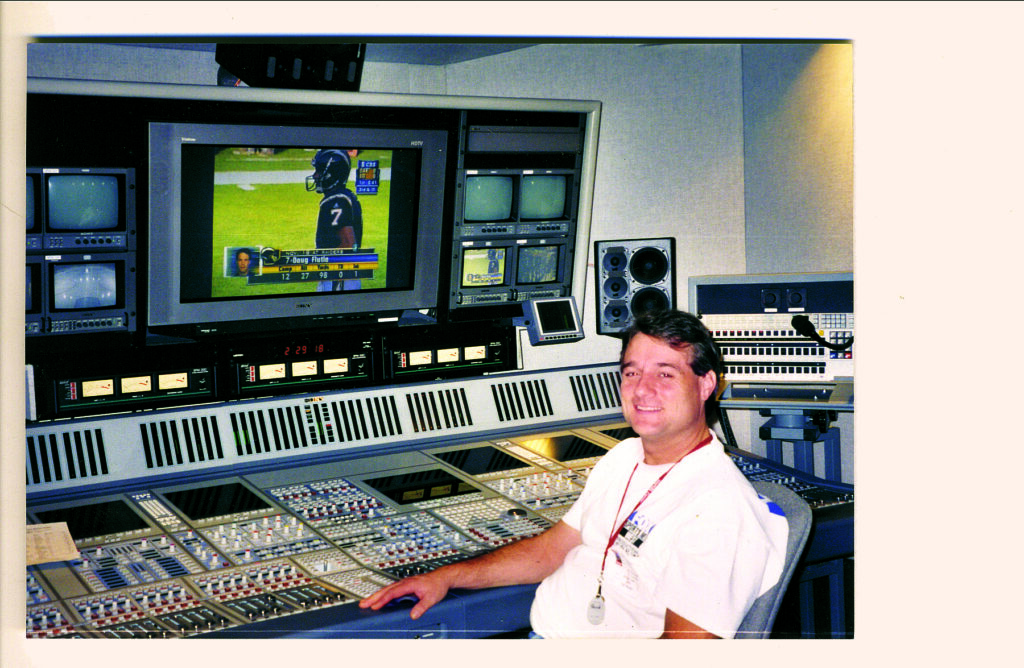 Few things have the power to unite people quite like organized sports. From the tense moments before the game starts to the final buzzer, the electrifying atmosphere of it captivates fans around the world. There is a palpable tension that hangs in the air as a ball sails through the air, only to shatter as the roaring cheer of the crowd erupts as a goal is scored. Everything from the players to the music to poorly made hot dogs creates an energetic camaraderie felt amongst strangers, bonded by their shared passion for the game. The experience of attending a game transcends mere entertainment. However, for those who cannot attend in person, there is the art of the sports television broadcast.
I had the pleasure of sitting down with Local 695 member Antony Hurd, a Sports Broadcast Audio Mixer with a career spanning three decades.
Q: Let's start with learning a bit about you and how your career began.
It's all who you know. My dad was a career man at CBS, and in the early '80s said he could get me work in Rams pre-season football. It just wouldn't be paid work. Immediately, I was on my way to Anaheim Stadium. I started out with the intention of being a camera operator, and it was a fluke that I was assigned to the sound department. Steve Kibbons was mixing, and Bob Tully was the A2.
A few weeks after I started, Bob told me they needed an A2 at Video Tape Enterprises (VTE). He pitched me to them with "I know this kid who doesn't know anything, but he'll work hard." They took a chance on me, and I was hired to work a Dodgers game with Carolyn Bowden, who was mixing. She told me to go set up the booth, but I was so green I didn't know what she was talking about. Carolyn took me under her wing and walked me over and showed me how to set up a booth and taught me how to be an A2.
Working with them and building connections through my start with them has kept me working ever since.
Q: Are you a member of any other unions?
In addition to being a Local 695 member, I am also a longtime card-carrying member of IBEW and NABET. The network the game airs on dictates which union the work falls under. If given a choice, I choose to work under 695 as our Local provides the best benefits of the three.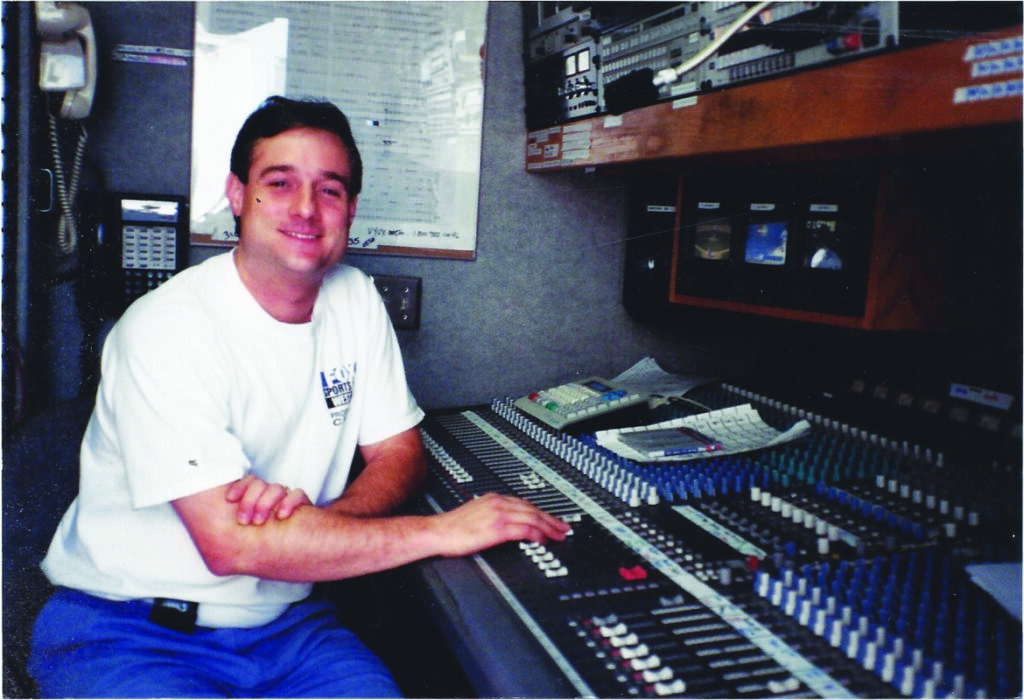 Q: What has been the bulk of your work?
When I was 19, I mixed my first show. I am now 59, so it's been a long career. 99% of my career in that time has been in live sports. The other 1% was comprised of E red carpet events and shows.
I've been working Lakers games for 40 years, starting as an A2 for the first few years, and then moving to mixing. The home games were on FSN, and the away games were on Kcal. I traveled with Sue Stratton and Kcal for 17 years. When Kcal Sports was discontinued, I was no longer on road games, but still did the home games. When Spectrum acquired the entire Lakers package of home and road games, I began doing all non-network exclusive Lakers games, both home and road. I believe this is my 25th NBA Finals. I also work on about one hundred baseball games a year. I have worked on eight Olympics, some World Series, Stanley Cup, etc.
A few years back, I counted how many days I worked in the year, and it was three hunderd four. Now I work less and have slowed down.
Q: Since you have also worked on the E Red Carpet, how do sports and broadcast differ?
My E experience was not in the studios, it was strictly on the red carpet. I think my sports background helped me in that environment. For example, for the Oscars, they would do a live from the red carpet show and a countdown show, which began airing approximately four hours before the Oscars started. Once the celebrities start arriving, it's very "fly by the seat of your pants." You may end up switching focus abruptly if someone more interesting shows up. My experience with switching quickly in sports helped my ability to do the E red carpet. I have also worked on the SAG Awards, Grammys, Emmys, and Golden Globes.
Q: Gotcha. So what does a typical day look like for you?
I'm a sports fan, so I really enjoy my job.
We arrive about six hours before the game time for regional sports. We don't strike the truck every game. At Dodgers Stadium, everything stays plugged in and laid over for ten days. Now that they have the pitch clock, it's much nicer because we have a better idea of how long we'll be working. I'm told that on average across the league, the pitch clock has cut thirty minutes from the game.
The A2's will set up the microphones and run the cables and set up the booth. When I get to the baseball game I'm doing tomorrow, I will plug in whatever cables I need to, and recall my setup at my console. On the first day of the season, I build my console from scratch. One of the biggest difficulties about working in sports now is all of the commercial signage. All the processing is slow, so we have to delay the audio to match the video. An example is when we switch from camera four (pitcher/batter from centerfield), to camera two, the delays have to change. The guys at Sunday Night Baseball told me they have eight different delays depending on which camera is online. It's a nightmare. If the system malfunctions, the bat crack sounds like a machine gun.
Q: Do those delays stay consistent, or does it vary by game?
It stays fairly consistent within each stadium. It does vary by stadium. For example, the pitch cast at Dodgers Stadium is six frames, and at Anaheim Stadium it's seven frames.
Q: Are there issues or challenges that arise in the sports area that don't pop up in other areas of Local 695 work?
We have 20,000-30,000 screaming fans that we have to consider. We often choose consistency over quality. If you hear the bat crack or the ball swish through the net or the announcers, we've done our jobs. We mount Sony ECM-77's on a pad under the rim of the basket. We also have directional microphones, usually Sennheiser 416's. Those point at the keys. We have seven stationary mics in basketball.
Q: Typically, how many mics or audio feeds are you managing at any given time?
It's generally about twenty mics for each sporting event. Golf has more, at about 6-7 mics per hole. For NBA Finals, we have extra effects mics. The amount of mics can vary a lot depending on the sport and venue. Tennis is probably my favorite sport to mix because the crowd is quiet. When covid started, they pumped in fake noise to make up for the lack of crowds, which I thought was ridiculous. It didn't make sense to me; I thought it was great that we could hear everything. Then we were on a conference call with Major League Baseball, and they pointed out that with no crowd noise, you can now hear the catcher shift, which before the batter and pitcher wouldn't be able to hear. So there's a lot to consider about the sound.
For baseball, we're now in stereo and we have about fifteen effects mics on the field for a regional game. I have three talent mics and I manage those and the fifteen effects mics the whole game. I have a 64-input board that is always being used.
Q: How has sports broadcast work changed over the course of your career?
The analog-to-digital shift was huge. Also, audio has become more important over the years. When I started forty years ago, we only had one Bat Crack mic and one crowd mic in baseball, and now we have twenty mics on the field.
If you watch USFL or XFL, you will see everyone is wearing a microphone now. I haven't worked on those, but it seems like a lot is happening at once. Sound being more important has definitely improved the end product.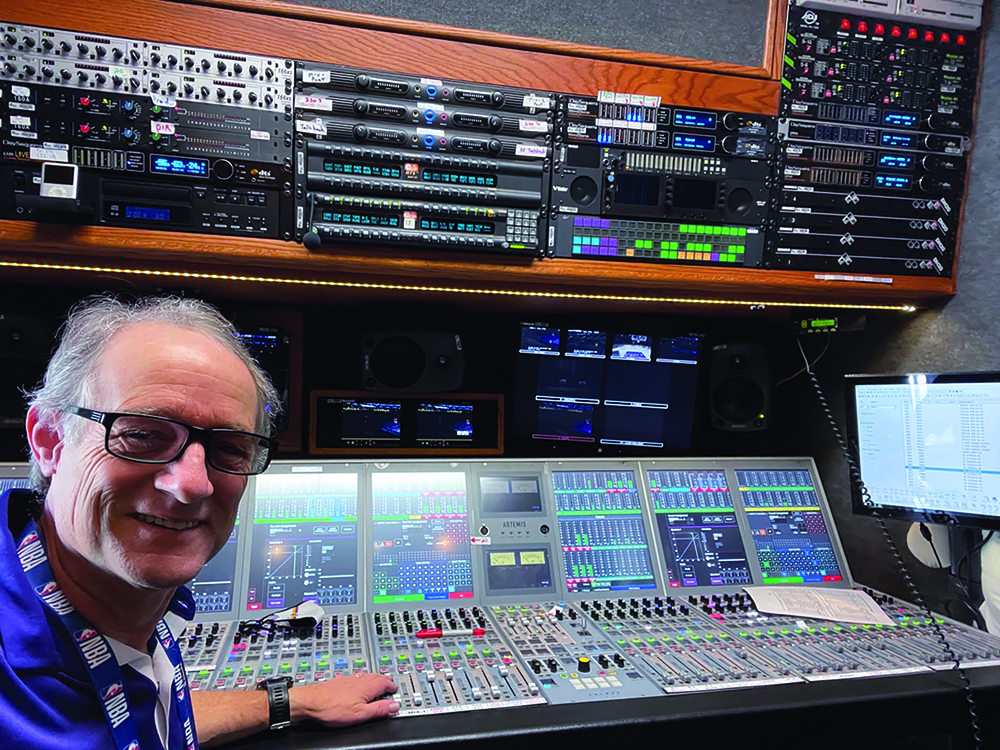 Q: How was the transition from analog to digital for you?
I'm not great with technology, so for me personally, it was a difficult transition. I was lucky because Calrec, which is the main company that provides the consoles for sports, made its first digital deck look like its analog deck. When Yamaha went from analog to digital, it was totally different and was a difficult learning curve.
Q: What teams are you most proud to have worked with?
The Lakers, by far. Traveling with the team on the team charter one hundred thousand miles a year is the only way to travel. I'm in a hotel about 100-120 days a year for my road games across the various sports. Traveling with the Lakers lets me stay in some pretty nice hotels.
Q: That's fun. Any interesting travel stories?
Years and years ago, I was on a plane when we hit a sudden air pocket. I was asleep and woke up held down by my seat belt, but with my arms and legs in the air. Chick Hearn announced that we'd dropped ten thousand feet.
When I worked on the Olympics in France, I had several days off that I was paid for, and I was just able to spend the time skiing.
Q: Have you formed friendships with any of the players?
I don't know if I would say friendships, but I do have a picture of myself and Kobe Bryant playing Ping-Pong on Thanksgiving in Detroit. Any time we're on the road for a holiday, the team usually does something. This time, they weren't going to do anything, so Kobe said he would. He rented out the banquet hall at the Townsend Hotel in Birmingham, Michigan. He got a bunch of TV's and the Ping-Pong table, and catered the whole thing. Kobe was very approachable. I also have a picture of him with my nephew's Flat Stanley.
Q: How do the Olympics differ from other sporting events?
Hauling cable up a snowy mountain is hard work! Overall, everything is just a much larger scale. It's about two weeks of setup, and two weeks of the Olympics, so it's approximately a month-long gig. When I worked for CBS mixing the freestyle skiing, the downhill kept being delayed due to the snow, so our team had to scramble to adjust our schedule and workflow so the network had enough content to make the day.
Q: Any career advice for someone who wants to enter the sports world?
Be computer-savvy. Everything is moving toward Dante at this point, so that's an important skill to have. It's almost more important than being able to mix the game. If you want to be a sports mixer, picture yourself as a fan and imagine what you want to hear watching the game. Though my best advice is: run for your life. Only a crazy person does this for a living.
I'd like to thank Antony for his time and for sharing the benefit of his experiences with us for this publication. His work and the work of so many members like him help to connect sports fans across the globe with their games, their teams, and fellow fans. Learning a little bit about the behind the scenes of the process will definitely change how I look at a game the next time I have one on and I hope the same is true for anyone reading.