POLITICS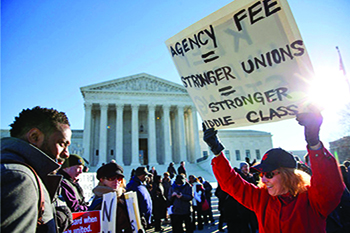 Janus v AFSCME
(American Federation of State, County and Municipal Employees)
On June 27, 2018, the Supreme Court ruled that nonunion members no longer have to pay their "fair share" for union representation in collective bargaining negotiations. The case—Janus v AFSCME will impact public sector unions in twenty-two states and aims to permanently defund organized labor in the United States. In a 5-4 decision, the court rescinded the right of public sector unions to collect administrative fees from non-members, ruling it was inconsistent with the First Amendment. Meaning unions will lose fees from non-members but also lose members who are content with the union's work but do not want to pay for it. Lee Saunders, AFSCME President, called the ruling a "unprecedented and nefarious political attack—designed to further rig the rules against working people."
---
EDUCATION

3 Safety Pass Training Deadlines Have Passed
For those who are required to take the Safety Pass "A" and "A2" refresher classes, and for those who haven't taken the HP1 or HP2 Harassment Preventation classes, THE DEADLINES HAVE PASSED. Failure to complete this training can jeopardize your eligibility to work on jobs subject to the Safety Pass training requirements.
To enroll for online courses, individuals eligible for Safety Pass training can go to http://www.csatf.org/safety.shtml and click on "Click here for On-Line Registration."
---
YOUNG WORKERS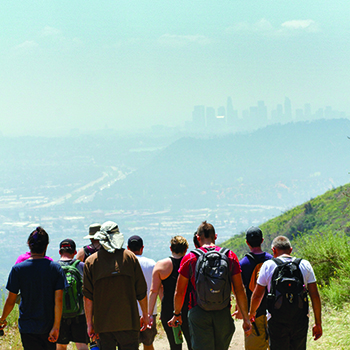 Spring Hike 2018
The 695 YWC thanks everyone who joined us on our annual Spring Hike this year! Spirits were high and Stough Canyon Nature Center in full bloom!
---
HEALTHCARE

Urgent Care After Hours Are Changing
Effective July 1, 2018, extended care hours (evenings, weekends, and holidays) currently offered at the UCLA Health-Motion Picture & Television Fund (UCLA-MPTF) Jack H. Skirball Health Center in Woodland Hills, CA, will transition to the UCLA-MPTF Toluca Lake Health Center.

Located at 4323 Riverside Drive in Burbank, CA, the UCLA-MPTF Toluca Lake Health Center will be open Monday through Friday, 7 a.m. to 8 p.m., and Saturday, Sunday and holidays from 8 a.m. to 4 p.m.
The UCLA-MPTF Jack H. Skirball Health Center will remain open Monday through Friday, 8 a.m. to 5 p.m., and Saturday, 8 a.m. to 4 p.m. The health center is located at 23388 Mulholland Drive in Woodland Hills.
Participants who use the UCLA-MPTF Jack H. Skirball Health Center for extended care may also use the Exer Urgent Care ("Exer") clinic in Calabasas, California, for urgent care as an alternative. The Exer clinic in Calabasas is open seven days a week from 9 a.m. to 9 p.m. Participants who use the Exer clinic will be required to pay a $15 co-pay.
New Health Plan Benefits for Anthem Blue Cross Enrollees
The following benefits through the Motion Picture Industry Health Plan (MPIHP) are covered, effective March 1, 2018.
Shingrix Vaccination – The Shingrix vaccination is a CDC-recommended two-shot vaccine series against shingles that can replace the Zostavax vaccination. It should be given to people over the age of fifty years old, whether or not they have a history of chicken pox, shingles, or a previous Zostavax vaccine.
Elective Termination of a Pregnancy: The elective termination of a pregnancy is covered.
Generic to Replace Brand Medications: If any of the following rare circumstances exist, brand-name medications may be fully covered: The physician documents an allergy, decreased effectiveness of the generic medication, a drug shortage of all generic alternatives, anti-seizure medications that meet all of the requirements.
---
NEW MEMBERS
Grant Greene A2
Zachary Porter Y-1
Hunter Grey Carlson Y-4
Melquan Williams A2
Ramiro Saldivar Y-7A
Lumiere Hayes Y-1 Spencer Lee Y-7A
Samantha Cowan A2
Trevor Arenas A2
Albert Aucoin Y-4
Jackson Bramlette A2
Eric Enroth Y-1
Behnam Ghahramani KTLA
Joaquin Martinez Proj.
Kevin Owen Y-4
David Santos Y-4
Fernanda Lage Starling Y-7
John Wassel Y-8
---
In Memoriam
Hans Michael Pickel
Y-7
July 16, 1965 – May 27, 2018
---