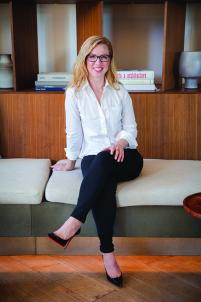 Editor's note: The following is a guest column written by Jillian Arnold, Vice President of Local 695, by invitation from President Mark Ulano CAS AMPS, in response to the television and film industry's cultural change on equal pay and leadership within the work environment.
The first six months as the Vice President of Local 695 have been an unexpected journey of learning and discovery. They have been filled with daily challenges that have given me new perspective and insight into the unique crafts of our members. I have striven to become intimately acquainted with the needs of all the sectors of our Local—Sound, Video, and Projection. With the rise in cultural awareness of gender discrimination and sexual harassment in our industry, I have looked to other locals and other tech-based industries to gain inspiration and guidance in building a new foundation for members within our own Local.
In June, I had the privilege to attend my first District 2 Convention—an annual event where the IATSE locals from Arizona, California, Hawaii, and Nevada come together to address the needs and well-being of their members on a localized scale. In both formal and informal conversations throughout the conference, the topic of gender roles in TV and cinema came up repeatedly, specifically about the work being done by Local 871 (Script Supervisors, Coordinators, and Accountants) and their "#ReelEquity" campaign.
The campaign, which seeks to end gender pay bias within the film and television industries, conducted an in-depth study into compensation trends that found strong evidence of gender-based discrimination when it comes to pay in Hollywood. The topic of gender equality has long been institutionalized within their Local, as women predominantly fill their crafts.
The analysis, which can be read in the article "Script Girls, Secretaries, and Stereotypes: Gender Pay Quality on Film and Television Crews," compares compensation rates of Local 871's female-dominated roles, such as Script Supervisors, Production Coordinators, and Art Department Coordinators, with more male-dominated jobs, such as the various Assistant Director positions and Key Location Manager jobs of other union jurisdictions, and draws three main conclusions:
Conclusion 1: A long history of gender segregation and stereotyping—and a current culture of gender bias and sexual harassment in film and television production—affects the work opportunities available to members of these female-dominated crafts and how the industry values their contributions.
Conclusion 2: These Local 871 crafts are paid hundreds or even thousands of dollars per week less than counterparts in comparable male-dominated crafts, even though California's Fair Pay Act generally requires equal pay for men and women performing substantially similar work and federal law bars gender discrimination in pay.
Conclusion 3: The industry should undertake a thorough review of pay for male- and female-dominated crafts in light of its obligations under California and federal law and correct any inequities.
Upon reading this report, I began to reflect upon gender roles within our own Local and the challenges women face in our technical fields. Local 695 currently has one thousand eight hundred and eighty-five active members, with women accounting for only one hundred and forty-eight (or 7.8 percent) of them. Though Local 695's minimum wage scale does not have its roots in gender discrimination or pay inequality the way that other locals do but, in talking to the women within our Local, the perception is that we are all still susceptible to this systemic issue. Many feel that the letter of the California Equal Pay Act may be intact but the spirit of it remains to be found. Our Local does not traditionally have classifications thought of as female-based positions. Discrimination still simmers within the perception that women in technical fields are unqualified to hold leadership positions within their departments. Women are still undervalued, undermined, and "mansplained" to on a daily basis. Oftentimes, they are regarded with disbelief and skepticism. To borrow a quote from Peggy Names, an early woman pioneer in the production sound arena, "We look forward to the day when people stop saying, 'I've never seen a woman sound person before.'"
We need to improve.
But we should also be commended. Although the ratio of female to male members may be low, women do occupy strong leadership roles within our ranks. Four of our fifteen (or just over twenty-six percent) elected members of our Board of Directors are women. Two of our three Trustees are women. Our Local has just sworn in its first female Vice President since its charter in 1930. Furthermore, of the one hundred and forty-eight active women in Local 695, forty-two of them are classified as Y-1 Production Mixers. Three of them are classified as Y-3 Supervising Engineers. Ten of them are classified as Y-4 Operative Supervisors/Video Engineers/Maintenance Engineers/24-Frame Video Recording/EVS Technicians. Altogether, thirty-seven percent of the women in our Local hold leadership classifications.
This raises the question: Why do we still have a perception issue with regards to women holding leadership roles in technical fields?
If we, as a local and then as an industry, could combat this misconception, we could combat multiple societal issues. To start, a woman who receives equal pay for equal work is less likely to be the victim of gender discrimination or sexual harassment. A woman with a strong financial base is more likely to stand up to a perpetrator and can prioritize her own safety and well-being over the fear of losing her means of income. And this is only the beginning. The benefits of financial solvency extend beyond any one woman and create opportunities for the pursuit of higher education, more stable retirement planning, family planning, and a more confident self-image.
As Chair of the Gender Discrimination and Sexual Harassment Advisory Committee, I invite you to explore the future with me and to help me tackle these issues both on the local level and on a global front. What are some of the issues our members are facing in their work environment that the local can become more involved in? How can your local's leadership best help with concerning or unsafe work environments? Are there issues specific to Local 695 that we need to address?
If you would like to be a part of the discussion and join this committee, please reach out to me at jillian.h.arnold@gmail.com. I encourage and invite both men and women to be a part of this effort. Every comment and concern is of importance in this pursuit.
For more information on Local 871's #ReelEquity analysis, please visit www.reelequity.org and sign the open letter in support of pay equity.

Jillian Arnold
Vice President