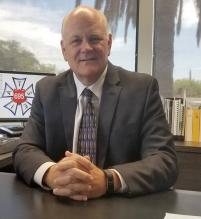 Everybody had a wonderful evening on June 16 aboard the Hornblower, "The Entertainer," on our first 2018 Local 695 Dinner Cruise Under the Stars. Thanks to all our sponsors and the office staff for helping to make this such a memorable evening.
On June 27, Gov. Jerry Brown signed the new state budget which included an extension of the current California Film & TV Tax Credit Program, adding $330 million in annual incentive tax credits through 2025. This is important because it allows producers to plan their television production budgets further in the future, allowing them to commit to shooting more episodic television, as well as relocating television series back to California. We have already seen quick benefits from this extension with two television series relocating, NBC's Good Girls (season two) from Atlanta and Lifetime's You (season two) coming to California from New York City. These two shows alone will employ about four hundred and twenty crew members, four hundred and twenty-nine cast members, and seven thousand and sixty background (including stand-ins, measured in days of work) and bring in $61.4 million in qualified expenditures.
We are seeing growth in the use of video walls on feature, television, and live/recorded broadcast productions for Local 695 members. The technology is evolving significantly from earlier forms of video playback and front/rear projection and is now capable of efficiently replacing still digital backgrounds printed on vinyl (the Translux) with moving video images. This form of video projection has been the long-standing jurisdiction of Local 695 Video Engineers and we're happy to see our members introducing this technology on more and more productions. Local 695 Representatives have been in the field to assure that producers are hiring Local 695 members to perform this work and we want to remind all of our members to let us know if they observe otherwise. If you are hired to perform video wall work but are asked to do so as a nonunion hire on a union production, call me at the Local. When you are employed on an IATSE production, we want to make sure that you receive the Motion Picture Industry Pension & Health Plan contributions you're entitled to.
At the halfway point in 2018, we're happy to report that the industry is enjoying yet another record year, with April's record box-office grosses topping $1 billion for the first time ever. Thanks to the extension of the California Film & TV Tax Credit Program, and to the growing new avenues of streaming distribution, the future looks bright for production in California and for the members of Local 695.
Fraternally yours,
Scott Bernard
scottb@local695.com
Business Representative