News & Announcements
AES Convention
The Audio Engineering Society Convention (AES), held in Los Angeles for the first time in 12 years, drew record attendance. The event attracted more than 15,000 attendees to seminars, workshops and exhibits from 300-plus sponsors.
The Convention had workshops featuring Production Sound recording with Local 695 members fully involved in the presentations. Jim Tanenbaum and Mark Ulano discussed the requirements for making quality recordings in the "Superstars of Production Sound Recording" seminar. Subsequently, Sound Mixer Jay Patterson and Boom Operator Peggy Names came in for a Master Class on techniques and equipment used by the Production Sound Crew.
The AES will return to Los Angeles for a first-ever Conference on Audio in Hollywood on March 6-8, 2015.
---
IATSE Officer Institute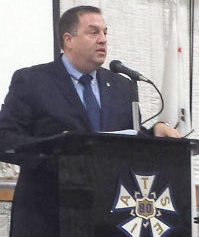 In October, IA officers from dozens of locals across the country attended the week-long IATSE Officer Institute at Local 80 in Burbank. Representing Local 695, Interim Business Representative Scott Bernard and Education Director Laurence Abrams attended presentations on Labor History, Labor Law, Organizing, Collective Bargaining, Union Finances, Contract Administration, Grievance Handling and more. International President Matthew Loeb and Michael Miller, International Vice President and Department Director of Motion Picture & TV Production, were on hand as well as the trainers and labor experts who helped design this unique program. President Loeb announced plans to continue conducting the IATSE Officer Institute over the next few years with the goal of advancing the effectiveness as well as the activism of the entire network of IA locals and their memberships across the US and Canada.
---
Shahs of Sunset
When 16 editors and assistant editors at Shahs of Sunset walked off the job at Berne, LLC, a subsidiary of Ryan Seacrest Productions, they thought that it would be a simple matter to settle with the show. They didn't have a serious grievance and were primarily seeking health benefits and contributions to a retirement plan. They walked out on September 10, only a month away from the announced season premiere on October 13. In a statement to Deadline Hollywood, Ryan Seacrest Productions indicated a willingness to meet but never responded to any overtures from union organizers. Bravo, the network carrying the show, dismissed the striking editors. Normally, an employer is enjoined from dismissing unionizing workers but Bravo asserted that the editors had never been their employees.
With no one from production willing to negotiate, things settled down to a long slog. The striking and dismissed editors maintained a picket line at the Bravo offices at the NBC/Universal building on Wilshire Boulevard for four weeks. They also displayed an informational banner and large, inflatable rat at the New York headquarters at 30 Rockefeller Plaza, alerted Bravo advertisers of the job action and held a rally in South Weddington Park in the shadow of the Universal and NBC black tower.
After four weeks of resistance, Ryan Seacrest Productions entered negotiations with the IATSE. They came to an agreement and, on October 10, the Shahs of Sunset crew voted unanimously to ratify a contract covering production as well as post-production work.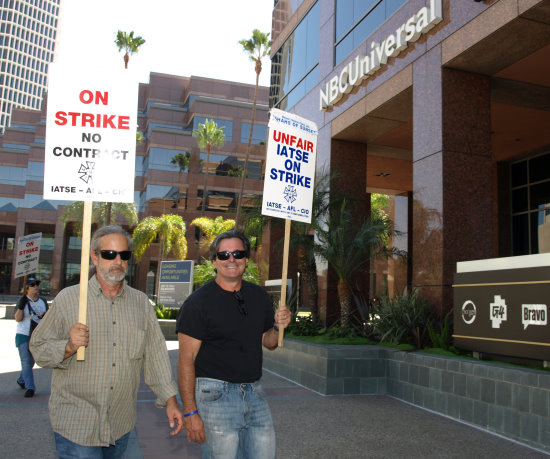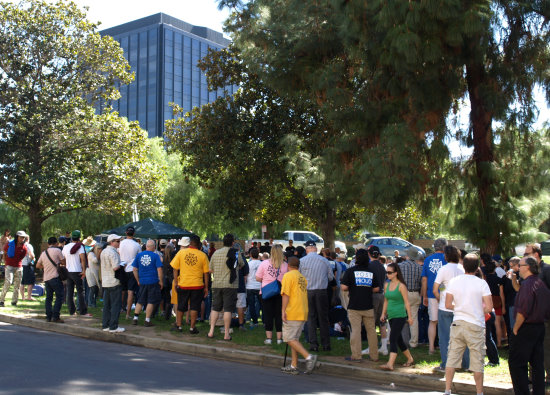 ---
Safety App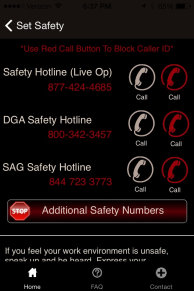 A safety app to facilitate set safety and reporting dangerous conditions is now available as a free download for both Android and Apple phones. The Pledge to Sarah organization developed the application and detailed information is available from www.pledgetosarah.org/app
The app features a list of safety hotlines, a complete list of CSATF safety bulletins and the text of the twenty-one most relevant bulletins including working with firearms, animals, stunts, fog, process trailers and other commonly encountered situations. The app also has well thought out features to facilitate anonymous reporting. Each safety hotline number is accompanied by two "call" buttons, one just to dial the number and another to make the call with Caller ID blocked. There is also a function to take a picture of a time sheet and email the image to a Friends of Sarah Jones clearinghouse that will forward only the essential information to unions and protect the identity of the sender. Armed with the documentary evidence this function supplies, rather than just anecdotal accounts, representatives can more effectively address the issue in negotiations.
---
In Memoriam
HARRY C. HOWARD
Video Engineer
July 21, 1940 – August 6, 2014