My Wild Ride
by Coleman Metts, CAS
All images courtesy of Coleman Metts

My friend and colleague, Scott Harbor, who was having a scheduling conflict, referred me to the movie Ride. He thought, "Coleman surfs and stand-up paddleboards, so he'll be great for it." When the Producers initially contacted me, they said, "We are keeping it simple, but we want the actors, Helen Hunt and Luke Wilson, to talk to each other as they're going out through the waves and catching the waves." Well, I thought, perhaps the new wireless microphone transmitters from Lectrosonics might work. I told them it would be an experiment, but I felt pretty good about being able to pull it off.
My initial plan was to cut holes in the wet suits and have the microphones exposed but removed with computers in Post. The Producers responded they could not afford to do that for every shot. After considering a range of alternative options, we eventually agreed to cut small holes in the wet suits and attach the microphones behind each hole with tape. We then began an exhaustive process of trial and error in an attempt to mount the microphones. We could not find any tape that would effectively work in saltwater! Eventually, we settled on using Velcro to mount the microphones. However, it was not long before we learned that the Lectrosonics waterproof transmitters are not saltwater proof!
Lectrosonics was very cooperative about minimizing the L&D expenses, but the wireless transmitter failures forced my crew to capture all the sound sequences, both on the ocean and in the surf zone, with an old-fashioned overhead boom microphone. On the water, I used a Sennheiser 60. We got basically traditional coverage, so we were very lucky in that respect, and the microphone worked perfectly. I used the Lectrosonics plug-on transmitters to get the sound from the boom microphone back to me. My recorder for the movie was the Zaxcom Fusion. Working in this environment is incredibly hard on every piece of equipment. I am still finding sand in various places among my sound gear, months later.
We did not make any technological leaps on this movie; it was just persistence, and positive attitude, that solved our problems.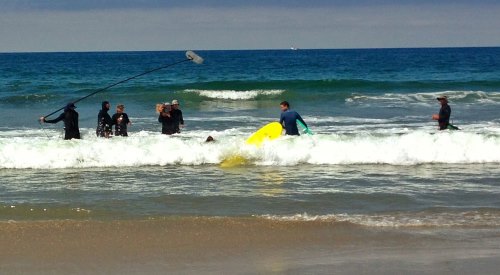 The initial schedule showed us on and off the water a lot, so I had a small ENG-type package built for the ocean, and my main rig I left built for filming on the land. Even at sea, I managed to send an IFB feed to video village and, particularly to Helen Hunt, who was directing as well as acting. I also supplied signal to the Script Supervisor and the Video Playback Operator, fellow 695 member Anthony Desanto.
We did not have a lot of prep for this project, so we had to improvise and figure it out as we went along. A nice benefit of the show was that I was able to bike to work every day for three weeks. Also, I got to wear my sandals at work every day for about a month.
So began my two weeks out on the water. I was placed in everything from zodiac-type boats to the back of wave runners. I eventually spent much of my time on a large stand-up paddleboard as no motorized craft were allowed in the designated surf zone which, in the Marina Del Rey/Venice area, extends from the beach out three hundred yards.
My Boom Operators, Johnny Evans and Jim Castro, also operated from large stand-up paddleboards for significant portions of their time on location. When not on a stand-up paddleboard, the Boom Operators were standing directly in the surf zone. Doing so, however, required the use of Watermen/Stuntmen who would position themselves directly behind my crew and grip them tightly to prevent them from being knocked over by the oncoming waves. My Utility, Ace Williams, did a phenomenal job in these trying conditions. Oftentimes, I was texting Ace what resources I needed sent out on the next supply boat.
It was not long before I realized that working on the water is very different from playing on the water. Being out on various watercraft all day was pretty fatiguing. Communication was limited. In the beginning, we also had a failure in the transfer process when the facility transferred all the tracks for dailies. That added some stress at the start of the show. Eventually, we got it all sorted out—just about the time when we moved off the ocean and started filming on dry land.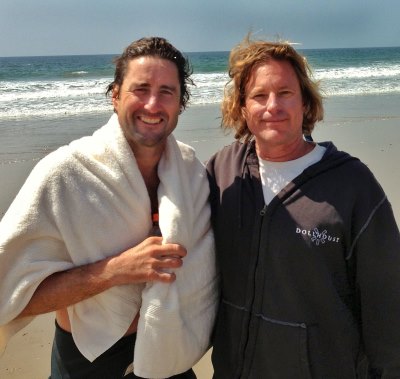 What did I learn from this project? Well, I guess I learned that when they say it's going to be simple, it's not. And I learned that you need more than one plan to deal with any eventuality plus enough resources for almost any scenario.
The process of filming on the beach, on the water and on multiple locations throughout Venice made Ride the hardest show I've done by far. But the amazing people I worked with made it a memorable and positive experience. The Director of Photography and his crew, the Key Grip and his team and our Stunt Coordinator and the Waterman were outstanding. They solved amazingly hard challenges every day. They all displayed the best positive attitude and everything seemed easy for them. After eighteen years in the business, I've learned not to take these things for granted. Ride restored my enthusiasm for making movies; it was a bright spot in my career.